Who ya gonna trust? Dec. 31, 2022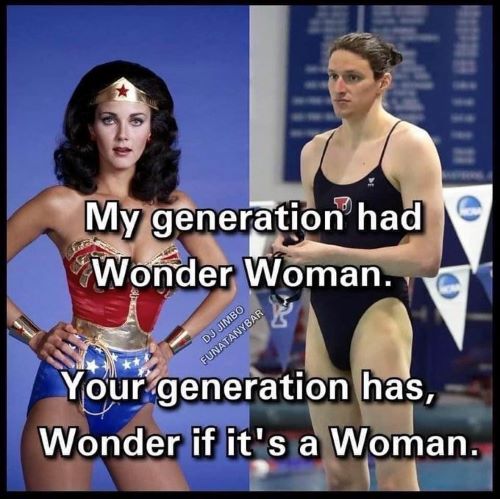 Signs of hope on the gender front?
Happy New Year's Eve! Are you doing anything to celebrate? J.J. Sefton included this piece by Richard Fernandez above the fold in his Morning Report, Wednesday 12/28,
Alone at the End Of History:
Perhaps the biggest underreported story of the 2020s is the widespread collapse of institutional trust and the loss of confidence in the inevitability of progress, even among the Western elite. Like frightened children in the dark, we find that we can't trust the science and can't trust each other. When a society finds it can't control the future, what does it do?
The frightened child this piece starts out with is Greta Thunberg.
A terrible "if" lurking in the heart of the future has replaced the old confident belief in progress. "Modern hope in the future and faith in progress come from nineteenth-century political theories that largely remain with us today. In particular, a school of political thought called progressivism (which gave rise to our modern sense of the term) influenced American educational institutions. Progressivism is steeped in the philosophies of Georg Hegel and Karl Marx, who theorized that history unfolds in certain (progressive) directions and a robust faith in science and technology will aid in that progress." Now we fear the opening of a door and breathe out in relief when the monster is not behind it. No longer are we so certain that the Arc of History goes to a good place. Today, experts at the Future of Humanity Institute at the University of Oxford and the Centre for the Study of Existential Risk at the University of Cambridge believe that the greatest threat to human existence is scientific man himself . . .
Children who frighten some of us contribute to the chaos as we progress through the piece. Like SBF:
These negative developments have precipitated a crisis of belief in the new Western elite religion, effective altruism, which is the process of putting the best and brightest in charge of the money because they are wise. It explains that "our intuitions about doing good don't usually take into account the scale of the outcomes... But, when trying to do as much good as possible, we aim to give everyone's interests equal weight, no matter where or when they live." Instead of being biased by emotional impulses like faith, hope, and charity like stupid people, these fitful urges were far better superseded by smart people using rational criteria like diversity, inclusion, and equity. But unfortunately, as Dylan Matthews writes in Vox, prominent advocates of effective altruism like Sam Bankman-Fried have ruined the image of enlightened elite leadership. . .
It's more complicated than that, too. Back to the drawing board, or what? Got a plan? An idea? From Dr_No: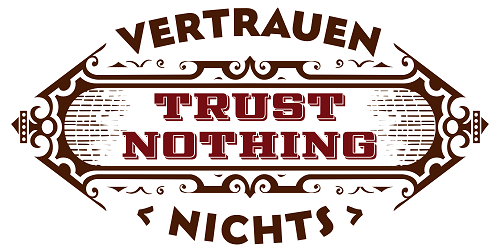 Of course, Dr_No trusts
us.
* * * * *
Other things that demolish trust I'm sure you can think of others:
John Hayward:
Erasing borders means erasing citizenship, which means dissolving the last vestigial bonds of duty and responsibility the political elite might feel toward their nominal constituents. We'll all be "citizens of the world," which means we don't get to vote on anything important. The migrants will suffer a great deal too, but nobody in the Open Borders Caucus gives a damn about them. Predatory gangs, human rights abuses, drug smuggling... all part of the price migrants will pay, and nobody will dare say a word about the humanitarian calamity.
Read the whole thread. A related end-of-the-year
rant from alexthechick ends like this:
When you treat people with contempt, then have the gall to ask them to spend their time and treasure on working to elect those who will turn around and show more contempt, you will be met, as you should be, with jog on. Welcome to the end of the polite requests. May God help us.
*
Trust has failed on several levels here:
*
Have the people in charge here lost trust in the core mission of the institution?
*
Has Greta got a handle on this? Can we trust the children to monitor the scientists?
*
Things are bad when the
WEF can't trust Twitter.
Twitter is noticeably absent from the entities listed on the organization's "How to follow Davos 2023" social media pamphlet, and that appears to be no accident. To stay up to speed with all that is happening within the invite-only doors of the ruling class confab, the WEF recommends following along through a handful of social media sites. They include the U.S.-based narrative-compliant Facebook, LinkedIn, Instagram, and YouTube, along with the Chinese social media apps TikTok WeChat, and Weibo. Twitter, which has freed itself from the grasp of the WEF-endorsed censorship-compliant social apps, is no longer included.
*
Did the government check with you before spending this money? Rand Paul Reveals the
CRAZIEST Things Biden Wasted Your Money On

Sen. Rand Paul: "We spent $118,000 to study if a metal replica of the Marvel character Thanos could snap his fingers!"
* * * * *
* * * * *
Poetry, Music and Dance
'Ring Out Wild Bells' (1850).
A New Year's Poem by Alfred, Lord Tennyson.
The poem Ring Out, Wild Bells by Alfred, Lord Tennyson forms part of the elegy In Memoriam, A.H.H, published in 1850. Tennyson wrote the elegy as a tribute to his close friend, Arthur Henry Hallam, who was also his sister's fiance and who had died suddenly at the age of 22.
Ring Out, Wild Bells,
*
Skip the light fandango
* * * * *
Staying in tonight or going out? Got anything planned for tomorrow?
This is the Thread before the Gardening Thread.
Serving your mid-day open thread needs
* * * * *
Last week's thread, December 24,
Look around - - It's Christmas Eve
Comments are closed so you won't ban yourself by trying to comment on a week-old thread. But don't try it anyway. One
interesting comment:
The holidays are a good time to get people you care about talking or writing about their lives in a way that can be passed on. Think about it. I have been thinking a lot about this lately. Specifically with regards to things we all talk/write about online. On blogs, websites, etc. I think of how over the past 15 years or so of saving bookmarks to websites and specific articles/essays, I sometimes will come across an old bookmark and decide to click on it to read it again and... the site is no longer active. I think of all the thoughts and essays and knowledge, etc that has been put online over the past 20-30 years after the invention of the internet and the various blogging and personal website sites, and how so much of it is just now gone, if people can't keep their site active. Much different than if written in a journal or a diary or published in a book. If one day someone decides to just 'turn off' the internet, how much information would be lost forever, never to be seen by future generations looking back on this time, as we look back on past generations through written word in books and art and all the different ancient markings on stone, etc.
Clyde Shelton
There are other remarks concerning the diary entries of Muldoon's father. Plus comments on keepsakes which include the handwriting of loved ones. Good ideas.
Posted by: K.T. at
11:10 AM