Look around - - It's Christmas Eve
Can we avoid thinking too much about these folks on Christmas Eve?
We are led by such preposterous figures, like no one you ever see at home, in life. They insist on inflicting on us such bloated theater & they seem not to know how false it all appears. They bluster & strut among the marble columns, waving, saluting. Honoring the lie. Walter Kirn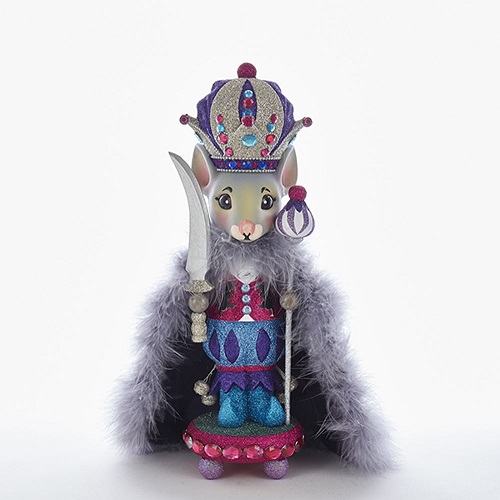 Mouse King (Walmart, out of stock)
One of several interesting replies
to Walter Kirn:
The audience watching won't change the channel or get off the couch and look out the window to see what's going on outside.
*
For contrast, a story about real people I wanted to highlight a great piece from J.J. Sefton's Morning Report yesterday,
A Christmas I'll Never Forget,
which is primarily about the relationship of two sisters as one of them neared death.
Anyone who is honest and has a heart knows that families cause pain, and that some families cause more pain than others.
It is a story full of conflicting feelings and remembrances that lead to the intense experiences of two sisters together after a long separation, under trying circumstances. It's not a story about social media influencers or politicians. It's real. Love survives the pain. It includes this perceptive passage, too, starting with a remembrance of a Christmas Eve service:
Shoulders, elbows, hips collided, and everyone just put up with the jostling. The church was so full some couldn't get beyond the vestibule. There were muffled coughs and vague scents of moist wool, moth balls, and cedar blocks. Old Italian ladies who spoke no English prayed their own prayers under black lace mantillas.
One of our regular church ladies walked up the aisle to receive communion. Her head was always tilted. An injury? A birth defect? I always wondered and I never knew. I found out years later that Mrs. Gilpatrick was a PhD and a published and praised novelist, and yet she gave her life to our blue-collar parish. I found out years later that our high school janitor, Mr. Van Wilpe, who was just about invisible to me, at risk to himself, helped rescue shark-menaced sailors from the sunken USS Indianapolis during World War II. We were surrounded by strong, wounded people who carried their wounds with fortitude and dignity. We took their solidity for granted and only recognized it years later when we inhabited worlds where they were merely a memory.
I missed those old church people so very badly as I traveled the world. When, four continents later, I returned and they hugged me at my mother's funeral, I wanted to grab them and never let them go, to hold them back from the rush of time that was taking them from me, both their aging physical bodies, and their culture, one being rendered superfluous by new attitudes.
One thing that this piece brings into focus for me is that remembrances -- written histories, audible recordings, photos (not just on a phone) etc. -- may mean more in future years than they will mean even in the near future. The holidays are a good time to get people you care about talking or writing about their lives in a way that can be passed on. Think about it.
* * * * *
Home, Hearth and Neighborhood This particular Christmas Eve, there are some extra reasons to pay attention to home, family, neighborhood and community as well. Including the weather in much of the country. It's a good idea to check on your family and your neighbors, and to reach out if you need help. Are there other preparations you have taken which you might like to share in the comments? Are you prepared to feed neighbors if a weather emergency takes out utilities? Do you think you might have someone like this show up needing some help?
* * * * *
Computer Tips for
Christmas Superpowers?
Can anybody vouch for
the websites in this thread?
Some of them sound pretty useful:
There are over a billion websites on the internet, yet most people never use more than a dozen. Here are 10 little-known websites that give you superpowers.
Stuck in one of this weekend's storms? I tried website No. 2 from the link above. Seems okay. Might want to input food items that could go bad quickly if your electricity goes out. They have a checklist.
2. http://Myfridgefood.com Make the best possible meal with whatever you have. If you can't decide what to eat, just let MyFridgeFood know what's in your fridge and it will tell you what meals you can make and how you can make them. A great way to discover new recipes.
I didn't apply any filters. My first recipe results were two kinds of baked French toast (no maple syrup mentioned) and holiday pinwheel cookies.
Pinwheel Cookies?
Best possible meal from what I have!
Then came empanada dough and pizza loaves. They think I want to bake food items absolutely full of carbs! Bottom of first page: Yorkshire pudding and apple rings. Butterbeer Latte is an
"unapproved recipe".
Don't know if it is an official Harry Potter recipe or not.
* * * * *
Hanukkah Persists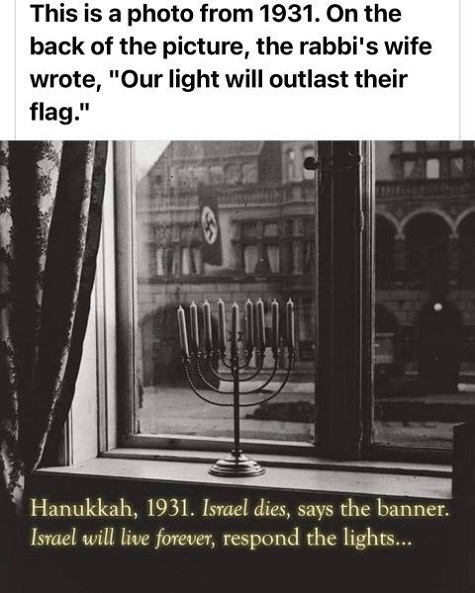 h/t Glenn Reynolds
Happy Hanukkah to the Jewish members of The Horde, including co-bloggers, commenters, lurkers and friends!
Hanukkah ends Monday night,
which means there are still a few opportunities this year to find new ways to prepare Latkes and other fried foods. From what I have gathered, there are two primary kinds of potato latkes: fluffy and crispy. Do you have a favorite? Here are
simple directions
with a video and music, plus history. There are also other recipes at the link. Going low carb? Try zucchini. Oven or stove top?
directions for both.
Better Homes and Gardens has tips for
crispy (not fluffy) latkes.
Plus
other Hanukkah recipes.
So, no reason to stop having those holiday meals! You might even find
Cajun Latkes!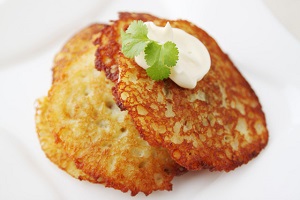 * * * * *
Music
Dreaming of a white Christmas?
Or is your Christmas Eve white enough? Jonas Kaufmann:
*
Jonas Kaufmann with kids:
*
Stuck at home because of the weather?
Gesu Bambino,
home version
*
Missing someone during this holiday season? You're not alone.
The Piano Guys
have not been spared grief. Even if you don't have a faith to lean on, you have other people. Including us. But this song may touch some people.
*
First lyrics in Handel's Messiah:
Accompagnato (Tenor) - "Comfort ye, comfort ye my people, saith your God. Speak ye comfortably to Jerusalem, and cry unto her, that her warfare is accomplished, that her iniquity is pardoned. The voice of him that crieth in the wilderness, Prepare ye the way of the Lord, make straight in the desert a highway for our God." (Isaiah 40, vv.1-3)
*
Rejoice greatly
and quickly.
Air (soprano) - "Rejoice greatly, O daughter of Zion; shout, O daughter of Jerusalem: behold, thy King cometh unto thee: he is the righteous Saviour, and he shall speak peace unto the heathen." (Zechariah 9, vv.9-10)
* * * * *
Hope you have something nice planned for today. Merry Christmas! Happy Hanukkah! Happy New Year!
This is the Thread before the Gardening Thread.
Serving your mid-day open thread needs
* * * * *
Last week's thread, December 17,
When paradise isn't paradise anymore:
Destruction of a law school and the ongoing destruction of the entire field of psychology bt the Woke. Notes on events of the week, caroling, Beethoven and the Ode to Joy. Here's a nice photo of people at the Hotel Del Coronado during the holiday season: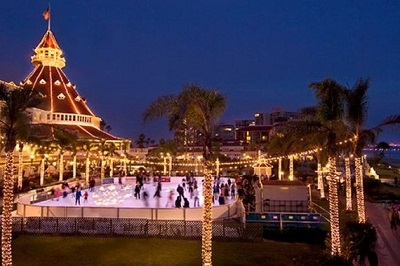 Comments are closed so you won't ban yourself by trying to comment on a week-old thread. But don't try it anyway.
Posted by: K.T. at
11:18 AM