How did you observe International Women+ Day?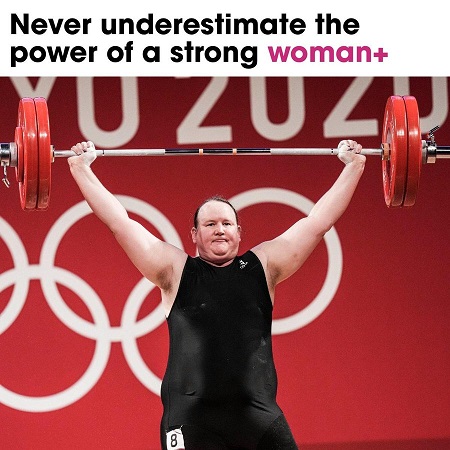 International Women's Day was on Wednesday. Not long ago,
troublemaker James Lindsay
started using the term
"woman+".
Then, as noted in a piece picked up in J.J. Sefton's Thursday Morning Report on Women's History Month,
Lindsay found out that this term was REAL.
In another piece picked up by J.J. concerning International Women's Day, "In Canada, where the campaign is called
'Her for She,'
the limited edition candy bars feature the faces of five women chosen to be a part of the campaign - - and one of them is, in fact, a man." Proceeding on to cause further trouble, James Lindsay reminded us of Saul Alinsky's
continued influence
on the left, and the difference between rallying the troops and convincing young teens that you are on their side: Treating The Woke like hysterical women Uh-oh.
Fight incoming:
The Woke ideology is female. You can't respond to it with toxic masculine strength. That's punching a woman in the face. Matt does great then says stuff like "you wanted this fight so now you have it." That's not how you deal with a hysterical woman; that's for an aggressive man. Woke advances by summoning demons that barely exist so it can defeat them. When Matt and other reactionaries step into that aggressive man vs man posture, they become the Left's demon and thus help them. Many people rightly intuit this. It can be sidestepped with strength, tho.
Let me tell you the single. most. important. thing. you. must. understand. about. Woke. activism: it depends entirely on this reaction, so much so that it considers it "the real action." Get this into your heads now and start suspecting the manipulation. The real action is your target's reaction.
James Lindsay recommends this site for study:
Beautiful Trouble

The thread continues. Not everyone agrees. What do you think?
*
One
former woke teenager
weighs in on how to communicate with The Woke:
As a former woke teenager, let me give you some inside information: most women are woke because it appeals to our nurturing and empathetic side that cares for victims. It's impossible to win this argument by doing this whole "facts don't care about your feelings hurrr durrr biology is real" thing. You have to appeal to our sense of justice and demonstrate that real harm is being done. It's impossible to win this argument by doing this whole "facts don't care about your feelings hurrr durrr biology is real" thing. You have to appeal to our sense of justice and demonstrate that real harm is being done. That's why the "coming after the kids" and "erasing womanhood" narratives work when talking to women. So stop being bullies to random trans people on the internet if you actually want to win the argument. Being aggressive and cruel does not jive with us. Keep demonstrating why wokeism is HURTING people and your target audience will find more to empathize with in your argument.
*
Case in point, what the opposition is teaching:
A book for toddlers:
The cherry on top is the "ode to woke feminism." We must raise our youth to understand there is but one way biological women can "end the patriarchy." To rid the West of the terrible scourge wrought by white cis-gendered normative males, women must hand over their opportunities, bathrooms, athletics, and babies to predominantly white biological men who identify as women. Proving once and for all . . . the women+ movement is what a REAL feminism looks like.
*
Looks like Lindsay is not adverse to some humor:
* * * * *
A few notes on International Women's Day Seems like there has been some news about banks in trouble recently. Notice any feminine energy here?
*
Aren't "Women+" required to serve in the military just like men in Ukraine? Unlike biological women?
*
Meanwhile, our Department of State is offering a 3 million dollar grant for a project to build a
global girl-centered climate action movement.
They apparently don't care about boys. Or maybe they think girls make better activists and boys are better at hard fossil fuel-free labor. There's also a $500,000 grant to promote inclusive societies in Mongolia.
*
2020 update from AEI.
Will there ever be a need for an International Men+ Day?
* * * * *
Music Why Are So Many
Guys Obsessed With Master and Commander?
20 years after its release, the mildly successful historical nautical drama has become an inescapable hit with a certain type of movie fan.
If you kidnapped a hundred of Hollywood's top minds and forced them to work around the clock, they could not engineer a more exquisite Dad Movie. Though Master and Commander is ostensibly about the Surprise sailing to intercept a French enemy warship, the battle scenes, exhilarating as they may be, are few and far in between. The bulk of the film -- and the heart of its charm -- is instead a meticulous rendering of daily life at sea: the monotony of hard labor, the palpable threat of scurvy, the dirty-faced sailors who sleep in close quarters and grin through yellowed teeth. (You know it smells crazy in there.) Even better? All the screen time devoted to close conversations between Aubrey and Maturin, and their two-dude violin and cello jam sessions. You come away with a sense of satisfaction at their accomplishments and camaraderie, and just a bit of longing over a bygone way of life.
I think the above is the version from the album for the movie, but I'm not sure. La
Musica Notturna Delle Strade Di Madrid,
No.6 Op.30. Does it make you think of the streets of Madrid?
* * * * *
Hope you have something nice planned for this weekend.
This is the Thread before the Gardening Thread.
Serving your mid-day open thread needs
* * * * *
Last week's thread, March 4,
Who's afraid of the conservative activist?
Comments are closed so you won't ban yourself by trying to comment on a week-old thread. But don't try it anyway.
Posted by: K.T. at
11:04 AM