California Update, Early June 2022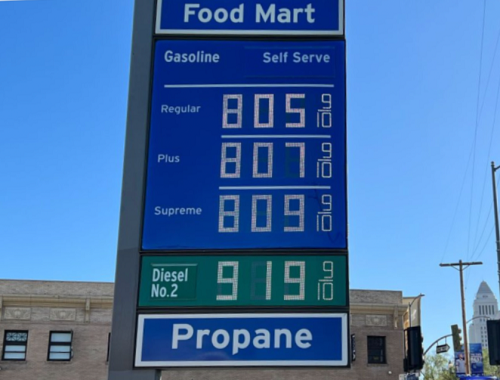 California leads the way in making our Republic unafforable
h/t Steven Hayward, The Geek in Pictures
How are your gas prices comparing with the ones above? How are truck drivers coping with those diesel prices? Living in rural Central California, we are slightly buffered from some of the excesses of the coastal regions of the state, like the gas prices in the LA area above. Though our gas prices are high enough. Today, I have compiled some examples of ways we are really seeing the evidence that we are moving away from a rational republic, perhaps starting with California. Do you have similar irrationalities to report in your state? Any counter-measures? Again the coast is ahead of rural California in the type of self-harm described below. So far, I haven't noticed any nearby efforts
like this:
The phrase "transitional housing" has been around a long time, but San Francisco has come up with a whole new dimension. . . Turns out the mayor has included $6.5 million in next year's budget with the intent of eliminating trans-homelessness over the next five years. San Francisco is estimated to have up to 20,000 homeless living on the streets. How many are trans? "According to the mayor's office," according to the gay news outlet Bay Area Reporter, "there are an estimated 400 TGNC residents experiencing homelessness at any given time." (TGNC--I had to look it up--stand for "Transgender and Gender Non-conforming People.")
There are homeless people, and then there are
special
homeless people. Oh, and Happy Pride Month, San Francisco!
Trans leaders applauded the proposal, even as some of them are at odds with Breed over the controversy of San Francisco Pride's policy of banning police officers from marching in uniform in the Pride parade. After LGBTQ first responders on May 23 said that they would skip the parade due to the ban, Breed and gay District 6 Supervisor Matt Dorsey said they would not march in the June 26 parade if the San Francisco Pride officials do not reverse their decision. That led leaders of the Transgender District stating that they would not attend Breed's June 2 Pride flag-raising ceremony at City Hall, as the B.A.R.'s Political Notes May 30 column noted. The Castro LGBTQ Cultural District also said it would skip the flag-raising. Nevertheless, trans leaders stated that they are on board with Breed's homelessness plan.
* * * * *
Local(ish) to National: Devin Nunes on the Sussman Trial
Yesterday, on a Fresno talk show, Devin Nunes commented on the Sussman trial and speculated on further actions by Durham.
June 3, Hour 1 program (starting at 22 minutes).
Some basic points: Sussman lied. What happened in Congress behind closed doors . . . . Durham may bring conspiracy charges in the future? Is there really any chance that this would lead to a productive outcome?
Truth Social
discussion starts at 34 minutes. They are building slowly. Beta testing is over. Looking at 4 to 6 months for more features, but people on the system, many of whom have been blocked elsewhere, are enjoying it. How to sign up is explained if you are interested.
* * * * *
Here's a local story:
Train to nowhere:
can California's high-speed rail project ever get back on track? Pretty comprehensive piece in The Guardian.
The optimistic view for the project's future - espoused most vigorously by California's high speed rail authority, its consultants and its lobbyists - is that the stretch from Merced to Bakersfield will, once finished, provide proof of concept and thus convince state and federal authorities to shell out the many tens of billions of extra dollars it would take to extend the line north and south. Yes, the project is expensive, they argue, but so were the public investments in the highway system and the passenger airline industry, and the economic benefits of those are inarguable. The boosters also sense a unique opportunity, since California is currently running a $97.5bn budget surplus and the White House, led by "Amtrak Joe" Biden, has been offering billions more, largely thanks to last year's Infrastructure Investment and Jobs Act which allocated up to $108bn for public transport projects. "All we need is one system up and running. The rest will follow," the editor of the industry publication Railway Age, William C Vantuono, all but pleaded in a recent article. "California right now is our only hope," he added.
You're our only hope, Merced!
I don't think I trust that budget surplus, either.
The more pessimistic view is that the project has turned into a boondoggle, the proverbial "train to nowhere", and no good can come of continuing to throw money at it. The Merced to Bakersfield stretch is projected to cost more than $20bn - several billion dollars more than a previous projection made in 2019 and likely to grow only more expensive. It is also far from clear who would ride on it since it largely duplicates an existing Amtrak rail route.
There was a piece in the Modesto Bee in May of last year:
Joe Biden wants to spend $80 billion on rail projects.
What does that mean for California? There's a photo from the Fresno construction in 2017 in the Guardian piece. Only a little progress has been made since then. There are some supports that look sort of like "golden arches" from certain angles over the freeway in Fresno right now. This was last year: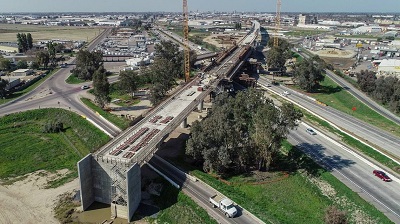 * * * * *
In statewide news, An appellate court in California has held that
bumblebees are fish. . .
So this probably affects us out here in the ag fields.
It takes 35 pages of tortured logic in an opinion that reads like a parody, but the court concludes that bumblebees indeed are fish within the meaning of California's environmental laws. I take it that all other insects, by the court's logic, are also fish. I cite this decision as a warning to those who repose faith in our courts to check the excesses of the political branches. See also: Michael Sussman.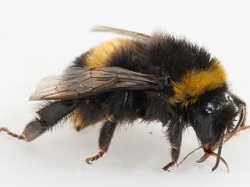 Fish (in California)
* * * * *
Other wacky California laws
California Votes To End Mandatory Reporting On Students Who Threaten Schools
Great timing.
Before the California law was passed, existing law stated that whenever a school official is "attacked, assaulted, or physically threatened by any pupil," staff was "required to promptly report the incident to specified law enforcement authorities." The new bill repealed this requirement.
Related, sort of:
California students push back against
ban on campus trespassing that's rooted in 'white supremacy'
California college students say the law against trespassing would lead to racial profiling by police
"I just feel like it's kind of the epitome, again, of why police don't work," said Pitzer College graduate Alessia Milstein, according to a report by Jefferson Public Radio. "You're trying to solve every conflict with a catchall that is rooted in colonialism and white supremacy." Milstein's concerns stem from a bill working its way through the California legislature that would grant private colleges the ability to charge people with trespassing on their campus, making it a misdemeanor that can be enforced by police. The state's public K-12 and universities already have the ability to enforce the rule, but private schools have been forced to give out warning letters they say have not made a significant difference.
Private schools are rooted in colonialism and white supremacy. Public schools are not, so they can enforce rules against trespassing? Harassing Asian and female students are examples of conflicts that should be "worked out" without resorting to rules against trespassing (unlike on public campuses)?
* * * * *
Rural counties lose property taxes from solar fields indefinitely.
Great reason for rural areas to support the cities!
* * * * *
A Warning From Shanghai
A new California bill threatens to strip doctors of their medical licenses for saying things the state doesn't like. We don't have to imagine what that would look like. Shanghai - - - I seem to remember something about some recent troubles there.
* * * * *
Music
Johnny Cash
* * * * *
Beach Boys
Little Honda
* * * * *
Hope you have something nice planned for this weekend.
This is the Thread before the Gardening Thread.
Serving your mid-day open thread needs
* * * * *
Last week's Thread, May 28,
Old words, new words, clear words, warped words
Obscure words, neo-pronouns. The Woke vs. comedians, David French and those like him, Memorial Day Weekend. Nice
Memorial Day comment
by Jack Straw. Comments are closed so you won't ban yourself by trying to comment on a week-old thread. But don't try it anyway.
Posted by: K.T. at
11:16 AM