Sunday Morning Book Thread 04-12-2015 [OregonMuse]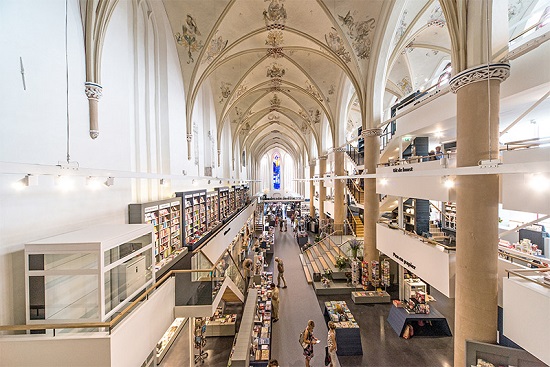 Waanders in de Broeren Bookstore, Zwolle, Netherlands
Good morning to all of you morons and moronettes and bartenders everywhere and all the ships at sea. Welcome to AoSHQ's stately, prestigious, internationally acclaimed and high-class Sunday Morning Book Thread. The only AoSHQ thread that is so hoity-toity, pants are required. Or kilts. Kilts are OK, too. But not tutus. Unless you're a girl.
Book Quote
Whenever you read a good book, it's like the author is right there, in the room, talking to you - which is why I don't like to read good books.

-Jack Handey
Today's photo is from
here
. I'm sad that a beautiful old cathedral was repurposed into a worldly occupation. But, on the other hand, books. And I have to admit, they did a fantastic job preserving the original architecture. Click on
the link
and look at the other photos. It's really quite beautiful. Today's book thread is going to be a bit abbreviated, so sorry about that. On Saturday afternoon, my 5-year-old monitor decided to give up the ghost, so I had to hotfoot it down to Best Buy for a new one. And it took longer than anticipated, so I ran out of time.
The Puppies Are Still Sad
Much has been said about
the Sad Puppies brouhaha
that hasn't already been said, and even our own
capo di tutti capi
himself has weighed in (see
here
and
here
). Plus, we have access to some primary sources, such as Larry Correia, who naturally has written a
crap ton
about this, also Brad Torgersen (for example,
this
and
that
). Not to mention
Sarah Hoyt
. Additionally, I also note that
the wikipedia entry for the Hugo Awards
has added a paragraph about Sad Puppies, to wit:
In 2015, two Internet groups of right-wing[32] science fiction writers, the "Sad Puppies" led by Brad R. Torgersen and Larry Correia, and the "Rabid Puppies" led by Vox Day, each put forward slates of nominations which came to dominate the ballot. According to Correia and Torgersen, this was in reaction to what they considered the prevalence of "niche, academic, overtly to the Left" and not fun science fiction,[32] and in opposition to "an affirmative action award" that preferred female and non-white authors, or works featuring such characters.[33] The campaigns triggered an "uproar"[32] among fans and authors, with some nominees declining their nominations,[32] and many people advocating "no award" votes.[33] The Guardian and The A.V. Club assessed the campaigns as an "orchestrated backlash"[34] by a "group of white guys"[35] against a trend of increasing diversity in the Hugo awards. Various commentators compared the affair to the Gamergate controversy,[36][37][38] and the Boston Globe called the "Sad Puppies" "Gamergate-affiliated".[36]
By way of comment, I have seen this a lot in football games: 1. Player 1 late-hits Player 2
2. Player 2, angered at being hit late, late-hits Player 1 in retaliation
3. Referee responds by calling a personal foul on Player 2 for his late hit. Or, the second scenario: 1. Player 1 late-hits Player 2
2. Player 2, angered at being hit late, late-hits Player 1 in retaliation
3. Referee calls personal fouls on both players for hitting late. The NFL lately has been trying to referee these sorts of situations more intelligently, but my point is, these two scenarios are very much descriptive of the reactions to Sad Puppies. Most of the social justice wankers are playing this as "right wing conservatives have orchestrated a take-over of the Hugo Awards because they hate 'diversity'." In other words, NFL scenario #1.
This Salon article
is a typical example of this dishonest narrative. And I'm not even going over to the Guardian site, because you know they're all in full-blown social-justice-wank-wank-wank mode over this. So, finally getting around to my point, the wikipedia entry is more like NFL scenario #2. But it reads like the "let's not quibble over who killed who" (where is that from, anyway?) gag line. By pretending to be fair, it really is quite unfair; it doesn't tell the whole story. Seems to me that it could use a bit of editing. By the way, George R.R. Martin has
weighed in
(har) on this, trying to strike a reasonable tone, and Larry Correia has
responded
. Also, this week I received an e-mail from a moron who wants me to remind you that you can participate in the Hugo voting by becoming a supporting member of the Science Fiction Society of America. Supporting membership costs $40 and registration
here
. The
worldcon 2015 convention
, where the Hugos are formally awarded, is in August, so you have some time left. Also, I found out from moronette Anna Puma that Weber State University in Ogden, Utah is holding a workshop entitled
How to Make a Living as a Professional Fiction Writer
presided over and taught by the head honcho of the Evil League of Evil himself, Larry Correia. Workshop dates are Tuesdays, May 5th - 26th.
Do AIs Ever BSOD?
Looks like Baen is
running a contest
:
In Travis S. Taylor's new novel Trail of Evil, a malevolent AI teams up with an alien species. But how might things play out if the computer program the aliens came into contact with wasn't so intelligent? Tell us, what is the worst piece of Earth software an intelligent extraterrestrial species could come into contact with and why? Might Siri interpret "We come in peace" as "Find us some peas"? Would Microsoft Word reformat the aliens' letter of greeting? Tell us for your chance to win a signed copy of Trail of Evil
Thanks to Anna Puma for the tip.
More Programs
Moronette
Elisabeth Wolfe
informs me that there are a couple of UCLA programs that moron writers might be interested in.
The Apollo Workshop
, which focuses on film and television, and the new
Calliope Workshop
, for fiction and non-fiction authors. Both workshops are free, and they even provide travel and living expenses to out-of-town participants, but you have to qualify to be accepted. Application for the Apollo Workshop is
here
.
Application for the Calliope Workshop is
here
. The following question on the Apollo application caught my attention:
In 1500 characters (about 300 words total) or less, please tell us about three individual rights that you would add to the U.S. Constitution that are either not currently present or enforced, or have been ignored, neglected, or reversed.
To me, this looks like a question that's going to be used to screen out pesky conservatives. Ms. Wolfe, who attended the workshop in 2012, assures me that this isn't true. In fact,
Quite the opposite - these guys are conservative/libertarian. When I went, one of my fellow attendees wrote for Big Hollywood, and another wrote for Reason TV, and panel members included Bill Whittle's colleague Jeremy Boreing. That question did puzzle me, but I think it's coming from a libertarian viewpoint
So it sounds very much worthwhile - for those of you with the writing chops to qualify.
Books By Morons
Moron commenter "BornLib" reminds me that Old Sailors Poet has finally released and published the sequel to Amy Lynn. Now only in paperback, the Kindle version of the long-awaited
Amy Lynn: Golden Angel
will be out in a few days. OSP also has his own Amazon author's page where you can see his smiling face, and read about his life, which I think is quite remarkable, all the things he's done. And you'll also find out that he's currently working on his next book, Amy Lynn #3, The Lady of Castle Dunn.
What I'm Reading
I've been having a lot of fun with Marc Schweizer's
Liturgical Mysteries
series. They're laugh-out-loud funny. I do most of my reading in bed at the end of they day, and with these books, I keep wanting to elbow Mrs. Muse, "hey, let me read you this part", every couple of chapters. The main character, Hayden Konig, is a police detective in a small town in North Carolina who is also the music director(with decidedly conservative musical and liturgical tastes) of the local Episcopalian church. Having acquired Raymond Chandler's typewriter in an eBay auction, he thinks he can write hard-boiled crime fiction, but his efforts, strewn throughout each of the books, are laughably bad. But what he is good at is solving crimes, so each book has him figuring out a complex whodunit while writing his latest Chandler-esque detective story. And dealing with the add cast of characters at his church, usually the zany hijinks that ensue why they try to implement some goofy modern liturgical novelty (such as a "Clown Eucharist" service.). I think the author must be conservative, at least in some aspects, the way he goes after liberal targets. So that just adds to the fun. The first one in the series
The Alto Wore Tweed
. I'm currently reading book 2,
The Baritone Wore Chiffon
.
___________
So that's all for this week. As always, book thread tips, suggestions, bribes, rumors, threats, and insults may be sent to OregonMuse, Proprietor, AoSHQ Book Thread, at the book thread e-mail address: aoshqbookthread, followed by the 'at' sign, and then 'G' mail, and then dot cee oh emm. What have you all been reading this week? Hopefully something good, because, as you all know, life is too short to be reading lousy books.