Ace of Spades Pet Thread, New Year's Eve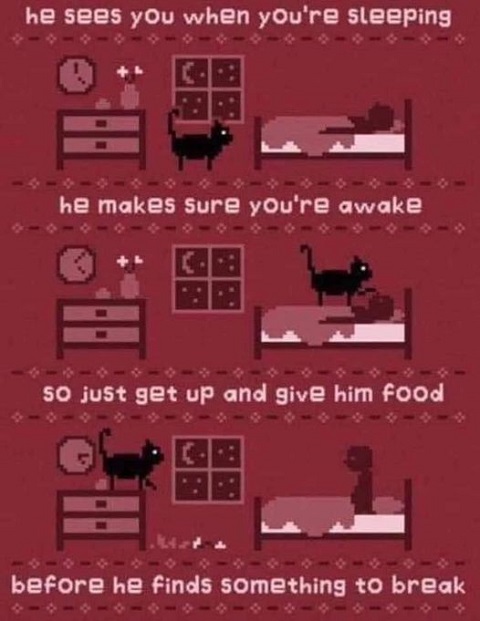 *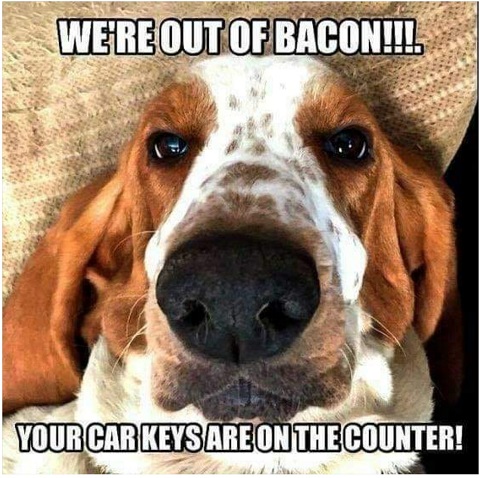 * * *
Good afternoon and welcome to the almost world famous Ace of Spades Pet Thread. Thanks for stopping by. Kick back and enjoy the world of animals. Would you like a treat? Let's pay some attention to the critters and leave the world of politics and current events outside today.
* * *
Did you remember to celebrate Boxing Day? *
* * *
Angel Dog
* * *
Meet The PetMorons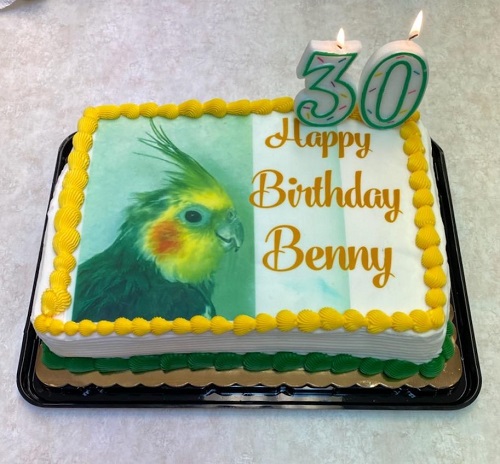 Benny
Hi, I thought I'd share an interesting character that Pet Morons might appreciate. Benny is a cockatoo, who has lived with ancient college buddy of mine, Kim, on the Outer Banks of North Carolina. They have been together for 31 years which beats the span of my first marriage by fourteen years. Kim worked for a long time doing surveying for the town, and on Benny's 31st birthday, the survey department presented Benny with a cake. Benny can be a bit cranky and will shun Kim when he returns to the house after
leaving for any length of time. Over the holidays he (Kim, not Benny) visited his family for a few days. I asked Kim how Benny reacted when he got back home. He laughed. "You won't believe it. He gave me a wolf whistle." "Levin"
We know who controls THAT relationship. Might be best not to take Benny out on the town tonight . . . .
Thanks to CBD for formatting the video.
* * *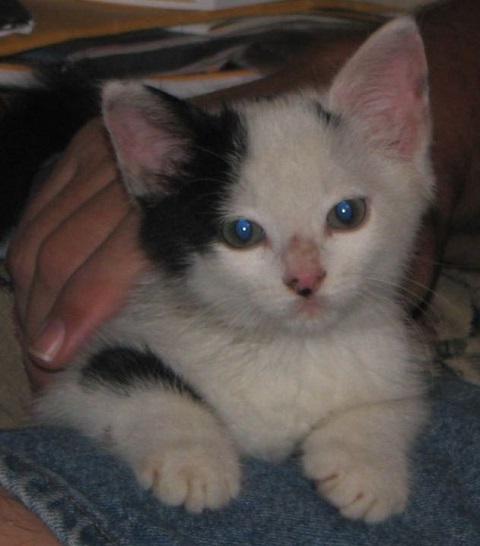 &&&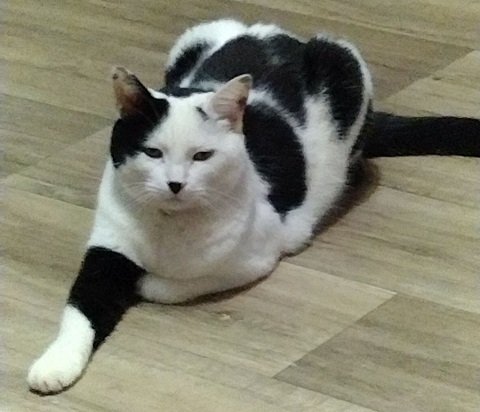 Start off with meeting the menagerie These are Joker the cat, aka the mighty Jokey. There's 15 years between the two pics. Yes, he's doing fine, just grey hairs showing, but don't we all. He's giving me the stink eye cause I told him he couldn't jump up on me. ed in texas
Joker the kitten grew into a fine Joker the cat.
* * *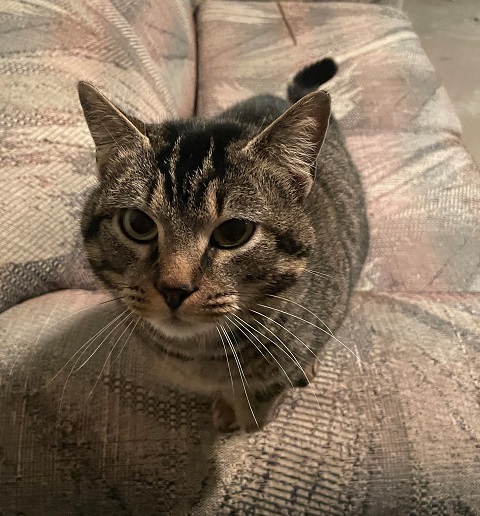 &&&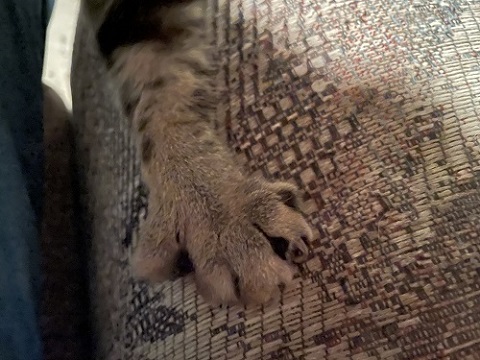 Hello, As I've mentioned a few times on the blog this week, a polydactyl cat has wandered into my AO. She just showed up a day or so before Christmas, right when the temperatures began to plummet. She wove her wiley charms around me and convinced me to let her sleep in my sunroom over Christmas. My sunroom isn't heated, but it's a lot better than the freezing wind/ice/snow. I also gave her food and water (my fatal mistake). This week I was able to take her to my vet to see if she had a chip, indicating someone else owned her (NO CHIP!). She does appear to be "fixed" as there is a detectable scar on her lower belly. Though there is no notch in her ear, which the vet said often indicates a "catch, fix, and release." They also hadn't had anyone calling about her. She's very unusual in being a fully polydactyl cat with an extra toe on each paw. Also the warmest, softest kitty ever, friendly and affectionate. So it looks like I may have yet another cat, at least for the time being, until someone contacts me about her... I've included a couple of pics of the cat, including one pic of one of her paws, where I try to show her polydactylism (there's an odd split between the toes). And I've named her "Hexie" because she 1) cast a spell over me and 2) has six toes on her front paws.
Enjoy! "Perfessor" Squirrel's Home for Wayward Cats
We have had polydactyl garden kitties. The one with the most toes was also a good hunter of gophers and pretty mean. His front paws were really big. He was really feral. We did manage to get him fixed. Hexie looks much, much nicer.
* * *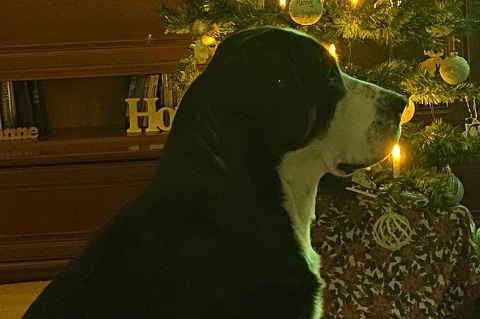 &&&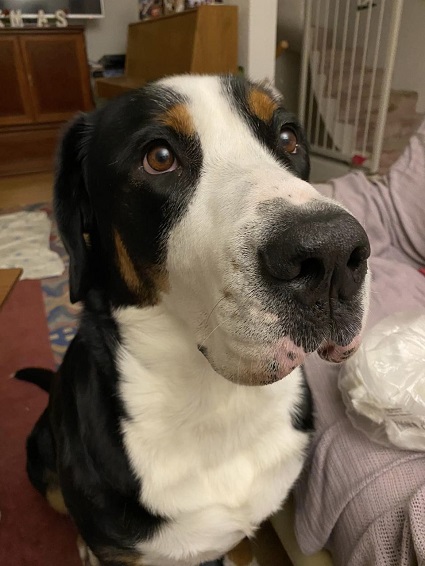 &&&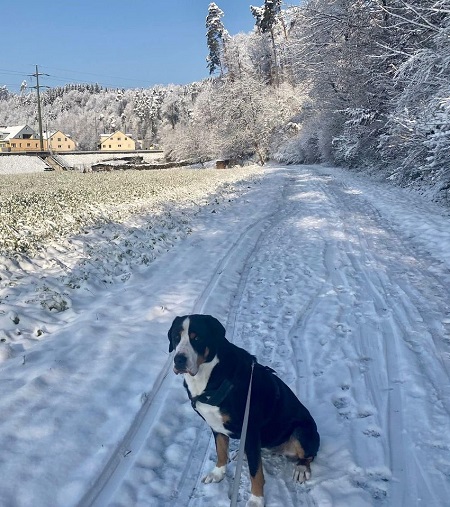 Happy New Year from our Swiss guide dog, Gioia!
* * *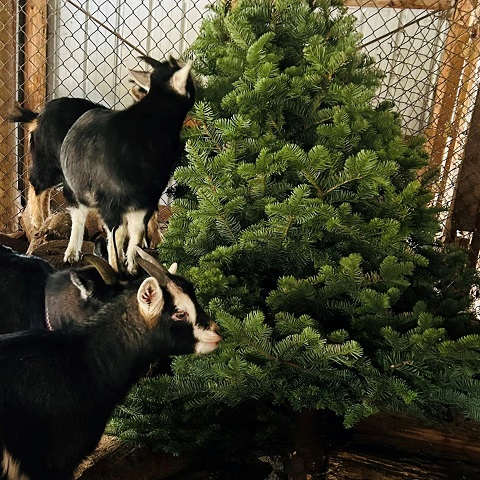 Goats (all in the family) enjoying leftover Christmas trees.
* * *
NOTE: If you sent a message about a pet named "Quiche" a few months ago, it went to the spam folder. Maybe you could try again.
Loved the unusual pets today! Thank you for sharing your pets with us.
If you would like to send pet and/or animal stories, links, etc. for the Ace of Spades Pet Thread, the address is: petmorons at protonmail dot com Remember to include the nic by which you wish to be known when you comment at AoSHQ, or let us know if you want to remain a lurker.
Until next Saturday, have a great week!
* * *
If you start feeling nostalgic, here a link to last week's Pet Thread, the
Ace of Spades Pet Thread, Christmas Eve.
Some special PetMoron stories and photos there. I closed the comments on this post so you wouldn't get banned for commenting on a week-old post, but don't try it anyway.
Posted by: K.T. at
03:25 PM