RIP: Coblogger Emeritus Dave In Texas Has Passed
I received the bad news last night that an old friend and one of the founders of the site, the great Dave in Texas, had passed.
Apart from being a coblogger and taking over as the main blogger for a weekend or two, Dave was the site's biggest supporter of the armed forces, and always posted a stirring tribute to the military on Memorial Day or December 7th and on all other days of remembrance. He was also the site's football guy. He would post the football threads every Sunday -- back when the site was pro-NFL. He would post pics of cheerleaders -- we shared the same idea with cheerleader pics, the idea was, choose pics where it looks like the picture is an innocent one but then oops, wait, maybe it's not entirely innocent. But commenters would inevitably critique the cheerleaders he posted for having a too big this or a too small that. These picayune gripes about the physical attributes of obviously-attractive women became summed up by the phrase, "Her elbows are too sharp." Or: "Nice butt but why are her elbows so pointy?!" In this spirit, Dave made me laugh out loud by choosing cheerleader pictures that emphasized
nothing but the pointy elbows of the girls.
For example: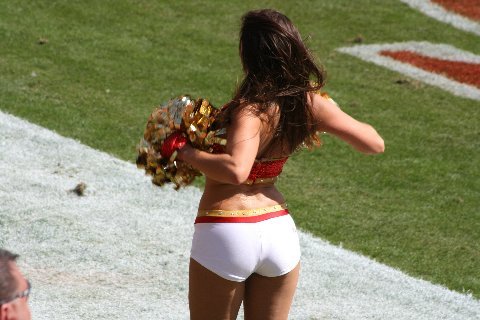 Dave's wit was often as dry as a Texas arroyo in August. An arroyo is a thing, right? They can be dry right? His humor could also be broad and silly, as in the case of
the Crap Tree.
His wife liked a nice classy Christmas tree. Dave liked hanging up crap ornaments he got from 7-Eleven and postcard give-aways from Hawaiian Punch on the tree. So his wife got him his own special, stupid Crap Tree he could hang his Dumb Ornaments on. Dave's special function on the blog was counter-trolling. Nothing made him happier than a new troll announcing himself on the blog. Dave didn't get mad. He never raised his (internet) voice with them or cursed or insulted them. He just toyed with them and played with their idiocy. He was an artist who painted in stupid. One major blog meme from the Old Days came about when a troll began spouting a Fake Quote. I forget which Fake Quote it was. You remember the days, though, when Fake Quotes were rampant on the internet, right? This troll made a claim, I think, that free speech had to be limited because it could be used to advance tyranny and he attributed it to someone like... I don't know, Machiavelli or something stupid. Dave responded:
"Free speech is overrated, but not overly so." -- Thomas Jefferson
This began an absolutely epic trolling session the likes of which the world has not oft seen. The troll demanded a citation for this quotation, and Dave responded that it's all over the internet, and that he can't be bothered to do his homework for him. When the troll responded that he had now searched for twenty minutes and could find no reference to the Thomas Jefferson quotation, "Free speech is overrated, but not overly so," Dave In Texas responded -- perfectly politely, perfectly seriously -- that he was getting the quote from a book he owned of Jefferson quotations. A book of Jefferson quotations which he said was called:
Stuff Jefferson Said.
After a ten minute pause, the troll reported that his efforts to find a reference to the book
Stuff Jefferson Said
had proven fruitless, and he was beginning to doubt that there was even a book called "Stuff Jefferson Said" at all. Whereupon Dave said something like: Do not be unkind, I would not lie about something as important to me as Thomas Jefferson; I own the 4th edition of Stuff Jefferson Said, and it is published by University of Virginia Press, Richmond, Virginia, 1962. This went on for hours, as the troll continued in vain to search for the elusive quote "Free speech is overrated, but not overly so" and the book
Stuff Jefferson Said
, and Dave in Texas patiently continued providing him fresh clues designed to help him find it (Perhaps I was wrong, maybe it was William and Mary University Press that published it? Oh wait, it was published in 196
5
, my apologies!). The troll became frustrated and then bedeviled and then angry, and Dave maintained his same patient, quiet, helpful demeanor.
"Free speech is overrated, but not overly so." -- Thomas Jefferson

-- Dave in Texas
One of Dave's finest counter-trolling ops concerned his legendary duel with "Proud Liberal Vet." Back in the 2000s, there were a lot of a Fake Vets who would troll conservative websites claiming all sorts of nonsense and shenanigans. Proud Liberal Vet came in claiming that he had served in Iraq. And, strangely, he also claimed he had served in
Antarctica.
He also made a lot of claims about his service in Iraq, stuff like being forced to commit atrocities and that kind of thing, if I remember correctly. Dave immediately detected a fraud and the opportunity to hone his skills in counter-trolling. He asked Proud Liberal Vet what his M.O.S. was. M.O.S., Dave would later explain to me, is the abbreviation for Military Occupation Specialty, and refers to a four (formerly three, I believe) digit code that specifies what your basic job/training is in the armed forces. For example, 0311 is means that you're a Marine infantry rifleman. (I think this used to be just 311 -- I think they added the fourth digit because they created more M.O.S.'s and needed more numbers.) Proud Liberal Vet was left completely dumbfounded and avoided answering what his M.O.S. was. Dave just kept asking, politely, what his M.O.S. was. In every thread, Proud Liberal Vet appeared to tell us that Bush ordered him to use White Phosphorus on civilians. Dave asked, "What was your M.O.S.?" Proud Liberal Vet would suddenly disappear. Ultimately Dave cornered him and it became clear that Proud Liberal Vet did not have the faintest idea what an M.O.S. is, which of course is impossible if you were ever in the military; you can't
not
know what job you have, or what code is assigned to your job. You have to repeat that number and write it on forms ten thousand times a year. All of this inspired Dave in Texas to write one of the finest parodies ever written on the Ace of Spades blog: "Antarctica Now," a first person account, ostensibly from Proud Liberal Vet's POV, about fighting Charlie in Antarctica. He wrote in in the comments. I later put it in a post, but who knows how to find that old thing. Fortunately, Mrs. Peel found it and
sent it over to Michaels Comments to post.
So you can read "Antarctica Now" there, if you like.
Antarctica, shit. I'm still only in Antarctica. Every time I think I'm going to wake up back on the ice floe. When I was home after my first tour, it was worse. I'd wake up and there'd be nothing... I hardly said a word to my wife until I said yes to a divorce. When I was here I wanted to be there. When I was there, all I could think of was getting back into McMurdo. I've been here a week now. Waiting for a mission, getting softer. Every minute I stay in this tent I get weaker. And every minute Charlie squats in the snow he gets stronger. Each time I look around the tent flaps move in a little tighter. Everyone gets everything he wants. I wanted a mission, and for my sins they gave me one. Brought it up to me like room service. ****** I was going to the worst place in the world, and I didn't even know it yet. Weeks away and hundreds of miles up a glacier that snaked through the ice like a main circuit cable and plugged straight into Byrd. It was no accident that I got to be the caretaker of Admiral Richard E. Byrd's memory, any more than being back in McMurdo was an accident. There is no way to tell his story without telling
my own. And if his story is really a confession, then so is mine. ******* How many penguins had I already killed? There was those six that I know about for sure. Close enough to blow their last fishy breath in my face. But this time it was an American and an officer. That wasn't supposed to make any difference to me, but it did. Shit...charging a man with murder in this place was like handing out snow shovels to Roald Amundsen. I took the mission. What the hell else was I gonna do? But I didn't know what I'd do when I found him.
More at the link. A couple of tweets from Dave, on July 16: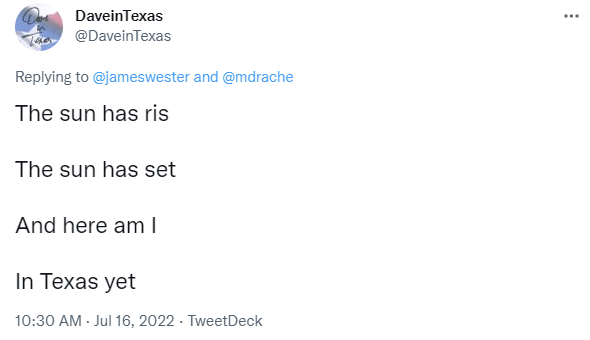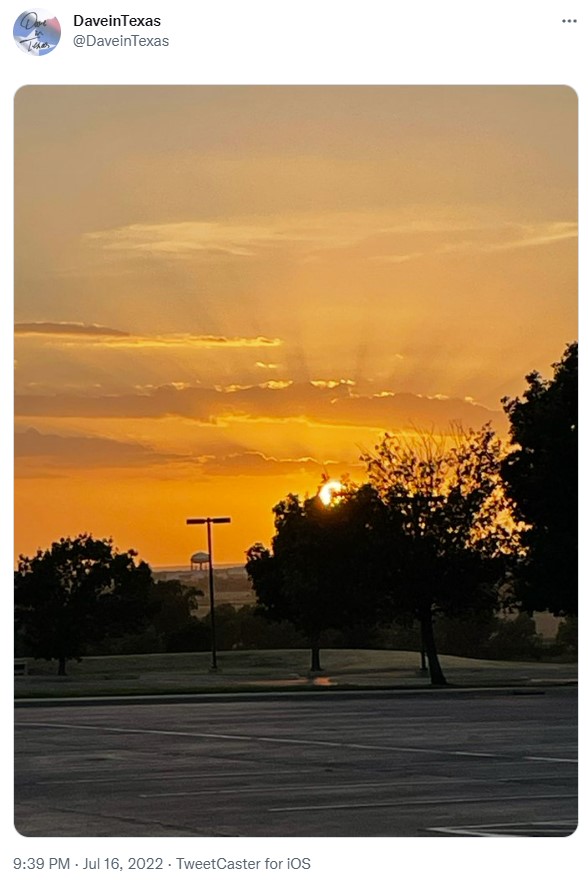 He will be missed. Dave had his own blog.
You can sample his past writings there.
Below: Dave's last Crap Tree. Oh boy.
And the Wise Men said: "Gojira!"
An Old Dave In Texas Post:
Warning, do NOT comment in this post; our automatic spam-banner bans anyone who comments in a post older than 14 days. Just rounding up comments, but
here's Dave collecting commenters writing proposed headlines for a woman's magazine, if it were written by (straight) men.
Don't comment in that post! Read only! Thanks to AndrewsDad.