Homeschooling: Even Better Than You Think (Part 2) [Bluebell]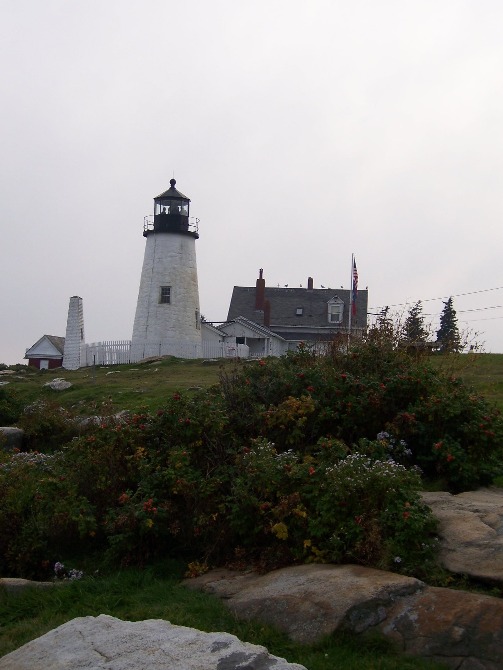 From another trip, here's the lighthouse at Pemaquid Point near Bristol, Maine. I will share a funny story about this in the comments.
In my continued quest to encourage those interested in homeschooling, I now bring you more reasons to consider it. If you missed the first part,
you can find it here.
Ready? Let's go!
Schedule to suit your needs
As I mentioned in Part 1, there is no need to start school at the same time every day. Now, many people like to do this, and there's nothing wrong with it. In fact, I liked doing it, and most of the time we were able to. But, if you have to work around doctors' appointments, speech therapy, etc. it's easy to do. Or if you have a baby during the school year, you can adjust your schedule to be able to take some time off, perhaps by starting the school year a few weeks earlier. And of course, you can also schedule around your off-peak vacations. This flexibility is especially helpful if you have a child with serious medical issues, or if you have a sick family member such as a grandparent. I know families who took all the schoolwork and the kids and went to stay with the grandparents when one of them was seriously ill, to help care for them. That's a real blessing to be able to do that when you live far away, and the kids learn a valuable lesson about caring for the sick and elderly, as well as compassion.
Help others
Most homeschoolers belong to some sort of homeschool group, and I highly recommend that for many reasons besides the obvious academic ones. One of them is that you and your children will gain valuable opportunities for service to others. My homeschool group (and every one I know of) would bring meals to families with a new baby, or with a sick parent (perhaps going through chemotherapy), or for any other reason that warranted it. My children also went to a lot of funerals, which may sound strange. But we taught them that even if they had never met the person who died (usually a grandparent of one of their friends), we go to show our respect and support our friends with our presence and our prayers. Of course, we also had plenty of volunteer opportunities through our homeschool groups and our church and with our flexible schedule we could participate often.
Surround yourself (and your kids) with like-minded friends
This is a blessing that really can't be overlooked. Many of our closest friends are families that homeschooled with us. Not because we don't socialize with others (we do!), but because we know them from our homeschool days and we know that we share the same values. When you live in a blue area as we do, it's really comforting to know that there are some like-minded people around. The same goes for our children – they grew up with friends whose families we knew well and we never worried when they were over at their houses. Do all homeschoolers think (and vote) alike? Of course not. But, we were all very respectful to each other. Think how rare that is nowadays.
Take care of the house
You may be wondering, if my kids are home all day, how on earth do I contain the mess? Well, you don't (just keeping it real here). But, your kids can and should help, and I count this as a benefit because you get help cleaning the home and the kids learn how to contribute to the household. Were there people who did this better than I? You better believe it. But my method was kind of fun, and it worked. We would generally have a lighter school day on Friday (front-loading some things earlier in the week), and then we would do a little cleaning so the house would be presentable for the weekend. I made a list of jobs on index cards and as each kid would finish their schoolwork, they would get to choose 3 or 4 cards and tackle those chores. The kids were incentivized to finish up early so they could choose the chores they wanted, and in the end the house looked presentable. Fairly. Ish.
Field trips
We touched on this in the comments of my very first homeschooling piece, but the sky is the limit when it comes to field trips. Museums are thrilled to put together tours according to the ages of the students, and many places that are crowded on weekends are pretty empty during the week. Field trips could be just a couple of hours, or a day-long thing (or even overnight, for the overachievers out there). Many places offer special days for homeschoolers with reduced pricing, and you can take advantage of these with a group or just with your family.
Colonial Williamsburg is one such place here in Virginia – check to see what your state offers!
Field trips are not only educational, they are fun. When the Nationals first came to town, I could take the kids to a baseball game during the day for $5 per ticket in the nosebleed section. The kids didn't care where we sat, they were just excited to be there. During a school day! There are countless other blessings and benefits to homeschooling, and I invite the HordeSchoolers (my term for the Horde homeschoolers who showed up in force two weeks ago!) to share them in the comments. If you have questions, please ask away and we will do our best to answer them. Thank you for allowing me once again to wax poetic about the most important thing I ever did for my family.