Tuesday Overnight Open Thread (5/23/17)

(Inviting? Lake Ontario)
Quotes of The Day
Quote I
The allurement that [women] hold out to men is precisely the allurement that Cape Hatteras holds out to sailors: they are enormously dangerous and hence enormously fascinating. H.L. Mencken
Quote II
You cannot extend the mastery of government over the daily life of a people without somewhere making it master of people's souls and thoughts.… Every step in that direction poisons the very roots of liberalism. It poisons political equality, free speech, free press, and equality of opportunity. It is the road not to more liberty but to less liberty. Herbert Hoover
Quote III
Being cynical is the only way to deal with modern civilization — you can't just swallow it whole. Frank Zappa
*****
Paul Joseph Watson on the Manchester attack.
*****
There won't be another TV icon like Roger Ailes.
Mark Steyn looks back at Roger Ailes.
He brought that showman's savvy to Fox. As Charles Krauthammer likes to say, Rupert Murdoch and Roger Ailes discovered an under-served niche market: 50 per cent of the American people. At the time Ailes was on my BBC show, Murdoch's new network was already in the works and the man he'd picked to run it was Andrew Neil, his editor at The Sunday Times in Britain (now at the Beeb and chairman of the Speccie). That fit a Murdoch pattern with his American ventures, of parachuting in someone he trusted from London or Oz (as at The Wall Street Journal and New York Post). This time, though, he had second thoughts: before the project got off the ground, Neil returned to the UK, and Murdoch let Ailes have a completely free hand in reinventing cable news. Within five years, the upstart had overtaken CNN, and never looked back.
*****
Settled science? Settled dogma?
Burying Benedict.
Though Benedict is still living, Francis is trying to bury him. Upon his election in 2013, Francis began to pursue an agenda that Joseph Ratzinger had opposed throughout his career. A stress on the pastoral over against the doctrinal, a promotion of diverse disciplinary and doctrinal approaches in local churches, the opening of communion to the divorced and remarried—all these proposals were weighed and rejected by Ratzinger more than ten years ago in a heated debate with Walter Kasper. For better or worse, Francis now seeks to reverse Ratzinger. The conflict began with a 1992 letter concerning "the fundamental elements that are to be considered already settled" when Catholic theologians do their work. Some theologians had suggested that while doctrine might be universal and unchanging, it could be bent to meet discrete pastoral realities—allowing for a liberal approach, say, in Western Europe and a more conservative one in Africa.
As a conservative Protestant, I find this upheaval in the R.C.C quite interesting.
*****
Do we have a constitutional crisis?
The appointment of a special prosecutor may be one.
Rod Rosenstein's appointment of Robert Mueller to investigate wholly unsupported claims of "links and/or coordination between the Russian government and … the campaign of President Donald Trump" poses the most serious threat to American constitutional government and domestic peace since the Civil War.
Funny, how the same old tired and worn political hacks resurface.
*****
Sheer lunacy on college campuses.
In a recent New York Times op-ed, New York University provost Ulrich Baer argued: "The idea of freedom of speech does not mean a blanket permission to say anything anybody thinks. It means balancing the inherent value of a given view with the obligation to ensure that other members of a given community can participate in discourse as fully recognized members of that community.
Fuck you, you asswipe
I strongly disagree Professor
Shit-For-Brains
Baer.
*****
The previous story not cray-cray enough for you?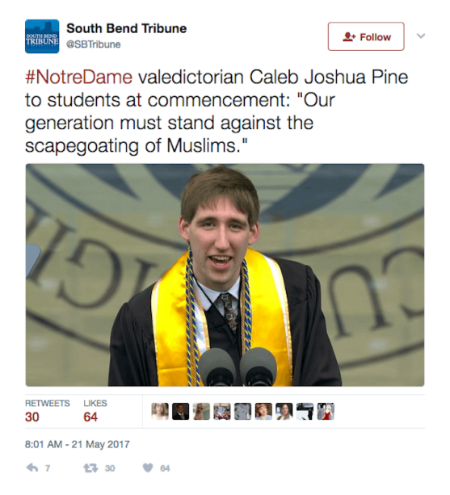 Spoiled brats at Notre Dame are concerned about the Muslims of the world.
Heaven forbid we scapegoat them.
College grad, eh? Soft pampered piece of crap. Quite frankly I wouldn't trust him with anything more than a broom and a dust pan.
*****
To resist or not to resist, that is the question.
WWII France examined.
In such a situation of shock and bewilderment, it was not obvious what the French should do. Overwhelmingly, they were patriotic, but where did patriotism lie? Most took the view that France had been undermined and betrayed by forces that were not properly French. These should be excluded to restore France's health and vigour, and the nation's fortunes should be entrusted to a real military hero, Marshal Pétain. The Marshal met Hitler in October 1940 and shook hands with him, announcing that he was embarking on a strategy of collaboration. This was not necessarily all bad. Its purpose was to bring POWs home sooner, to make it easier to cross the demarcation line between the occupied and non-occupied zones and to reduce some of the financial and economic burdens inflicted by Germany, although in practice the Germans made few concessions. Many people thought that Pétain, while working ostensibly with the Germans, was playing a double game – in secret contact with the British in order to eventually bring France back into the war against Germany.
*****
Hero? Bum?
Naked dude loses appeal of TSA fine.
Just over five years after John Brennan's heroic (and heroically naked) stand against TSA oppression, the Ninth Circuit has rejected his appeal. As you may recall, Brennan was arrested in April 2012 after he got fed up with TSA screening nonsense in Portland and decided to strip naked as a form of protest. Although obviously this greatly simplified the screening process—or it would have, if the goal were actually to determine whether a traveler is carrying anything dangerous—the TSA acted like it didn't, and shut down the checkpoint.
Win some. Lose some. The ONT is surprised that the 9th
Circus
Court of Appeals didn't throw him a ticker tape parade.
*****
Dogs are noted for their keen sense of smell.
Your sense of smell may be better than your dogs.
In 2007, some UC Berkeley neuroscientists decided to work their students like dogs. They dipped twine in chocolate essence, zigzagged it across a grassy field, and instructed human volunteers to track the scent as if they were bloodhounds. To ensure that they were only relying on their sense of smell, the researchers had their subjects get down on all fours while blindfolded, ear-muffed and wearing thick knee pads and gloves.
*****
The ONT Musical Interlude
May 23, 1970, Paul McCartney's debut solo album, 'McCartney', started a three-week run at No.1 on the US album chart. Apart from Linda McCartney's vocal contributions, McCartney performed (and recorded) the entire album solo. The album featured 'Maybe I'm Amazed', which Rod Stewart and The Faces featured on their 1971 album Long Player.
Just. Because.
You know who you are.
*****
Switzerland has decided to go green.
Renewable energy to phase out nuclear.

The Swiss have used their power of direct democracy to end nuclear power. In a referendum on Sunday (May 21), 58.2% voted in favor of a law that will not allow building of new nuclear plants. The country's five nuclear plants can continue to operate as long as they are safe.
*****
Classic literature and music.
They have a lot in common.
20 bands named after classic literature. Can you think of others.
*****
Ludwig van Beethoven,
genius musician and sensitive man.
My dear good Emilie, my dear Friend! […] Do not only practice art, but get at the very heart of it; this it deserves, for only art and science raise men to the God-head. If, my dear Emilie, you at any time wish to know something, write without hesitation to me. The true artist is not proud, he unfortunately sees that art has no limits; he feels darkly how far he is from the goal; and though he may be admired by others, he is sad not to have reached that point to which his better genius only appears as a distant, guiding sun.
*****
How America has changed in 50 years.
Readers may disagree as to whether these changes represent social progress or cultural decline, but few will quarrel with the idea that America 1) is bifurcating; 2) has experienced a fundamental cultural transformation in just a few generations. Here are six statistics that drive home just how much things have changed in America in a little more than a half-century:
*****
Karma, is a
bitch
Genius Award Winner.
Not all cops are out for the bust.
The Feel Good Story of The Day
*****
Tonight's ONT has been brought to you by Redneck Engineering.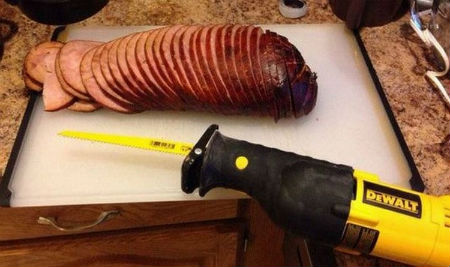 Notice: Posted with permission by AceCorp, LLC which is not responsible for the content of this ONT. Let's not get into it about the advertisers, staff or management.
Posted by: Misanthropic Humanitarian at
09:54 PM