Sunday Morning Book Thread 08-21-2016: Summertime [OregonMuse]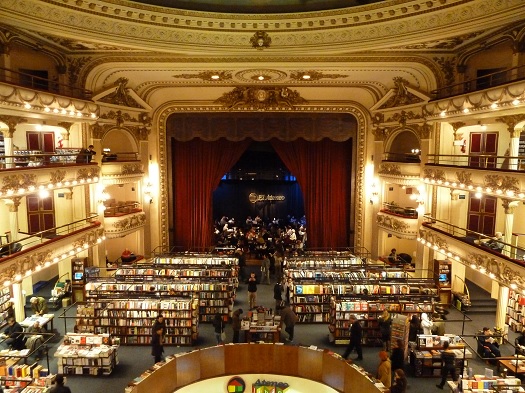 Libreria El Ateneo Grand Splendid Bookstore, Buenos Aires, Argentina
Good morning to all of you morons and moronettes and bartenders everywhere and all the ships at sea. Welcome to AoSHQ's stately, prestigious, internationally acclaimed and high-class Sunday Morning Book Thread, where men are men, all the 'ettes are gorgeous,
safe spaces
are underneath your house and are used as protection against actual dangers, like tornados, and snowflakes soon dissolve. And unlike other AoSHQ comment threads, the Sunday Morning Book Thread is so hoity-toity, pants are required. Even if it's
these
.
I could have sworn I've used a pic of this bookstore before, but I couldn't find where. So maybe I didn't. I'm going to eventually run out of library/bookstore pics so I'm going to have to get into repeats at some point, I'm afraid. Anyway, according to
this MSN travel piece
:
Formerly a 1920s-era performance and movie theater, the Grand Splendid was the home of tango stars like Carlos Gardel. Everything inside has been repurposed: The box seats have been converted to reading nooks, while the stage is now a café. Visit in the afternoons and you might get to hear someone at the piano taking advantage of the building's amazing acoustics.
Click on the pic for a larger version.
Lest We Forget
From time to time on this blog, we old farts swap stories and reminisce about how much better things were in ye olde days, a time when, for example, you could leave your door unlocked, or kids could go off by themselves for the entire day and their parents wouldn't be worried sick about them. Not to mention the cool old cars, the cool old food, cool old buildings, etc. But, as
moron Mike Hammer noted
in one of the morning threads a week or so ago, there are some things in the past that are perhaps best left there:
The first summer when I was home in Minnesota was that gosh-awful polio epidemic they had there. We admitted 464 proven cases of polio just at the University Hospital, which is unbelievable. And this was a very severe paralytic form. Maybe two or three hours after a lot of these kids would come in with a stiff neck or a fever, they'd be dead. It was unbelievable. It was just loads of people that came in, sometimes with only a fever but usually a headache and a little stiffness in the neck. And just absolutely terrified. At the height of the epidemic, the people in Minneapolis were so frightened that there was nobody in the restaurants. There was practically no traffic, the stores were empty. It just was considered a feat of bravado almost to go out and mingle in public. A lot of people just took up and moved away, went to another city.
— Richard Aldrich, M.D.
quoted in A Paralyzing Fear
Yeesh. This is horrific enough that Stephen King could write a book about it (which, now that you mention it, I think
he already has
). Anyway, the doctor quote is from
A Paralyzing Fear: The Triumph Over Polio In America
, which is a companion book to the PBS documentary of the same name.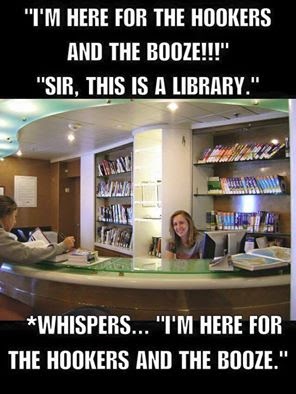 (h/t to lurker John for the pic) There are only two countries left in the world where the "wild" polio virus is still being reported.
Guess where
:
(Afghanistan and Pakistan) is the last remaining region with wild polio cases. Both major sides of the Afghan civil war support polio vaccination and polio rates are declining rapidly in Afghanistan, with only 19 cases in 2015...In Pakistan there were 53 cases in 2015, the highest number for any country. Vaccination in Pakistan is hindered by conflict and organizational problems. The militant Pakistani Taliban claims vaccination is a Western plot to sterilize local children. 66 vaccinators were killed in 2013 and 2014.
So, thankfully, polio is being reduced even in that part of the world, despite the efforts of death cult
jihadis
to spread it around.
Crossing the Streams
25 I lost my best pal this week.

My ten year old Lab had a coronary heart failure. I knew he wasn't well, but apparently he had cancer, and tumors in his chest were bleeding and filled his heart cavity with blood. He collapsed Monday afternoon after I got home from work. I managed to get him into the car with the help of my neighbor (my Lab weighed over 130 lb, he was a big dog), and by the time I got him to the emergency pet hospital, he was in cardiac arrest.

Last week, Hrothgar was writing about how he had lost his oldest dog, and I knew mine was sick, but just didn't realize how sick he was. I don't think taking him to the vet earlier would have prevented much, but it just broke my heart to lose my best friend. As my son said, he was the best dog a guy could have ever asked for. He loved my sons, and was just a great companion.

What makes dogs so loyal, such good friends? How do we ever deserve something as wonderful as that? How did I ever deserve to have such a good dog?

Posted by: Bossy Conservative....outlaw in America at August 20, 2016 03:40 PM (RFeQD)
A few days ago, moron commenter Anonosaurus Wrecks made me aware of
Cold Noses At The Pearly Gates
, a book that discusses where our pets go when they die:
The death of your beloved pet can be one of the most heartbreaking losses you'll ever endure. But recovery isn't only about closure. You also want to know where your best friend has gone.

After the intense, unexpected grief he experienced following the loss of his own companions, animal lover and biblical scholar Gary Kurz set out to prove that there are indeed pets in Paradise. After devoting countless hours of research, he now shares his inspiring insights to bring you a richer understanding of animals and their souls. You'll finally find answers to common questions about animals and the afterlife--and you'll also get a 30-day devotional to help you work through your grief.
I do not know enough about this topic to have an opinion. I certainly believe in the afterlife, and I don't think I would be surprised at either possibility. I don't think the Church has ever made a definitive ruling. I'm not a pet owner, and I haven't given this question much thought. I (literally) do not have a dog in this fight. But what I found interesting is that while I was looking at this book, Amazon shoved some others at me that were very much like it.
Biblical Proof Animals Go To Heaven
by Steven H. Woodward,
Wagging Tails in Heaven: The Gift Of Our Pets' Everlasting Love
by Gary Kurz and
The Rainbow Bridge: Pet Loss Is Heaven's Gain
by Niki Behrikis Shanahan, to name three. And there are others. I was quite surprised by this. This is apparently a topic that many people care very deeply about. I never knew.
Readers Wanted
A long-time lurker e-mailed me and asked if I could scare up a few volunteer readers for his novel he would like to publish, and provide him with feedback. I said sure, so here is the story as Jeff describes it:
It is an origin story of sorts for a character named John Smith, conceived as means of writing action/adventure stories at different points in time.

The first John Smith was a rogue, not keen on authority but smart and capable of blending into high society or low. He fell hard for the ideals of the Revolution, joined the Continental Army and promptly found himself in the stockade. General Washington saw his potential and put Smith in touch with some wealthy Founding Fathers who kept clear of the history books due to their unsavory professions. Smith's successors have continued in the role ever since, passed down one to the other, working outside the government on behalf of every President through the present day.
It sort of sounds like the short-lived TV series
Agent X
.
The John Smith in this story is nearing retirement when President Roosevelt enlists his help finding a captive French scientist whose secrets may help Germany unlock the atom bomb.
So if this story interests you enough that you'd like to read it and provide feedback to the author, send him an e-mail: johnsmithnovel at 'G' mail period com.
Moron Recommendations
From a thread of a few days ago, wherein the virtues and defects of huge-ass fantasy author George R.R. Martin were being discussed:
In the early '80s he produced a heck of a good vampire/historical thriller called Fevre Dream, set in the 1850s, with unpleasant vampires, good historical detail, and one of the ugliest heroes in fiction (in fact he's called "The Ugliest Man on the River," the Mississippi River). Of course it wasn't 500 pages long, either.

Posted by: Wolfus Aurelius at August 16, 2016 09:52 AM (txdEq)
Here is the Amazon blurb for
Fevre Dream
Abner Marsh, a struggling riverboat captain, suspects that something's amiss when he is approached by a wealthy aristocrat with a lucrative offer. The hauntingly pale, steely-eyed Joshua York doesn't care that the icy winter of 1857 has wiped out all but one of Marsh's dilapidated fleet; nor does he care that he won't earn back his investment in a decade. York's reasons for traversing the powerful Mississippi are to be none of Marsh's concern—no matter how bizarre, arbitrary, or capricious York's actions may prove. Not until the maiden voyage of Fevre Dream does Marsh realize that he has joined a mission both more sinister, and perhaps more noble, than his most fantastic nightmare—and humankind's most impossible dream.
Up to this point, I has not read a single book by Martin, and after not being able to make it through the first episode of HBO's adaptation of Game of Thrones, I didn't think I was ever going to. But this one sounds like it may be worthwhile to read. So it's now on my stack.
___________
Anonosaurus Wrecks recommends
Dance With the Devil: A Memoir of Murder and Loss
, about the murder of Andrew Bagby, written by the victim's father and grandfather. This is the murder about which the documentary
Dear Zachary
was made" AW's description:
Crazy-ass female doctor with long history of abuse and crazy ass begins affair with male doctor twelve years her junior. When he dumps her, she stalks him eventually killing him then flees to Canada. During extended extradition hearings, she announces she's pregnant with victim's child eventually giving birth. When it looks like she will be deported, she straps the baby to her and commits suicide by jumping into the Atlantic. Scathing indictment of Canada's bail proceedings and child welfare agencies. Heartbreaking.
Books By Morons
From votermom's
Goodreads group for morons
, there's a new moron author
Hans Schantz
, a long time lurker, who has written a novel which he describes as "a science fiction techno-thriller about a conspiracy corrupting the world and how a young man rallies his friends and family to fight back." The Amazon blurb describes
The Hidden Truth: A Science Fiction Techno-Thriller
as "Dan Brown meets Ayn Rand". In addition to being an author, Schantz says he is "an entrepreneur, inventor, and father."
___________
I never knew that fantasy books could be divided into two categories, 'grimdark' and 'noblebright' until Sabrina Chase put me some knowledge in an e-mail this week. The difference should be obvious by the labels, but the former, according to Ms. Chase, makes you want to slit your wrists, but the latter is the opposite:
"Noblebright fantasy characters have the courage to risk kindness, honesty, integrity, and love; to fight against their own flaws and the darkness of the world around them; and to find hope in a grim world."
That's the blurb she's quoting on a new collection,
Light in the Darkness: A Noblebright Fantasy Boxed Set
, a collection of 12 books by 12 different authors including Ms. Chase's novel
Last Mage Guardian
. Also her short story, 'Wolf of Shadows'. This collection will not be available for download until 10/18/2016, but you can pre-order it now for the low, low price of 99 cents. For less than a buck, you get 12 full-length, uplifting fantasy novels. Is that a good deal or what? It will also be available at the usual outlets like Kobo, Smashwords, Barnes&Noble, and Apple. I guess there's some sort of consortium for noblebright writing, and I'm not sure if they're taking applications, but if they are, you should know that the penalties for backsliding are rather severe:
If any of our group starts writing like GRR Martin we go to the offender's house and beat them with sticks until they see the error of their ways.
Because nothing improves your writing more than a good beating.
___________
I've got good news and bad news. First, the good news: Krakatoa's brother has written a book. He said so
right here
. Krak sez: [H]ere's a little something for those looking for sweet literary payback against the overwhelming tide of PC, post-modern, post-morality, ham-handed political manifestos regularly generated by today's publishing houses. I bring you a non-PC, post-idiocracy, double-fisted mud-in-the-collective's-eye romp. And he provided his own review:
It's SciFi although not hard SF. Won't make you do math, and mostly, it's a story about kicking a lot of ass. I'm biased, but I did enjoy it more than I expected, with a lot of good pages against only a few parts a little meh.

I'm not going to sit here and tell you it's high literature. But it's also not at all bad and had me turning pages, especially relative to contemporary fare. It can be heavy handed at points, and the action can tend towards the graphic novel at times. But I've read a lot worse from a lot of people making it through the regular literary channels and into paper publication. A. Lot. Worse.
The full title of this novel is
Firing of the Crucible: Heros are not born. They are made. Phoenix Empire: Book 1
. The Amazon blurb is a bit of a head-scratcher. It starts out like this:
The Empire has thrived for millions of years with very little war marring the peace. It spans a large portion of the galaxy. Less than a hundred years ago the Empire found a young race, the Easlank. They were a race apparently recent to space travel but who consider all other life to be either slaves or food. The Empire decided to correct this view and help them integrate into the Empire.
Then it veers off into a different direction and it sounds like it's describing a completely different book. So I don't know. But krak's bro has also written a novella,
Attila the Runner: Episode 1: Awakening
And now the bad news. Both of these were on sale for FREE, but the sale ended yesterday, one day too early for the book thread. So I don't know how much they're going for now.
___________
Moronette krukke1, who has been forced into lurker status because she's been pixybanned, is offering a FREE sampler of short stories taken from her 'Glimpse' series. To receive this sampler, all you need to do is go to
her website
. After your browser loads the home page, you should get a pop-up window asking to enter your email address. You will then be emailed a download link.
___________
Don't forget the AoSHQ reading group on Goodreads. It's meant to support horde writers and to talk about the great books that come up on the book thread. It's called AoSHQ Moron Horde and the link to it is here:
https://www.goodreads.com/group/show/175335-aoshq-moron-horde
.
___________
So that's all for this week. As always, book thread tips, suggestions, bribes, rumors, threats, and insults may be sent to OregonMuse, Proprietor, AoSHQ Book Thread, at the book thread e-mail address: aoshqbookthread, followed by the 'at' sign, and then 'G' mail, and then dot cee oh emm. What have you all been reading this week? Hopefully something good, because, as you all know, life is too short to be reading lousy books.