Sunday Morning Book Thread 03-20-2016: Not In Kansas Anymore [OregonMuse]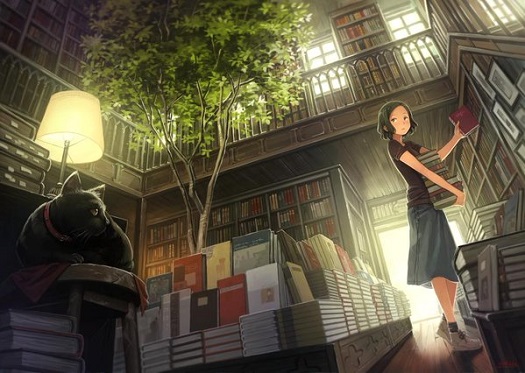 (I looked at the picture for a long time before it suddenly dawned on me: "hey, that's a tree back there. What's a tree doing in this bookstore?" Thanks to
@ThePoliticalHat
) for sending me this.)
Good morning to all of you morons and moronettes and bartenders everywhere and all the ships at sea. And to all you young lovers wherever you are, we hope your problems are few. Welcome to AoSHQ's stately, prestigious, internationally acclaimed and high-class Sunday Morning Book Thread. The Sunday Morning Book Thread is the only AoSHQ thread that is so hoity-toity, pants are required.
I finally graduated to a zero hour per week watcher, stopped paying DirecTV a cent, haven't even hooked up the OTA antenna...and canceled Netflix.

Give me a library card and the Sunday Book Thread and I'm good to go!

Posted by: Hrothgar at March 19, 2016 05:21 PM (wYnyS)
Working Stiff
A few years ago, one-eyed wonder boy Thomas Frank wrote a book,
What's the Matter With Kansas?
wherein he tried to fathom the mysterious and unexplainable reasons why conservative voters would vote for conservative candidates. Being a left-wing tool, he was completely baffled as to why this could possibly be happening. It was quite the exercise in cluelessness and hilarity. Well, now he's come out with a new book,
Listen, Liberal, Or Whatever Happened to the Party of the People
, that perhaps answers the question he was asking in his first book. If he's baffled why the "little people" are voting for the GOP candidates, what then, are the reasons they should switch parties and vote for the Democrats? Frank's answer is that, when you get down to it,
there really aren't any
:
Blaming Republican Intransigence (TM) for liberalism's failures, particularly in the Obama era, is a common excuse that Frank isn't having. He points to areas such as Rhode Island and Chicago where Republicans are virtually extinct and finds that Democrats behave exactly the same way: They make mild clucking noises about inequality while taking donations and policy ideas from financiers (both R.I. and the City of Big Shoulders are run by former Wall Streeters) and outlining an economic future of enhanced "innovation" designed to tilt the economy even further in the direction of elite knowledge-economy workers and away from those without college degrees.
To his examples of Chicago and Rhode Island he should add Baltimore, Philadelphia, Detroit, and pretty much any East Coast city that has been run by Democrats for decades: they're all corrupt, crime-ridden crap-holes. Frank, of course, can't see crime and civic degradation as areas that people would be legitimately concerned about. But, despite Frank's determined myopia, it looks to me as if he's complaining about what we refer to as the "Uniparty" (by which we mean the pustulent coagulation of corporate and financial interests in the Democratic and Republican parties), only from the left side of things. Frank, being the one-eyed progressive that he is, frets about "inequality", and doesn't seem all that concerned with the wide open spigots at the southern border, high crime, or related social ills. I think few, if any, people care about an abstract concept like "inequality", that is, somebody else who might be making more money than them (other than angry slackers such as Bernie Sanders), but rather, not being able to find work because jobs are being shipped overseas or filled by foreign workers at home. So things have evidently gotten pretty sour on the progressive wing of the Democratic Party that they're actually blaming their own party rather than Republicans or conservatives. Meanwhile, the Uniparty, and in particular the Republican section, is completely flummoxed that Trump is getting support. Maybe that should be the topic of Frank's next book.
Secrets Of The GOTO Sisterhood
A week last Tuesday was International Wymyn's Day where wymyn all over the world are celebrated for their wymynly accomplishments. I like to ignore these commemoration days, because like most annual prizes, awards, anniversaries, etc., they're either lefty-produced from the get-go, or, as in the example of the Nobel Prize(s), the progressives have crept in like rats taking over a kitchen in an abandoned house. In either case, committee that determine who gets the prize, or award, or what-have-you, is just a stupid hippie drum circle where all the lefties pat each other on the back and tell each other how wonderful they are. So for IWD, I decided to do a little counter-programming. What woman's life would I like to see commemorated on this day? When I first did this
a couple three years ago
, my subversive choice was
Phyllis Schlafly
, an amazingly accomplished woman who would be one of the all-time great feminist heroes if it weren't for her inconveniently conservative, and specifically anti-feminist, politics. So this year, I chose ur-computer guru
Grace Hopper
. Her lifetime achievements are astounding. Unlike Schlafly, I had no idea as to her political views. So just for grins, I went looking. You're not going to believe this, but I found a DailyKos thread where neither the author nor the commenters are jumping up and down and screaming like a troop of retarded howler monkeys on crack. It's this one
right here
. I don't agree with the author's main point, that Hopper's likeness should be on the $10 bill, but he says that he was unable to find any information on Hopper's actual politics, either. And that's the way it should be. And, surprisingly, that was a selling point for the Kos guy. He said his was a "bipartisan" choice, and I can't disagree. I'm just impressed he went this route and didn't nominate some yammering harridan. So here are some Hopper bios:
Grace Hopper and the Invention of the Information Age
by Kurt Beyer.
Grace Hopper: Admiral of the Cyber Sea
by Kathleen Williams. There's even a children's book
The Girl Who Could Talk to Computers - An Inspirational Tale About Grace Hopper
by Maya Cointreau, that tells Hopper's story in rhyming stanzas. For example:
Grace loved to climb trees
To swim and to knit
But what she really wanted
Was to see how things fit.

She peeked at machines
Around her own home
Leaving springs, nuts, and bolts
Wherever she roamed.
The story is that when she was a little girl, Grace got curious about how alarm clocks worked, and she managed to disassemble 7(!) of them before her parents realized what she was doing, and limited her to just one. Oh, and one more thing. During her lectures, Ms. Hopper used to distribute foot-length pieces of wire to illustrate the concept of a nanosecond, because that was how far light could travel in that tiny increment of time. One of the commenters in the Kos thread really had a bee up his butt about this, complaining that no, this isn't right, no, she's off by 40 or 50 percent, but I did the math, using 300 million meters per second as the speed of light, dividing it by a billion, since the nanosecond is a billionth of a second, and the answer is one-third of a meter, or approximately 11.8 inches. In other words, about a foot. So maybe one of you more sciency morons could explain what the Kos commenter was whining about, because I honestly can't see the mistake.
Cooking Celebrities
I don't always read cookbooks written by celebrities, but when I do, it's sometimes this one,
A Treasury Of Great Recipes, Famous Specialties of the World's Foremost Restaurants Adapted for the American Kitchen
by Vincent and Mary Price. Now, you moron young-uns may not know of Vincent Price. He was an actor who appeared in many horror movies in the 50s, and 60s, many of them low-budget and quite schlocky. He also did comedies, which were generally of the same quality, such as, ahem,
Dr. Goldfoot and the Bikini Machine
. I only mention this because it is the dumbest "written by the marketing department" movie title I have ever seen. The impression I have gotten over the years is that there were probably very few things Mr. Price wouldn't do for money. But, despite Price's reputation for appearing in silly movies, according to
his wiki page
, he was quite a serious art enthusiast:
Price was an art collector and consultant, with a degree in art history. He lectured and wrote books on the subject. He was the founder of the Vincent Price Art Museum in California.
Also
Price was a noted gourmet cook and art collector. He authored several cookbooks...and hosted a cookery TV show, Cooking Pricewise
These days, celebrity cookbooks are dime-a-dozen, but when
A Treasury Of Great Recipes
was first published in 1965, it was the very first one. It has
recently been republished
for its 50th anniversary.
One Amazon reviewer
characterizes it this way:
Even the redoubtable Martha Stewart would envy the magnificent photography and sumptuous recipes. It's all made better by the first person recitation of Mr. and Mrs. Price who wrote about what they'd eaten and where they'd enjoyed it. And enjoy it they certainly did as will the reader. Not all the recipes are simple, but time and a careful following of the explicit instructions will yield the delights portrayed. Far from his more famous persona as the villain deluxe, Vincent Price is revealed as a food critic and traveler who skipped the souvenir stands and brought home, you'll excuse this, the bacon. I was the on-air cook for a television station for many years and used this collection often.
And I must say I am always pleased when I find out that some guy I had always thought of as a bit of an unserious hack turns out to have had some depth. My thanks to the moron who mentioned this in the book thread two three weeks ago.
From The Mailbag
I received an email this week from a lurker who probably has more class in his little finger than the entire book thread. He says he
thought perhaps the moron horde would find my specialty shop of interest. there are some rare books but mostly i trade in original, handwritten books; diaries, journals etc.
Here is his site:
http://www.mbenjaminkatzfinebooksraremanuscripts.com
There's rare, one-of-a-kind items such as:
1750 SUPERB ORIGINAL FRENCH ROMAN CATHOLIC BOOK OF PIETY, PRAYERS AND MEDITATIONS HANDWRITTEN IN A STUNNING CALLIGRAPHIC HAND
And:
1896 ORIGINAL MANUSCRIPT AUTOBIOGRAPHY OF A YOUNG MUSLIM MAN WHO WITNESSES THE DEATH OF HIS FATHER AT THE HANDS OF THE SULTAN'S SOLDIERS, HIS MOTHER BY ROBBERS AND HIS SUBSEQUENT ENSLAVEMENT AS A GUNMAKER AND TRAINING AT AMERICA'S WINCHESTER ARMS FACTORY
Now that sounds like quite a story. One more:
1859 - 1873 ORIGINAL GROUP OF NINE [9] ORIGINAL MANUSCRIPT LETTERS HANDWRITTEN BY A NORTH CAROLINA MAN NOW LIVING IN ALABAMA DETAILING TO HIS SISTERS AND BROTHER ALL ABOUT HIS LIFE IN THE DEEP SOUTH BEFORE, DURING AND AFTER THE CIVIL WAR
ARCHIBALD [ARCHIE] M. MCLAUGHLIN
The price tag on most, if not all, of these items is way above my pay-grade, and probably yours, too, but the site does make for some very interesting window shopping. Or, as the lurker put it in his email, "usually i deal with libraries and universities but i have a number of historical items that might make for a fun browse over a cask of valu-rite vodka." They sell ValuRite by the cask? Why wasn't I told this?
___________
I also received an e-mail from a moron author, a resident of Moab, Utah (does that make him a Moabite?), who informs me:
I have recently launched my own imprint, Moab BookWorks, at www.moabbookworks.com. So far I have launched three new books of mine and reissued another, with a another reissue in the works.
You can check out his site
www.moabbookworks.com
. Here's the rundown:
My new books include a murder mystery (already a first prize winner in MS form) called Retirement Man; a thriller called Sarah and the Dragon in which a young woman encounters an ancient alien and ends up on the run with him from the authorities; and a non-fiction book titled Word Power which is a 51K work on the art of fiction writing. All are available on Amazon in POD form, and maybe someday Kindle if I get around to it.

My thriller Quantum Cowboy will soon be reissued under my new imprint, but is still available in the original edition on Amazon and elsewhere. There are details of these books on my website mentioned above.
And then he says:
Incidentally I am older than Vic and laugh at memories of him as a small child running around looking for rocking chairs and bottles of brown. Precocious little devil he was.
He's just bragging now.
Moron Recommendations
Worried about not having enough money in your retirement fund? Moron commenter 'Anonosaurus Wrecks' has the answer for you. Why not invest in the lucrative market of international narco-trafficking? This book,
Narconomics: How to Run a Drug Cartel
, shows you how to compete with the big boys:
What drug lords learned from big business

How does a budding cartel boss succeed (and survive) in the $300 billion illegal drug business? By learning from the best, of course. From creating brand value to fine-tuning customer service, the folks running cartels have been attentive students of the strategy and tactics used by corporations such as Walmart, McDonald's, and Coca-Cola.
Hey, business is business. And, as Anonosaurus pointed out to me, the good part about this kind of investment is that even if you fail, you're set for life.
Books by Morons
Markham Pyle e-mailed to let me know that Vol. 3 of Village Tales has been release on Kindle.
The Day Thou Gavest: A Village Tale
continues with life in the Woolfonts:
Four-and-twenty January hours, midnight to midnight, in the Woolfonts; foaling and the imminence of lambing season, births and deaths, plans, projects, and pints down the Boar...Peace is upon the land, and the lighted windows of a Wintertide evening promise home and warmth. Come: spend a day in the Woolfonts.
___________
Also, 'ette
'Krukke1'
, reduced to lurker status by being pixy-banned, has just published her second collection of short short short short stories,
Glimpse Vol. 2
, which is
...the second collection of forty imagined scenes from forty imagined lives. Each story stands alone and varies in mood to engage every emotion as you read the book...In one or two pages the scene unfolds and completes each "glimpse"; many times with a surprising twist at the end. Just like life.
___________
Don't forget the AoSHQ reading group on Goodreads. It's meant to support horde writers and to talk about the great books that come up on the book thread. It's called AoSHQ Moron Horde and the link to it is here:
https://www.goodreads.com/group/show/175335-aoshq-moron-horde
.
___________
So that's all for this week. As always, book thread tips, suggestions, bribes, rumors, threats, and insults may be sent to OregonMuse, Proprietor, AoSHQ Book Thread, at the book thread e-mail address: aoshqbookthread, followed by the 'at' sign, and then 'G' mail, and then dot cee oh emm. What have you all been reading this week? Hopefully something good, because, as you all know, life is too short to be reading lousy books.