Overnight Open Thread (2-18-2016)
Okay there's been a lot of assholery going on recently and not nearly enough banning. I blame myself partially for the latter and frankly I'm thinking it's about time for a culling, possibly even a full-on decimation.
So let me disabuse everyone of a couple common misconceptions:
1. Having intense feelz over X,Y, or Z means it's okay to be a dick to those who dare to disagree.
2. Being a super patriot conservative == a license to asshole.
Nope.
Henceforth I'll start enforcing the lesser known sub-part d of the AoSHQ Bylaws in addition to the usual actionable offenses:
    d) Any actions or behaviors deemed by Ace or one of the cob-bloggers to be detrimental to the best interests of the blog shall also be considered grounds for banning.
So consider this your fair legal warning.
Related Quote:
Late summer-autumn 1968: Kurtz's patrols in the highlands coming under frequent ambush. The camp started falling apart ... November: Kurtz orders the assassination of three Vietnamese men and one woman. Two of the men were Colonels in the South Vietnamese army. Enemy activity in his old sector dropped off to nothing. Guess he must have hit the right four people.
Quote of the Day I - Desperation Edition
Venezuelan President Nicolás Maduro has appointed a businessman as the country's new economic czar, replacing a leftist sociologist who has denied existence of inflation and argued for the dissolution of the central government amid the deepest recession in the nation's history.
"If Islamic State is based on religion," asks academic Aaron Hughes, "why is it so violent?"
According to Chelsea, Hillary had two main achievements at State. She created two new categories of jobs: (1) a monitor for women's rights around the world; and (2) an LGBT rights monitor. According to young Clinton, this amounts to "making government work." The security at our consulate in Benghazi, however, didn't work too well and four Americans paid for it with their lives.
I don't like this topic. I find each post on the topic depressing to do. I find excuses not to do it every few weeks. However, like cleaning the toilet, it must be done. Well, that, and when I don't do it or the few times I hint that I will stop doing it, I am flooded by notes from civilians to Flag Officers asking me not to.

So, it is good to be loved. Also, that is where my most entertaining trolls come from. Sure, they threaten my family and livelihood now and then, but that too comes with the territory - and that is the nature of the people who rely on hate and division for their paycheck.

Enough of that. You came here for your weekly dose of outrage, so let's dive in to it.

-- CDR Salamander explaining why he does Diversity Thursdays
So Who Has the AFL-CIO Endorsed? Answer: No One
Vassar Students Demand All Bathrooms Be "All-Gender"
What could possibly go wrong.
British Police Chief: Police Officers Will No Longer Automatically Believe All Sex Abuse Claims
Which was never their job in the first place - their job is to investigate claims and hand over any evidence to prosecutors if warranted. Otherwise you end up with insane travesties of justice like this one in which a man was still tried for sexual assault in a London tube station even though video of the half-second incident showed that it was physically impossible for him to have assaulted the woman.
Astronomers No Longer Need To Avoid the "Zone of Avoidance"
Good news I think. Next: 'Forbidden Zone' no longer forbidden.
The Polish magazine cover the EU doesn't want you to see
Free Speech Limited in Scotland Because Refugees
How the Stockdale Paradox Can Make You a Better Leader
Here is the paradox:  While Stockdale had unbelievable faith that things would work out, he said that it was always the most optimistic of his fellow POW's who actually were the ones who failed to make it out alive.  "They were the ones who said, 'We're going to be out by Christmas.' And Christmas would come, and Christmas would go.  Then they'd say, 'We're going to be out by Easter.' And Easter would come, and Easter would go. And then Thanksgiving, and then it would be Christmas again. And they died of a broken heart."

What were the optimists missing?  They failed to confront the reality of their situation.  They preferred the ostrich approach, sticking their heads in the sand and hoping for the difficulties to go away.

...Stockdale approached a beyond difficult situation with a very different mind-set.  He accepted the reality of his situation, and rather than bury his head in the sand, he stepped up and did everything he could to lift the morale and prolong the lives of other prisoners.  He created a tapping code the prisoners could use to communicate with each other.  He developed a milestone system to help all of the prisoners deal with the torture they had to endure.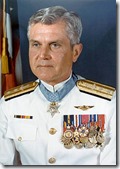 How To Help Gun Rights Without Having to Leave Your Computer
Down and Dirty With the M1 Garand
The M1 was an amazing piece of 1920s/1930s firearms technology but not perfect. It really can't handle mud - at all.
Meanwhile the 'unreliable' AR-15 handles mud without any problems whatsoever. Even better than the AK-47.
The officer here was exceedingly polite and even cut the kid a couple of breaks. If he had just stayed cool, he could have walked away with just a citation or at worst a misdemeanor arrest for pot. Instead he chose poorly and tried to kill the two policemen.
News You Can Use: Caching your Guns for a Civil War, Parts I and II
Fourth, if you're fantasizing about this civil war, stop now. We've seen civil wars, and we've seen how a place can go from civilized to Hobbsean state of nature in jig time. The American Revolution has been sanitized in our history but even it, the cleanest and most civil of civil wars, was unbearably nasty. The victors wrote the history; the losers, the Tories or Loyalists, took ship. Or died. After losing everything. A new Civil War might look more like the last one, with new Mosbys, Booths, and certainly new Andersonvilles. Or it might resemble the Spanish Civil War, or the French Revolution. When Americans unhappy with government think of the French Revolution, they think of their opponents in the tumbrils. Remember the fate of Robespierre and the Jacobins was no different from that of the Girondins or the Bourbons. Remember that practically none of the Old Bolsheviks died of natural causes.

But if, after all that, you still want to be prepared for survival or resistance, read on.
Moar Capt. Clay Higgins from St. Landry Parish
"The sheriff likes Stelly's Restaurant and so do I.

We're going to identify you, arrest you and put you in a small cell. After that, I'm going to have a cheeseburger here with fries and a coke and leave a nice tip for the waitress."
Can You Hear Someone's face, Height, Weight?
How to Fix the Modern Government-Mandated Sucky Gasoline-Spilling Gas Cans
My Wife Divorced Me Because I Left Dishes By the Sink
The writer makes some decent points albeit in a wussy manner but I think he overlooks a key one: if the biggest issue you have in a marriage is that your husband leaves dirty glasses laying around, you're doing pretty good and really should focus on being grateful for what you do have even if dirty glasses by the sink is a triggering issue for you. People in a marriage are human beings - not telepathic saints - which means that sometimes you just have to accept their minor flaws and foibles as part of the deal and let it go.
On location in NYC, filming of Seven Year Itch, 1955. An hour after midnight on the corner of New York's Lexington Ave and 52nd Street, Monroe stood atop a subway grate and created movie magic - 14 times. Taking around three hours to film, the scene took 14 takes to get right, while 100 male photographers and between 2,000 and 5,000 spectators (who all loudly reacted whenever her skirt blew up) looked on.

Joe DiMaggio was on the set and this scene allegedly pissed him off so much it led to their divorce. The dress was recently sold for $4.6m.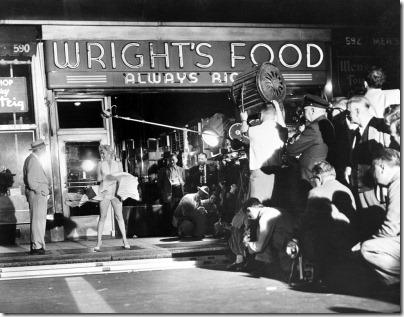 True Fact: Fifty Years Ago The Average American Women Was 6 Inches Taller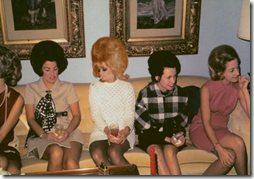 Yahoo group. That is all.
Come on be a smartie and join the yahoo group party!
And my lo-fi Twitter spew.
Tonight's post brought to you by I think I've found my next Japanese textbook: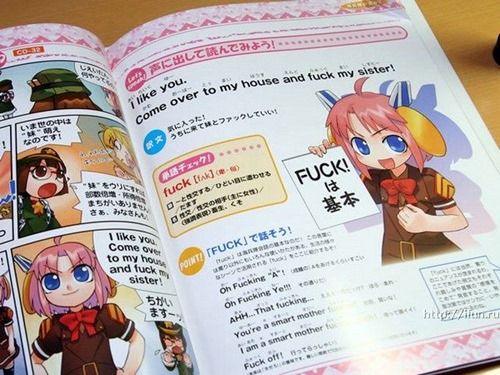 Notice: Posted by pure force of will in association with AceCorp LLC. Do not taunt happy-fun ball. Look I've heard all the rumors and for the record I want to make it very clear that those commenters were already dead when I found them. My attorney will answer any follow-up questions now. Thank you.
Posted by: Maetenloch at
11:26 PM