Saturday Politics: The Totally Unofficial Pre-Primary HQ "Midterms" (and Steel Cage Death Match) [Y-not]
Good morning!
Are you ready to rumble?!
Today's thread is going to be a sort of "mid-term exam" of the politicians we've been tracking for the past eight months. I've resisted grading them as we go, because I think it's very difficult to do that without injecting my personal biases into it. Heck, even the CATO "scorecards" of governors seem highly subjective to me... and they're professionals. But this week I'm going to tear off my mask and create a scorecard for the Magnificent Seven (Cruz, Haley, Jindal, Martinez, Pence, Perry, and Walker). And then I want you to do the same. Here are the rules:
1. Each candidate must receive a grade for each category, even if that grade is 0.
2. The grades should be scored relative to these seven candidates, NOT against some conservative ideal. 3. The grading system is as follows: 1 = the best candidate of the seven on this issue/topic; 0 = an average candidate; -1 = the worst candidate on this issue/topic. 4. There can only be ONE candidate who receives a 1 and only ONE candidate who receives a -1 for each of these topics. In other words, your scoring should yield five candidates who get a 0 on any given issue. 5. A zero is NOT a bad score. It's merely an indication that the candidate (who was already pre-screened as being "acceptable" to most of the horde last Fall) is ok on this issue, but not the "best." Same thing with the -1 score; it merely indicates that when compared to the other six candidates, you think this person is the least-good. The +1 score indicates that you like this person's positions and record the best when compared to the other six candidates. 6. Be prepared to show your work. 7. In addition, you may pick two categories to "up weight" to indicate that they are of great importance to you and two categories of less importance to you to "down weight." You may use any criterion you like to decide what's important/unimportant to you. Ready?
This is not scientific.
There will be "hunches" and "feelings" that each of us draws upon. There's simply no way to avoid that. However, try if you can to actually refer to their records when you're assigning the scores. (I've provided links to the relevant Saturday Politics Threads below.) What I found in going through this process is that the rankings it produced, although not necessarily exactly what I'd guessed they'd be, "made sense" to me in retrospect. I promise you that I did not come up with this system to try to produce a particular result.
This is not about persuading anyone.
It's about asking yourself to identify the strengths and weaknesses of each of these seven politicians as possible 2016 prospects. Try to be honest with yourself. One last thing. I didn't turn this into a clickable poll, so you'll have to do this on paper (template provided below) or your own computer (I used Excel). The reason is that I think it's too easy for us to click the boxes next to the name of the candidate we favor and that produces a skewed result b/c it becomes about scoring so "your guy (or gal)" wins, rather than about really looking at their records relative to each other. Here's my scorecard:

2016 prospects in alphabetical order scored against each other in the ten categories we've addressed thus far. Green shading indicates the two areas most important to me. Lavender shading indicates the two areas that are less important to me. The scores in these areas were weighted by a factor of 2 or 0.5, respectively, in the next table.
Here's my reasoning for the scores I gave the candidates:
CV (Resume)
Best =
Nikki Haley's
experiences as a CFO turned successful conservative governor could help unite Chamber of Commerce set with the base.
Worst =
Scott Walker
entered politics after only a couple of years in the "real world" and his political experience is limited to local and state politics in a fairly small, homogenous state.
Media Skills
Best =
Bobby Jindal's
communication skills impress me, whether it be stump speeches, interviews, and impromptu pressers. He is adept at staying on message, often quite forcefully and eloquently. Ted Cruz is a close second for me, although I do not particularly like his style in stump speeches.
Worst =
Rick Perry
has a pattern (even since 2012) of stating
good
positions in a
bad
way. The most recent example was his comparison of firearms regulations to drivers licensing, but there have been others.
Educational Policies (Common Core)
Best = Rick Perry rejected Common Core out of the gate. As an aside, his efforts working with the higher education professionals in his state received a great deal of praise, resulting in the so-called $10K degree. Not bad for an Aggie!
Worst =
Susana Martinez
appears to support Common Core.
Jobs and Wages
Best = Rick Perry: Texas, QED. All kidding aside, I think of the people we're considering, Perry did best to project the "happy warrior" image as he went around the country luring employers to his state. The proof is in the pudding... and his is delicious!
Worst = Susana Martinez: New Mexico. I think Governor Martinez has made some efforts to promote job growth, but she is up against a blue and now purple legislature, plus the nature of her state holds her back, I think.
Energy (fossil fuels and nuclear, ethanol)
Best = Bobby Jindal is from an energy producing state that has had to go toe to toe with the Obama administration. A good case could also be made for others, but I am giving Jindal credit for releasing a detailed energy plan last Fall that included a phase out of the RFS.
Worst = Mike Pence supported the ethanol mandate while he was running for governor. As a legislator, he was very pro-nuke, but I see little evidence he's been effective at promoting this policy, including in Indiana.
Fiscal Responsibility (Mike Pence's here)
Best = Governor Susana Martinez managed to earn the highest CATO score and NM was ranked well in "fiscal condition" by the Mercatus Center, despite the fact that she has a liberal legislature. I think arguments could be made for Governors Walker or Perry as well. Governor Pence inherited such a great situation from Daniels and yet still seems to be drifting toward some big spending programs, so I dinged him for that.
Worst = Bobby Jindal made some efforts early in his tenure to address budget issues, but he lost ground in recent years (see
Mercatus Center's report
). He is now trying to play catch up by slashing Louisiana's budget.
Taxes
Best = Mike Pence had a reputation as a tax-cutter when in Congress and Indiana has cut taxes under his governorship.
Worst = Scott Walker's state of Wisconsin ranks poorly in "tax climate" rankings. They are finally getting around to cutting taxes in his second term even though Wisconsin had a Republican legislature throughout most of Walker's time in office.
Labor Policies (Unions)
Best = Scott Walker: Throne of (Union) Skulls, QED.
Worst = Mike Pence seems to be the least-active of these seven in battling unions so that's why I ranked him lowest. I don't think he's particularly bad on this issue.
Medicaid
Best = Bobby Jindal opposes Medicaid expansion (as do several others). I gave him an edge in the rankings because he has done a lot of thinking about this and related issues, including earlier in his career.
Worst = Mike Pence appears to be on track to enact an Indiana version of Medicaid expansion, despite the conservative legislature he inherited.
Gun Rights
Best =
Ted Cruz
is an eloquent and accomplished defender of the Second Amendment on the national stage, including before the Supreme Court.
Worst = Although Rick Perry is by no means a "gun grabber," I think that his occasional inability to communicate clearly on gun issues is problematic. As of right now, I think I could vote for any one of these seven Republicans -- certainly in the general election and probably even in the GOP primary. Pence would be the one over whom I'd have to hesitate the most in the primary. There's something about him that makes me nervous. However, I think Pence could be a strong candidate in a general election because of his experience and the strength of Indiana's economic rebound, so I'm loathe to toss him out of consideration. We'll see if I change my mind after we go through some other issues, like immigration and foreign policy. The surprise for me is that as much as I would really like to run on Perry's record in Texas, when I forced myself to reflect honestly about his "media skills" (speeches, interviews, etc), I concluded that that's his Achilles heel (so much so that it even affected his score on gun rights). I know that he is widely acknowledged as being good with "retail politics," especially connecting with voters one on one, but he does have a tendency to not clearly say what he means, especially when thinking on his feet. I've concluded that although 2012's problems were partly owing to his surgery, his performance since then suggests there's a deeper issue at play. I do not think it disqualifies him. I would still (as of today) happily vote for him in the GOP primary. But it's a weakness I can't ignore. I suppose I was also a little surprised that Martinez, who is far from a fire-brand conservative, out-performed Pence in my grading system. I am hesitant about Pence, but I did my best to not factor that into the grades I gave him. (Nor did I give Susana Martinez extra credit for having "lady parts.") Martinez has some "wrong positions" (such as on Common Core), but she still beat Pence in this exercise. Here are their overall scores and letter "grades" that I assigned to them based on those scores: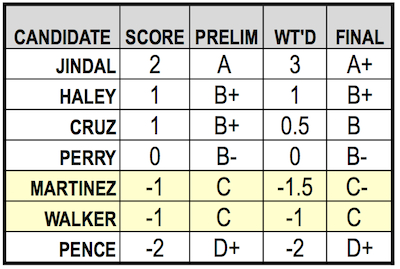 2016 prospects arranged in order of their unweighted scores with letter grades assigned. Third column shows effect of applying weighting factors (described above) on each prospect's score. Under this scheme, Governor Walker moves above Governor Martinez, to 5th.
I tried one more grading scheme and allowed myself to upweight two issues/criteria and downweight two others based on the things I personally care most and least about. In my case, "media skills" and "jobs & wages" were each given a 2x weight and "education (Common Core)" and "gun rights" were given a 0.5 weight. Using those multipliers my candidate rankings remained fairly stable, with the exception of Martinez who dropped below Walker. In summary, my top four GOP prospects are (in order): Jindal, Haley, Cruz, and Perry. As much as I would like to run on Perry's record in Texas, I find myself gravitating more toward Jindal, in large part because of his superior communication skills. Nikki Haley is a strong second choice (particularly given her lack of "negatives") -- I sure wish she would run. OK, now it's YOUR turn! I've provided a blank score sheet to help you with this exercise:

How would you rank them and why? Which of these ten topics/issues are the most important and which are the least important to you when assessing these candidates?