Quick Hits
Republicans announce their first three impeachment witnesses in the Joe Biden bribery impeachment hearings.
The House Oversight Committee will hold its first impeachment hearing into President Joe Biden this week and interview three witnesses, who will provide their expertise in connection with allegations President Joe Biden, while vice president, received a bribe from a Ukrainian businessman to change U.S. policy. Prompting the impeachment inquiry is an unclassified FD-1023 form that contains confidential human source information outlining an alleged bribery effort. The tip describes an arrangement in which Burisma CEO Mykola Zlochevsky allegedly hired Hunter Biden to secure access to his father, upon whom he leaned to secure the firing of then-Ukrainian Prosecutor General Viktor Shokin, who was investigating the firm. The hearing will feature three witnesses, including George Washington University Law Professor Jonathan Turley, former Assistant Attorney General, United States Department of Justice Tax Division Eileen O'Connor, and forensic accountant Bruce Dubinsky, the committee announced Monday.
I assume the forensic accountant will just be there to say that, in his expert opinion, there is no conceivable reason to create such a gigantically convoluted series of Russian Nesting Doll shell companies except to disguise the source of income and thus commit the crime of money laundering.
House Republicans
@HouseGOP In 2020, Joe Biden LIED when claimed Hunter Biden "has not made money" from China. Today, @GOPoversight
revealed two bank wires from 2019 revealing Hunter received payments originating from Chinese nationals, and Joe Biden's home was listed as the beneficiary address for both.
Vulnerable Democrats who took money from Bob Menendez's pile of Egyptian cash and gold are donating it to charity,
to distance themselves from the crime figure.
Sens. Jon Tester, D-Mont., and Bob Casey, D-Pa., on Tuesday pledged to donate the $10,000 they accepted from the political action committee of indicted Sen. Bob Menendez, D-N.J., who is facing growing calls to resign.
The Fiercely Heterosexual Cory Booker, who, if anything, has become even more Fiercely Heterosexual since his much-publicized Fake Romance with LGBT actress Rosario Dawson, is among those calling for Menendez to resign.

Menendez, who was indicted alongside his wife on bribery charges, "deserves our presumption of innocence until proven guilty," Booker said, CNN reported. "Stepping down is not an admission of guilt but an acknowledgment that holding public office often demands tremendous sacrifices at great personal cost. Senator Menendez has made these sacrifices in the past to serve. And in this case, he must do so again," Booker also said.
A Democrat-aligned group is spending $60 million in dark money -- remember when the media used to run scare stories about "Dark Money"? That was before the Democrats began spending literal billions of it -- to "fortify" the 2024 election.

The States Project, a Democrat-aligned group, spent $60 million across five swing states last year as part of an effort to proliferate liberal policies, the New York Times reported. The group focuses on getting Democrats elected to state legislatures and aids them once elected in order to get more liberal policies passed, according to its website. The States Project's is a joint initiative between PAC For America's Future, which receives funding from George Soros' Democracy PAC, and Future Now Action, a 501c4 dark money group that does not disclose its donors, according to the organization's website. Of the $60 million the group spent in 2022, most of it went directly to Democratic candidates and legislative caucuses in Arizona, Michigan, Maine, Nevada and Pennsylvania, though some was also spent on political advertisements, according to the NYT. The States Project, which refused to disclose its donors to the NYT, lists "empowering people over special interests" as one of its policy goals.

Uh-huh. Adulterous turncoat Joe Scarborough is all-in for Joe Biden, claiming only "fools" would underestimate him. He rails against those who wrote Basemen Joe off in 2020...
overlooking the fact that he was one of the ones who wrote Biden off in 2020.
"Joe Scarborough hides the bodies of murdered aides he was having an affair with like I dress." -- John Fetterman Hey, I didn't say it, Fetterman's Monster did.
A Democrat Representative says he's "thinking" about running against Biden.

Minnesota representative Dean Phillips (D.) said Monday he is "thinking about" taking on President Joe Biden in a presidential primary, as the 80-year-old president's popularity is waning.
"I am thinking about it. I haven't ruled it out," the three-term congressman said in an interview with Steve Schmidt's podcast The Warning. "I'm concerned that there is no alternative. I'm concerned that something could happen between now and next November that would make the Democratic Convention in Chicago an unmitigated disaster."

Target closes nine stores in the US due to violence and theft --
all coincidentally located in blue states.
The Kobeissi Letter
@KobeissiLetter
BREAKING: Target, $TGT, to close 9 stores in major cities across the US due to "violence and theft." This includes one of Target's New York City locations and 3 stores in San Francisco. Target said in a statement that the safety of their team and guests are at risk, forcing closures. This comes after target said that theft is costing them more than $500 million this year. Walmart has also been contemplating shutting stores and raising prices due to theft. As inflation persists, theft is getting worse.
This is just getting publicity now: Back in May, a Navy
MK 15 Phalanx Close-In Weapon System automatically locked in and tracked a commercial plane, a Boeing 737, as the crew said "no, no, no" as if it were a dog eating a slipper.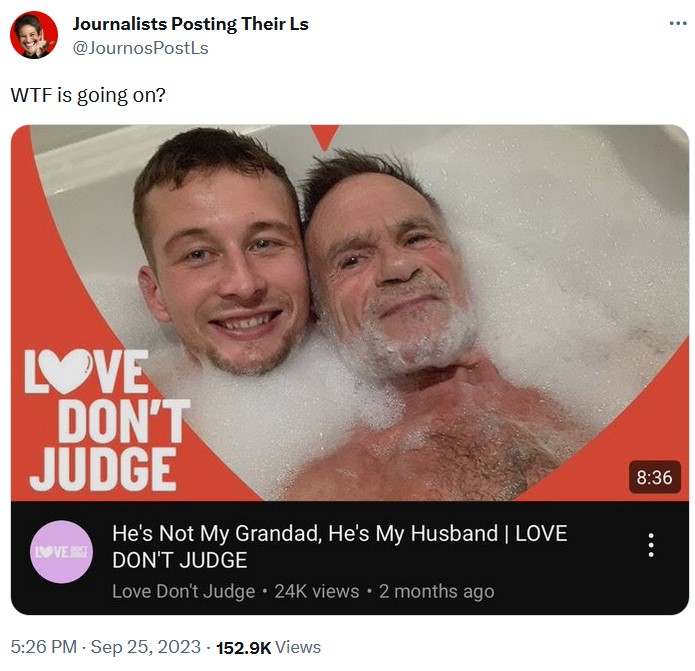 That's from
this new show.
If you don't want to be judged, don't constantly put yourself up as if you're contestants in a pageant. They do want to be judged -- but they want to be judged
positively
, only. It's like girls putting up their photos with a "Hot or Not?" question but then becoming furious and #triggered if people rate them a 4 and say "would not smash." If you invite commentary on your lifestyle, you get commentary on your lifestyle. I offered some information about my.... alternative Shelving choices yesterday, and people commented on that. I did not say "How dare you question my plainly-disastrous attempts at shelving!" As Jeff Winger observed: "When you go fishing for a compliment, sometimes you get a boot." Deal with it.
Posted by: Disinformation Expert Ace at
06:25 PM