Dam in Russia-Occupied Ukraine Blown Up, Flooding Russian Territory; CIA Leaks a New "Theory:" Gee, Maybe the Russians Didn't Blow Up Their Own Pipeline. It Must Have Been the Ukraine All Along.
Biden is going to blow this country up, and the Laptop Class will applaud the millions killed. Less carbon dioxide, you know.
And think about all the Rethuglikkan MAGAts who'll be killed in a US-Russia nuclear exchange! A dam in occupied Ukraine territory was blown up. Ukraine's president says the Russians blew it up themselves. Russia says the Urkainians did it. Is there any reason Ukraine would have for blowing it up? Well, their counter-offensive to drive Russia out of occupied parts of Ukraine failed, so they'd have an interest in drowning the region, both to inflict pain on Russia, and impede the movements of Russian troops through Ukraine. Zero Hedge:
A day after Ukraine's much-heralded counter-offensive appears to have failed, almost before it had even begun, a major dam in the Russian-occupied region of Kherson is suddenly bombed, prompting mass evacuations as floods spread across the region.
In fact, Ukraine previously wargamed demolishing the dam: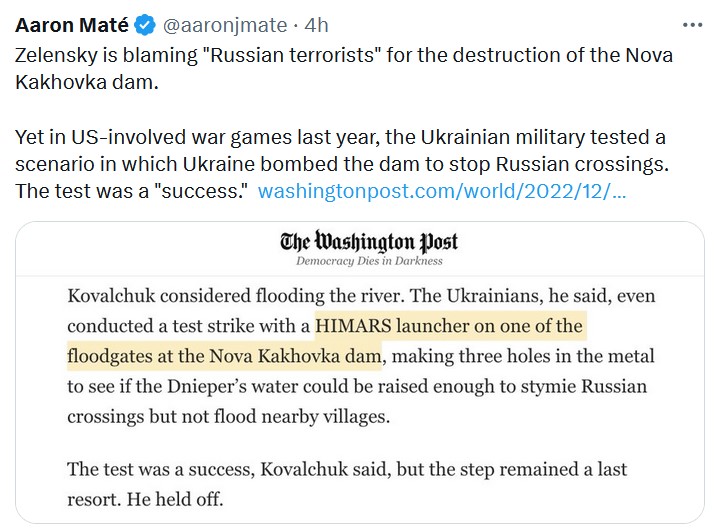 First the Russians blew up their own pipeline, now they're blowing up their own dams. (Or dams in the regions they control.) Is there no end to their sinister machinations?
Kirby says
no, the US won't be declassifying our intelligence on this so that the American public can decide for themselves.
I have no idea, except I'm pretty sure whatever the US government is saying is a lie:
Kim Dotcom
@KimDotcom US intelligence points to Russia being behind the dam attack. The same people who told you that Russia got Trump elected, Russia blew up NordStream, that the US proxy war in Ukraine was unprovoked Russian aggression and that the Hunter Biden laptop was Russian disinformation
So the claim that the Russians blew up their own pipeline was never very believable and few still believe it. So the US needs what Nixon termed a "modified limited hang-out," a new cover story that doesn't admit the truth but steps back from the most undefensible parts of the old lie. The new story? Oh okay, maybe Russia didn't blow up their own pipeline, but it wasn't us.
It was Ukraine.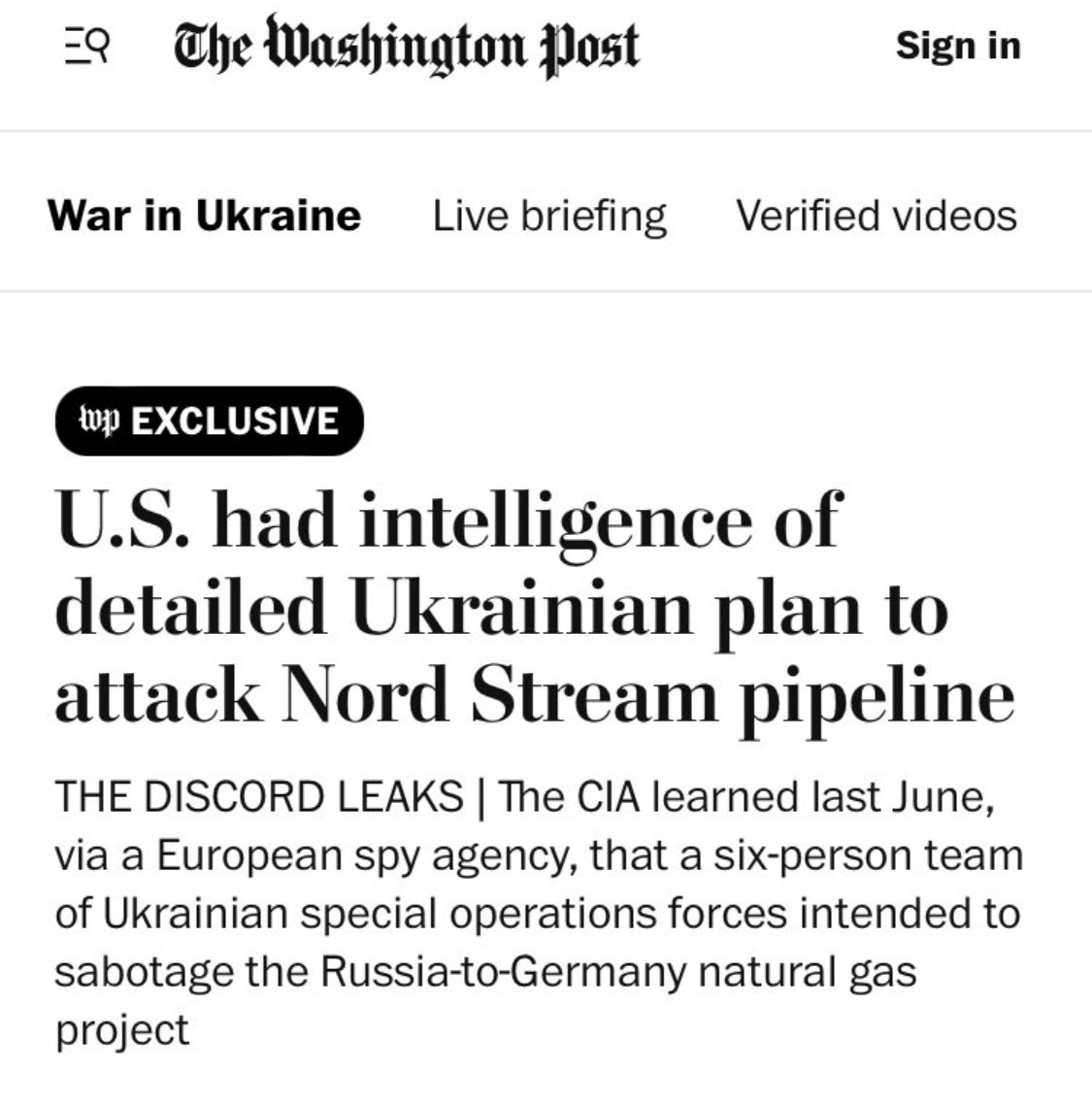 Here's the new CIA lie we're all ordered to repeat:
A European spy agency told the CIA it knew of a Ukraine special operations team plan to blow up the Nord Stream gas pipeline three months before explosions damaged the undersea system last year, the Washington Post reported Tuesday. The newspaper cited US intelligence allegedly leaked earlier this year by a low-level US Air National Guard computer technician who had access to large amounts of highly classified materials. The leaked documents indicated that an unnamed European intelligence body told the US spy agency in June 2022, four months after Russia invaded Ukraine, that Ukraine military divers reporting directly to the country's military commander-in-chief were planning the attack. The Nord Stream 1 and 2 pipelines, built to carry natural gas from Russia to Germany, were rocked by underwater explosions on September 26, rendering them useless and cutting off a potential source of billions of dollars in earnings for Russia. The apparent sabotage sparked a region-wide emergency as it cut off crucial supplies of energy for Europe just as the war had sent the price of oil skyrocketing. Accusations were made against several countries including Russia, the United States and Ukraine, but all denied responsibility. The Post, citing unnamed officials, said that after the Central Intelligence Agency learned of the alleged bombing plot, the United States told allies including Germany about it.
Fuck off, you lying miserable incompetents.
Michael Shellenberger
@shellenberger CIA: "Six Ukrainian dudes did it"

Jordan Schachtel
@JordanSchachtel I am truly amazed by the Ukrainian Navy's ability to sail undetected for 10k miles roundtrip & blow up the Nord Stream pipeline with their Navy Seals! I trust Washington Post & CIA, which assures me that this is totally plausible, despite Ukraine not having a functioning Navy.
Jordan Schaechtel posted a map, showing how ludicrous this was: Ukraine has no North Sea port. It doesn't operate in the North Sea. It barely has a navy at all and what little navy it has operates in the Black Sea. Here's the path of this hypothetical Ukrainian Super-Secret SEAL Team Alpha Kaboom: