"Another Company Needing Bud-Lighting:" Parents Complain of Kohl's Selling "Pride" Onesies Sized for Three Month Old Babies
'Another company needing Bud-Lighting': Outrage grows as Kohl's stores offer LGBTQ clothing for babies as the outlet is the latest to face backlash over woke merchandise The struggling retailer is selling 'pride' onesies for infants as young as three months in its stores and online Many were outraged and want a boycott against Kohl's like those against Bud Light and Target Conservative influencer Benny Johnson wondered 'why is Kohl's selling 'Pride Merch' for three month old babies?' Kohl's has become the latest retailer to receive backlash for catering to the 'woke crowd' after shoppers slammed their LGBTQ+ apparel for infants. The onesies with the LGBTQ+ pride flag on them, specifically tailored to June, which is known internationally as Pride Month, have even sparked calls for a store boycott. One Twitter account put it succinctly: 'Looks like another company needing Bud-lighting!' The department store has already seen its stock shares lose almost half their value in 2022 and now they could be following the path of Bud Light and Target. Popular Twitter account, 'End Wokeness', led the charge against LGBTQ+ onesies for infants, writing: 'Kohl's is pushing LGBTQ Pride for literal babies' and added 'Looks like Kohl's didn't learn a thing from Bud Lite and Target.'

They're also selling "Ask Me About My Pronouns" merch.
Not sure if that's kid-sized.
Among the merchandise for LGBT pride month in June, the department store's website includes a "Baby Sonoma Community Pride Bodysuit set" for young children from age 3 months to 2 years. The outfit includes a lesbian couple with a dog and three children, one of whom is in a wheelchair, and one of the women is holding an LGBT pride flag. Additional merchandise includes the "Love Is Love" phrase on pillows, bibs, shorts, candles, a banner, and towels, Fox News reported. There are also shirts with phrases on them such as "Be Proud" and "Ask Me My Pronouns." Multiple social media accounts highlighted and criticized the merchandise. The Twitter account "End Wokeness" posted pictures of some of the merchandise, with the caption, "Kohl's is pushing LGBTQ Pride for literal babies."
Video of the Groomerwear here.
Benny Johnson visited Target last week and found the Groomer Propaganda out and proud. But he visited it again, and now the grooming merchandise is better hidden.
Target's DEI chief Kiera Fernandez: "One of the hardest things to be in the world every day is black"
Candace Owens
@RealCandaceO While the Bud Light protest was definitively led by moral men, I believe this Target one is being led by moral women and I'm very glad to see these results.
Keep it up. #boycotttarget
Target's loss of shareholder value: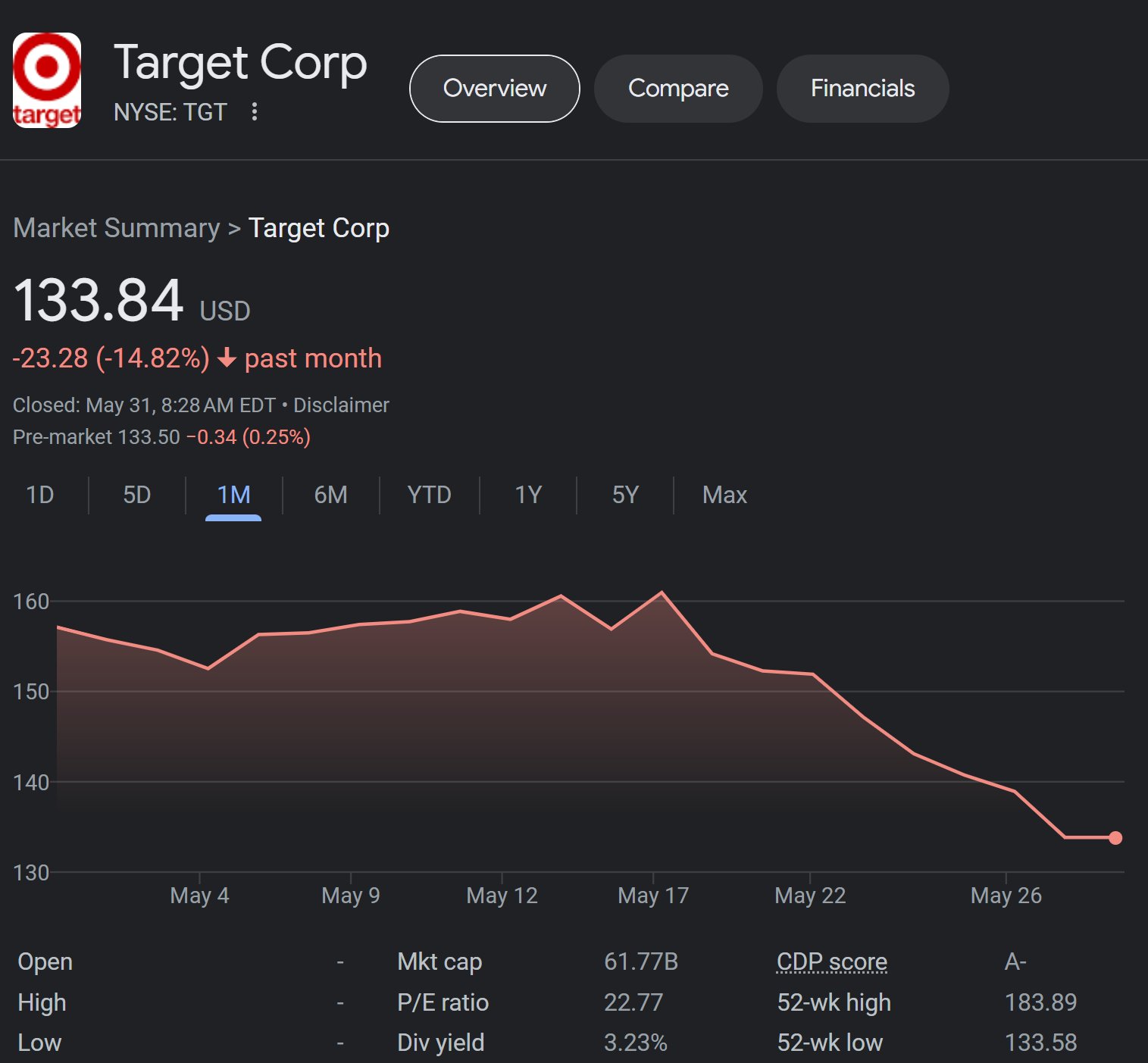 And Tranheuser Busch's: