Axios: DeSantis' Decision to Make His Announcement on Twitter Is a Sign That Fox News Is Not the Conservative King-Maker Any Longer
Note: This is a Fox thread, not a DeSantis/Trump thread! We took care of the DeSantis/Trump war for the day already.
This is about Fox being demoted from the place you launch a campaign from to the place you later show up at after you've launched. This GOP operative explains why DeSantis went the Twitter route:

Kenneth Monahan
@Foudroyant I can tell you why DeSantis is going to use twitter. I was a GOP Chief of Staff in the House during the 117th Congress. After Youngkin won the VA Governorship different elements of his team spoke to us all to help us learn the lessons of his campaign. His comms people went around giving a talk. They said that they held precisely one press conference at the launch of their campaign. Virtually of the questions were about Trump, nothing about VA, nothing about policy, nothing about contrasting him with his opponent. As a result, they never held another press conference for the entire campaign. They won. If you are a Republican candidate, it makes absolutely no sense to try to communicate with the voters through the traditional media.
It's not in DeSantis' interest to do what the media wants -- attack Trump and Trumpism, and Trump supporters. The media wants him to do that precisely because they want him to lose. DeSantis also doesn't want to have to
praise
the guy who can't stop claiming he cheats on his wife, may be a pedophile, and who also might be a closeted homosexual. So no, DeSantis doesn't want to be part of The Trump Show. Everyone in the media, and Trump himself, wants him to be a bit player on The Trump Show. For obvious reasons, he is not interested in this. But that's only part of it. Axios reckoned that DeSantis choosing to
not
declare on Fox News is an open declaration that
Fox News is Yesterday's News.

Elon Musk has displaced Rupert Murdoch and Fox News as the king of conservative media in recent weeks. Why it matters: Fox News used to be the place where conservatives went to break news. But the right-wing ecosystem has turned on the network, leaving Twitter as the center of media gravity for the Republican Party just as the 2024 election heats up. Consider that it's been exactly one month since Fox fired Tucker Carlson and in that short period of time: * Fox's ratings have sunk in the 8 p.m. hour as viewers flock to rival Newsmax. * Tucker Carlson announced plans to bring a "new version" of his old Fox News show to Twitter, while arguing, " the news you consume is a lie." I Ben Shapiro's conservative media company The Daily Wire told Axios it plans to put its entire slate of podcasts, which are almost all recorded as videos, on Twitter beginning May 30. The biggest blow to Fox is coming Wednesday night, when Florida Gov. Ron DeSantis (R) is expected to announce his 2024 presidential campaign during a Twitter Spaces event with Elon Musk. ... Be smart: In choosing to bypass Fox News for Twitter, DeSantis is sending a signal to conservatives that Fox News is just as much a part of the mainstream media as CNN or any other news network. Between the lines: Conservatives aren't just defecting to Twitter -- they are throwing grenades at Fox News along the way. * On Monday, The Daily Signal -- a conservative publication owned by the Heritage Foundation -- published a report based on a leak from a 2021 Fox News employee handbook that said employees are allowed to use bathrooms aligned with the gender they associate with. * That leak sparked outrage from right-wing voices, including one of The Daily Wire's most popular podcasters, Matt Walsh, who said on Twitter, "Fox News is fully woke on trans ideology." Now that Tucker Carlson's gone, "there's no stopping Fox's march leftward," he added. A FOX News spokesperson said, "FOX News Media is compliant with all Human Rights laws mandated by the cities and states in which we operate, including New York and California." Carlson is preparing to unleash allies to attack Fox News in an effort to bully the network into letting him out of his contract, Axios' Mike Allen reported. Already, some allies, such as Megyn Kelly and Brett Favre, have been publicly railing against Fox News in its legal battle with Carlson. "The old system is collapsing," Carlson told Axios. "You can't claim you've got a democracy if all the information voters receive before a presidential election has been curated by the people already in charge."
Nice. I got that from Megyn Kelly, who talks about it below. In response to Fox's claim that they have to implement Gay Bathrooms to comply with New York State law, yes, that's true, but she points out that New York State law does
not
require Fox executives to pressure Tucker Carlson to call Dylan Mulvaney a "she" -- which is exactly what the Daily Signal reports Fox did.
By the way, Fox News raided Tucker Carlson's home to rip all of their gear out of the studio. I'm not sure that's kosher. Yes, you can take cameras and stuff like that -- moveable equipment -- but not wiring that has been put into the walls. Stuff that has become part of the house is now part of the house, period, legally. And they seem to have done that. This article mentions them carrying off
"the fake walls."
And making a mess:
EXCLUSIVE: An ax to grind! Tucker Carlson is seen rebuilding his barn-turned-satellite studio after Fox News dismantled his remote set near Maine summer home - as loyalists quit the network to join his new secret venture Exclusive DailyMail.com photos show Tucker Carlson hard at work at his satellite studio in Woodstock, Maine, as he prepares to launch his new media venture following his unexpected departure from Fox The ousted host would have started broadcasting his nightly Fox talk show from the remote set for the summer by now, but instead is rebuilding the studio after it was dismantled by the network
'Fox came in last week and got all their sh*t out of there,' construction manager Patrick Feeney told DailyMail.com. 'They took the set and everything, all the equipment, the chairs, the desk, the fake walls' ... Tucker has since given his own crew a new job, to get the studio back up and running. But the removal of the original set meant they had to repair the infrastructure. 'There's no hardware in place at all,' Feeney said. 'There's not even an infrastructure for a TV studio for a long time.'
See what I mean? You can take moveable equipment but if you've done improvements to the house itself, those are now part of the house. You've given up ownership of them. But based on those quotes, they tore up "the infrastructure." The wiring, probably upgraded electrical outlets, etc. Fox deserves every inch of what's coming to them.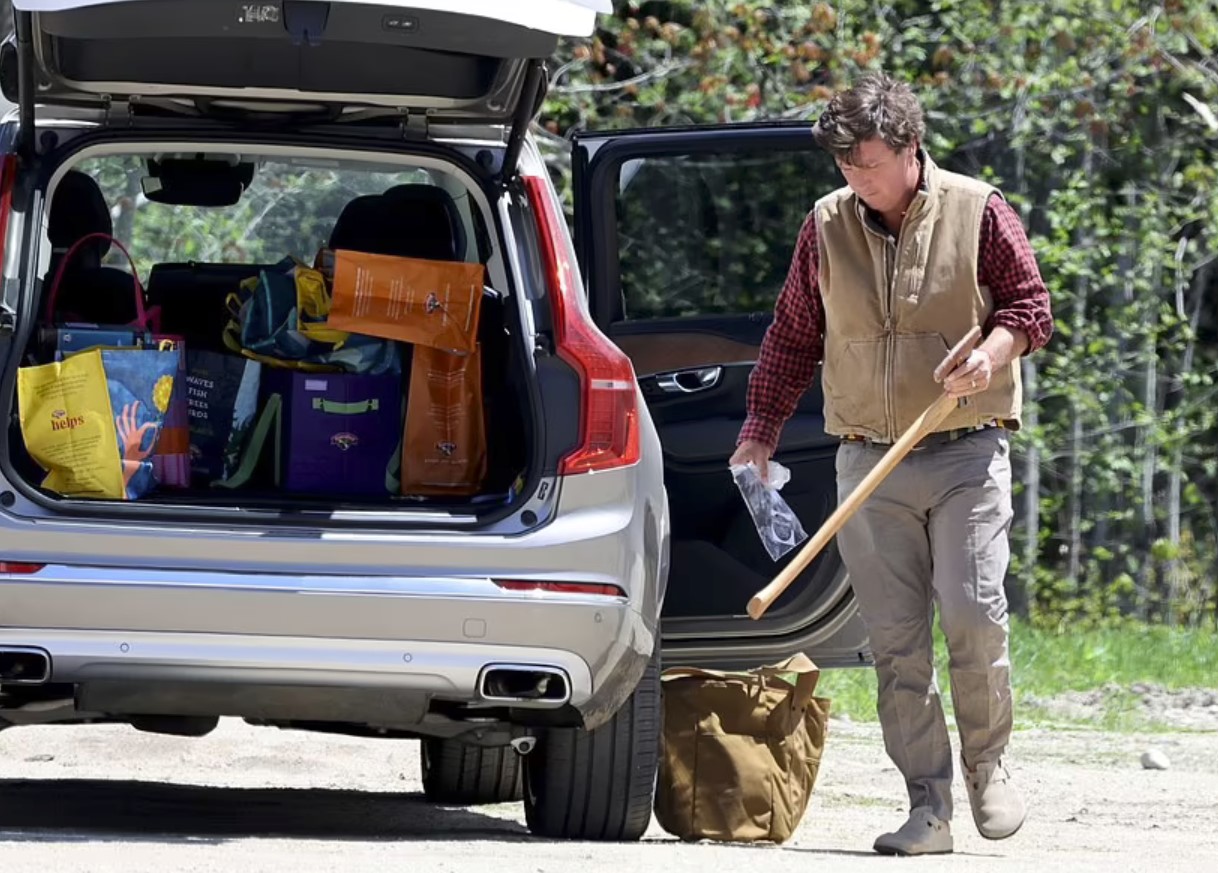 Brand-new axe, huh...? Didn't have one around the house? What a homo.