DeSantis Announces: "I Am Running For President... Governing Is Not About Entertainment. It's Not About Building a Brand. It's About Delivering."
DeSantis will announce his bid for the presidency at 6pm on Twitter.
New link.
NEW LINK:
I added a YouTube simulcast of the announcement. It's under the fold. And the leftwing #ResistanceMedia is accepting this in a calm, dispassionate matter.
VANITY FAIR
@VanityFair DeSantis is set to announce his 2024 White House bid in conversation with a guy who, among other things, has made Twitter a safe haven for hate speech.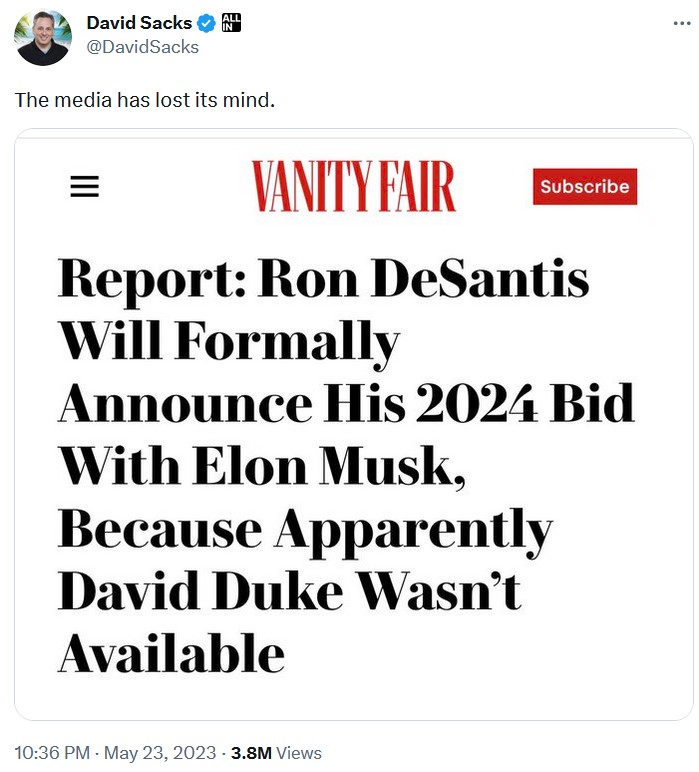 r2401
@liliiilllliiili Are they saying desantis is duke or musk is duke
I don't think they've even thought about it enough to say. The important thing is just having the name "David Duke" in the vicinity of the other two.
Katherine Brodsky
@mysteriouskat This is in the "news" section of Vanity Fair--a paper I had once dreamt of writing for. And I'm appalled. Note phrases like: "David Duke Wasn't Available" & "Other Neo-Nazi sympathizers weren't available." These are words being thrown around wildly and irresponsibly--like little verbal assassins. Target: One's reputation. This article belongs in the 'Slander Op-Ed section,' certainly not the news section. One is entitled to criticize the decision, as the story's author Bess Levin has. Even I have had expressed some hesitation today because I think this move puts Twitter in the path of being an editorial media platform as opposed to just being the public town square. Further, there's been previous support expressed by Musk/Sacks for DeSantis in the past, so there's a perception of possible bias. But to compare Elon Musk to an actual white supremacist and a former Grand Wizard of the KKK/neo-Nazi sympathizer--all for interviewing a Republican presidential candidate...is not just bad journalism. It's outright slander. And it should be denounced by anyone who believes in actual journalism. The last line in Levin's article states: "Anyway, just as a reminder, a DeSantis presidency is as terrible a prospect as a Trump one." Even if I agree, the bigger is this: She's telling her readers what to think...not the facts, not the news. That's not the job of a journalist. At least certainly not one whose story finds itself in the "news" section.
#BREAKING: Florida Gov. Ron DeSantis files to run against former President Trump in 2024 https://t.co/xBrbTB1PMP pic.twitter.com/s0wFFDxlmL -- The Hill (@thehill) May 24, 2023 I think he's filing to run against Biden, but ok. -- J Of The Jay (@jabster42) May 24, 2023
The Washington Post's "journalist" Paul Fahri basically makes
the Conservative Case for Ron DeSantis.
He means it to be disqualifying, of course.

Paul Farhi
@farhip DeSantis, in last two months, has signed bills that: --Make abortions illegal after six weeks. --Enable permitless concealed- firearms carry. --Eliminate unanimous jury verdicts in death-penalty cases. More... --Makes child rapists eligible for the death penalty. --Increases prison sentences for transporting undocumented individuals. --Bans TikTok on govt/public school devices, prohibits China and "other foreign countries of concern" from buying land w/in 10 miles of military sites... --Restricts gender-affirming treatments for minors, drag shows, public bathroom use, and pronoun use by teachers, administrators and students in schools. Law also affirms that sexual orientation and gender identity can't be taught up to eighth grade.... --Exempts governor's travel records from state public disclosure law. Applies retroactively and covers his use of state planes. --Defunds diversity, equity and inclusion programs at state universities.... --Expands measures to block state investment based on environmental, social and governance (ESG) factors. --Upcoming: Bill allowing him to run for president without resigning as governor awaiting his signature. End.
Seems to me you could have a pretty good weekend in Vegas with all that stuff! This guy is openly campaigning against a political figure he pretends to cover "as a journalist." Do words have meanings any longer?
Bill Kristol is now praising Trump, so that he can attack DeSantis as Worse Than Trump:
Bill Kristol
@BillKristol I tend (perhaps foolishly) to discount the Alpha/Beta Male stuff. But: DeSantis was always on Fox when Rupert was for him. Now he announces on Twitter when Elon's for him. Kind of Beta, no? Trump does CNN town hall, goes into the (pseudo-) lion's den. Looks kind of Alpha, no?
Yeah I know there he says that Ron DeSantis is a cvck, but in a bit, I'll quote him saying that DeSantis is a "more talented demagogue" than Trump is.
Ben Shapiro
@benshapiro How odd that the minute another Republican threatens Trump for the nomination, all the people who declared that Trump was a Threat To The Republic(TM) flip and now find Strange New Respect(TM) for Trump
Fusilli Spock
@awstar11 Perfectly encapsulating how the fake conservatives of the past 20-30 years were always actually Democrats. There's zero daylight between this tweet vs. from the most ridiculous partisans from the Left.
MuhPrinziplzzzzzz.
The NeverTrumpers say that DeSantis is "a more talented demagogue than Trump," and are opposing him with equal or greater vigor than they opposed Trump.
"We have a dilemma on our hands," Cullen told Roarty, one in which certain disaffected members of the GOP will have to weigh conscience against pragmatism. If the choice is between Trump and DeSantis, "a small but influential contingent of Republicans" will agonize between the "clear and present danger to the republic" and alternative who might ratchet up "the GOP's turn to anti-democratic demagoguery."
Really? That's how they see it? How would you like to live in their world?

"I'm depressed in either case," said longtime conservative leader Bill Kristol, who called Trump the more "talented" demagogue of the two men.
Bill Kristol, a cheap smear merchant currently kept at an unhealthy 40+ BMI thanks to leftwing provocateur Pierre Omidyar and most likely George Soros as well, was a vigorous spreader of Hillary Clinton pack of demagoguic lies called the Steele Dossier. He's got some nerve -- and no sense of self-reflection -- when he calls anyone else a demagogue.

Roarty quotes a representative sample of prominent Never Trumpers who also feel icky about DeSantis, and some of whom even manage to squeeze out grudging compliments for their perception of the lesser of two evils. ... That sort of reassurance is not enough for some in the anti-Trump realm. Roarty reports that GOP strategist and The Bulwark publisher Sarah Longwell, who's helped raise and spend multiple millions of dollars opposing Trump, would pick the Democrat incumbent in a Ron DeSantis-Joe Biden showdown.

DeSantis, she said, reminds her of Hungarian Prime Minister Victor Orban, an authoritarian leader who has spoken out about mixed race marriages and sharply cut the rights of the country's LGBTQ citizens.
Here's some of that "extremism" the NeverTrumpers want to purge the party they abandoned of:
A hamburger chain is suing Florida, asserting its first amendment right to host sexualized "lewd" drag shows for children.
The restaurant chain Hamburger Mary's is suing Gov. Ron DeSantis and Florida over its recently enacted ban on minors attending drag performances, claiming that the state is depriving it of its First Amendment right of free expression. The suit, filed in federal court in central Florida, alleges that the law the governor signed into law Wednesday is so broad that it has "a chilling effect on protected speech." At issue is a measure the Republican-led Legislature approved in April that bars minors from attending drag shows with "lewd" performances. The governor has personally called for tighter restrictions around such shows, which he says "sexualize" children.
The claim that they were uniquely against Trump was always a lie -- the neocons are liberals, and always were liberals. They were against
the conservative base's political agenda,
and attacked Trump because he was advancing that agenda. And now they're attacking DeSantis for the same reason. They took over the party to push for War Across the World and suppressed every other natural conservative impulse for the 30 years in which they held the party in corporate-funded captivity. They won't be pretending this time that it's about Muh Tweets or Muh Virtue and Character; now they'll just admit that they hate conservatives and support extremely leftwing social policies. Here's Trump's very conservative, very presidential Twitter Babblings about the announcement. Attacking DeSantis from the left on Medicaid, attacking DeSantis from the left on the Flat Tax, etc. And it's all about Trump and "loyalty" to Trump. Of course. Can't wait until DeSantis starts lighting him the f*** up on The Trump Lockdowns. From Zero Hedge:
"Ron DeSanctus can't win the General Election (or get the nomination) because he voted to obliterate Social Security, even wanting to raise the minimum age to 70 (or more!), voted to badly wound Medicare, and fought hard and voted for a 23% 'tax on everything' sales tax," former President Donald Trump wrote on Truth Social on May 24. "He was, and is, a disciple of horrible RINO Paul Ryan, and others too many to mention," Trump added. "Also, he desperately needs a personality transplant and, to the best of my knowledge, they are not medically available yet. A disloyal person!" ... "Look, Rob DeSanctimonious came to me asking for help," he wrote in one post. "He was losing badly, by 31 points, to popular Agriculture Commissioner Adam Putnam. He was getting ready to drop out of the race--Ran a terrible campaign! "Ron told me he had one last chance, my Support & Endorsement, which Putnam, and everyone else, wanted also. I gave it to Ron, and the race was over. In one day, he went from losing badly, to winning by a lot. With 3 large Trump rallies, he won the general election in an upset. Disloyal!!!"
I continue being perplexed by Trump's call for "loyalty." I thought he was a
businessman
. I thought the consumer was empowered to seek a better deal if a better vendor came along. I also note that Trump's pitch in 2016 was to
abandon prior loyalties to support him.
But now loyalty means everything, and forever?