Machete-Wielding Art Profesor Fired
I'm sure you're well aware of this "educator's" prior work.
Update: From Deplorable Ian Galt, her website says she doesn't even teach actual art. She teaches Oppression Science.
Her practice utilizes text, drawing, painting, collage and sculpture to depict spaces and subjects engaged in strategies of survival against erasure and subjugation.
LOL. Another DEI hire who is unqualified for any job in the field. Maybe the Machete Attack is part of an Art Project she's doing.
After that happened, a commenter told me "she held a machete up to a reporter." I didn't understand what that meant -- I thought it was a metaphor, like "She's trying to get a scalp on Twitter." I should have taken that commenter much more literally.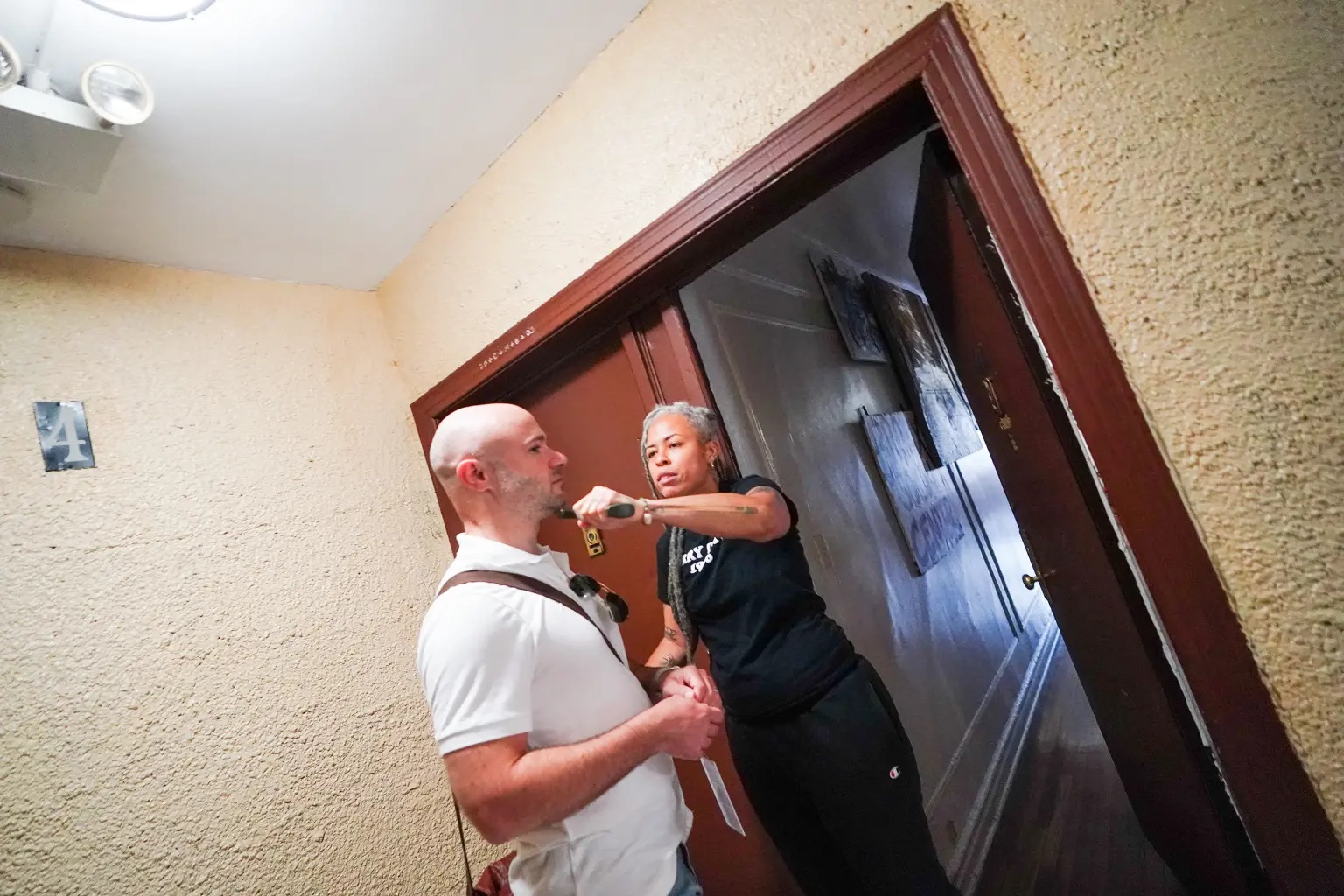 After her (?) outburst, a NY Post reporter went to her apartment to ask about it. She put a machete to his throat. Not metaphorically!
After committing assault with a deadly weapon -- that's what this is -- she then chased him down the street, wielding the machete.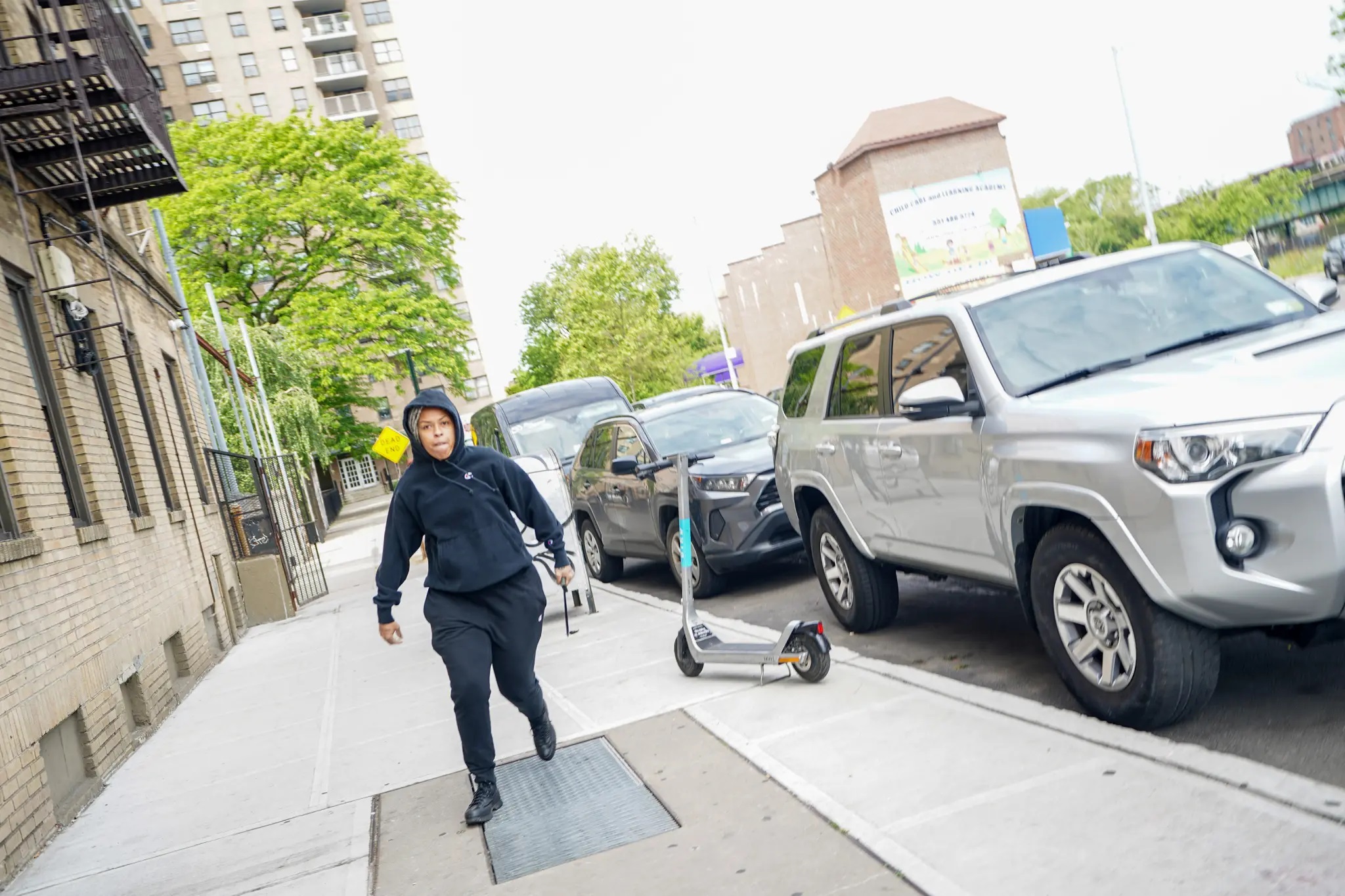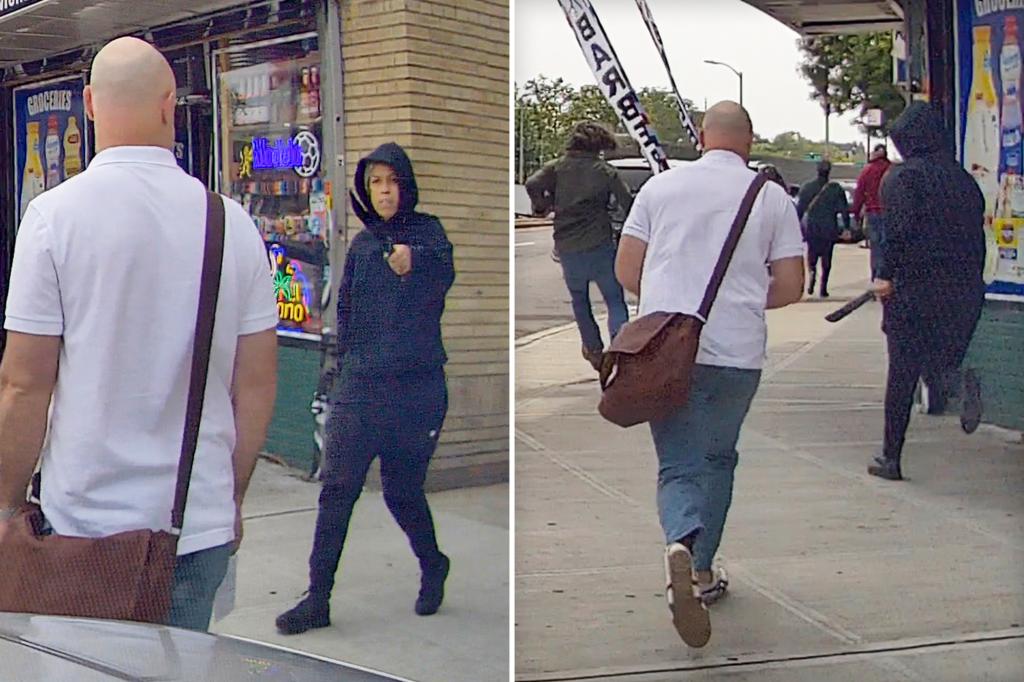 Remember, that Soros prosecutor is charging Daniel Penny, but he hasn't arrested this insane, violent criminal yet. Or ever.
Here's the story of the assault.
And yes, both a threat to attack someone, as well as an unwanted touching, counts as assault. And a machete is a deadly weapon, obviously.

Disturbing video shows the moment a machete-wielding Manhattan college professor menacingly chased a New York Post reporter and photographer down the street Tuesday. Veteran scribe Reuven Fenton and a photographer had just left Shellyne Rodriguez's Bronx apartment building -- where she held the machete to the reporter's neck after he knocked on her door to ask her about a viral video in which she curses out anti-abortion students. She then followed The Post journalists out into the street, machete in hand, dashcam footage shows. When the photographer snaps a picture of the now-former Hunter College art professor approaching them, she starts chasing after him down the sidewalk, forcing him to run into the middle of a busy roadway as traffic passes by, according to the video. "If I see you on this block one more f--king time, you're gonna ...!" Rodriguez yelled at them.
"Get the f--k off the block! Get the f--k out of here, yo!" She also kicked the reporter in the shins as he tried to get in his car.
Moments earlier, Rodriguez had held the machete to Fenton's neck and threatened to "chop" him up after he knocked on her apartment door. "Get the f--k away from my door, or I'm gonna chop you up with this machete!" the unhinged ex-professor shouted from behind her door after Fenton identified himself.
"Get the f--k away from my door!" she yelled repeatedly before then slamming the door. The two Post employees immediately left the building, and she followed.
More criminal assaults, including a battery (the kick in the shins). The threat with a deadly weapon probably counts as aggravated assault. She has been fired. But not yet charged.
Hours after the terrifying incident, Rodriguez was fired from Hunter College, the Manhattan school confirmed. "Rodriguez has been relieved of her duties at Hunter College effective immediately and will not be returning to teach at the school," school spokesman Vince Dimiceli told The Post.
I know you're not going to believe this -- but this Violent Domestic Extremist and Black Supremacist rioted during the St. George Floyd benedictions. And she -- get this! -- is suing because she
claims
cops "abused" her.

Rodriguez, who is the lead plaintiff in the lawsuit, claims she suffered nerve damage from being zip-tied too tightly when she was nabbed and put in a prisoner van with 14 other protesters. Officers allegedly pulled her hair, shoved her face into a gate and repeatedly punched her in the stomach, according to court filings. The charges against Rodriguez from the protest were dismissed in September 2020, the suit says.

More on that:
Rodriguez "felt pain with every jerk of the van during the lengthy ride" to the precinct, court papers allege. She claims the zip ties weren't removed for the next two hours and by then, her wrists were already severely injured. Rodriguez claims she suffered swelling and a slew of long-term injuries, including bilateral thumb numbness from nerve damage, as a result of her arrest. The lawsuit adds that the injuries also impacted "her ability to make art."
This is a cross-racial assault with a deadly weapon with possible Domestic Violent Extremism connections. But Bragg won't charge
this
cross-racial assault with a deadly weapon. Update: Was she even fired?
35 "Rodriguez has been relieved of her duties at Hunter College effective immediately and will not be returning to teach at the school," school spokesman Vince Dimiceli told The Post. that is not the same as being fired that is jibberish for she will continued to be paid but will have no duties Posted by: REDACTED
Another commenter says the union is defending her and will likely get CUNY to agree that her "punishment" should be working at another CUNY campus.
Keep in mind the college hired her in all her glory, including the FTP and brass knuckle tattoos on her hands. Posted by: DJ
I assume FTP means "f*** the police."