Report: Target Is Now Hiding Its Transgenderism-for-Kids Clothing, Fearing a Bud Light Backlash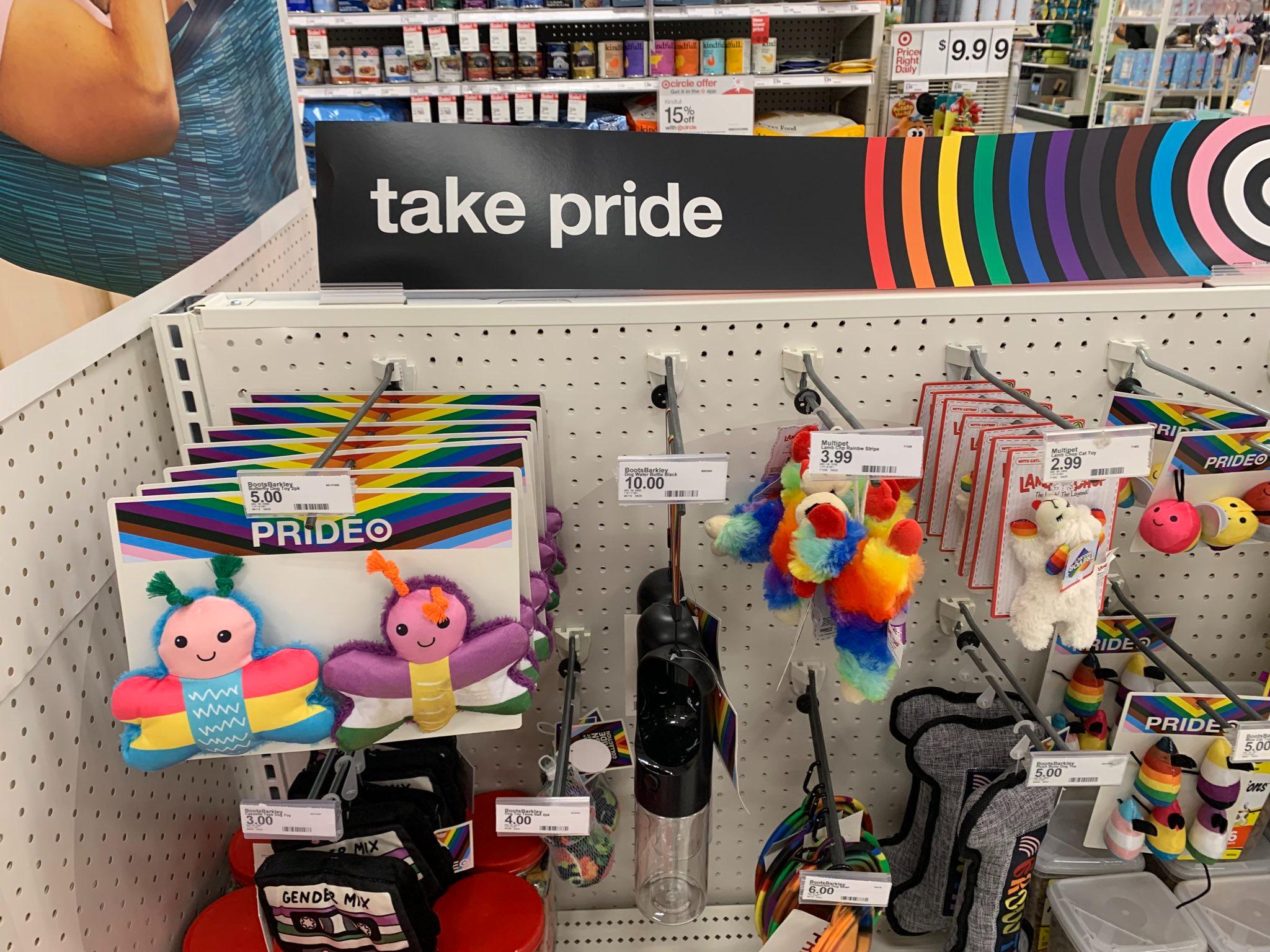 Reportedly a pic from a Target in Florida,
selling gay-propaganda toys to children
Before getting to that,
Jazz Shaw notes a Kaiser Permanente poll finding that most people support the GOP's position on, you know, men being men and women being women.
He quotes Madeleine Kearns at NR, and comments:

"At first I was on the side of acceptance, like using the pronouns and stuff, because I want people to be kind to each other. I don't want people fighting all the time," she said. But she has come to see things differently. "My concern with transgender is mostly with the children." "We can't vote until we're a certain age, we can't smoke, drink or whatever, but we can change our bodies' anatomy and how it works?" she said. "It just doesn't seem like that's okay to me." Treatments for trans youth sometimes include hormone therapies, but not genital surgery, which guidelines generally say doctors should not provide until patients are 18. Are conservatives winning the debate on transgenderism? The Washington Post published the results of a poll it fielded with the Kaiser Family Foundation that showed that, as the headline put it, "most Americans support anti-trans policies favored by GOP."

Of course, it wasn't so long ago that similar findings were published about same-sex marriage. In 1996, only 27 percent of Americans favored redefining marriage to include homosexual unions. By 2006, that figure was at 37 percent. By 2016 -- post-Obergefell -- it was at 58 percent. Today, more than 70 percent of Americans, including 55 percent of Republicans, accept same-sex marriage. Might transgenderism move in the same direction, or is there something different about it? Kearns supplies some good examples of why transgenderism is simply different than the gay marriage debate, drawing on the results of the Kaiser poll linked in the excerpt above. It found that 60% of Americans agree with the belief that sex is determined at birth based on obvious biological factors. (Or, more accurately, sex is determined at conception and observed at birth.) That figure is actually higher than it was in 2017. But isn't it worrisome that 40% of the country isn't willing to state what should be patently obvious? If were to go back to the early part of the 20th century, that figure would certainly have been at or very close to 100%. Anyone saying otherwise would have been described as a nutter and locked up in a home for the terminally confused. So there clearly has been a shift of nearly 40 percent, likely in just the past twenty years or so. Has trans support peaked or will that continue?
Well that's a depressing but valid observation. But, at the moment, it appears that Target may be flinching from its insane embrace of transgenderism. Deb Heine cites a report from a person claiming to be an "insider" that Target's corporate tools are ordering stores to hide their transgender crap,
to Con the Rubes into thinking they're not an even worse corporate offender in this regard than Bud Light.
Target stores in certain locations across the United States have reportedly been forced to downsize their LGBTQ Pride merchandise displays and move them to less prominent spots in the back of the store. This came as a relief to employees who were on "the front lines" of having to deal with irate shoppers, a Target insider told Fox News. Following "emergency" calls on Friday, Target managers and district senior directors in mainly southern and rural areas were told to limit their Pride sections immediately to avoid a "Bud Light situation," the insider said. "We were given 36 hours, told to take all of our Pride stuff, the entire section, and move it into a section that's a third the size. From the front of the store to the back of the store, you can't have anything on mannequins and no large signage," the Target insider, who has worked at the retailer for almost two decades, told Fox. "We call our customers 'guests,' there is outrage on their part. This year it is just exponentially more than any other year," the Target insider continued. "I think given the current situation with Bud Light, the company is terrified of a Bud Light situation."
Deb visited a Target. She still finds that Target is Out & Proud, indoctrinating children into how cool it is to be gay and trans:
More in that thread. I can't link more Tweets or the site will bog down. She notes Target is now selling a "Kidd Ken" doll.
Kidd Ken is a gay crossdressing rapper who drops the n-word every other line.
Warning on that. Mute it.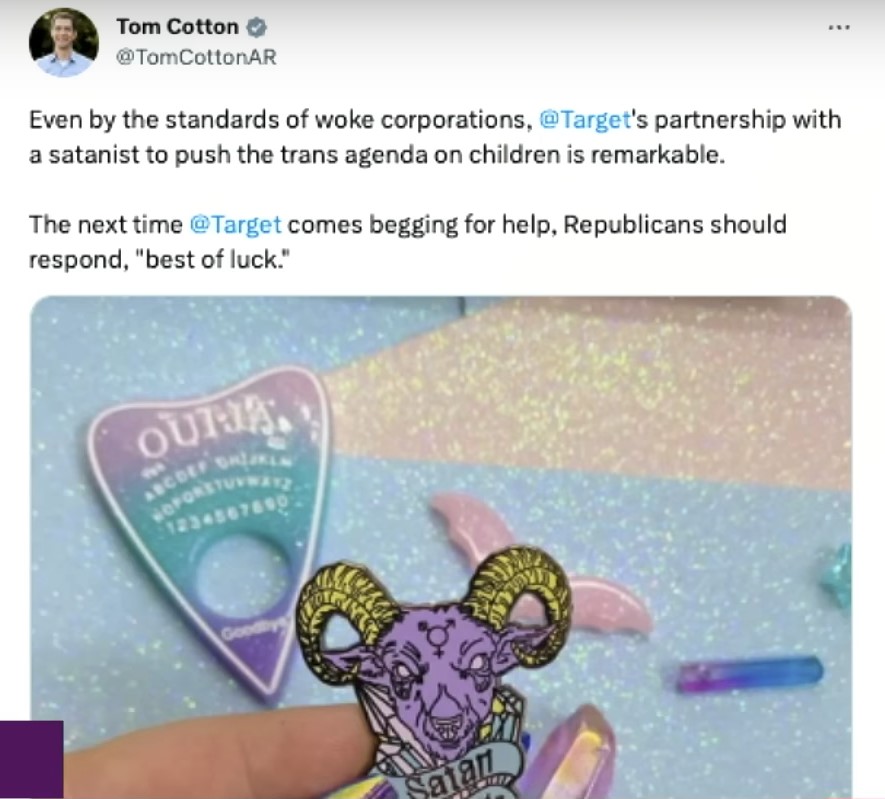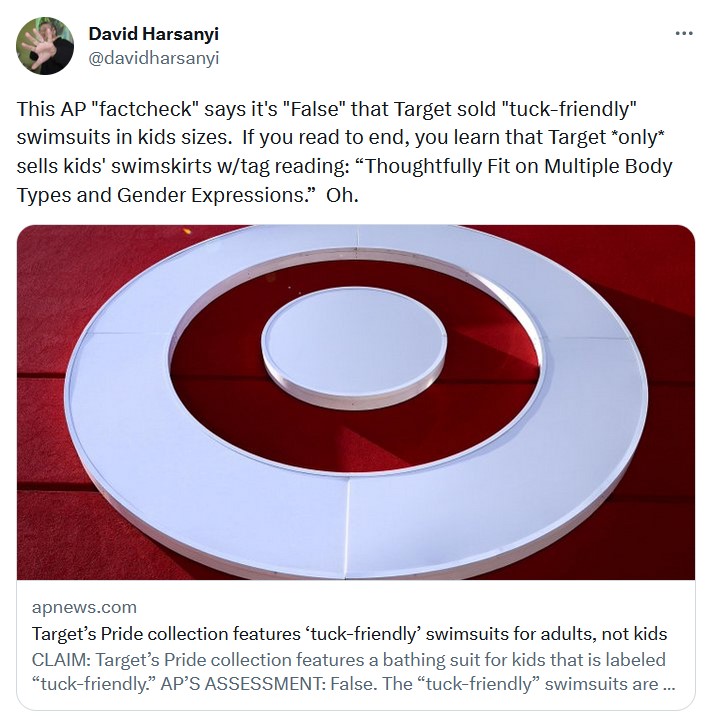 Mollie
@MZHemingway The Associated Press is straight regime propaganda, all day, every day
From
DougP. of Twitchy,
here's AP's " " " fact " " " check.

The "fact-check" shot":


CLAIM: Target's Pride collection features a bathing suit for kids that is labeled "tuck-friendly." AP'S ASSESSMENT: False. The "tuck-friendly" swimsuits are only offered in adult sizes, according to a spokesperson for the company and Target's website. Kids' swimsuits in the collection do not feature this label.

And the chaser:


At a Target in New York City's downtown Brooklyn neighborhood that the AP visited on Monday, the same adult swimsuits shown on social media featured the "tuck-friendly" tag, while a kids' black swimskirt for sale instead had a tag reading: "Thoughtfully Fit on Multiple Body Types and Gender Expressions."
Bonus:
MuNuvians
MeeNuvians
Polls! Polls! Polls!
Real Clear Politics
Gallup
Frequently Asked Questions
The (Almost) Complete Paul Anka Integrity Kick
Top Top Tens
Greatest Hitjobs
News/Chat