A Guy Crashed an Empty Uhaul Truck at Slow Speeds Into a White House Barrier Doing No Damage to Anything and Apparently It's the Greatest Attack on Amercia Since "The Insurrection"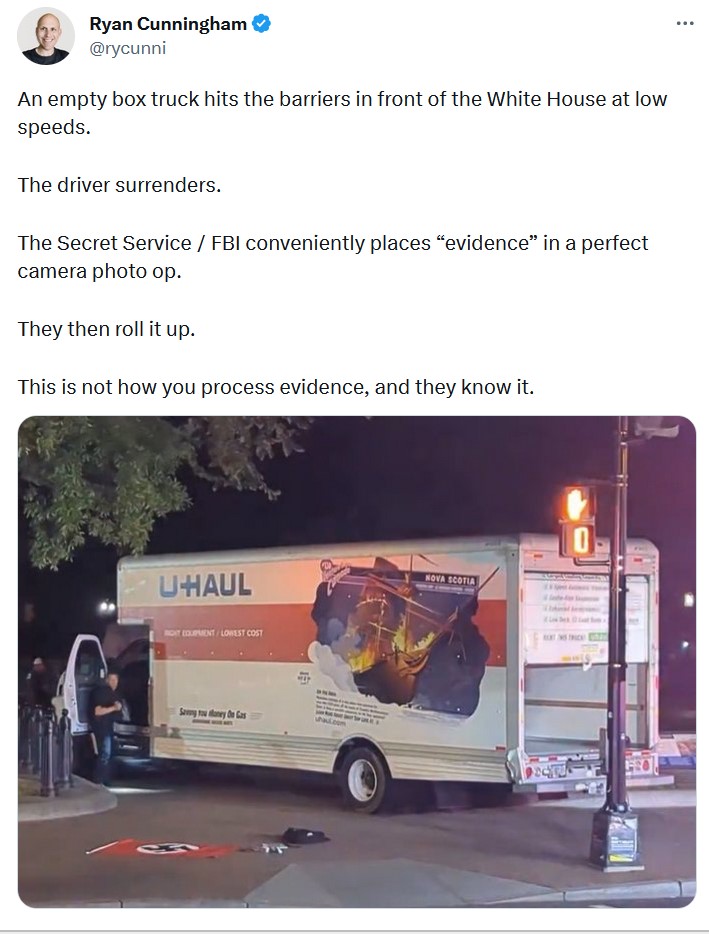 3 What was his class rank at Quantico? Posted by: Duke Lowell
Never let a crisis go to waste.
And if you don't have a crisis, summon your activist media shills to invent one out of a fender-bender.
The male driver taken into custody after crashing a U-Haul truck into security barriers near the White House is now facing charges including "Threaten to kill/kidnap/inflict harm on a President/VP/family member," the United States Park Police say. Authorities announced early Tuesday that the driver arrested in Lafayette Square Monday night is also facing charges of assault with a dangerous weapon, reckless operation of a motor vehicle, destruction of federal property and trespassing. The driver was identified as Sai Varshith Kandula, 19, of Chesterfield, Missouri.
I don't know what race this guy is, but if I had to guess, based on his name, his favorite Beatle is George Harrison.
There were no injuries to any Secret Service or White House personnel, Guglielmi said.
I have heard no reports that he had any weapon -- which makes him, of course, a very dangerous Insurrectionist. Karol Markowitz scooped the rest of the media in reporting that we're dealing, as we so often do these days, with the Brown Face of White Supremacy: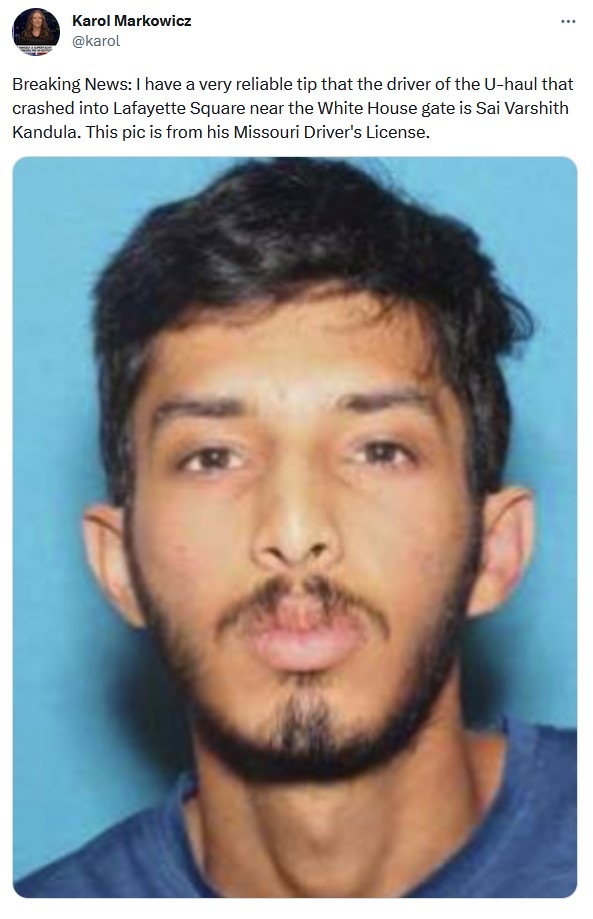 Kyle Shideler
@ShidelerK Couple of points 1. There actually ARE racial minorities and even Jews who end up joining white supremacist groups. It seems bizarre but it is a thing that occasionally happens. 2. Actual white supremacist numbers are so minuscule to begin with they can't afford to be choosy. 3. If this guy actually IS one of such a rare group, his presence in the scene should be relatively simple to confirm. Failure to do so would be suggestive on the part of Federal law enforcement. 4. In many foreign countries Hitler/Nazi symbology is popular for reasons that have NOTHING to do with our domestic American racial issues. It's display doesn't actually tell us very much, which is why splashing that photo immediately is an irresponsible & politicized choice. 5. There are groups and foreign intelligence services operating in the US who would benefit from suggesting an alignment of Hindus with Nazis. So even if it were a "false flag" it still raises more questions than it answers. Remember it ain't always about you and your stuff. 6. Given nature of our corrupt federal agencies & corporate media, cynicism about these types of events is 100% warranted. But in the complex information environment, knee jerk responses aren't helpful. Be skeptical, gather facts, figure out questions & analyze.
Here's my take: I have to make fun of this incident because we're of course not going to be talking about the incident itself. Not really. The leftwing activist media and the leftwing political movement seizes (and pounces) on very trivial and/or rare and disconnected incidents to paint a picture of a Nation Under Siege. And they do this, of course, to establish the predicate for a gigantic political demand they would never be granted absent some claim of catastrophe. An obese man with a heart condition and currently overdosing on drugs dies while being routinely restrained by a cop. Now we demand you make crime effectively legal for black people. A few dozen rowdies decided to imitate the "Voice of the Unheard" mostly peaceful tactics they just watched the left utilize during the "Summer of Love" to achieve political goals. Now we're going to call that an "insurrection" and claim that this justifies the theft of an election and the mass surveillance of Americans, particularly conservatives. And of course, the imposition of Soviet-style controls on speech which undermined the corrupt authority of The Regime. The incident is just a pretext for the political demand. So I can't evaluate just in terms of the actual seriousness of it. If I did, though, I'd say it's not very serious at all. The left sure didn't acknowledge the seriousness of a
leftwing terrorist
racing across the White House lawn to get to Trump and kill him. In fact, they mocked Trump as a coward for obeying his Secret Service and going with them to the White House bunker. So how many f***s am I expected to give about an Indian guy
maybe
attempting -- incompetently to reduce Joe Biden's expected remaining lifespan by a couple of years, at most? I have to evaluate this in terms of the next nation-destroying political demand from the left. What will it be? Most likely a renewed push for censorship of all media and a demand that all corporations stop advertising on Twitter until Musk puts the company back under Speech Lockdown. After all, if the left can't agitate for outlawing guns, the next on their list of wants is outlawing speech. And do I consider a fender-bender a big enough Act of Insurrection to give up my right to speech? Why no. No, I don't, as a matter of fact. Meanwhile: What political demand of the right has been granted, or even seriously entertained, in the wake of the Trans Terrorist who murdered six Christians, including three children? None. Not a one. That was merely an incident that proves nothing about the greater political situation. Unlike this case of a Indian Teen crashing his truck into a barrier at low speed, barely chipping the paint off the bollard. That, you see, proves everything, and demands a maximalist response from the DOJ, FBI, and CIA.
50 The Nazis are just trying to up their DEI score so they can still get bank loans. Posted by: 29Victor