JAMES COMER AND CHARLES GRASSLEY ALLEGE FBI HAS DOCUMENT ALLEGING JOE BIDEN TAKING FOREIGN BRIBES AS VICE-PRESIDENT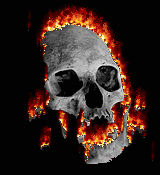 Okay, all that red font and flaming skull aside-- the caution here is that they just say the FBI has a document alleging this. And I'm sure you're familiar with the practice of leftwing cranks flooding law enforcement with delirium-swirling conspiracy theories about corrupt dealings with foreign governments. Like, for example: The Steele "Dossier." But interestingly enough, the FBI was able to keep
this
allegation of foreign election interference and Collusion entirely out of the public's view. Comer and Grassley seek to bring it into the public's view.
JustTheNews:
House and Senate GOP investigators said Wednesday they have learned the FBI possesses a document alleging a pay-to-play bribery scheme involving President Joe Biden and have subpoenaed it in an explosive new twist in their long running corruption probe of the first family. Senate Budget Committee ranking member and long-time whistleblower advocate Chuck Grassley (R-Iowa) and House Committee on Oversight and Accountability Chairman James Comer (R-Ky.) said they learned of the document, known as FD-1023, from a whistleblower.
"We believe the FBI possesses an unclassified internal document that includes very serious and detailed allegations implicating the current President of the United States," Grassley said. "What we don't know is what, if anything, the FBI has done to verify these claims or investigate further. The FBI's recent history of botching politically charged investigations demands close congressional oversight." Said Comer: "The information provided by a whistleblower raises concerns that then-Vice President Biden allegedly engaged in a bribery scheme with a foreign national. The American people need to know if President Biden sold out the United States of America to make money for himself. Senator Grassley and I will seek the truth to ensure accountability for the American people."
Video below the fold. The video report says that the scheme was for the purposes of influencing American policy and legislation. From Debra Heine a couple of days ago:
Comer is also charging Hunter Biden's lawyers of "testing the limits" of witness intimidation by contacting them for "friendly chats."

Rep. Comer (R-Ky.) said witnesses and subpoenaed individuals cooperating with their probe have told his staff that Biden's attorneys have inappropriately contacted them with veiled threats about their own potential liability in regard to the Biden clan's shady business schemes. "We feel that this is close to crossing the line," he told Fox News' Sandra Smith Monday. "Obviously their objective, in my opinion, is witness intimidation."
So Hunter Biden's lawyers are threatening that if Hunter Biden goes down, they'll also be charged for their involvement in Hunter's crimes --
a very serious threat when we're talking about the son of the President of the United States and Merrick Garland's boss.

Comer added that his subpoena authority has proven to be a "very fruitful" oversight tool in the Oversight Republicans' Biden probe.
Apparently so, given today's story.

"We have bank records, we have access to all the bank violations in the Treasury cabinet and now we have whistleblowers who are coming forward," he said. When asked if he stands by his accusation of witness intimidation," Comer replied, "it depends on your definition of intimidation." "If you get a call from the lawyers and they remind you of your potential liability in some of these business schemes, then yes, I would consider that witness intimidation," he said. Comer told Smith that Republicans are now trying to get immunity for the witnesses "going forward" due to the threats. "Hopefully, the Department of Justice and Merrick Garland, the Attorney General will grant immunity," he added.
LOL, that's adorable.
... On Twitter, George Washington University Professor and constitutional lawyer Jonathan Turley said Biden's attorneys appear to be walking on thin ice. "Biden recently assembled a new team pledging hardball tactics," Turley explained. "Trump associate Roger Stone was pursued over contacts with witnesses. This can be a dangerous line for lawyers to walk." Comer first brought up the alleged witness tampering over the weekend, telling Just the News in an interview that Biden's lawyers had made some potential whistleblowers "fear for their lives." "We've got witnesses that are scared to death to come forward. They fear for their lives," Comer said. "You've got the banks that have worked with us that are being squeezed by attorneys, by high-ranking officials in the Democrat party for having the nerve to work with us, to comply with our subpoenas."

More, much more, at Deb's post. All this as
Hunter might be brought to some kind of financial justice in the case of the daughter he abandoned
and whom Joe Biden refuses to acknowledge as his grand-daughter.

Hunter Biden's showdown with baby mama Lunden Roberts in a Batesville, Ark., courtroom Monday may be the first time in his life that he hasn't been able to wheedle out of the consequences of his actions. The president's son is crying poor and seeking to cut child support payments to Navy Joan, his unacknowledged 4-year-old daughter with Roberts, a former stripper with whom he had a monthslong affair. It appears Hunter's lawyers will not come to a settlement with Roberts to avoid his opening the kimono on his financial secrets.
This is a new development, at least to me: The "Sugar Brother" who is paying millions to the IRS to settle Hunter Biden's unpaid taxes problem, and who is spending more millions to hire the mob-style lawyers that Hunter has sent out to attack his critics and witnesses to his crimes, was given Hunter's 10% stake in a CCP equity firm.

Already we have found that the first son offloaded his 10% stake in Chinese equity firm BHR to his "sugar brother" Kevin Morris, the Hollywood attorney who paid his $2.8 million IRS debt. New documents, uncovered by nonprofit Marco Polo and published over the weekend by Breitbart News, show that Hunter's firm Skaneateles LLC, which held the BHR stake, is controlled by Morris. No doubt Roberts' attorneys will want to know just how much Hunter received for the BHR stake, which has been estimated to be worth between $420,000 and $20 million, but which he told the New York Times he sold at a loss.
I have a feeling it was never disclosed.

Hunter received his cut in the CCP-backed fund in December 2013, a few days after flying to Beijing on Air Force Two with his dad, then-Vice President Joe Biden, who met with Hunter's Chinese partner during the trip. By 2019, BHR had $2.5 billion in funds under management but struggled with poor investments. Hunter's abandoned laptop and the financial records it contains are expected to take center stage in the case. Hunter's attorney Brent Langdon could not answer when Independence County, Arkansas, Circuit Judge Holly Meyer asked: "Is it your client's laptop or not?" "I am not in a position to even begin to answer that question," Langdon replied. It's unlikely the judge will allow this evasiveness to continue.

Below, a report on the Joe Biden Foreign Bribery Scheme.