Sunday Morning Book Thread - 04-23-2023 ["Perfessor" Squirrel]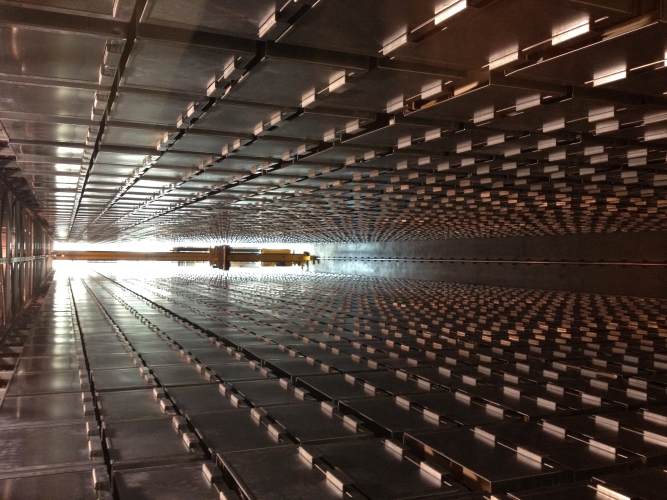 Welcome to the prestigious, internationally acclaimed, stately, and illustrious Sunday Morning Book Thread! The place where all readers are welcome, regardless of whatever
guilty pleasure
we feel like reading. Here is where we can discuss, argue, bicker, quibble, consider, debate, confabulate, converse, and jaw about our latest fancy in reading material. As always, pants are required, especially if you are wearing
these pants
... So relax, find yourself a warm kitty (or warm puppy--I won't judge) to curl up in your lap, warm up some toaster strudel, and dive into a new book. What are YOU reading this fine morning?
PIC NOTE
Lurker Chris sent the above pic, which is from the University of Santa Clara. They've implemented an automatic retrieval system (ARS) that allows patrons to search for the materials and have them delivered by robot to the library staff, who then take it to the patron. Chris also included a link to the following video, showing the ARS in action. I get a strong "Amazon" vibe watching the video. Also, kind of takes the fun out of wandering among the stacks of the library just looking for odd or interesting books.
UNFINISHED EPIC FANTASY
This
epic rant
from Larry Correia has popped up a few times here on the blog in the past week. In fact, Pixy Misa mentioned it on the
Wednesday Tech Thread
. So I thought I'd share some of my thoughts on the subject while it's still relatively fresh in my mind. If epic fantasy is not your bag, feel free to skip down to the more interesting sections below or just dive into the comments and talk about the books you are reading these days. I believe Correia's argument can be boiled down to the following syllogism:


Epic fantasy is an exceptionally difficult genre to break into as a writer--especially for new authors--because it requires a huge investment of time and energy with no guarantee of a reward at the end.


George R.R. Martin and Patrick Rothfuss--being among the more popular fantasy authors who have unfinished series--have created a substantial backlash in the fan community *against* epic fantasy because of their inability (or outright refusal) to finish A Song of Ice and Fire(5 out of 7 books completed) and The Kingkiller Chronicles(2 out of 3 books completed), respectively.


Therefore, it's now even *harder* for new authors to write epic fantasy stories because of the reluctance of a very vocal subset of the fan community that has determined they will only read *finished* epic fantasy series.


FULL DISCLOSURE: I own both
A Song of Ice and Fire
by George R.R. Martin and
The Kingkiller Chronicles
by Patrick Rothfuss. I don't understand the hype about these two authors because I found their writing to be competent, but overall I wasn't too keen on their stories. It's clear that Martin wanted the audience to like certain characters (Ned Stark, Jon Snow, Tyrian Lannister, etc.), but they come with flaws that to me make them somewhat unlikeable (Ned is an adulterer, Jon is an oathbreaker, and Tyrian commits patricide). In Rothfuss' series, I found the main character to be a bit too much of a Gary Stu for me to become invested in him. People rave about Rothfuss' prose, but it just didn't grab me like it does others. I must be jaded after reading too many other epic fantasy series with much better prose. It's important to note that Correia's ire isn't directed at the entire epic fantasy fan community, but only those who have expressed their opinion that epic fantasy stories need to be completed before they'll even take a look at them. They are extremely vocal on the usual social media channels (e.g., Twitter and Reddit). They are also affecting sales by posting negative comments about series completion on Amazon reviews. They might LOVE the first book in the series, but give the author a 1 or 2 star review because the series isn't finished. That's not good for an author's reputation on Amazon, especially when they are just getting started. They may have the remaining books well in the publishing pipeline, but it takes time to go from book 1 to book 2 to book 3. According to Correia, George R.R. Martin and Patrick Rothfuss between them have irrevocably damaged the epic fantasy genre to the point that it's nearly impossible for up-and-coming authors to break into that field. He spends a lot more time talking to writers and fans than I do, so he can see the state of the publishing field a lot more clearly than I can. I admit that I am somewhat reluctant to start new series myself, but that's mostly because my TBR pile is already several hundred books and growing. However, I can confidently say that I am not afraid to start a new series simply because it hasn't been finished. I picked up Brent Weeks'
Lightbringer
series after reading his enjoyable
Night's Angel
trilogy, which I had found at a used bookstore, I think, in omnibus format. At the time, only a couple of books in the series had been published, but it eventually ran through 5 books, each one more insane than the last. Definitely worth the wait, though some reviewers have mixed feelings. One series I'm currently hoping gets finished before I die is Jim Butcher's
Cinder Spires
. The first book came out in 2015, but there doesn't seem to be any future releases in the series any time soon. I know Butcher has released a couple of
Dresden Files
novels since then. He's nearing the end of that series, so that may be occupying most of his time. I think he's also been assisting his son James J. Butcher start his own publishing career, so I'll cut Jim Butcher some slack. I know he is more than capable of finishing a series and making it awesome (see the
Codex Alera
series). As a lover of epic fantasy myself, I can say that anticipating the next book in the series is part of the enjoyment! I *LIKE* waiting for the next book, because it gives me something to look forward to. Now, if the next book doesn't show up in a reasonable time (2-3 years), then I'm likely to drop the author and move onto a new series. However, when the next book does show up, then there's a genuine pleasure in opening that package, or taking the book off the shelf at the bookstore, holding it in my hands, running my fingers over the cover, and hearing that first "crack" when you open the book to begin reading. One of the highlights of my reading experience was when Robert Jordan's final book in
The Wheel of Time
arrived on my doorstep. Now THAT was an epic series where I waited 22 years to complete the entire 15-book saga (14 books in the main series plus a prequel). One epic fantasy series that has been ongoing intermittently for the past 40 years is P.C. Hodgell's
Chronicles of the Kencyrath
. The first three were published between 1982 and 1994. Then there's a 12-year gap until Book 4 was published in 2006. Then the publishing house Hodgell worked with went belly-up or something. Fortunately, Baen Books decided to start publishing her series again and the remaining 6 books that have been published so far were published between 2010 and 2022. It's an epic fantasy where I don't care if the author finishes it because the backdrop of the story is so grand that the events of the stories are only a miniscule part of a history stretching back over 30,000 years to the long distant past, when Perimal Darkling breached the Barrier protecting the Chain of Creation and started devouring world after world. Only the enigmatic Three-Faced God had the power to forge three races into a resistance force that have fought against the Perimal Darkling for millennia. It's huge and weird and just all around entertaining, even if the series is never finished. Highly recommended. Many moons ago, when I was a teenager living overseas in Germany, the only access to books (besides the base library) was the local Stars and Stripes bookstore on the military base. During one of my many, many visits to said bookstore--which had a limited selection--I picked up a book by a relatively unknown author, Tad Williams, called
The Dragonbone Chair
, which was the first book in
Memory, Sorrow, and Thorn
. I only chose it because it was a) fairly thick, at over 700 pages, b) had what I thought was interesting cover art (Michael Whelan), and c) had a decent premise in the back cover blurb. Also, the selection was very limited, so there wasn't much else to choose. This one book, by an unknown author, changed my life profoundly. Although the pacing was indeed slow, just the everyday life of the main character, Simon, was so immersive, I found it hard to put down. Then key events happened at the end of the first third of the book and I was hooked for the rest of the series. I eagerly awaited Book 2,
Stone of Farewell
, and when I was able to purchase it, I devoured it over a couple of days. Then I had to wait...and wait...and wait for the final volume, which didn't come out until my second year in college (1993). Naturally, as soon as I saw it was available, I took it home and devoured it as well. Just an amazing, incredible epic fantasy. It's the kind of story that George R.R. Martin and Patrick Rothfuss, both of whom were inspired by Tad Williams, wished they could write. I'm now eagerly awaiting the final novel,
The Navigator's Children
, in the sequel series,
The Last King of Osten Ard
. I've even put off reading Book 3,
Into the Narrowdark
, just so I can read the entire series from start to finish. Since I've taken over the Sunday Book Thread, I've taken more time to read books written by Morons. I do this in part to support your writing activities. I also do it because I'm constantly surprised by the quality and care that Moron Authors put into their works. Genuine quality writing. Keep up the good work! And if you haven't tried reading a book by a Moron Author, I strongly encourage you to do so! Enough of my own ranting...I'll just end with this video from The Library Ladder explaining why Tad Williams is worth your time if you are looking for someone you haven't read in epic fantasy. Or if you are looking to start, Tad Williams is an excellent entry point.
NOTE:
Correia has another
epic rant
towards a former influential gossip columnist who destroyed his own credibility over time. This "cancerous tumor of the prolapsed anus of fandom" (Correia's words, not mine) objected to Correia's previous rant about Martin and Rothfuss, so Correia lets him have it with both barrels. Always fun to read.
++++++++++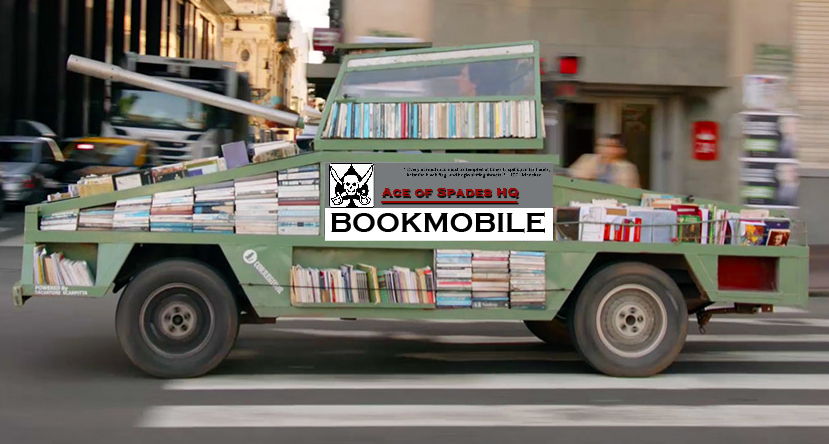 (If this gets me banned, it's totally worth it!)
++++++++++
IT PAYS TO INCREASE YOUR (MEDIEVAL) WORD POWER
Here is something a little different. Since I started this Sunday Morning Book Thread talking about epic fantasy, which usually implies a medieval European-style setting, let's go back in history and look at some REAL words that we should be using nowadays but which have fallen into disuse:
++++++++++
MORON RECOMMENDATIONS

This week I am reading Crossings: consisting of three manuscripts, by Alex Landragin. Hey, fiction with a subtitle. It's my son's choice for family book club. The book is written to be read two ways: front to back as normal, or starting somewhere in the middle, and at the end of each chapter, a note to tell you what page to go to next. Almost like I imagine Choose Your Own Adventure books to be, though I never read those. Just for kicks, I decided to try the second way. The basic theme of the book is that there are two characters from an 18th century tribe on a south Pacific island. The tribe has a tradition of "crossing," or switching bodies with another person. These two perform the crossing illegally, with multigenerational consequences. I am really disoriented reading a book this way. I can't tell if I am still near the beginning, or near the end, or what. Apparently, I like to be able to measure my progress in reading a book, and this method takes that away. Posted by: Dash my lace wigs! at April 16, 2023 09:14 AM (OX9vb)

Comment:
I know this isn't exactly a recommendation, but I do think it's an interesting way to tell a story. I'll probably do a post one of these days about "experimental" or non-conventional storytelling, where the author tries something different. Sometimes it works. Sometimes it doesn't. Making a story more confusing to the reader than it needs to be should be done with great care, and only if there is a satisfying payoff at the end, as the story suddenly makes sense.
+++++

I finished Joe Sharkey's true crime book, Above Suspicion, about a rookie FBI agent in 1980s Eastern Kentucky, and his relationship with a local female informant, which goes horribly wrong. I thought the book was extremely well written and Marc Cashmans narration performance was excellent. I am familiar with the area where the book is set and was actually working nearby some of the time during which the story takes place. There is a recent movie version of the story available on Prime or Netflix. The movie tells the tragic story well, and Emilia Clarke is fantastic in her role, as the tragic and doomed Susan Smith. The book's layers of detail really flesh out the story and create a lot of depth for the stories of all involved in the events. Just a sad and tragic story all the way around, but it is a fascinating read or listen. Posted by: SuperMayorSuperRonNirenberg-Give Me My 4th Term You Peons at April 16, 2023 09:33 AM (/Hc9U)

Comment:
It's always interesting to read a story where you have some familiarity with the details, especially for a true crime story. A buddy of mine used to live in Wichita, KS. I went to visit him one summer and he was telling me that the BTK Strangler had been active in his neighborhood and had even disposed of a body in a nearby pond next to his apartment complex.
+++++

This week I read Proof of Heaven by Eben Alexander III. (BTW it has a subtitle that accurately describes the contents: A Neurosurgeon's Journey into the Afterlife.) Alexander gives you enough of a memoir to put the critical events of the book into context. He is a very accomplished neurosurgeon who, in 2008, suffered a sudden and catastrophic illness. At first his medical team could not diagnose the illness and when they did it seemed that he would almost certainly die and if he didn't he would be left in a vegetative state. While his Alexander's condition was being treated (ineffectively) he was in a coma for 7 days. During this time he went to Heaven. (Yes, this is a non-fiction book.) He describes his experiences there but, as he often tells the reader, they weren't really describable by words. After seven days Alexander suddenly wakened from his coma. Although it took some time, he fully recovered from the disease. So basically two miracles. I found the book intensely moving and illuminating. Its message is very uplifting for Christians and, I would think for everyone else. I would be very interested to hear the reactions of other morons who have read this book. Posted by: Art Rondelet of Malmsey at April 16, 2023 09:49 AM (fTtFy)

Comment:
I've always been a bit fascinated by stories of Near-Death Experiences, though I have not really read much on the subject. I'm convinced there is something after death waiting for us. The universe as we know it is simply too strange for there not to be. Although we like to hear about stories where the NDE involved an encounter with Heavenly beings, there are also NDEs where the person encountered Hell instead. Those are downright terrifying. In last week's thread, I speculated that perhaps we are permitted only a glimpse of the Divine through an NDE because to experience the true reality of it before we are ready (i.e., fully dead) would drive us mad.
+++++

Also, I read that book about inflation during the French Revolution period, what is its title, Fiat Money Inflation In France, it's on another device back at the hotel. THAT is one of the most disturbing books I have ever read, period. As in, it left me seriously disturbed, kind of upset and nervous. It raises multiple very important questions about US money policy at this present time, and how on Earth any of these 'geniuses' could do something that's been done many, MANY, times in the past with the exact same results. Frightening book. Posted by: LenNeal at April 16, 2023 11:09 AM (Z94Ov)

Comment:
There's been a fair amount of discussion on the blog lately about various moves away from the dollar as the world's reserve currency in the near future. This is expected to be a financial disaster for the United States as dollars flood back into the U.S. and drive inflation to unimaginable levels. Any scenario sounds like it will be unpleasant, especially in the short term. Buckle up, folks. It's gonna be a bumpy ride. I'm not even sure how an average person like myself can be prepared for that scenario. I have little wealth to speak of, just some savings and some retirement investments. I'm about as middle class as it's possible to be these days (really lower middle-class if I'm being honest).
More Moron-recommended reading material can be found HERE! (742 Moron-recommended books so far!)
+-----+-----+-----+-----+
WHAT I'VE BEEN READING THIS PAST WEEK:


Forgotten Realms - Homecoming Book 2 - Maestro by R.A. Salvatore -- Catti-Brie launches an ambitious campaign to rebuild the Hosttower of the Arcane while Drizzt Do'Urden braves the terrors of the Underdark to return to a place even more terrifying: Menzoberranzan, the dark elf city in which he was born. Also features an EPIC smackdown at the end...Maybe the most epic Ludicrous Gibs for a one-on-one combat in all of fantasy literature.


Forgotten Realms - Homecoming Book 3 - Hero by R.A. Salvatore -- The conclusion of the Homecoming saga. Drizzt Do'Urden experiences a psychotic break with reality and it's up to his former mortal enemies to bring him out of it.


Saga of the Forgotten Warrior Book 1 - Son of the Black Sword by Larry Correia -- I've enjoyed Correia's Monster Hunter series quite a bit and this one was also recommended, though it's quite a bit different. It's largely inspired by Indian culture, so there is a lot of talk about caste and proper etiquette.


Saga of the Forgotten Warrior Book 2 - House of Assassins by Larry Correia -- Disgraced Protector Ashok begins his campaign of rebellion, war, and destruction as he searches for the captured prophet of a god he doesn't believe in.


That's about all I have for this week. Thank you for all of your kind words regarding the Sunday Morning Book Thread. This is a very special place. You are very special people (in all the best ways!). The kindness, generosity, and wisdom of the Moron Horde knows no bounds. Let's keep reading! If you have any suggestions for improvement, reading recommendations, or discussion topics that you'd like to see on the Sunday Morning Book Thread, you can send them to
perfessor dot squirrel at-sign gmail dot com
. Your feedback is always appreciated! You can also take a virtual tour of OUR library at
libib.com/u/perfessorsquirrel
. Since I added sections for AoSHQ, I now consider it OUR library, rather than my own personal fiefdom...
PREVIOUS SUNDAY MORNING BOOK THREAD - 04-16-23
(NOTE: Do NOT comment on old threads!)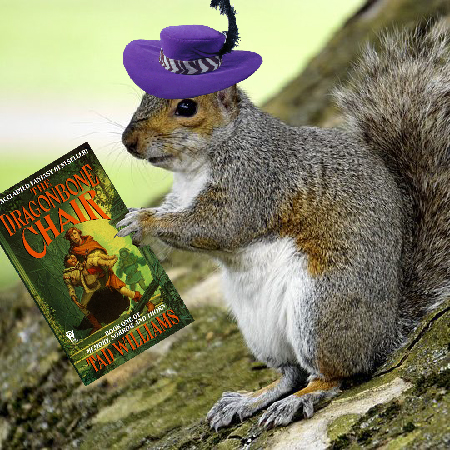 (Huggy Squirrel recommends only the very BEST in epic fantasy!)