Sunday Morning Book Thread - 04-16-2023 ["Perfessor" Squirrel]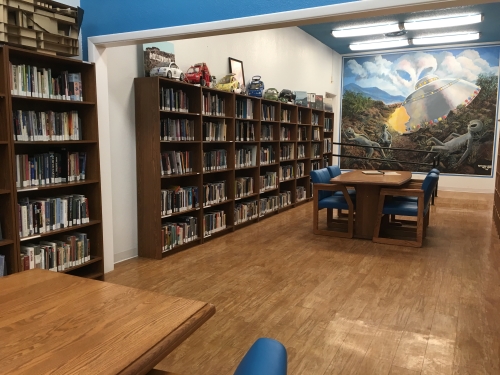 Welcome to the prestigious, internationally acclaimed, stately, and illustrious Sunday Morning Book Thread! The place where all readers are welcome, regardless of whatever
guilty pleasure
we feel like reading (my boss has this book and thinks it's hilarious!). Here is where we can discuss, argue, bicker, quibble, consider, debate, confabulate, converse, and jaw about our latest fancy in reading material. As always, pants are required, especially if you are wearing
these pants
... So relax, find yourself a warm kitty (or warm puppy--I won't judge) to curl up in your lap, scarf down some leftover jelly beans, and dive into a new book. What are YOU reading this fine morning?
PIC NOTE
An anonymous Moron sent in today's pic. It's taken from the
International UFO Museum and Research Center
Library in Roswell, NM. Roswell, of course, is the home of one of the most famous UFO incidents in U.S. history (1947), now known as the Roswell Incident. The theory is that a UFO crashed somewhere near Roswell, NM, and the government is covering up what they've discovered. It's provided endless fodder for conspiracy theorists and has been the subject of several television shows (
Roswell
,
The X-Files
, one episode of
Futurama
, etc.)
SUBTITLES: Do they work and why?
Today's brief topic is brought to us by the Limericist Laureate of AoSHQ:

Hey Perfessor - Here's a suggestion for a future book thread topic. Subtitles. The Use and Abuse thereof. When does a subtitle add to a reader's interest in reading a book and when does it detract? Posted by: Muldoon at April 09, 2023 09:28 AM (ykeLU)

This is a question I've thought about myself from time to time. Subtitles on books seem to be most common in non-fiction as compared to fiction, and even more common in books written by academics for other academics. In the academic world, subtitles on their scribblings (journal articles, presentations, and books) may just be a way of summarizing their findings in order to "hook" other academics into their research topics. Many of my textbooks have subtitles, for instance, such as
Adventurous Thinking: Fostering Students' Rights to Read and Write in Secondary ELA Classrooms
or
Teaching the Canon in the 21st Century Classrooms: Challenging Genres
. You can find subtitles in other works, though, intended for more general audiences, such as our own A.H. Lloyd's
Walls of Men: A Military History of China 2500 B.C. to A.D. 2020
. I remember A.H. Lloyd asking the Moron Horde for advice in selecting a title last year (or maybe the year before), though he seemed to have a good idea for the subtitle. So which comes first? The title or the subtitle? You can certainly include a subtitle on fictional works, though it seems to be far less common. I do see subtitles on a number of anthologies and collections, such as
999: New Stories of Horror and Suspense
edited by Al Sarrantonio and
Alone Against Tomorrow: Stories of Alienation in Speculative Fiction
by Harlan Ellison. Within my novel collection, subtitles are few and far between, though I do have a couple of examples there as well, such as:
The Diamond Age: Or, a Young Lady's Illustrated Primer
and
2001: A Space Odyssey
. Do subtitles work? Probably to some degree, especially for academic works, at least for me. Are they guaranteed to work? Of course not. However, they can also be used to distinguish one author's works from another, if they have similar titles. I know when I go searching on Amazon to find the ISBNs of book recommendations so that I can add them to the AoSHQ Book Recommendation library, subtitles can be quite helpful in identifying the correct book. What do y'all think of subtitles?
++++++++++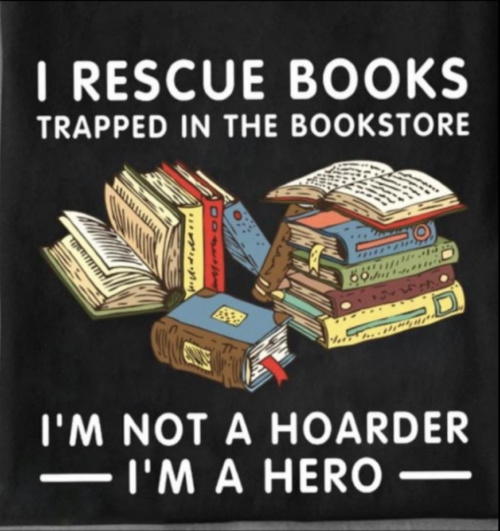 ++++++++++
BOOKS BY MORONS
Last week I featured the little town of Little Penwick, Rhode Island, as an example of a fictional community set in the real world. Well, it turns out Moron Author James Y. Bartlett has a new entry in his
Swamp Yankee
series set in that town! I thoroughly enjoyed
Glitter Girl
so I will probably pick up the rest of the series at some point.


Thanks for mentioning my fictional Little Penwick, Rhode Island in yesterday's Sunday Morning Book Thread! Just for the record, Little Penwick is located in Newport County, Rhode Island. And it shouldn't be too hard to find for anyone who's visited these parts! BTW, I've been reliably informed that Little Penwick (or its non-fictional counterpart) is NOT the smallest town in the smallest state. That honor apparently belongs to the town of New Shoreham, RI, which most people know as "Block Island." Of course, in the middle of summer, New Shoreham is Rhode Island's fifth or sixth most populated town, thanks to the summer trade! Anyhoo, your mention joggled my memory to send you news about the just-published (like, last week) fourth book in the Swamp Yankee Mystery series, entitled Family Affairs. The working title for this one was "Preston Knox gets his due," Knox being the corrupt Rhode Island Attorney General who started causing the Haddock family problems back in Book 1. He does get his due, since he's found murdered in Chapter One, just a few weeks before he was to get elected as governor. And Julius Haddock, the ex-police chief turned private eye, who had a bone to pick with Preston, goes from chief suspect to appointed member of the state police task force searching for the killer. Just the usual Rhode Island fun and games!
+++++
From Suspect to Sleuth! When Rhode Island Attorney General Preston Knox is brutally murdered in his home, just weeks before getting elected Governor, the state police immediately pull in Julius Haddock for questioning. After all, Julius, the now-retired chief of police in the town of Little Penwick, had a beef with the AG, when Knox drummed up some fake charges and put him in jail. (Glitter Girl, Book 1) But Julius didn't do it, and has an unshakeable alibi-he was out having breakfast with his son Gus Haddock, the current chief in Little Penwick. So the outgoing governor appoints Julius to the task force investigating Preston Knox's murder because she was impressed with his recent work on a cold case (Cold Secrets, Book 2). And that's how Julius Haddock went from suspect to sleuth, working with the state police to track down leads and eliminate suspects, one by one. Along the way, Julius is befriended by a local kid on a bike, who has some family secrets of his own; and with his partner Siggi, Julius has to try and convince the last surviving member of an old Little Penwick family to consider donating his land to the Little Penwick Land Trust. But there are old family ghosts in the way there, too. Family Affairs [Amazon Link - PS], Book 4 in the Swamp Yankee Mystery series, is another page-turning adventure of police procedural, small-town relationships and family secrets. Just the kind of stew that makes James Y. Bartlett's inventive new series so popular with readers.

++++++++++
MORON RECOMMENDATIONS

Based on the recommendation of a now-forgotten moron I read The Comanche Empire by Pekka Hämäläinen. It's not on a subject I would normally spend much time on, but it was a real eye opener into the development of a new Indian culture after the introduction of the horse. The Comanches were not originally a big power, nor even Plains Indians, but the horse allowed them to adopt a pastoral, nomadic lifestyle built around harvesting bison and selling horses to the Man. There was a complex interaction between the rising Comanche Empire, the declining Mexican / Spanish empire, and the new big dog, the Americans. There were lots of interesting tidbits, but one I found particularly interesting was that the Comanche, being nomadic, didn't farm, and so because they only harvested meat, had a real problem with protein poisoning. They had to deal with other, more agriculturally-based tribes, in order to secure carbohydrates. Unfortunately, this led to a reliance on raiding other peoples, (read pillaging) and slavery for a labor source. All in all, it was a very interesting look at a vanished world and how its inhabitants coped with the same problems we all do. Posted by: Archimedes at April 09, 2023 09:24 AM (eOEVl)

Comment:
I vaguely remember this book being recommended since I took over the Sunday Morning Book Thread, so I thought I'd include the recommendation above as well. The problems of humanity will never go away, simply because we are human. The Native Americans did get quite a raw deal from the U.S. Government in many ways. But their life was hardly all sunshine and roses before we showed up. It was quite brutal and savage, though some tribes just wanted to be left alone to raise their families in peace. The book I recently read,
The Ghost Dance Judgement
by R.S. Belcher was very much about the escalating tit-for-tat relationship between tribes that wanted to eradicate the white man and the factions of white men that were all to eager to return the favor.
+++++

Book that had an impact on me was Carla Emery's Encyclopedia of Country Living. I got a copy of the original mimeographed pages at Powell's in Portland. Carla printed the book herself and mailed it out in sections. Any question you might have about livestock or country living was answered in the book, interspersed with thoughts about her life. I wore my copy out and bought the new printed version to find out how it ended. I talked to my husband about it and he was able to find me a used, pristine copy of the mimeographed version, which I have now. If the burning times come, it's a book you'll want to have. Posted by: Notsothoreau at April 09, 2023 09:50 AM (u7leW)

Comment:
On this recommendation, I decided to go ahead and purchase the paperback version of the 50th Anniversary edition. For a little more money you can purchase a spiral-bound version, so you can easily lay it flat when reading it as a reference book. It does seem to have TONS of useful and interesting information for those who want to survive in the country. It's the kind of book I'd want to have with me, just in case.
+++++

Impactful books: I was fascinated by Joseph Conrad's Heart of Darkness in college and wrote my senior essay on it, in a school where we did essays instead of exams, St. John's College. The book showed how we all carry the possibility of evil within us, and how civilization may be transitory, an important lesson for today. Posted by: Norrin Radd at April 09, 2023 10:36 AM (CyJhQ)

Comment: This seems to be the quintessential novella exploring the evils within the human condition. It's certainly inspired a number of other stories, as well as affectionate parodies, such as this one from Seinfeld:
+++++

This week, I acquired The Mystery of Capital by Hernando de Soto. De Soto is in one of the premier think tanks of the world, and spent years using hundreds of associates and grad students to compile data on worldwide capital accumulation. His question is, why is capitalism so successful in certain countries, yet a failure in others? His thesis is that in the successful countries, property rights exist, along with title to the lands, which allows for capitalization to proceed. In a majority of third world countries, the vast majority of people have no title to the land they live on, which prevents them from mortgages and loans to develop their businesses. I think he is onto something, and in a world where the influencers want nobody to own anything, it points to a dismal future. Posted by: Thomas Paine at April 09, 2023 11:30 AM (2YxH9)

Comment: Weirdly, much of human history can be traced to "property rights." In the ancient world, kings and pharaohs believed they owned the people (and did, in the case of slaves) as well as all of the resources of the kingdom. So when they warred with each other, it was a sort of personal insult--"He's taking my stuff!" The idea of the individual having personal property rights that must be respected by the government is a fairly recent invention. As we see today, governments around the world--including our own--seem to have lost sight of that, believing that what is theirs is theirs and what is yours is theirs. The WEF, being an extra-governmental body that could arguably be over and above governments, believes that YOU should own nothing from the day you are born to the day you die. You exist to serve THEM. All your labor belongs to THEM. All of your capital belongs to THEM. You are, at most, recipients of their largesse, or an annoyance to be swatted if you get out of line, like stepping on a cockroach.
More Moron-recommended reading material can be found
HERE
!
(730 Moron-recommended books so far!)
+-----+-----+-----+-----+
WHAT I'VE ACQUIRED THIS PAST WEEK:


Saga of the Forgotten Warrior Book 1 - Son of the Black Sword by Larry Correia


Saga of the Forgotten Warrior Book 2 - House of Assassins by Larry Correia


Saga of the Forgotten Warrior Book 3 - Destroyer of Worlds by Larry Correia


Saga of the Forgotten Warrior Book 4 - Tower of Silence by Larry Correia


The Encyclopedia of Country Living, 50th Anniversary Edition: The Original Manual for Living Off the Land and Doing It Yourself by Carla Emery -- This was highly recommended recently and sounded like a good resource, just in case I might need it...


WHAT I'VE BEEN READING THIS PAST WEEK:


Gloriana: Or the Unfulfill'd Queen Being a Romance by Michael Moorcock -- An epic quest for an expy of Queen Elizabeth I to find sexual gratification...(seriously)


Forgotten Realms - Homecoming Book 1 - Archmage by R.A. Salvatore -- The archmage of the dark elf city of Menzoberranzan unleashes demons throughout the Underdark.


Forgotten Realms - Homecoming Book 2 - Maestro by R.A. Salvatore -- The Companions of the Hall struggle to rebuilt the Hosttower of the Arcane while Demogorgon is unleashed on the Underdark...


Forgotten Realms - Homecoming Book 3 - Hero by R.A. Salvatore -- The conclusion of the Homecoming saga. I started reading it then realized it was book THREE of the series instead of Book 1, so I put it aside until I finish reading the first two. Explains why I was so lost after 120+ pages as the characters kept referring to events I didn't remember reading in previous books in the series...


That's about all I have for this week. Thank you for all of your kind words regarding the Sunday Morning Book Thread. This is a very special place. You are very special people (in all the best ways!). The kindness, generosity, and wisdom of the Moron Horde knows no bounds. Let's keep reading! If you have any suggestions for improvement, reading recommendations, or discussion topics that you'd like to see on the Sunday Morning Book Thread, you can send them to
perfessor dot squirrel at-sign gmail dot com
. Your feedback is always appreciated! You can also take a virtual tour of OUR library at
libib.com/u/perfessorsquirrel
. Since I added sections for AoSHQ, I now consider it OUR library, rather than my own personal fiefdom...
PREVIOUS SUNDAY MORNING BOOK THREAD - 04-09-23
(NOTE: Do NOT comment on old threads!)