Saturday Gardening, Puttering and Adventure Thread, April 22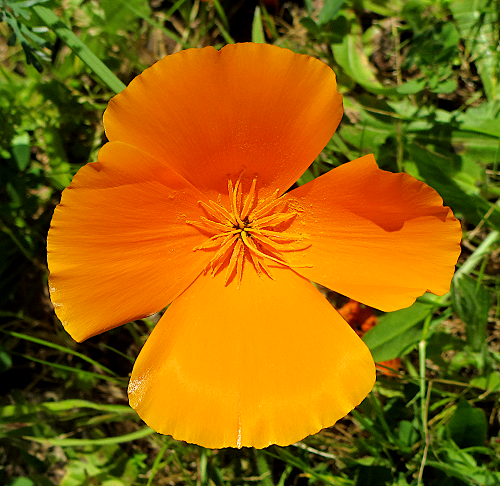 Happy Spring! We have a lot of photos of spring flowers from The Horde this week, (and some left over to cheer us up later). Plus, some garden landscaping and adornment. So fun! Keep 'em coming. From
40 Miles North:
The California poppies are blooming. They look bright in the sun.
So are the swallowtail aquilegia and a cerise red geranium.
California Poppies may close in cloudy weather. The same is true of some of the flowers below.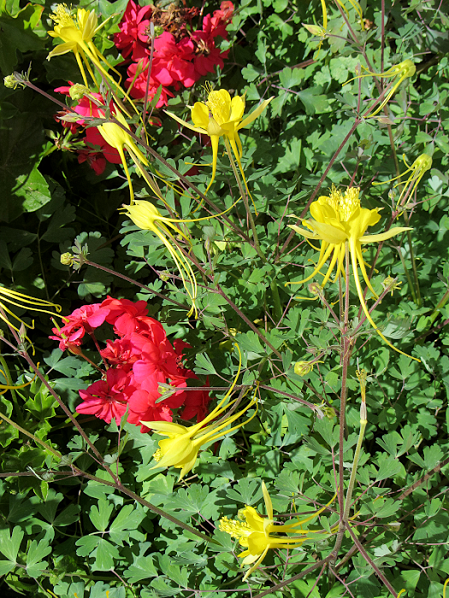 Red geraniums to attract hummingbirds to the aquilegia?
This is an osteospermum that my son bought me years ago. It's really blooming this year, along with some gazanias. They're trying to take over my front lawn this year. They are such over-achievers.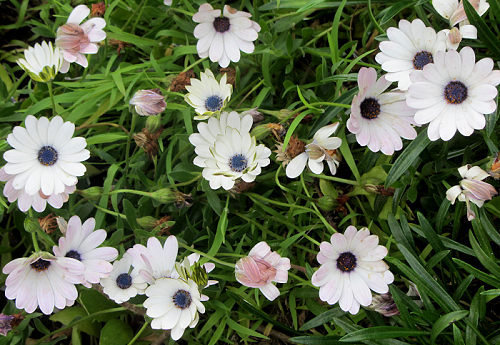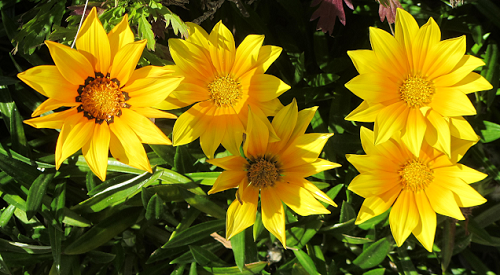 Love the central disc on the osteosperum. And I like the pure yellow gazanias.
Here is an early gaillardia growing under one of the lion's tails: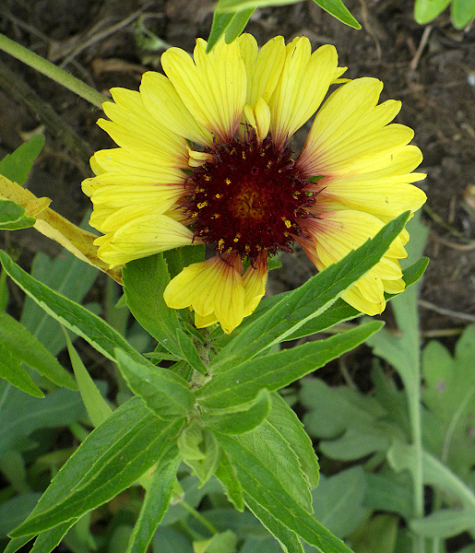 Now you know the difference between a gazania and a gaillardia. Butterflies LOVE gaillardia.
For years, my Sago palm was very unhappy, so I stuck in a pot in full Sun and this is the best it has ever looked: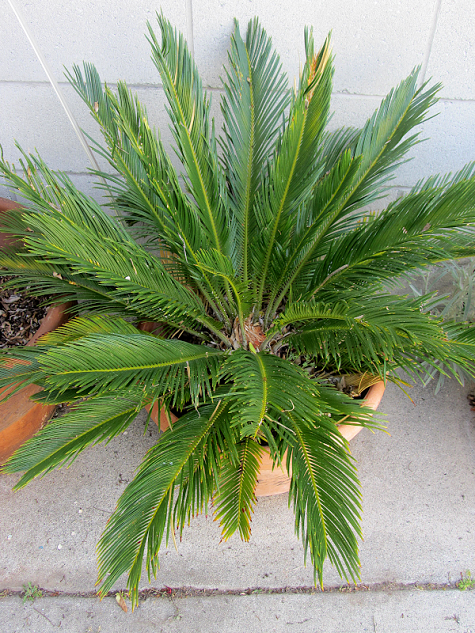 Looks beautiful. A touch of the primitive. Remember that Sago Palms and their seeds are very toxic to pets.
*
Edible Gardening/Putting Things By
Last week, I mentioned that I had bought some Microgreen seeds, and got a question about them in the comments. The seeds I bought are a mix of cabbage/mustard type plants. Easy to grow, flavorful. But there are other possibilities. Like herbs. Sometimes it seems like dill is never in the garden at the right time. But you can grow these
dill seeds either as tall, willowy microgreens or as sprouts.
Once Ace took up
growing broccoli sprouts.
For safety reasons, it is best to get seeds specifically for sprouting (or to pre-treat seeds) to prevent bacterial growth if you are going to become a sprout enthusiast. One famous case of multiple fatal food poisonings in Germany came from raw organic sprouts. Microgreens don't require the same level of precaution, because they aren't grown wet, and you don't eat the roots. I like sunflower microgreens (often called sprouts), which are bigger than many microgreens.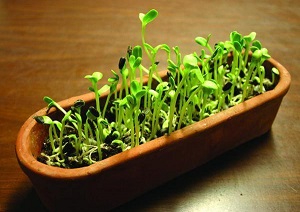 Sprouts are often grown in the dark (depending on what kind of sprouts they are). Microgreens need light. Back in 2019,
Shanks for the memory
wrote in the comments:
Oh...I almost forgot! Is anyone growing microgreens? I have been having ball growing them this winter. At the moment I've got peas, broccoli, Italian Parsley, arugula, sunflowers, and china rose radishes under a kludged grow light fixture I hung on big cup hooks under a cabinet in the laundry room! We've had scads of fresh crunchy greens all winter. The only things I had to buy were the grow light bulb and a couple of compressed coir blocks...and seeds, of course. It's been a treat to have fresh crunchy greens to put in a sandwich and with lots of lettuces being off the market, to amp up Iceberg salads.
Microgreens are a great way for people with no outdoor garden space to garden. But they can be grown outdoors, too. You can also use thinnings of many regular crops as microgreens. Just pinch off the roots and wash well. Back in 2020,
CBD
had a request:
May I suggest a section in your gardening thread for people like me? People who can't garden worth a damn but still want fresh herbs? My house faces north, and the south side is almost completely shaded by very tall trees, so I don't have full sun anywhere for very long... But I still can grow thyme and rosemary in a pot, although I use so much that I actually killed the thyme plant at the end of the summer!
Response related to microgreens:
For those with limited patience, how about starting with some
Micro Herbs?
No fancy set-ups required, harvest in just a few weeks. The kids can help. Directions for growing at the link.


Basil - Green & Purple basil make a super tasty micro herb. You can also use unique basil types like cinnamon basil, licorice basil or lemon.

Chervil - Frilly leaves offering a mild sweet anise flavor.

Dill - Feathery leaves, mild dill flavor.

Cilantro - cilantro flavor with frilly leaves.

Sorrel - Bright lemon flavor, certain varieties have a pretty red vein. This is a bitter green when fully grown but much better as a micro.

Fennel - anise flavor, pretty frilly leaves.

Cress - a superfood & powerhouse for nutrition

Celery - Mild celery flavor. This was the first microgreen I grew as a herb for flavor.

Nasturtiums - I knew nasturtiums were an edible flower so I was delighted to find out you can grow them as micro greens from Urban Greens Sydney Slight peppery flavor.

Shiso - tasting like a mix of spearmint, anise, basil, cumin & cinnamon, this is a herb that's gaining in popularity for its unique & complex flavor.

You can get seeds from several vendors, including
Johnny's.
After April 14. In the meantime,
easy ones for beginners.
Buy seed locally or from non-commercial seed houses.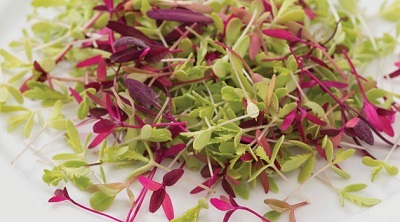 *
Garden Landscaping and Adornment
From Jewells:
My fairy garden is complete. It was a lot of fun to put together. Thought the gardening folks would enjoy a few pics.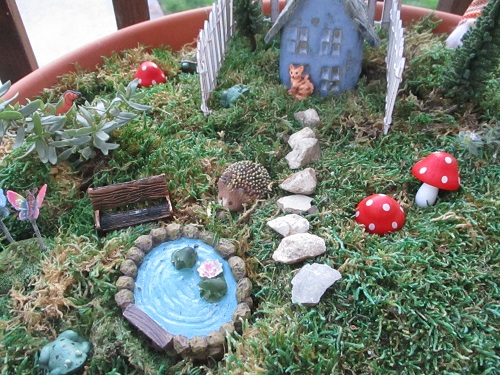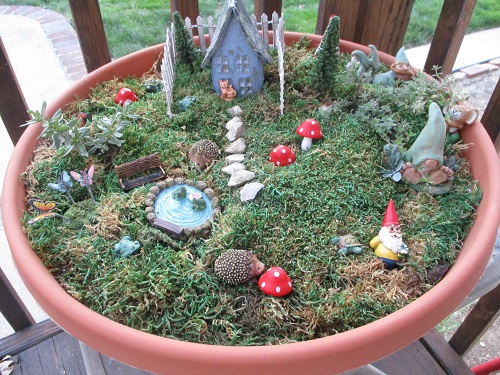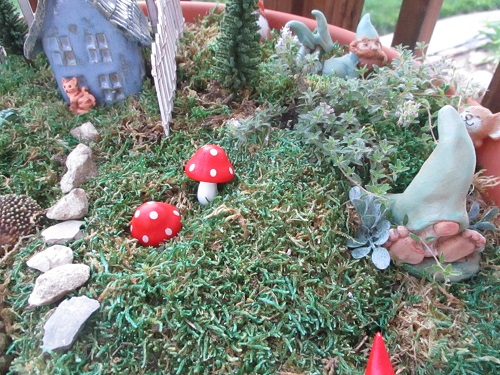 Love the fantasies!
*
Hey KT, There was some discussion of gnomes in last weeks comments. We have a number of gnomes, many of which we inherited when some of the elderly ladies on the block passed away. Their families brought the gnomes to us, so inadvertently we have opened an orphaned gnome old age home. Mr. WeeKreek found this and it amused us, but if you don't like to see gnome carnage, look away. I believe the one in his mouth is dead. You don't often see a dead gnome. The gnome sniper was a separate buy. Mr. WeeKreek found that one and thought it was larger, turns out it was tiny but works perfectly for defending his friends from a dinosaur massacre.

WeeKreekFarmGirl
I'm waiting for the movie.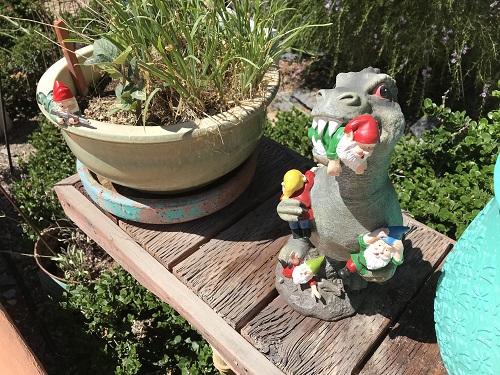 *
Gardens of The Horde
Nan in AZ:
If you want to share some non-snow pictures with the group, the hummingbirds are crazy about the bottlebrush and aloes!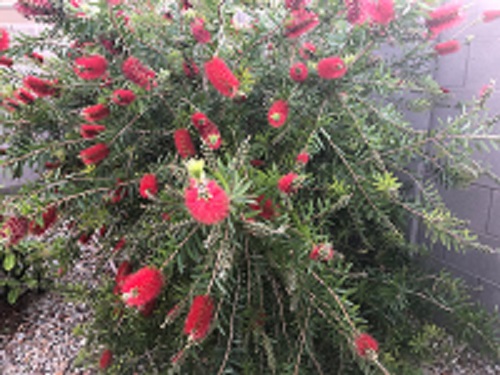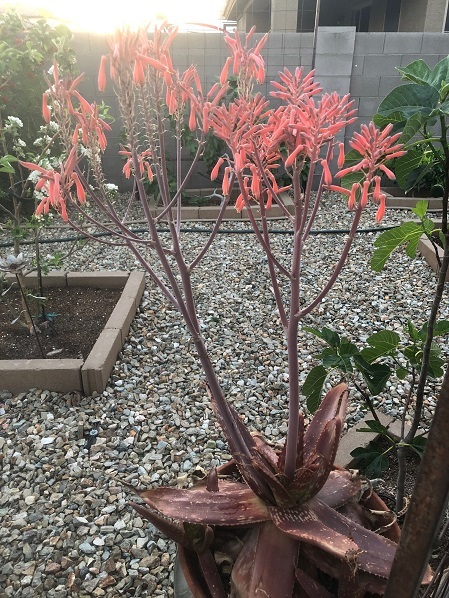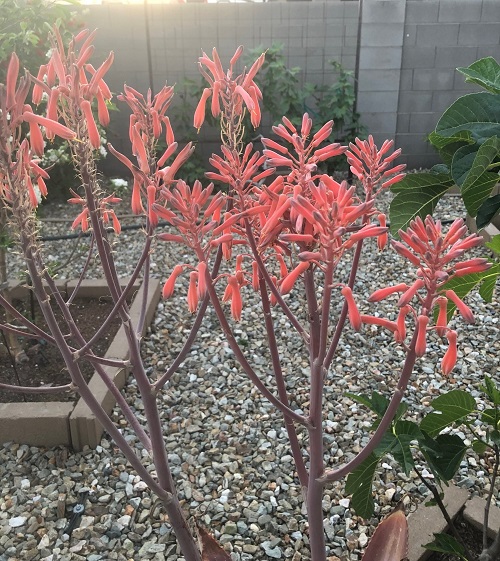 They look like they would attract hummingbirds!
Hope everyone has a nice weekend.
If you would like to send photos, stories, links, etc. for the Saturday Gardening, Puttering and Adventure Thread, the address is:
ktinthegarden at g mail dot com
Remember to include the nic or name by which you wish to be known at AoSHQ, or let us know if you want to remain a lurker.
Week in Review What has changed since last week's thread?
Saturday Gardening, Puttering and Adventure Thread, April 15
Any thoughts or questions? I closed the comments on this post so you wouldn't get banned for commenting on a week-old post, but don't try it anyway.
Posted by: K.T. at
01:17 PM