Saturday Gardening, Puttering and Adventure Thread, April 15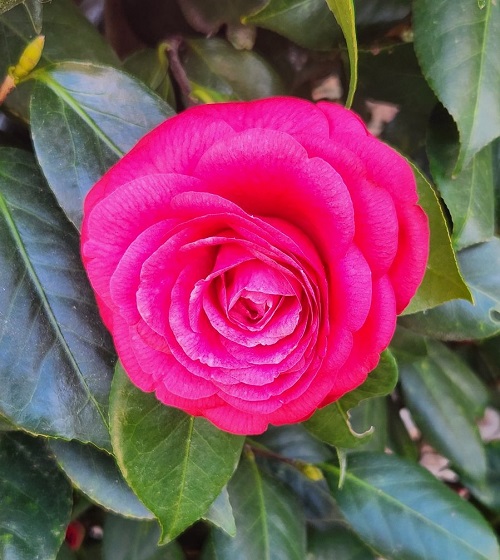 Saturday Greetings! Above, a lovely camellia from a Friend of the Blog. Here, I think spring has started. Everyone is worried about how fast it will heat up, and whether the flood channels will be able to contain the runoff. So far, no blast furnace days. How are things going outdoors where you are?
*
Edible Gardening/Putting Things By
First little grape clusters on vine just planted over the winter. I don't know what variety they are but I think they are eating grapes. Nan in AZ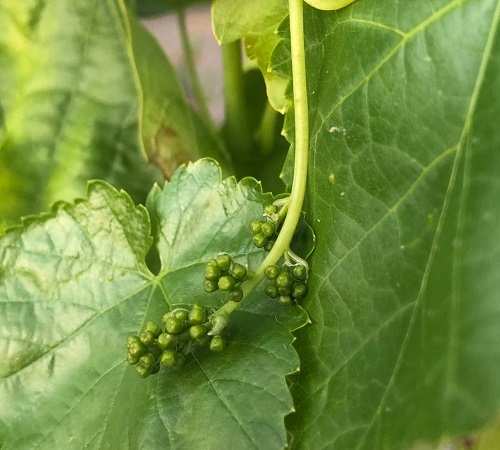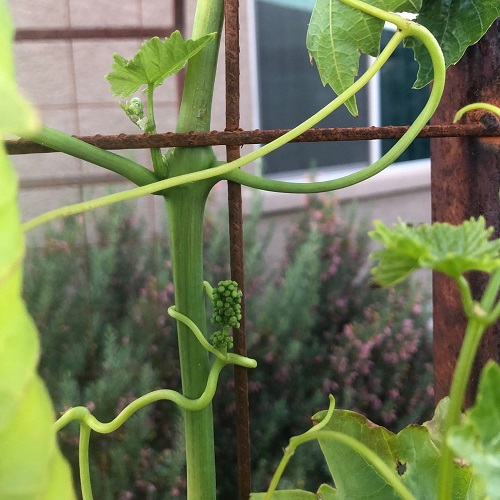 They look kind of artistic, I think.
*
Some more crabapple blossoms that made it through the big wind storm intact. Then figs on the little tree we are espalier to the steel grid .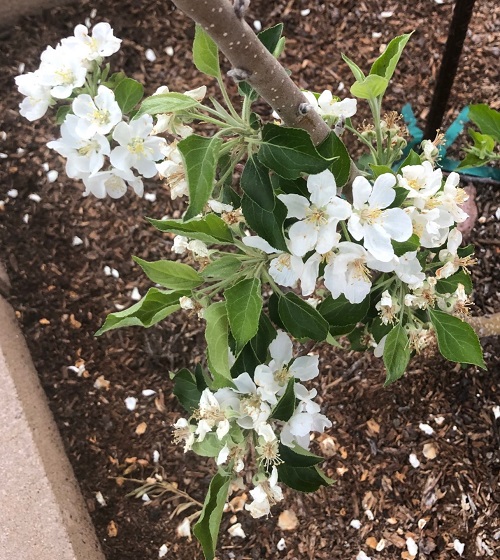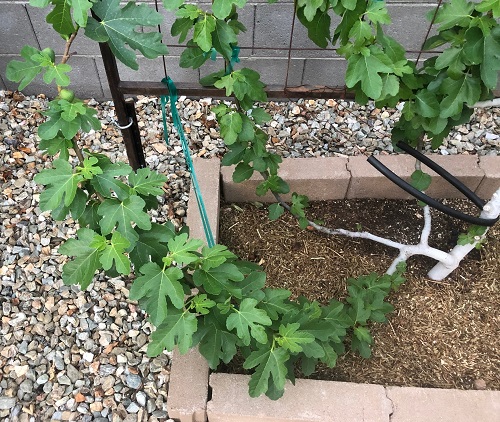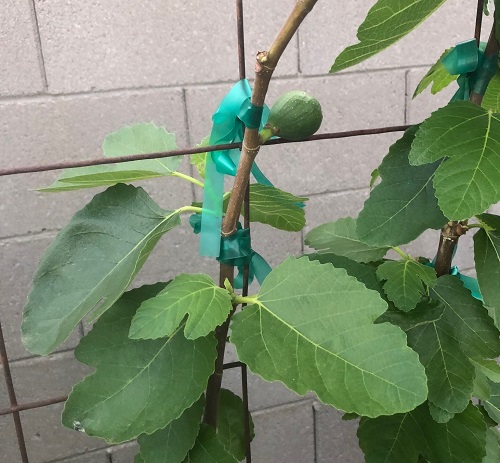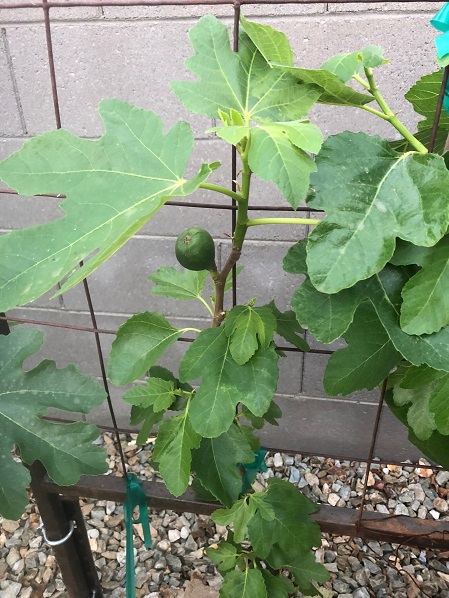 Nice plant supports! Now to protect those precious figs as they ripen!
Weed of the Week
Not a bad one this time. Check to see if it smells like pineapple before making tea.
Some of its relatives are also edible.
Garden Art, Puttering
Hey KT, Spring has sprung here in AZ and in fact almost jumped right into summer. High 80's here already. We got a few more whimsies for the garden. The snake came from a welder's estate sale. I am growing garlic chives out of Tommy Chong's head and we found a zen frog. I have a few more things to plant but have gotten the majority of it done. Redoing a garden area with some 15 gallon grow bags. I didn't want to try them before because all the ones I found were black which doesn't do well in the desert. But I found these and decided to give it a try. The plants aren't supposed to get root bound because when they grow through the bag they get "air pruned". They were pretty inexpensive as well, 5 for 20 dollars. Cheap enough to warrant the experiment. Has anyone else tried grow bags in Arizona? I know we have a few of the horde from around these parts. I use vermiculite and peat moss in my soil so I am hoping they will still retain enough moisture, and the area that I am using them isn't in full sun. I will let you know how it goes. WeeKreekFarmGirl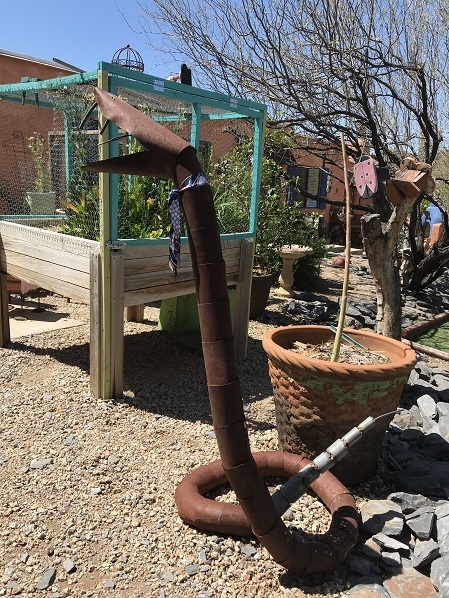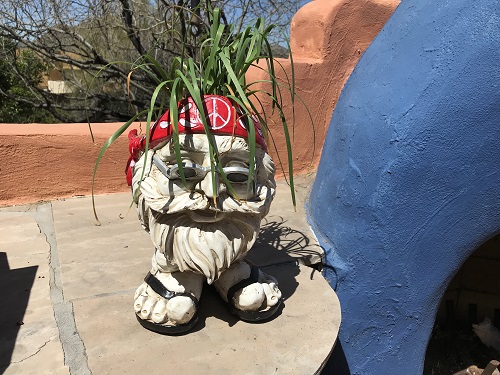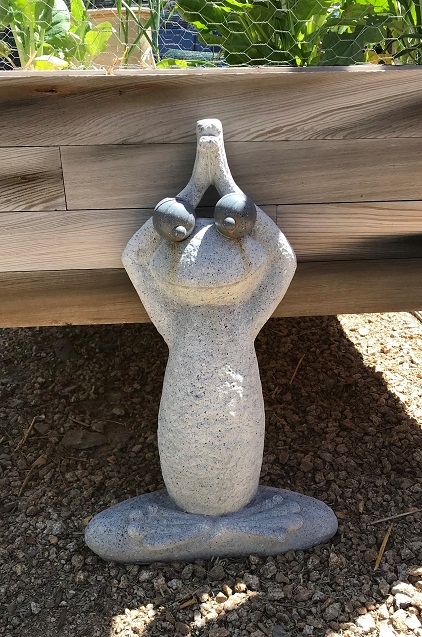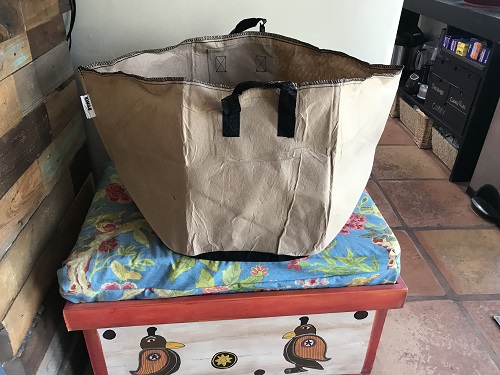 Fun art. And thanks for the updates and tips!
More Puttering
Gardens of The Horde
Hi KT,
Two plants, one white and one purple. There are a few white flowers, but the purple is blooming like crazy! 2 dozen flowers that just keep getting bigger. Love the garden thread! Miley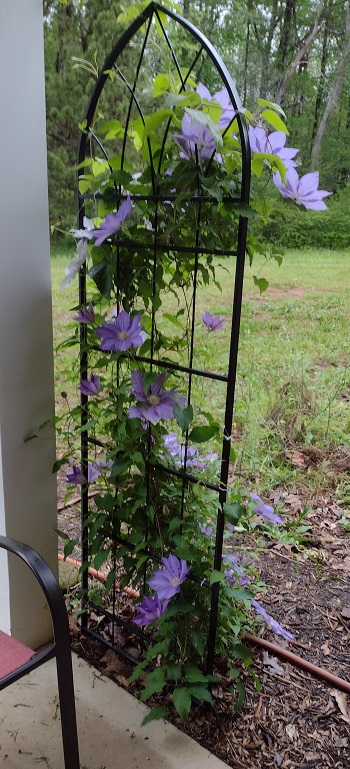 Lovely.
Hope everyone has a nice weekend.
If you would like to send photos, stories, links, etc. for the Saturday Gardening, Puttering and Adventure Thread, the address is:
ktinthegarden at g mail dot com
Remember to include the nic or name by which you wish to be known at AoSHQ, or let us know if you want to remain a lurker.
Week in Review What has changed since last week's thread?
Gardening, Puttering and Adventure Thread, Easter Weekend
Any thoughts or questions? I closed the comments on this post so you wouldn't get banned for commenting on a week-old post, but don't try it anyway.
Posted by: K.T. at
01:20 PM