Ace of Spades Pet Thread, April 15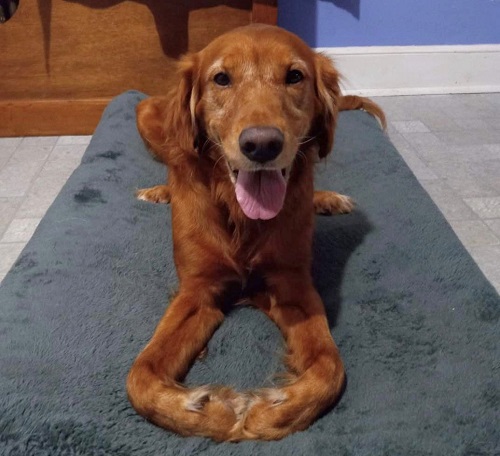 This is Shadow. She's your therapist today. Just here to listen. Hopes this session is everything you need it to be.
* * *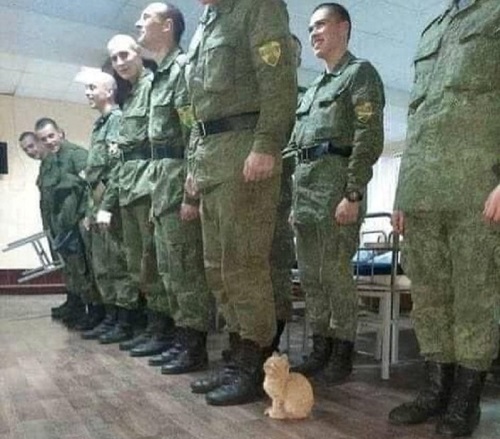 Where's your warface, cat?
* * *
Good afternoon and welcome to the almost world famous Ace of Spades Pet Thread. Thanks for stopping by. Kick back and enjoy the world of animals. Would you like a treat? Let's relax a little with the animals and leave the world of politics and current events outside today.
* * *
We may have seen this one before, but . .
* * *
It's spring. Remember: Anybody have a pet alligator?
Meet The PetMorons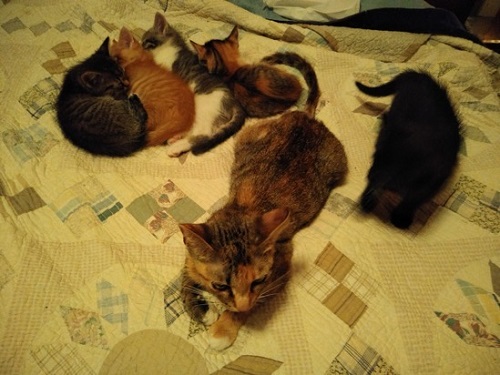 Mike
sent us a link with a great story about the mama kitty above and her babies. Check it out. It starts out like this:
Happy Birthday to the Kittens
So once upon a long ago my daughter had this kitten we got from a girl in my brother's office whose cat had just had kittens, name of Fearless. As she grew, she of course came into heat for the first time (Fearless, not Madeleine), got herself knocked up straightaway after escaping from strict-but-not-strict-enough quarantine, had her own litter of wee bairns, and successfully brought them to just past the weaning phase. Then came the terrible, terrible day Fearless escaped from the house as I was leaving for work and immediately ducked under brack's Mustang, where I couldn't possibly retrieve her. After several minutes on hands and knees trying to coax her out verbally, I gave up and went on to work, thinking she'd do what she always did when she managed to dart out the door between my legs, which by then she'd gotten pretty good at: climb up on the roof and lie up there in the sun waiting me for to get back, whereupon I would call for her and she would carefully make her way down to the gutter pipe, then leap into my waiting arms to be carried back inside. Alas, that was not to be on this black, bleak day. Little did I know as I left that it would be the last time I would ever see or speak to Fearless; most likely, she got nabbed by the coyotes with which the area was and is rife, the poor, doomed little thing. I can hardly bear to even think about what an awful fate that would have been for her, it just breaks my heart. But she did leave behind a wonderful legacy, in the form of the kittens she had given birth to almost exactly nine weeks before.
There are great photos and descriptions of the kittens who did not move on to other homes at the link, in addition to more of the story. We saw another photo of Precious recently, in a saucepan. You may remember . . . . We may see more about the other kittens later. Sorry about the loss of Fearless.
* * *
From
Jewells: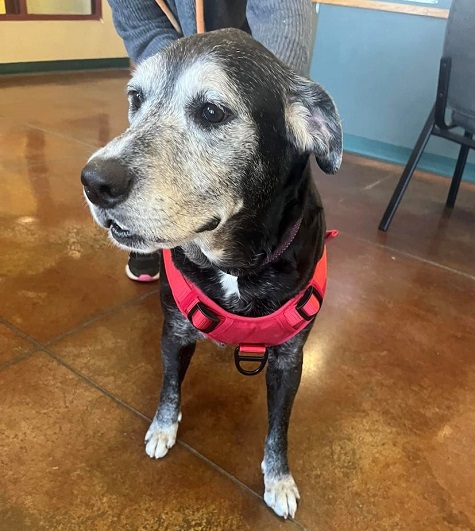 This is J.J. a female mix. She was a stray so we don't know much about her. Approximate age is 10. She is VERY anxious. Her mouth just trembled the entire time we had her out in the play yard last week. Hopefully this is temporary and it's just the result of moving in to Shep's. Everyone loves her!
Hope her anxiety is temporary! Looks like a sweet dog.
* * *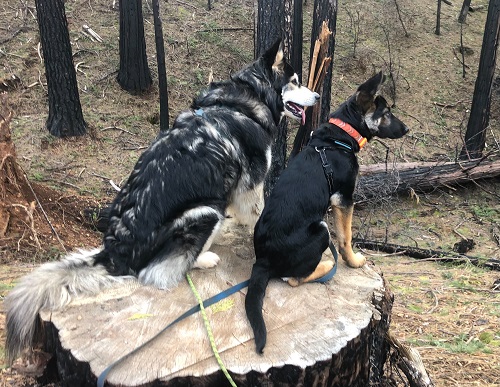 Here's our three year old Shepsky, Misha (on the left), and our four month old GSD puppy, Anna. We brought Anna home when she was eight weeks old, and at the time she had been raised inside a house with her litter mates and her paws had never touched the ground outside. That quickly changed. Misha immediately took to the new puppy and decided to help raise her just as if she was her own. The maternal instinct is indeed an amazing thing to watch. They are inseparable. Here they are enjoying a romp through parts of the local forest. Thanks for the pet thread. It's one of the best things on the internet. Jaketopdog Long time reader
It's great that they have formed such a tight bond.
* * *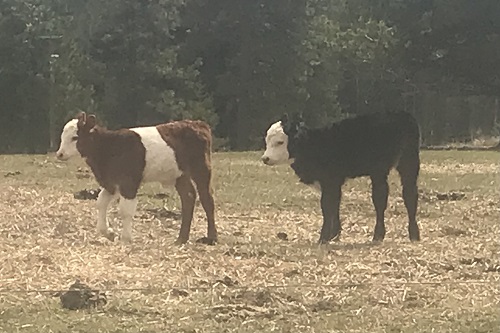 &&&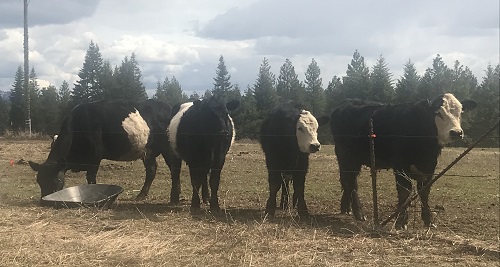 &&&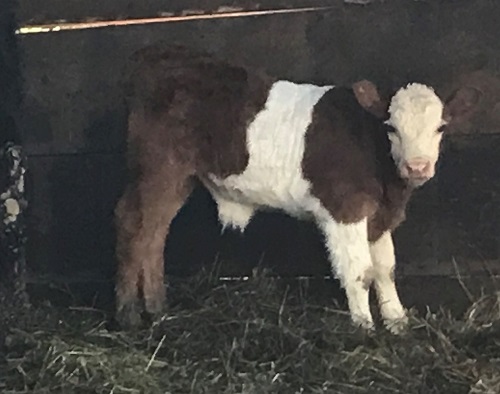 &&&
From lurker NancyB. We just welcomed the second set of calves to be born on our farm. The two moms are Belted Galloways. The dad is a beautiful Hereford- red with a white face. The calves born last year are black with white faces. This spring, we got one with the same markings but the second calf is red with a white face, belt and white forelegs. He's a really unusual and handsome calf I think!
Both calves are handsome! Interesting details on the parents, too!
* * *
* * *
What a wonderful collection of pet stories today. Thank you for sharing your pets with us.
If you would like to send pet and/or animal stories, links, etc. for the Ace of Spades Pet Thread, the address is: petmorons at protonmail dot com Remember to include the nic by which you wish to be known when you comment at AoSHQ, or let us know if you want to remain a lurker.
Until next Saturday, have a great week!
* * *
If you start feeling nostalgic, here a link to last week's Pet Thread, the
Ace of Spades Pet Thread, April 8
I closed the comments on this post so you wouldn't get banned for commenting on a week-old post, but don't try it anyway.
Posted by: K.T. at
03:29 PM