The Parting of the Waters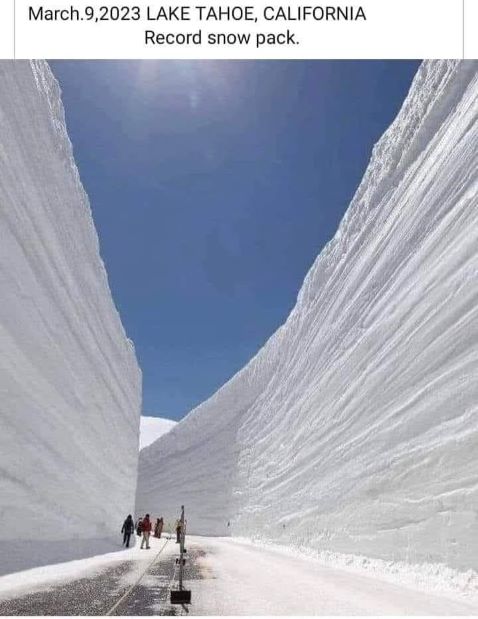 Not specified if those are Children of Israel down there
Update: Guess not. They're probably Japanese.
Passover and Easter have put me into a reflective mood. The story of Moses and the Parting of the Waters so that the Children of Israel could escape from the Egyptian army recounts a miracle. Here in the West, especially in parts of California, considerable flooding has already taken place this year. A cool spring with gradual snow melt would be like a miracle to a lot of people looking at the amount of snow in the mountains. Flooding in California may or may not be accompanied by rain Back in March, Steven Hayward took out his drone to record
flooding along the Salinas river.
The government was still classifying the area as stricken by "drought". Residents and farmers were under drought rules for water use.
Meanwhile, I'm living temporarily near the Salinas River, which is normally a modest stream even in the winter months. It reached flood stage on Friday and Saturday, requiring the evacuation of several small towns along its route. Yesterday between storms I dusted off my drone and ventured up to San Ardo (seen in the last segment of this video), which was underwater on Saturday. The river was down considerably from its peak just 24 hours before, and may well reach flood stage again tomorrow from the looks of things.
*
More disturbingly, even since then, in some areas battling flooding farmers uphill from lowland flood zones are
still being charged triple "drought rates"
to pump water onto their land -- as officials monitor how much extra water they must release from reservoirs every day to maintain room for future spring and summer snow melt. That is when some really substantial additional flooding may occur.
Farmers should be paid to pump water onto their land right now! In addition to easing flooding, it also recharges the aquifers!
In some of these foothill areas, wells have gone dry in recent years due to lowered groundwater levels. Parts of the community plans for easing flooding include farmers diverting water from waterways and canals, and now we learn that the government charges them extra for helping! The government is not our friend. Most of it.
* * * * *
Government Communications What makes the difference between useful and stupid communications from government? Here's some
mostly useful emergency information
put together by one county. A matter of necessity, low on bureaucracy it seems. They are asking for community input, and seem to mean it.
*
March 9 story from Government Radio is interesting, but its author is not an employee of the station.
Storm could 'push the limits'
of San Joaquin Valley's flood response systems. That was an underestimation, but the background information is interesting.
If the coming storm hits as predicted starting late Thursday, San Joaquin Valley flooding hot spots - and some new ones thanks to subsidence - could be swamped. It's not because reservoirs above the valley floor are full. The culprits are likely to be much the smaller and typically dry "uncontrolled streams" threaded throughout the foothills. Immediate uneasiness The "biggest and most immediate uneasiness" are foothill creeks, the Kings River Water Association wrote in an alert put out on Tuesday about anticipated flooding. Pine Flat Reservoir and other upstream reservoirs, including Wishon and Courtright, have more than 600,000 acre-feet of available space and can handle surges from the upper Sierra Nevada. "Mill Creek and the other foothill streams that enter the river downstream from Pine Flat Dam are our biggest concern right now," Steve Haugen, executive director of the Kings River Water Association wrote in the alert. "There is no way to control or store the flows in those streams."
And why were planned smaller reservoirs on those streams never built? Hmmmm?
The Sheriffs and emergency services departments for Fresno, Kings and Tulare counties are all on watch and the Kings River Conservation District, responsible for flood protection on the forks of the lower Kings River, has been checking its levees, according to the alert. A new lake bottom In southern Kings County, all eyes are on Deer Creek and the White River, according to Jack Mitchell, head of the Deer Creek Flood Control District. "We have equipment on call and are just waiting to see," Mitchell said. "I think this is gonna be a 100-year flood with how much snow there is. If this storm melts it up to 8,000 feet, we're gonna get hit." The small town of Alpaugh should be OK, he said. Land to the north and east, however, could be flooded for the first time thanks to groundwater overpumping that has sunk the land, he added.
That land to the north and east has flooded now. Blame has been deflected from the change in elevation of the land to the biggest farm operation in the region, Boswell, which owns much of the lake bottom land. Anger is ramping up since Boswell
planted tomatoes on some higher ground.
They have flooded part of their land and are building a berm along with the County around an area where sewage sludge from LA County has been spread. It will be flooded along with other land that is used for edible crops, without allowing the flood waters to mix. Sounds a little "iffy" to me. I'm not sure that Alpaugh is going to be safe from flooding through the summer. It used to be known as "Pig Island". At some point in history, before Tulare Lake was drained, people put pigs on the island. They fed themselves with vegetation and fresh water mussels. Then the owners of the hogs would come and retrieve them. Alpaugh is one of the most depressing places you would ever want to visit. Lots of bars and very small churches, not much else. There was a big brouhaha over arsenic in the drinking water years ago. The local school was decertified. Also a few years ago, some of the residents went back to Arkansas, got off meth and turned their lives around. There may have been more prosperous residents that I didn't see. Met a guy once who kept a bunch of exotic dogs who liked to chase rabbits in an outlying area. Some of the farms to the north and east are going concerns, though. Or were. They're under water right now. I wouldn't be surprised if the elevation of Alpaugh has also decreased.
Larsen said farmers throughout the area have been preparing to take water and spread it over as much ground as possible to prevent flooding and recharge the aquifer. "We have crews on standby around the clock and pumps positioned to move water," he said. Larsen, who is also General Manager of the Greater Kaweah Groundwater Sustainability Agency, acknowledged he was a little excited to finally have water to put back into the aquifer after three punishing years of drought.
Charge those farmers extra "drought rates" for putting water on their fields!
*
We have some conflicting priorities here. This is the message on repeat from the California Water Board, which does not seem to note the atmospheric rivers hitting the state during February: Of course, we all need to know that the California Water Board is hiring a
Racial Equity Program Manager.
Wonder if that person will improve the Twitter messaging of the organization?
*
This, from the CA EPA, seems more useful.
*
Gavin Newsom,
with news of two-day-old federal funding for water project at the Salton Sea and elsewhere (for which other people are responsible). Fun to read the responses.
*
Groundwater captured in LA County. Again, fun to read the responses. Why report in gallons instead of acre feet?
* * * * *
Non-governmental sources of information Much of the Central Valley of California was once covered with marshland at least part of the year. An outlet developed near Monterey, leaving a deep canyon there. At one time it was possible to go by boat from San Francisco to Visalia or Porterville in wet years. After Bakersfield was first settled, it was moved because too many people got sick and died from the mosquito-infested marshes. Bakersfield is on the Kern River. Several rivers and streams emptied into Tulare Lake, the largest freshwater lake west of the Mississippi until it was drained for farming. It's coming back this year, as it has periodically.
This guy has put together a useful flood tracker for the Tulare Lake Basin flooding.
*
*
Reedly Beach (near where VDH lives), showing summer flooding near the Kings River during a previous flood year
*
Water rights are a big, big deal in the West.
*
Friends who used to live in Corcoran returned to drive down a water-covered road west of town to photograph the return of Tulare Lake. Coast Range is in the distance.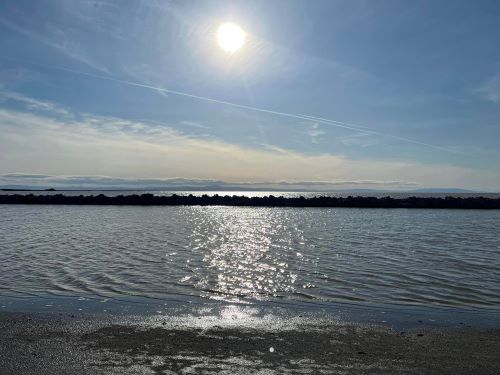 * * * * *
Music Merle Haggard,
Sing me back home
Come, Thou Fount of Every Blessing
* * * * *
Hope you have a lovely Passover/Easter weekend.
This is the Thread before the Gardening Thread.
Serving your mid-day open thread needs
* * * * *
Last week's thread, April 1,
Newsom Nightmares
Comments are closed so you won't ban yourself by trying to comment on a week-old thread. But don't try it anyway.
Posted by: K.T. at
11:28 AM