Quick Hits
The Nashville police are refusing to release the Trans Terrorist's manifesto.
Gee I wonder why. Must be Ron DeSantis' fault.
Nashville police will not be releasing the manifesto of the deceased Covenant School shooting suspect, a police spokesperson told the Daily Caller News Foundation on Tuesday. Nashville Metro Police Department (NMPD) announced that they had found "writings" from 28-year-old transgender suspect Audrey Hale's home Monday that indicated a "calculated and planned" attack, according to an NMPD press release. An NMPD spokesperson told the DCNF Tuesday that the department had no intentions of releasing the documents to the public anytime soon, citing the ongoing investigation into Hale. "No, we will not be releasing the manifesto during an open investigation," the spokesperson told the DCNF. The police spokesperson did not say for certain whether or not the manifesto would be released in the future after the investigation was closed and restated that due to the ongoing nature of the situation, there was no intention by law enforcement to release the documents.
Soros Prosecutor Lizzy
@StarChamberMaid If we can release the George Floyd video, we can release the manifesto.
Strangely, The Regime doesn't see it that way. The Trans Terrorist -- who the media, apparently, are reluctant to brand as trans, because members of Democrat Client Groups can only be victims, never oppressors -- had another target mentioned in its manifesto, but did not attack that target,
because it had security.
Watch that for a couple of minutes to see cops note that at a briefing. But we've pulled armed cops -- "School Resource Officers," or SROs -- away from schools to
appease the violent racist movement BLM.
How many more deaths, and what more erosion of our safety and freedom, are we willing to accept to appease a racist criminal movement, just because hateful Democrats are keen on them?
Police arrest
a very nasty, mentally ill Karen.
Hard to watch. Speaking of mentally ill Karen,
Ana Navaro says she's emotionally disturbed 24 hours a day just being in Meatball Ron's Florida.

"The View" co-host Ana Navarro said she hates her home state of Florida, deriding it on the daytime program as a paranoid, censorious hellscape. She said the state's "insanity" and "manic paranoia" was being driven by popular GOP Gov. Ron DeSantis.
I think there is some insanity and manic paranoia in play here, but it's not where this fat slob thinks it is.
"They are banning absolutely everything that isn't the kitchen sink, and tomorrow, I may wake up, and the kitchen sink has been banned," she said during a Friday broadcast. "They are terrifying teachers. People don't want to be teachers in Florida."
Terrifying!
What are we going to do about the violent, mentally-ill transgender extremists filled with "rage" and a thirst for "vengeance"?
Case in point, take the transgender gunman who was killed after seriously injuring a King County sheriff attempting to serve an eviction notice a smidge over a week ago. The obviously distraught sheriff's spokesperson was hectored because the department had "misgendered" the sumbitch in the heat of the engagement and the trauma of their fellow officer's near-fatal shooting. THAT became the story of the encounter -- not the crime.
And... poof. That story vaporized along with so many others involving perpetrators from that community.
Benny Johnson
@bennyjohnson The Colorado Springs shooter identified as non binary. The Denver shooter identified as trans. The Aberdeen shooter identified as trans. The Nashville shooter identified as trans. One thing is VERY clear: the modern trans movement is radicalizing activists into terrorists.
Beege Wellborn notes this part of the pitch for "Trans Day of Vengeance:" They're raising money for guns.
A group of transgender activists is planning a "Day of Vengeance" in Washington, D.C., for March 31-April 2 while raising money for firearms training this week, according to its online materials. The Trans Radical Activist Network (TRAN) said on Twitter that "The time is now, enough is enough," and uploaded posters to TikTok that said, "We want more than visibility. Trans Day of Vengeance. Stop trans genocide. Save the date: April 1st - 11:00 AM / March 31st - TBA."
That's ominous, given what just happened in Nashville. And YouTube refuses to allow me to find it, but Matt Walsh ran tape a couple of months ago of a drag queen threatening violence over Tennessee's ban on children being present at drag shows. And they weren't general about their target list. Sometimes they got very specific regarding whom vengeance should be inflicted upon: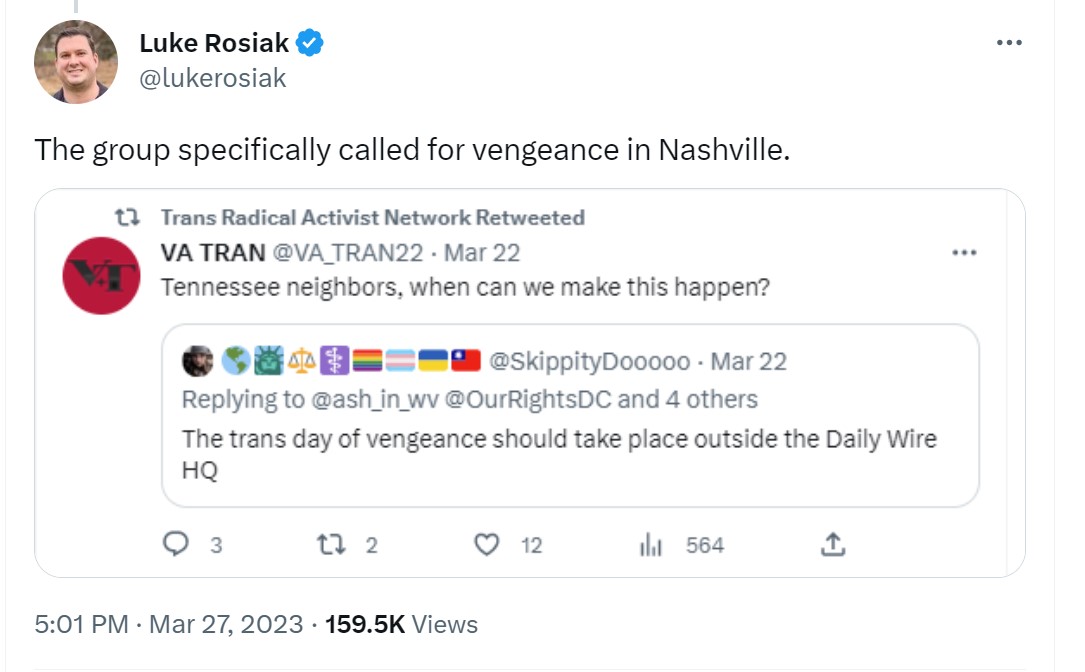 At some point, the right word goes in the right ear, and you have a mass shooting: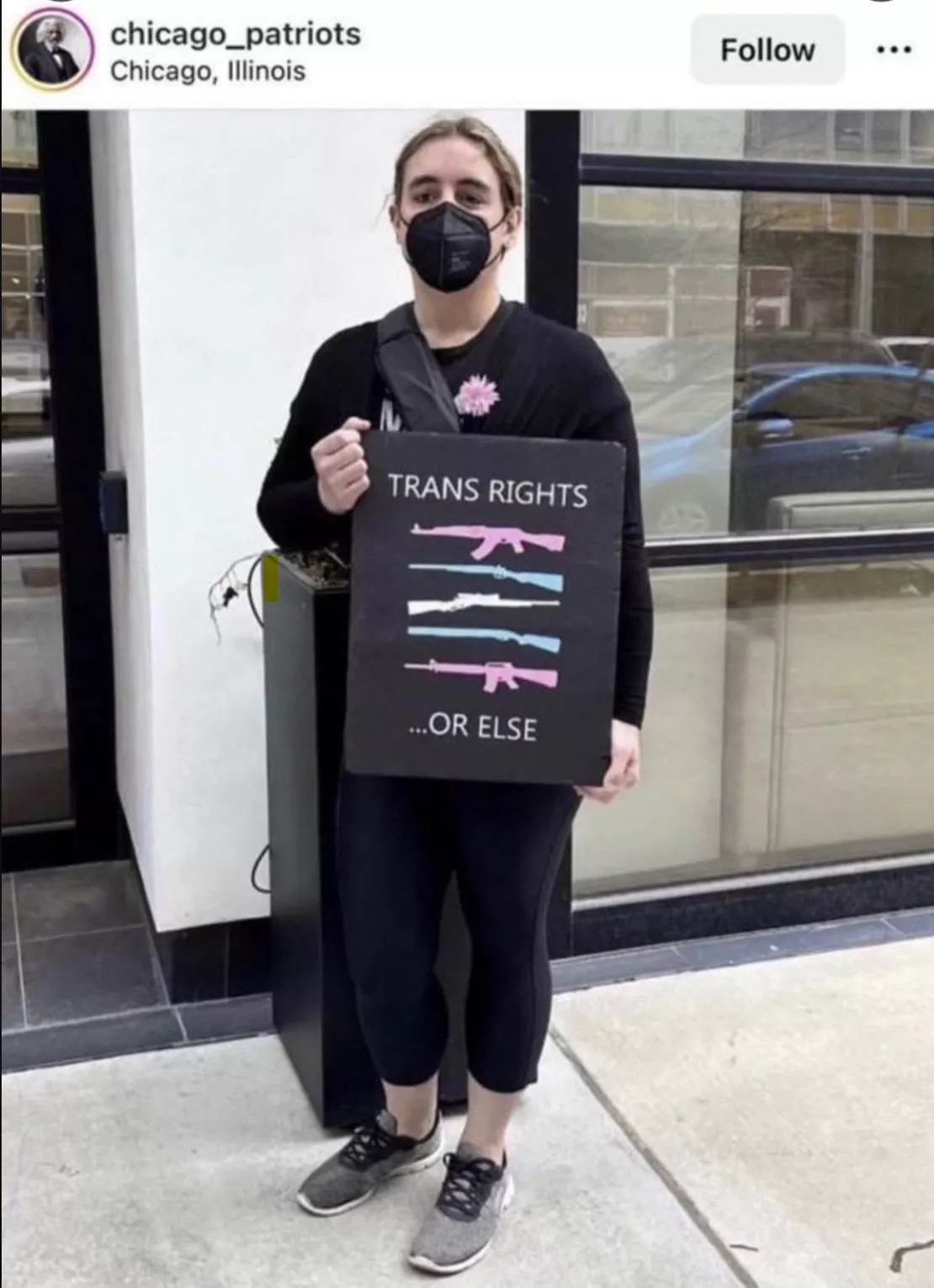 More at
Hot Air from Beege Wellborn.
The leftwing media continues ignoring the fact that this rhetoric is designed to have precisely the effect it did yesterday: Inspiring a mentally-ill, angry "grievance collector" to murder Christian children as "vengeance." But don't say "CNN Sucks!" Don't put a target on a congressional district you want to flip! That could encourage Right-Wing Extremism or even -- gasp! -- Insurrection! The group calling for the "Trans Day of Vengeance" isn't apologizing for their deliberately-inciting extremist rhetoric. In fact, they're calling on people to report their critics to Twitter, to get them deplatformed: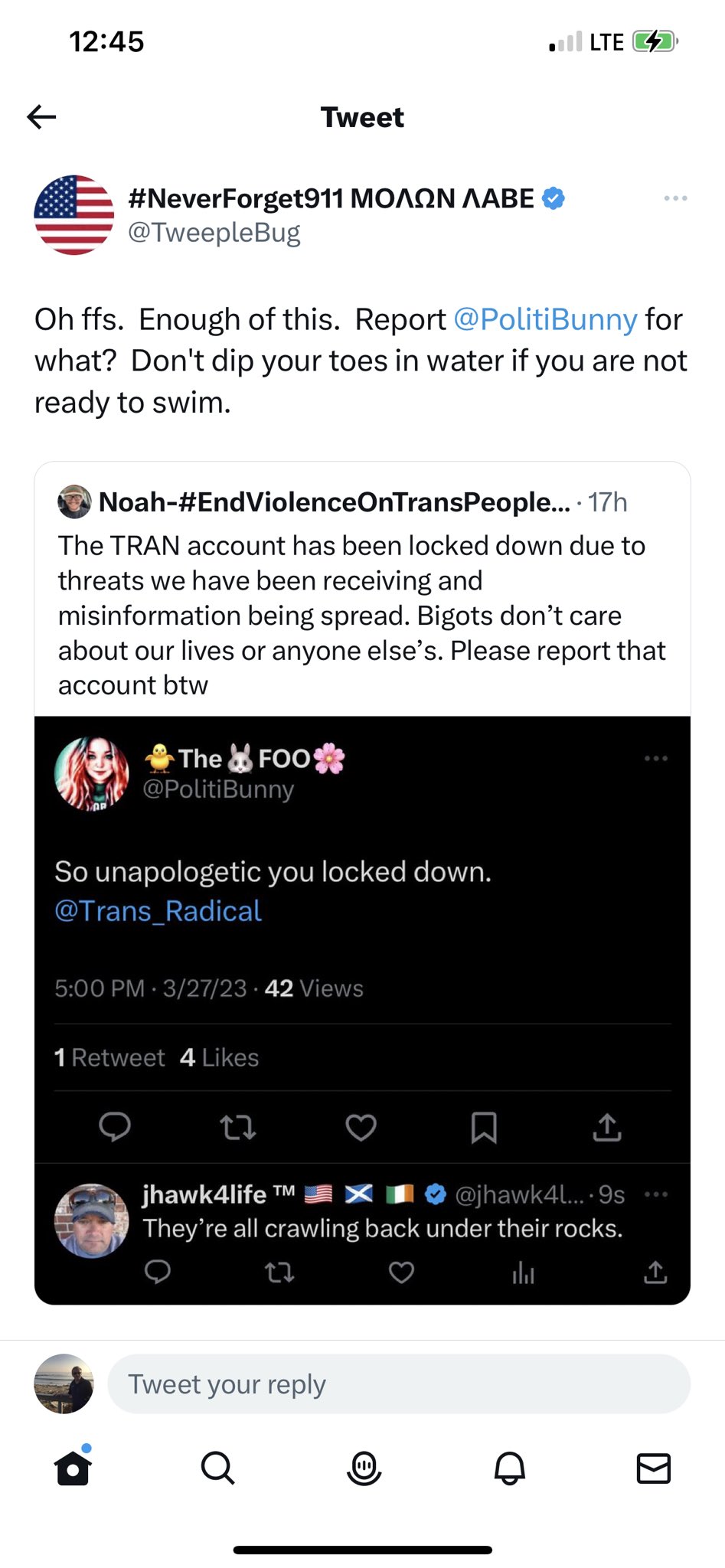 TheFOO
@PolitiBunny Report me for what exactly? Calling out your violent rhetoric after a shooting that killed three nine-year-olds? Calling you out is not a threat. Calling for a national day of VENGEANCE? Now that's a threat. Maybe I should ask people to report you for targeting me.
You know who
The Real Victims of the Trans Terrorist Shooting are, don't you?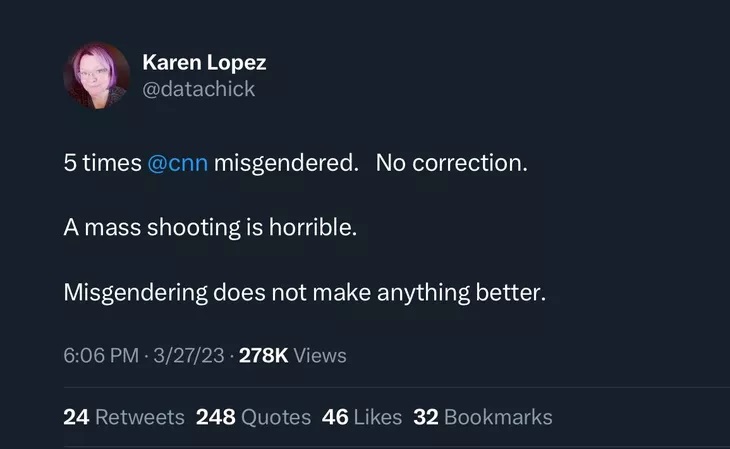 Meanwhile, an "antifa pastor" -- he calls himself that -- railed against "White Christian Devils" in the wake of the murder of six Christians including three nine-year-old children at a school.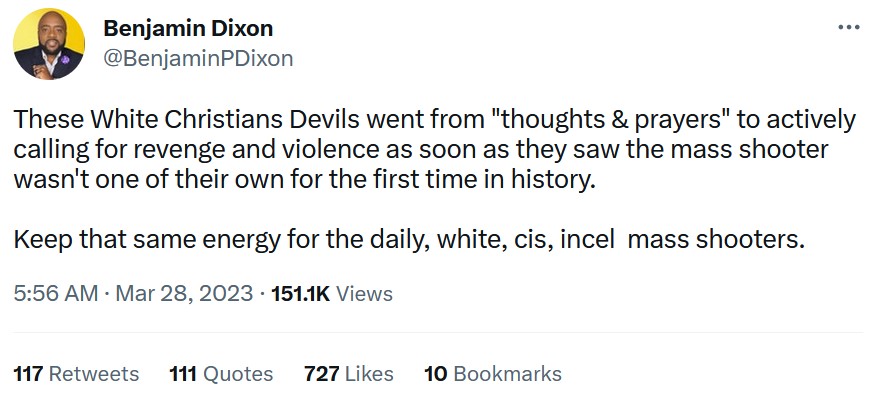 Maybe this guy should peruse the FBI crime statistics on murder by race. Including on mass shootings. Mass shootings are most commonly perpetrated by... gang members doing drive-bys against their enemies. I'm so glad we have antifa to instruct us all on "anti-" fascism, and anti-racists to show us how not to be racist.