Are You Ready for the "Trans Day of Vengeance"?
Update: Joe Biden Makes Ice Cream Jokes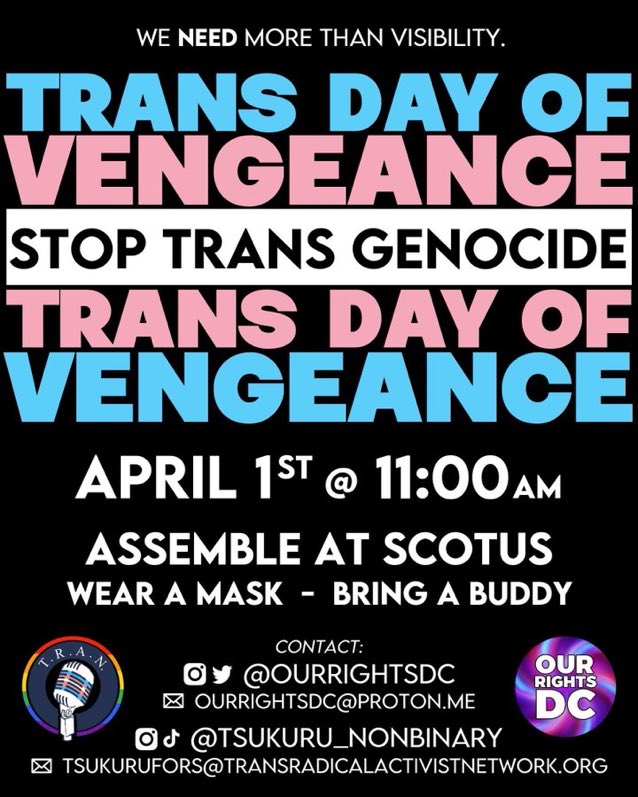 That sounds like a call to violence. Do you think Merrick Garland and Christopher Wray are investigating this group for the promotion of domestic terrorism, or nah?
Are trans people really being murdered?
Um, no. It's, get this, another lie from the trans extremists. A very based take from David Strom:
'm not exactly sure what they will be avenging. They claim a trans genocide is upon us, but in their own propaganda, they claim that 6 trans people have been murdered this year. There were 26,031 murders in 2021. The TDOV people claim 60 murders in 2022 for trans people. 1.6 million people in the United States identify as trans. That works out, I think, to 3.75 murders per 100,000. That is less than half that of the general population. Black men die by homicide at a rate of 55 per 100,000. Trans people: 3.75 per 100,000. Every murder is a tragedy and a crime, no matter the victim. But what is shocking about the murder rate for transgender people is how low it is, not how high. The Daily Wire did a deep dive into the FBI stats and found that there is statistically almost no hate crime against transgendered people...
When trans activists talk about a "genocide," they are not actually talking about physical harm done to transgendered people. Their claim, actually, is that our desire to keep them from recruiting more people into their cult is a genocidal act, as they otherwise have no means to reproduce. It's a neat sleight of hand if you think about it. But it also gives the lie to their claim not to be recruiting. They want to expand their ranks because the alternative is not being able to reproduce. The grooming itself is the point.
In Tennessee, a 28-year-old "heavily armed woman" entered a Christian school and began killing people, including children. This woman has been identified as
"Audrey Hale" by NBC News.
Although the connection to the shooter is not yet confirmed,
an "Audrey Hale" who goes by "he/him" pronouns and who sometimes calls herself by the male name "Aiden" has been found on LinkedIn.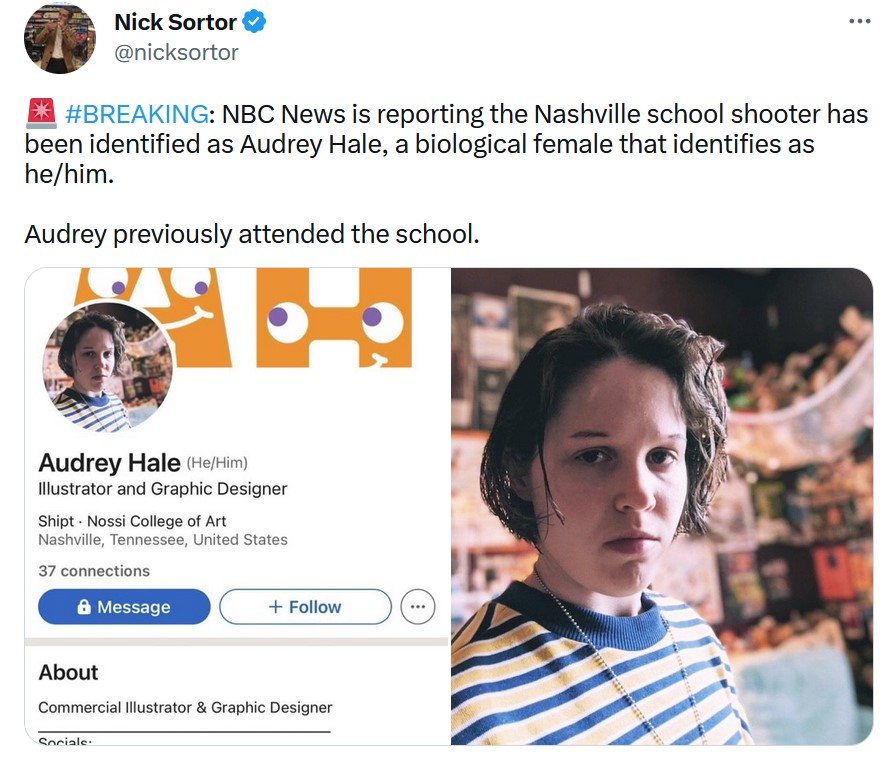 If this is true, prepare for a media blitz of sympathy for the shooter and a condemnation of the victims and all other Christians -- essentially, the media will declare this shooting of Christian children to be kinda justified. Ron DeSantis will be named as the
real criminal here.
Although Tennessee governor Bill Lee will share credit for that, having signed legislation that limits transgender "therapy" for children. The media routinely publishes claims that to limit transgender procedures according to the age of the victim-patient is "literally genocide." How many times did the media think it could claim that any disagreement with the extremist trans agenda was "literally genocide" before an extremist believed them and took action premised on the idea that she was "fighting genocide"? Update: They awoke Biden from his daily 21 hour nap to comment. He started off with some ice cream humor before making his thousandth rote call for a ban on non-existent "assault weapons."