Critical Consciousness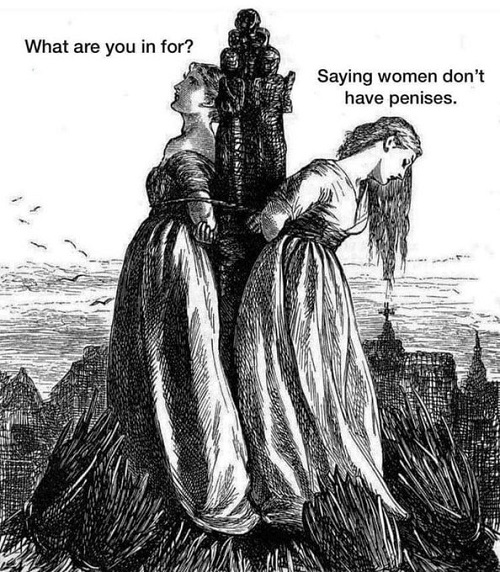 Critical consciousness in education Troublemaker James Lindsay is trying to get people to move beyond the use of "critical race theory" and "queer theory" to explain wokeness, and return to the Marxist roots of today's woke revolutionary movement. I find this interesting, because he
co-wrote a book
explaining how some of the grievance studies included a lot of postmodern nonsense. It's deep reading. He's going back to basics, it seems.
They're trashing the word "Woke" and conservatives for using it because it has become a gigantic liability that their ideology has a name now. Keep going. Woke means Critical Consciousness. Critical Consciousness means the cult beliefs and activism of Critical Marxism. It means denouncing the existing world to make way for a "utopian" alternative.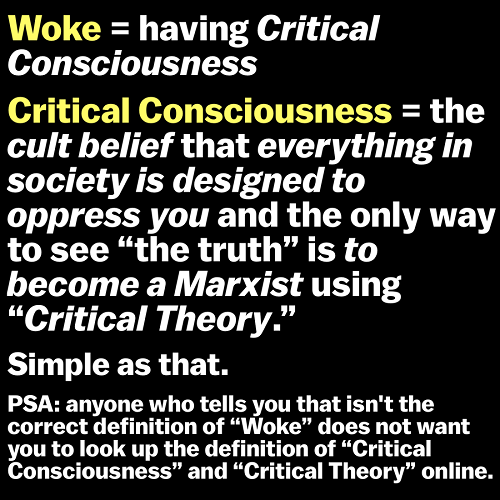 Okay. Here are some excerpts from the New Discourses Translations from the Wokish of
Critical Consciousness:
Critical consciousness is, in short, having adopted a critical mindset, in the sense of critical theories. It is to have taken on a worldview that sees society in terms of systems of power, privilege, dominance, oppression, and marginalization, and that has taken up an intention to become an activist against these problematics. To have developed a critical consciousness is to have become aware, in light of this worldview, that you are either oppressed or an oppressor--or, at least, complicit in oppression as a result of your socialization into an oppressive system. To have a critical consciousness is to be aware of - - and generally unhappy about - - your positionality in society, i.e., your relationship to systemic and institutional power as determined by Theory and based mostly on facts concerning what demographic groups you are a part of.
The term originated in the Portuguese . . from the post-Marxist Brazilian activist and educator Paulo Freire, usually deemed the father of critical pedagogy (that is, the application of critical theories to the theory of education). This Freire seems to have derived from the French psychoanalyst Frantz Fanon's concept of conscienciser in his early anti-colonialism book, Black Skin, White Masks. The "consciousness" that Fanon discussed mostly applies to the racial consciousness and consciousness of the colonized that would make people oppressed within colonial contexts seek to rebel and overthrow their oppressors. Freire, working mostly to achieve improvements in literacy in a postcolonial setting in Brazil while approaching the topic from a communist perspective, considered critical consciousness in a similar light, though less openly revolutionary than Fanon and more interested in reform.
This Freire guy seems to be EVERYWHERE in schools of education.
Time to get kids out of government schools?
The grievance studies folks were not finished:
Critical theories, not least in education, have evolved considerably since the 1960s and 1970s when Freire developed these ideas, and, now, critical consciousness is typically reserved to mean the same kind of critical awareness or awakening, though with regard to issues of identity--like racism, sexism, and so on (see also, neo-Marxist)--and not so much through Marxist or Marxian analysis of economics or the systems that exist and/or support capitalism. (See: The Critical Turn in Education: From Marxist Critique to Poststructuralist Feminism to Critical Theories by Isaac Gottesman.) In that sense, a critical consciousness, sometimes referred to as "critical literacy" or "social justice literacy" now (see examples below), refers essentially to assuming that society is constructed by systems of power that manifest dominance and oppression mostly in terms of "intersecting" demographic group identities. The slang term for this specific type of critical consciousness, arising since the Black Lives Matter movement propelled it to a widespread meme, is "wokeness."
*
Example:
* * * * *
Treating The Woke like hysterical women, redux Do you remember this from
troublemaker James Lindsay?
The Woke ideology is female. You can't respond to it with toxic masculine strength. That's punching a woman in the face. . . That's not how you deal with a hysterical woman; that's for an aggressive man. Woke advances by summoning demons that barely exist so it can defeat them. . . It can be sidestepped with strength, tho.
What's happening in Nebraska?
Here's a challenging idea. Do you have any related ones?
Text
Cluster B personality disorders
I expect that "Histrionic" and "Narcissistic" might be especially relevant. Some comments from down-thread:
Trump understands the power of being obnoxious, which is why he disgusts & horrifies liberals but a coalition of psychologically healthy people will never operationalize that on the ground level the way genuinely mentally ill people can we will never beat them at this game
This is why The Constitution specifies a minimum age to be President. Otherwise my 3 year old would be unstoppable
*
Apparently the State Senator has an 11 year old child who identifies as transgender. Perhaps it does not occur to her that current treatments for children actually harm them. Even though medical authorities in Europe are turning against them.
New Discourses, Genocide:
In the Theory and activism of Critical Social Justice, "genocide" frequently refers to the destruction by any means at all of a (politically relevant) identity group, especially a politically relevant identity group that can be understood as being marginalized, minoritized, or oppressed by systemic power, presently or historically. This destruction need involve zero deaths and could be the result of people no longer seeing themselves as a politicized identity or being removed from the circumstances in which that identity is relevant (e.g., by curing a condition like hearing loss). This is difficult to understand, and one's mind may, at this point, immediately jump to an identity category like race and think that only a literal genocide could possibly qualify for the kind of destruction necessary to merit this use of the term. This is incorrect. As races, being socially constructed, are not seen in Theory as having any relationship to biology or, for that matter, physical reality, and are instead seen as political categories, one could "genocide" a race, in Theory, like blacks, simply by declaring race to be irrelevant. [1] (A savvy reader here will realize, then, that the elimination of racism through anything that looks like integrationist strategies or genuine colorblindness might be construed as a genocide and thus vigorously rejected and resisted, including with violence, by advocates of Critical Social Justice.) This is generally in keeping with the view in Critical Social Justice that identity groups and their cultures, not individuals, are the relevant object of interest, and those groups and cultures are inherently political (see also, identity).
In other words, if kids who "identify as trans" don't go on puberty blockers and decide later that they aren't trans (like Brangelina's lovely daughter), that's genocide. At the link, "genocide" of fat people through weight loss is described in "fat studies".
GAINZZZ is genocide!
*
Critical Social Justice Genocide in International News
Waiting for action on
actual
genocide in the more powerful countries of the Middle East any day now.
*
Free people from critical consciousness:
* * * * *
Music Some of the
Streets of Bakersfield
are flooded or closed due to recent flooding right now.
* * * * *
Hope you have something nice planned for this weekend.
This is the Thread before the Gardening Thread.
Serving your mid-day open thread needs
* * * * *
Last week's thread, March 18,
Medical Myth-teries
Comments are closed so you won't ban yourself by trying to comment on a week-old thread. But don't try it anyway.
Posted by: K.T. at
11:05 AM