Saturday Gardening, Puttering and Adventure Thread, March 18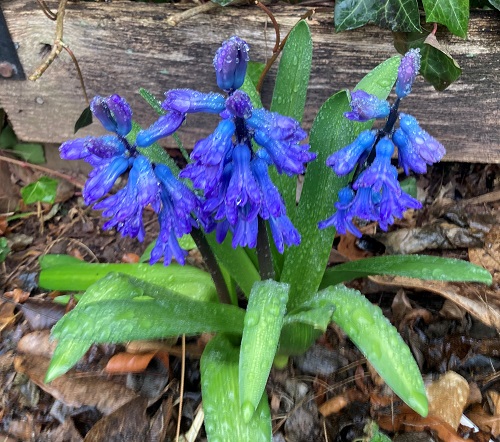 Hi, everybody! We are starting to get some spring photos in. Saving a couple for next week, even! Is your garden started yet? From
Hrothgar:
I love my daffodils, but the few hyacinths that I have are my special favorite. During the summer heat, they die off completely leaving not a trace behind and almost convince me that I shall never see them again. Then in late winter, I see the stirrings of leaves in the same old spot where they have been for years now. And then, seemingly overnight, I get to see them in glorious color for about two weeks. I will try again to retake this photo, if we ever get sunlight here again, but I thought the raindrops on the leaves added a nice touch so I took this photo anyhow. Thanks for the work you do for all us Morons (and in which I assume Moronettes are a valuable and critical subset of Moronity). Hoping that the use of "subset" is not triggering!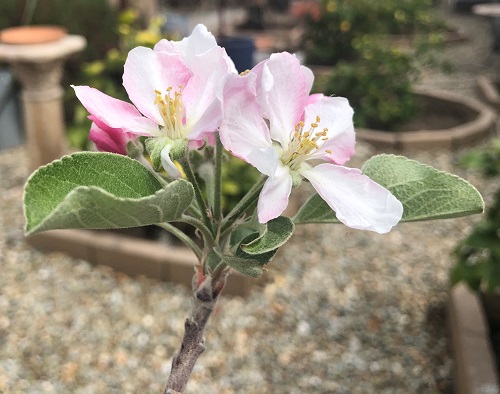 Here's some blossoms from my Annie's apple in Surprise AZ. I tried to get a bee but it was going so fast I don't think I got more than a blur . . . Nan in AZ
They look nice with Hrothgar's hyacinths. And that bee wouldn't stop moving!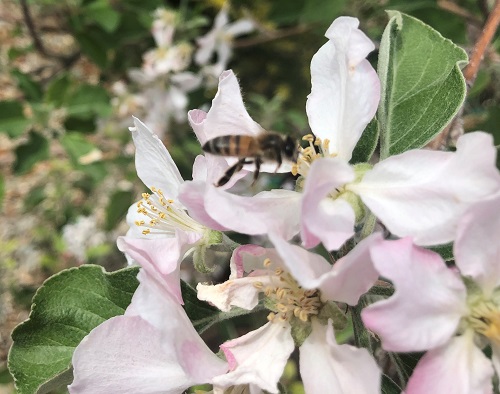 Edible Gardening/Putting Things By
We posted some veggies that
S. Lynn
had started in her greenhouse last week. Here are more photos (from the beginning of the month):
Lemon tree's 1st year we got 8 lemons. This year should be many more. Good for zone 6A.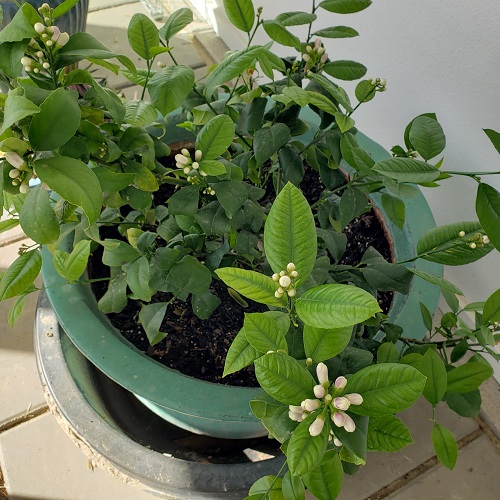 16 Mortgage lifter tomatoes started.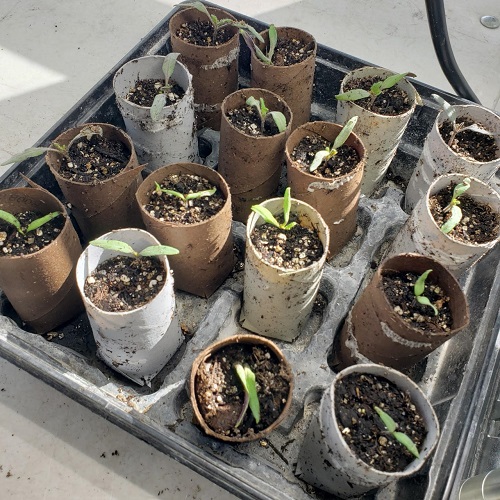 *
From
PointyHairedBoss,
It's maple syrup time again in the Great White North.
It's maple syrup time again in the Great White North. After bottling our first batch a week ago the weather turned cold & the trees temporarily shut down. Now we wait for better conditions: a little above freezing in the day & a little below freezing at night. Sunshine helps too. Maple sap typically contains about 1.5 - 2% sugar. To turn the sap into maple syrup, water has to be removed until the sugar concentration reaches 66%. Traditionally this has been done by boiling the sap. While hobbyists like us use boiling to reduce the sap, commercial producers use other methods such as reverse osmosis to remove the bulk of the water more efficiently. In our case we do most of the boiling over a wood fire. Once the sap gets close to the required sugar concentration we remove it from the wood fire & finish boiling over a more controllable propane burner. In our case we use a turkey deep fryer burner.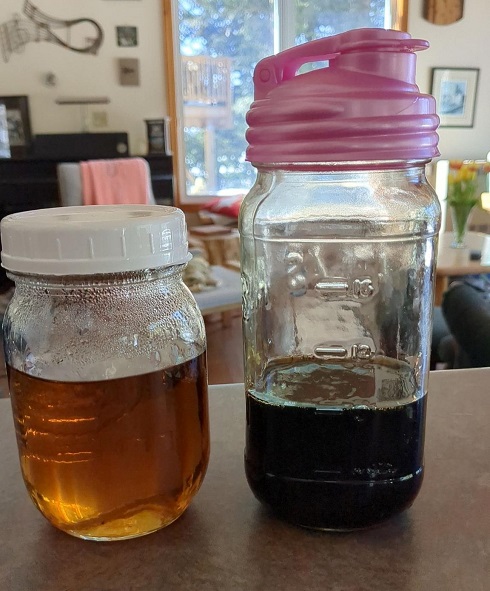 Love the detail. The contrast in syrup colors is fascinating.
At this link,
a steamy little short video.
It's hot!
*
Critters
I just got one of those game trail cameras. I've not been able to really get a good look at the birds that come by regularly. And I was hoping to see the cardinal. notsothoreau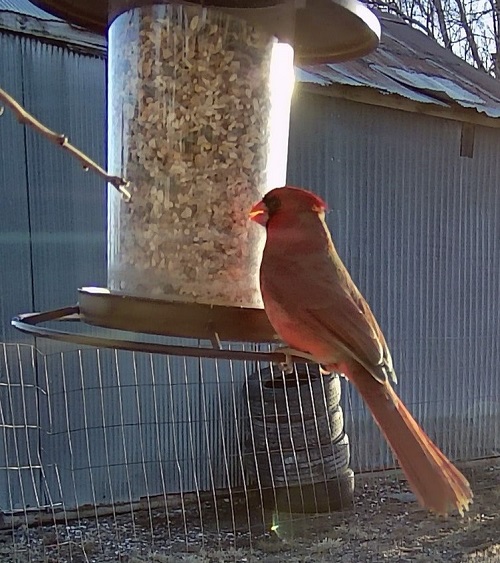 So fun!
*
Farming
new technology
old, but dramatic, technology
Not too far from us. Flood control. Before: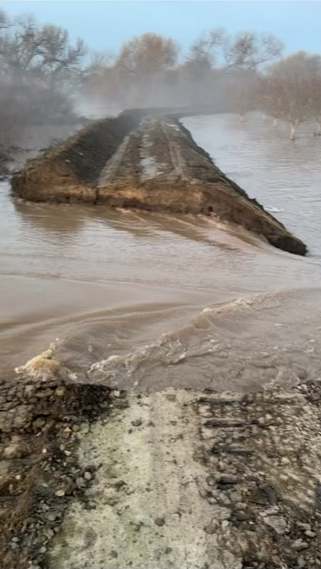 During: After: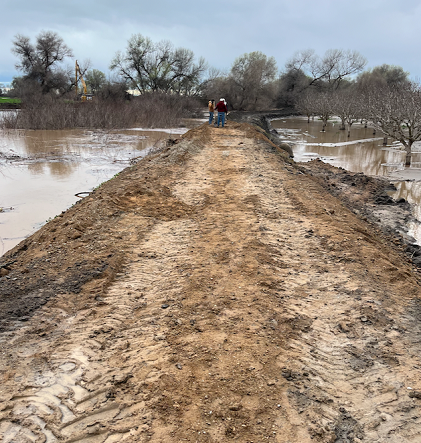 Adventure
We have heard a lot about tragedies and near-tragedies in the San Bernardino mountains due to wild weather lately. But here's a recent photo from a lower elevation during a break in the storms. It's in Yukaipa, near Crafton.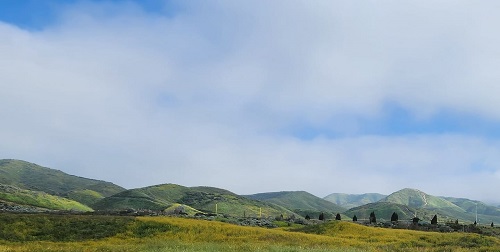 Pretty enticing this spring, after the rains. This is what
Yucaipa's City Hall
should look like soon: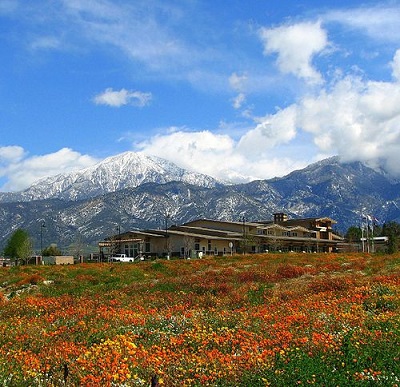 Crafton also has an interesting history.
Water rights were a major factor in its development. Maintenance of lots of at least 5 acres, many with orange groves on them, seems to be key to maintaining its independence from Redlands. San Gorgonio Mountain is in the background.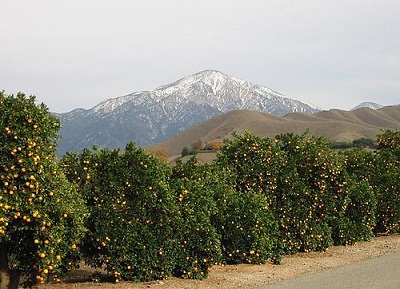 Geography: Crafton lies on a sloped alluvial plain of the San Bernardino basin. The elevation increases toward the southeast. The area is fairly dry and requires irrigation to supply the navel orange groves. The supply of mountain water via Zanja Aqueduct is plentiful. South and east of Crafton rise the Crafton Hills, a low, rolling set of hills created by about ten active normal dip-slip faults collectively called the Crafton Hills fault zone or the Crafton Hills Horst-and-Graben Complex which stretches between the San Jacinto fault and the San Andreas Fault. The highest point, Zanja Peak, tops out at 3,297 feet (1,005 m), approximately 1,600 feet (490 m) above Crafton. Crafton Hills is home to Crafton Hills College and includes recreational trails and the Crafton Reservoir, which supplies Crafton and Redlands with water.
It is a source of wonder to me that colleges and reservoirs are so often built near earthquake faults. When the weather clears up, think about checking out the wildflower bloom in the West. Should be spectacular this year. If you go to the desert, check reports for flash floods first. Here's a photo of a California Poppy from Snowdog: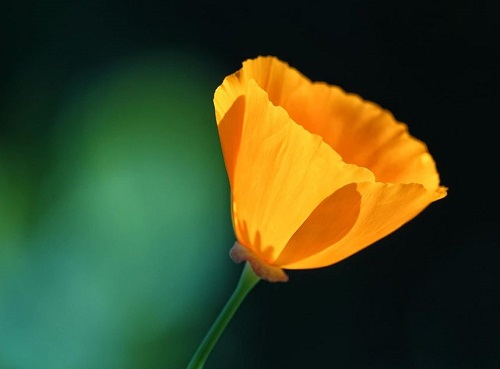 Gardens of The Horde
How is the weather treating you and your garden? We have more rain scheduled next week. Doing weed control.
Hope everyone has a nice weekend.
If you would like to send photos, stories, links, etc. for the Saturday Gardening, Puttering and Adventure Thread, the address is:
ktinthegarden at g mail dot com
Remember to include the nic or name by which you wish to be known at AoSHQ, or let us know if you want to remain a lurker.
Week in Review What has changed since last week's thread?
Saturday Gardening, Puttering and Adventure Thread, March 11
We had lots of good suggestions in response to the bleg on starting a new garden. Here's another one that came in via email:
Advice for raised beds: I have a couple of friends with horses. Twice a year I go to the paddocks and fill buckets with dry manure. I mix the manure into the raised beds and the plants really take off. I do this in the spring before planting and in the fall after the vegetables are finished. The manure stays there all winter dissolving into the soil. I also go to Starbucks and get the grounds. Their coffee is awful but the grounds really build up the soil. So use manure and coffee grounds. Works for me. Stephanie
Thanks, Stephanie! Any other thoughts or questions? I closed the comments on this post so you wouldn't get banned for commenting on a week-old post, but don't try it anyway.
Posted by: K.T. at
01:20 PM