Saturday Gardening, Puttering and Adventure Thread, March 11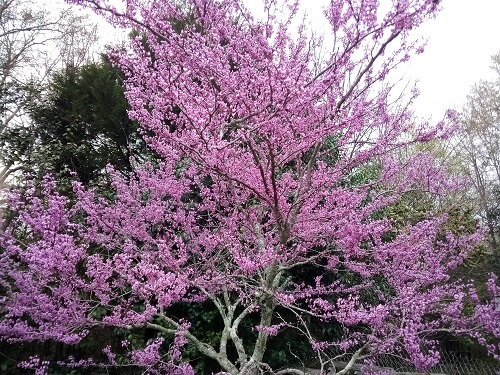 Hi, everybody! We were under a flash flood watch yesterday, but it never happened. How's your weather? Above, a beautiful blossoming tree from
fd.
Maybe a redbud. This is what it looked like a week earlier: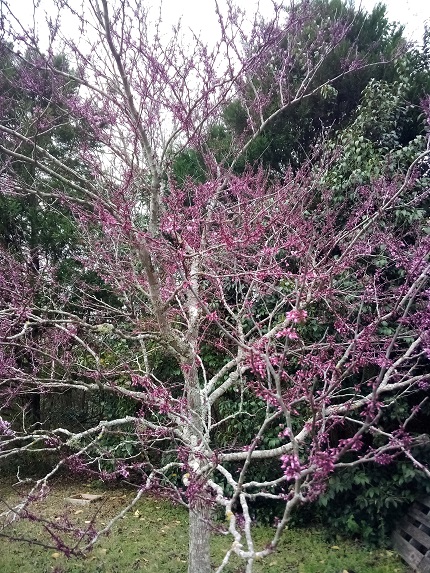 *
And from
Diogenes, a crocus.
I guess better late than never.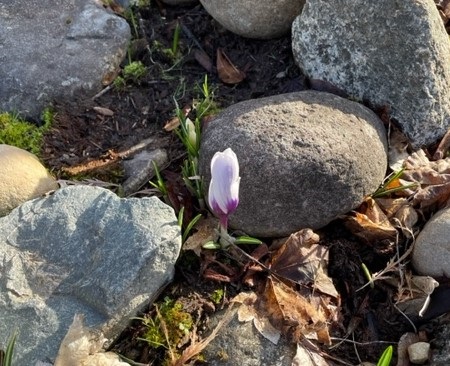 The exterior markings are beautiful. I expect that it has opened up since the photo was taken. Love those brave little flowers.
*
Edible Gardening/Putting Things By
Celery plants started. Onions, Shallots and Pak Choi started. Seems like I never have enough summer so I wanted to get an early start in my greenhouse, zone 6A.
S.Lynn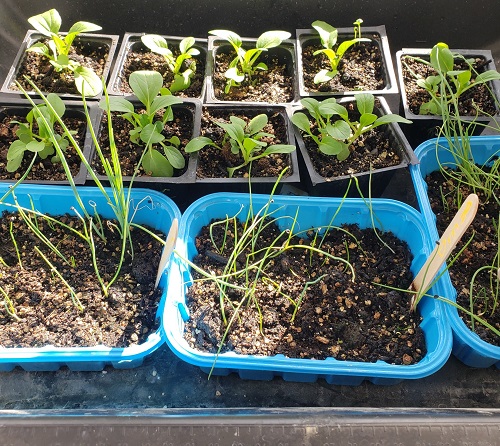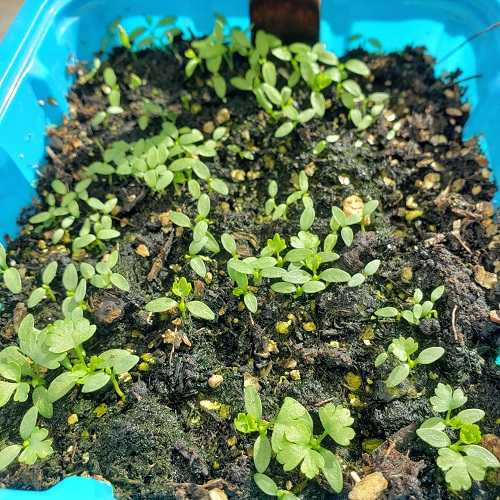 Lots of celery!
*
From the comments a couple of weeks ago,
Growing potatoes from True Seed.
It's a real treasure hunt to pull seed-grown potatoes, as the diversity is amazing. When you plant tubers, you get exactly the same thing you planted. With seeds, you are playing the lottery (but with much better success)!
*
Gardening Bleg
I'm Beverly, an infrequent poster at Ace of Spades. But I read it daily. I have just bought a house in a mountain valley in Tennessee on the Eastern end of the state. I have never owned a house before and this one comes with five raised garden beds! I have no idea how to get started with them. I haven't even figured out what I'd like to grow but I figured a veggie garden and some flowers would be nice. Not sure what I'm asking for but maybe suggestions from The Horde on how to tackle them starting with baby steps. What are the absolutely essential garden tools? How do you prep the beds Etc. I always enjoy the weekend threads. Such a nice change of pace after the apocalypse all week long!
What a great project you have ahead of you! A few ideas: 1. Stick to annuals the first year, until you find out what you have in terms of soil, pests, weeds, sun exposure, etc. in the beds. 2. Consider solarization in one or more of the beds during the summer if you find you have lots of weeds. 3. Check with your local extension agency about adapted varieties in your area. Any other pointers for Beverly?
*
Adventure
From
rdohd:
KT, I have been traveling over the last two weeks and I took this picture on the road side in Coweta county, Georgia. The wisteria has been blooming over the last couple of weeks and this was one of several I saw in full regalia that also had an area nearby where I could pull over and take a picture. Wisteria are stunningly elegant even in the most unkempt state. They are one of the few pleasures of my travels. Strictly speaking this is not my, nor anyone else's garden, so if you decide not to add this to your post I completely understand. I am not trying to expand your topic, but rather to share the sublime beauty of traveling the backroads of the deep south. Please note the genuine southern bald tire motif.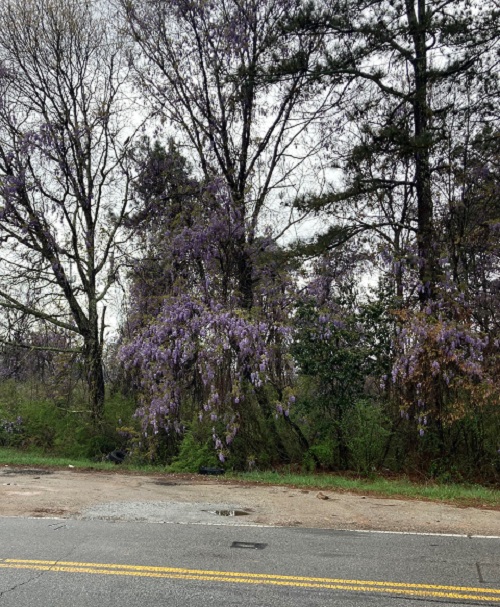 Wisteria grows!
*
Gardens of The Horde
January & February were mostly mild in the East so spring got off to an early start. My witch hazel is in its 3rd week of bloom, though the hellebores were actually the first to bloom. My early daffodils and crocus started blooming last week, and I just gave my German hard-necked garlic its spring feeding. The outlook for March is colder than normal so I hope my spring blooms will last for a while. badgerwx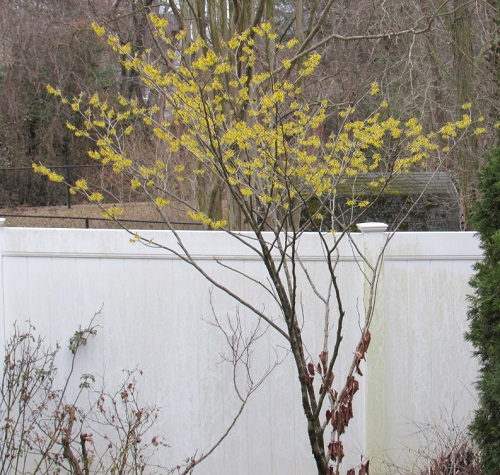 Early color and fragrance!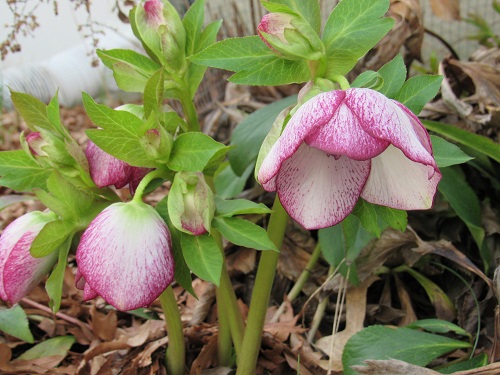 Nice close-up, dated Feb. 17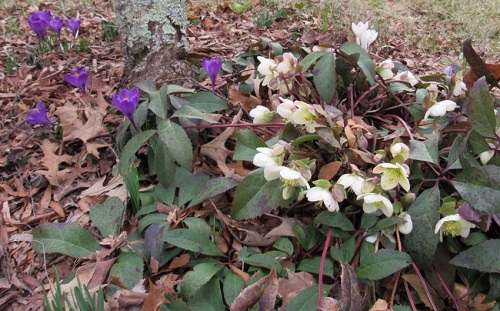 Hellebores and crocus go well together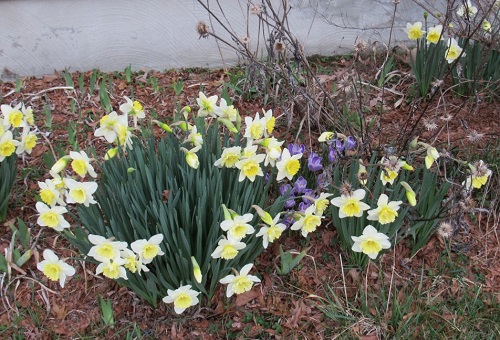 Nice!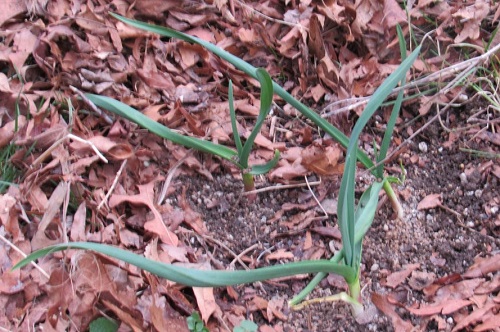 Garlic!
Another sign of spring is the first DC cherry blossom forecast on March
1st. (Or try this).They're calling for an early bloom, with peak bloom starting
around March 22nd. If we are cooler in normal in March, that might delay
the start of peak bloom.
Interesting photos at the link showing stages of bud and bloom. Thanks, badgerwx.
Hope everyone has a nice weekend.
If you would like to send photos, stories, links, etc. for the Saturday Gardening, Puttering and Adventure Thread, the address is:
ktinthegarden at g mail dot com
Remember to include the nic or name by which you wish to be known at AoSHQ, or let us know if you want to remain a lurker.
*
Week in Review What has changed since last week's thread?
Gardening, Puttering and Adventure Thread, March 4
Any thoughts or questions? I closed the comments on this post so you wouldn't get banned for commenting on a week-old post, but don't try it anyway.
Posted by: K.T. at
01:17 PM