Report: Don LeMon Screamed at Morning Show Co-Host Kaitlin Collins for "Interrupting Him," Sending Her Running Off the Set in Tears
Reportedly he's "difficult to work with" since he lost his solo show.
But wait -- he kept insisting his demotion to the morning show was really a promotion. I guess not. I guess he lied about it being a promotion. But that doesn't sound like the Don LeMon
I
know!

Tensions on the set of "CNN This Morning" have recently boiled over, with Don Lemon allegedly "screaming" at co-host Kaitlan Collins off-camera during an ugly December incident that has left the cast and crew rattled ever since, The Post has learned. According to two sources with knowledge of the situation, the 56-year-old Lemon approached 30-year-old Collins following the show's Thursday Dec. 8 broadcast -- and unloaded on her in front of staffers as he accused her of "interrupting" him on air. "Don screamed at Kaitlan, who was visibly upset and ran out of the studio," one source with knowledge of the skrimish said. News of the explosive incident made its way up to CNN CEO Chris Licht, who is said to have been appalled by Lemon's behavior, according to a source. A second source said a producer talked to Lemon at the behest of Licht and told the anchor to take the next day off to "cool off." ... "At this point, Kaitlan wants to be on set with Don as little as possible," a source with knowledge of the situation added. "It's messy." Neither Lemon nor Collins responded to requests for comment. A rep from CNN declined to comment on the incident...
Collins and Lemon, meanwhile, have been on set together less frequently since the purported dustup. ... To address tensions, a second source told The Post that "Don has been given notes" by the show's producers "to not talk so much, to let other people talk." "Don's a bossy guy and difficult to work with -- even he would admit that. He was a solo act before. He doesn't want to be in Destiny's Child," the source added, referring to the music group headlined by Beyoncé in the early aughts. Others close to Lemon confirmed the former primetime anchor is "not happy" about sharing the limelight with Harlow and Collins. "Don has an intractable ego," a source close to both Licht and Lemon said. "My understanding is he wants the show to be about him. I don't know how you fix that. It's a very difficult situation." ... When news of the reshuffle broke, Lemon ripped reports that called the move a "demotion." In private, meanwhile, a Lemon confidant told The Post that he "didn't like" that Collins had worked for the right-leaning website The Daily Caller before her gig covering the Trump White House for CNN.
Don Lemon did in fact take off the day following the incident, with the cover story that he was just dealing with "exhaustion." Below, video of Kaitlin Collins interrupting Don Lemon. Usually when someone indicates they want to say something, you would be quiet for a moment and let that person speak. Instead, Don Lemon bulls right over her. She does "interrupt" him again -- but that's because he just won't let her say what she wants to say. He keeps babbling to show that
he's
the star here. He just will not let her say the one or two sentences she wants to add.
Don LeMon has that look in his eyes like he's getting ready to fondle his sac and stick his fingers in someone's mouth.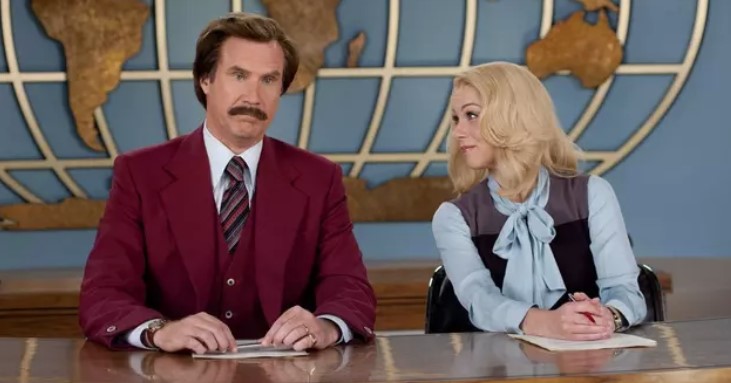 "It's anchorman not anchorlady
and that is a scientific fact!"
Once again we see why liberal women hate men -- because they interact with liberal men, who are weaklings, cowards, bullies, and woman-haters. How are Don LeMon's ratings?
Terrible, of course. This is Don LeMon we're talking about.
And you don't scream at your cohost when you're enjoying success.
CNN's Don Lemon-centered morning show suffers steady viewership decline through three months 'CNN This Morning' shed 18% of its tiny November audience during first month of 2023 CNN's morning show centered around Don Lemon has been on a steady ratings decline through its first three months, shedding additional viewers from its audience each time the calendar flips. ... In November, "CNN This Morning" averaged an underwhelming 454,000 total viewers. The following month, it managed only 389,000 in December. "CNN This Morning" then dropped to 373,000 average viewers in January, shedding 18% of November's audience. "New Day" averaged 413,000 daily viewers in 2022 before it was canceled to outdraw its Lemon-helmed replacement's January viewership by 10%.

An earlier report from The Wrap stated that LeMon was
"frustrated" by the nigh-constant failures and humiliations that is his Sad Clown Life.
Licht hand-picked CNN's Don Lemon, Poppy Harlow and Kaitlan Collins to host the rebooted morning show. But so far that trio is failing to grow its audience. An individual with knowledge of the situation told TheWrap exclusively last week that EP Eric Hall was being reassigned to "CNN Tonight," hosted by Laura Coates, signaling that Licht is aware that the show needs to perform better. Insiders also told TheWrap that even hosts Lemon, Harlow and Collins "seem to be growing frustrated" over the direction.
Fox notes that even Professional Unfunnyman Steven Colbert is now
cracking jokes about Don LeMon dressing like the freshest, flyest lacrosse equipment manager at Lawrenceville Prep.
When LeMon was moved to mornings, I speculated that Licht didn't have the balls to fire a black gay guy. Megyn Kelly say that Don LeMon said on CNN during the transition "Don't fire me, I'm black and gay," just to make sure Licht knew he couldn't fire him. I didn't see that clip but I assume she's not inventing a slander. So I speculated that Licht's plan was to give LeMon one last chance to either succeed or fail. And if he failed, Licht could then fire him, saying "I gave the black gay sexual assaulter a fair chance." I think that speculation is looking good. And I think Don LeMon is on his way to a firing.