Sunday Morning Book Thread - 01-08-2023 ["Perfessor" Squirrel]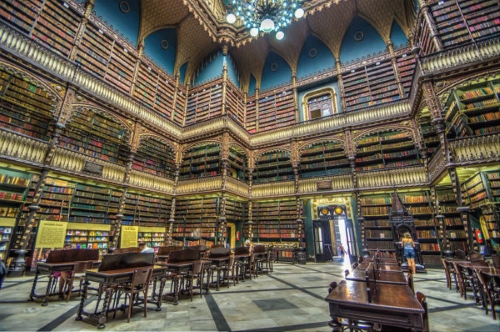 (ht - Sharon (willow's apprentice) -- click for larger image)
Welcome to the prestigious, internationally acclaimed, stately, and illustrious Sunday Morning Book Thread! The place where all readers are welcome, regardless of whatever guilty pleasure we feel like reading. Here is where we can discuss, argue, bicker, quibble, consider, debate, confabulate, converse, and jaw about our latest fancy in reading material, even if it's nothing more than your revised New Year's Resolutions. As always, pants are required, especially if you are wearing these pants...(now with extra corn squeezins!)
So relax, find yourself a warm kitty (or warm puppy--I won't judge) to curl up in your lap, enjoy a cup of cocoa, and crack open a new book. What are YOU reading this fine morning?
PIC NOTE
Today's pic is of the Royal Portuguese Cabinet of Reading, located in Rio de Janeiro, Brazil. According to
Wikipedia
, Time magazine says its the fourth most beautiful library in the world. Hard to argue with that. I'd recommend looking at the pics on the Wikipedia website. There are some great images of both the inside and outside of the library. It is just spectacular. Whenever I see these library pics, I do wonder who is responsible for maintaining the order of the books. How are they arranged? How were they arranged originally?
ORGANIZING BOOKS...
I am not the tidiest person in the world, though my house doesn't *quite* look like a disaster area. However, I can be quite obsessive-compulsive when it comes to organizing my books and keeping them in order. I feel like every book has its proper place on the shelf. This past New Year's Eve my cat Penny decided to take it upon herself to remove a fair portion of books from the shelves in my library. I suppose she was upset about me locking her in the library so I could get some sleep. (She had food, water, and a litter box so it's not like she was suffering in there.) This prompted me to take a look at how my books were currently organized and I decided that New Year's Day would be a perfect time to reshelve books. By the end of 2022, I had obtained a number of books, so many that some of my shelves were overflowing. Therefore, I decided to see if I could rearrange the shelves a bit to squeeze in all of those extra books. Fortunately, I was able to migrate some of my DVDs into a different organized storage location (plastic drawers), thus freeing up enough bookshelves to allow me to properly shelve my books with room left over for 2023 acquisitions. My rules for shelving books are pretty straightforward:


For fantasy and science fiction, I shelve by last name of first author or editor. For instance, Nightfall by Isaac Asimov and Robert Silverberg is under "A" for "Asimov."


If the book is part of a series, then the series is sorted by the author's last name and the order of the books in publication order. For example, The Founders Trilogy by Robert Jackson Bennett has three books (duh) and is thus sorted from the first book in the series(Foundrycide) to the last book (Locklands).


For authors who have multiple series that are NOT part of a continuous chronology, I sort them according to the first name of the series and then sort them in publication order. For instance, Tanith Lee's Tales of the Flat Earth comes before The Wars of Vis.

Franchises are arranged on the shelf according to the name of the franchise, so Star Wars is arranged under "S" instead of by author's name.


For books that are part of a franchise (e.g., Star Wars), the books are arranged in chronological order of the events in that franchise, as best as I am able to determine. For some series, like Star Wars, this is pretty easy because the publishers have helpfully provided a chart that shows the internal chronology of events. For some franchises, like the Forgotten Realms, this can be a bit more challenging as there are sometimes incongruities in chronology.


Nonfiction books are arranged by the last name of the first author or editor.


General fiction are also arranged by the last name of the author or editor.


What are some of YOUR peculiar rules for arranging books? Or do you just toss them on a shelf?
++++++++++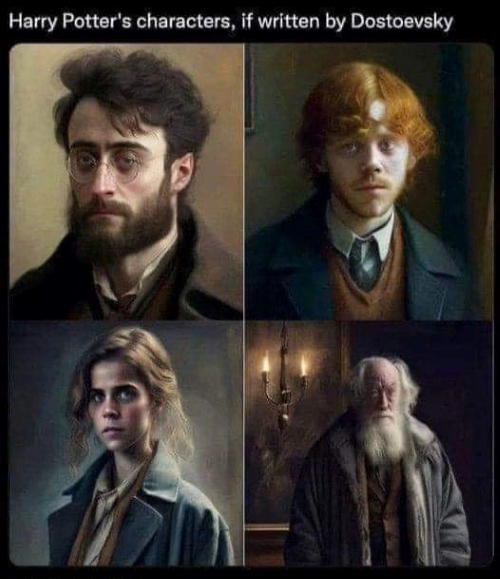 (ht: CBD)
++++++++++
BOOKS BY MORONS
This week we have a work in progress from a Moron Author who is soliciting feedback:

I'm a longtime lurker. Been around since 2008. Love reading the Sunday morning post. I'm not much of a writer, but have recently started putting some ideas down. I love science fiction, so I have put some thoughts down into a series on Kindle Vella. New chapter will be dropping weekly. I would love to get some feedback from you and the horde, especially the sharper ones (they know who they are) Thanks for all you do. Blessings...A. N. Dimitrios https://tinyurl.com/y94eznx5

++++++++++
MORON RECOMMENDATIONS

Good morning and Happy New Year! This week I read the 600 pages of 'Stone's Fall'. Very intriguing book about, of all things, business and finance couched in a mystery of sorts. A little hard to follow as it skips around in different time periods and changes protagonists along the way. I nearly gave up half way through but the storyline was too compelling. I re-opened my paperwhite and I'm glad I did. All three storylines converged and the ending was one that I did not see coming. Overall I give it 4 stars out of 5. Posted by: grammie winger at January 01, 2023 09:07 AM (45fpk)

Comment:
I wouldn't normally consider a book about business and financial shenanigans to be all that interesting. However, as we've seen in the real world (e.g., Hunter Biden, Enron, SBF, etc.,) there's often a very sordid tale underneath the surface--or in Hunter Biden's case, right in your face. A compelling story that waits until the end to reveal a surprising twist is always a treat.
+++++

I've been working my way through The Lost Fleet series by Jack Campbell. Billed as a Hornblower type space series, it's keeping my interest. I've actually been reading the text on all these. Most of my reading volume has been listening to audio books for the past decade, but I'm trying to shift it back more towards 'reading'. Posted by: InspiredHistoryMike at January 01, 2023 09:09 AM (2j1hH)

Comment:
Someday I'll do a post on audio books, as I know they've been pretty popular for a lot of folks for the past several years. Horatio Hornblower has been a huge influence on the adventure genre for a long, long time. It's a natural fit for the space opera explorer genre, as you can take the elements of Horatio Hornblower and tranfer them to a space setting fairly easily.
+++++
Here's a recommendation from the Sunday Morning Book Thread mailbag...

Below is a more recent read I recommend - The author Jack duBrul has bene around for decades - he co-wrote with Clive Cussler for many years and returned as a visible ghost since CCs passing. Reading that entry lead me back to JdBs own works which I tore through back in the late 90's mostly.
I don't know if he's always been a moron or was a secret one till now, but The Lightning Stones - in addition to being a fine adventure tale - drops in some fine anti-woke, anti-climate change bullshit speeches that would be right at home on the AOS. https://tinyurl.com/2p9x4j48 bensdad00

Comment:
Looks like this could be a very fun read. One man stumbles into a conspiracy and then has to unravel a mystery that threatens to transform our understanding of how the world works, all while dodging assassins...Has an F. Paul Wilson vibe to it...
+++++

One of the best books out there for the general public regarding economics and basic freedom, and governance is: Free to Choose by Milton Friedman. I would say that was the single book that was most influential in my political awakening. Long ago and far away, I had been seeing and hearing a lot of things which made no sense and didn't correspond logically to reality. Both Free to Choose the book and the series on PBS(!!!) convinced me and suddenly so much made sense. By the way, the series is excellent. If it's still on youtube or elsewhere, check it out. Friedman's calm, cool reasoning is entirely persuasive and nearly unassailable. The book is still available on Amazon, etc. Posted by: naturalfake at January 03, 2023 08:26 AM (KLPy

Comment:
I know we have a lot of supporters of Friedman's economic theories among the Horde (myself included). Sadly, we live in an era of American history where our "freedom to choose" has deteriorated to the point where we have very few choices left to us and most of them lead to dire consequences.

"Economic freedom is an essential requisite for poltical freedom. By enabling people to cooperate with one another without coercion or central direction, it reduces the area over which political power is exercised. In addition, by dispersing power, the free market provides an offest to whatever concentration of political power may arise. The combination of economic and political power in the same hands is a sure recipe for tyranny." --Milton Friedman

More Moron-recommended reading material can be found
HERE
!
(571 Moron-recommended books so far!)
+-----+-----+-----+-----+
WHAT I'VE BEEN READING THIS PAST WEEK:
Due to other blogging activities, I haven't been able to read as much as I normally do during the week...


Star Wars: Legacy of the Force 2 - Bloodlines by Karen "I ♥ Boba Fett" Traviss -- Continuing the saga of Jacen Solo's turn to the Dark Side...Luke's son Ben is also sliding down that hill...


Star Wars: Legacy of the Force 3 - Tempest by Troy Denning


That's about all I have for this week. Thank you for all of your kind words regarding the Sunday Morning Book Thread. This is a very special place. You are very special people (in all the best ways!). The kindness, generosity, and wisdom of the Moron Horde knows no bounds. Let's keep reading! If you have any suggestions for improvement, reading recommendations, or writing projects that you'd like to see on the Sunday Morning Book Thread, you can send them to
perfessor dot squirrel at-sign gmail dot com
. Your feedback is always appreciated! You can also take a virtual tour of OUR library at
libib.com/u/perfessorsquirrel
. Since I added sections for AoSHQ, I now consider it OUR library, rather than my own personal fiefdom...
PREVIOUS SUNDAY MORNING BOOK THREAD - 01-01-23
(NOTE: Do NOT comment on old threads!)