Sunday Morning Book Thread - 01-01-2023 ["Perfessor" Squirrel]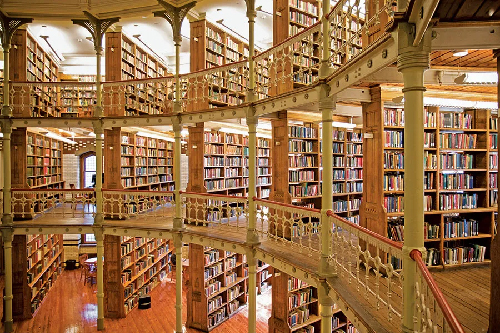 HAPPY NEW YEAR, MORON HORDE!
Welcome to the prestigious, internationally acclaimed, stately, and illustrious Sunday Morning Book Thread! The place where all readers are welcome, regardless of whatever
guilty pleasure
we feel like reading (WEF approved!). Here is where we can discuss, argue, bicker, quibble, consider, debate, confabulate, converse, and jaw about our latest fancy in reading material, even if it's nothing more than your significant other's New Year's resolutions. As always, pants are required, especially if you are wearing
these pants
...(ringin' in the New Year in style!) So relax, find yourself a warm kitty (or warm puppy--I won't judge) to curl up in your lap, help yourself to a heaping bowl of Chex Mix (a New Year's tradition at my house), and crack open a new book. What are YOU reading this fine morning?
PIC NOTE
I scour the internet for pics of libraries that I find interesting, though sometimes you do that work for me (e.g., next week's pic!). This week's pic is of the Lehigh University library near Allentown, Pennsylvania. Lehigh University was founded by Asa Packer in the wake of the Civil War in 1865. He was an industrialist who gave back to his state by creating an institution of higher learning. The Lehigh Libraries are the center of library holdings and technology support for the campus, which is fairly common across universities these days. Naturally, it has large physical holdings, as well as extensive access to online resources. Check out the pic on their website:
lts.lehigh.edu
. Note the PowerPoint presentation on the right-hand side of the image. It's basically everything wrong with university libraries today...
S.M.A.R.T. READING GOALS
One of the skills I attempted to teach my students this past semester was the idea of setting
"SMART" goals
, where SMART is an acronym for
Specfic, Measurable, Attainable, Relevant, and Time-bound.
They were supposed to develop around three SMART goals for their own writing activities. To illustrate the concept, I showed them my own SMART goals for reading as an example. For the past couple of years, since March 2020, I've kept extensive track of my own reading to see just how much I've read. I also set some goals for myself, such as reading an average of two books per week (or 104 books per year) and completing specific series. Last week I mentioned how I completed my SMART goal of reading the entire
Wheel of Time
series in 2022. I also managed to meet my goal of reading at least two books per week on average. Now I need to figure out some SMART goals for 2023. Instead of quantity, perhaps I should focus on something else. I have A LOT of unfinished series I need to read, so perhaps I should see how many of those I can finish. I would also like to finish reading Steven Erickson's
Malazan, Books of the Fallen
series. I read the first one (
Gardens of the Moon
) and enjoyed it enough to buy the rest of the series, but I quickly got lost in the second novel and didn't finish it. It's widely regarded as one of the most complex fantasy series ever written (very nonlinear), so I will need to tackle it from a different approach in order to enjoy it fully. I know we have some folks that are very keen on improving their reading, but might not quite know how to get started on that. Developing SMART goals is an excellent way to ensure that you are not overcommitting yourself to a goal. What are some of YOUR reading goals? Were you able to meet your reading goals for 2022? What new goals do you have set for 2023? Should the Moron Horde devise a collective set of goals? And if so, what might those be? Perhaps one goal is to read more Horde-recommended reading materials...
What else would you like to see on the Sunday Morning Book Thread in 2023?
I'm open to any and all book/reading/writing-related ideas!
++++++++++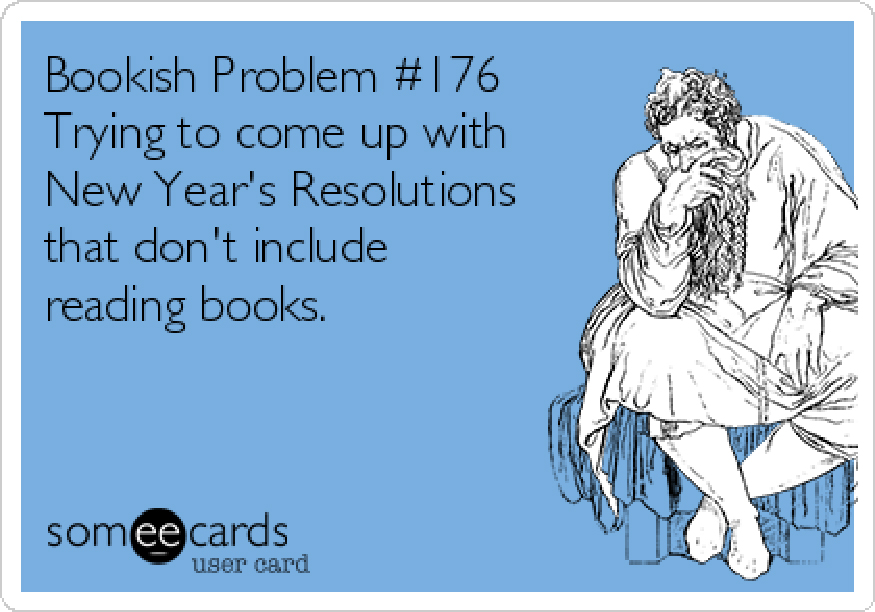 ++++++++++
BOOKS BY MORONS
I was really hoping I'd have a Book by a Moron for the New Year's Day episode of the Sunday Morning Book Thread. What better way to start the New Year than with a new book? As always, the Moron Horde came through!


I hope you have room for yet another book by a moron. This one is called T8, which may in fact be one of the shortest book titles ever and should not be confused with a fluorescent tube. Not that there is anything wrong with fluorescent tubes, but they are difficult to read on a plane. Need some fun? Need an adventure? Jump into this fun science fiction romp with a unique cast of characters. It's like honey for the brain - it will make you smile and you'll keep wanting to read just one more chapter. Can Keith and his crew save the little green men? Should they? Will they be defeated by the lizard people? Or will the government stop them from going? Will a leprechaun save the day? Buckle up and blast off into this exciting adventure! Hope you can help me launch it! Obviously I'm a Book Thread junkie and look forward to it each week. I even put on pants especially for it. Thank you! Mike [Now available on Amazon Kindle! - PS]

++++++++++
MORON RECOMMENDATIONS

I finished The Lincoln Highway, by Amor Towles, and while he is a wonderful writer, I was mildly disappointed with the book, especially compared to his best one, A Gentleman In Moscow. I think it's worth a read, especially for the interesting way he structured the book. And...I think I would have enjoyed it more had I not been comparing it to his other work. Is that fair? Posted by: CharlieBrown'sDildo at December 25, 2022 10:20 AM (XIJ/X)

Comment:
CBD makes an excellent point here. It's not at all unheard of for an author to write an amazing bestseller only to follow it up with another book that may be underwhelming in comparison to the first novel, but otherwise good on its own merits. What are some more examples of books that may be disappointing compared to previous/other books by the same author?
+++++

Well, it's not technically a grown-up book, and it's not very long, but my absolute favorite Christmas book is The Littlest Angel written by Charles Tazewell and illustrated by Paul Micich. ACCEPT NO SUBSTITUTES - search high and low for that exact book, because the illustrations are gorgeous. I always get choked up at the end when God picks the littlest angel's gift, because it is filled with the simple childhood treasures that His son will no doubt see in his early years on Earth. Seriously - go find it; you will love it. Merry Christmas, Horde, and love from our family to all of you and yours. Posted by: Teresa in Fort Worth, Texas at December 25, 2022 09:29 AM (MxiAA)

Comment:
There's nothing wrong with enjoying children's literature as an adult. We can remember the feeling we had when we first read those books, when our minds were still full of wonder and excitement over the world. I have recently picked up a number of books from my own childhood for that very purpose. Reading them as an adult makes me appreciate them even more because I have a much greater understanding of literature and more experiences that allow me to take vital lessons from those stories. Great stuff!
+++++

Last week I finished Joseph Conrad's Nostromo. It was not what I expected, but I liked it. I think the issue is managing expectations. This seems like a book of intrigue and suspense, but it's not - at least not in the conventional sense. What would normally be the heart of the story - the political intrigue in the fictional Costaguana - is really just part of the setting for a series of character portraits. To enjoy the book, one has to realize that the "plot" isn't the plot, it's the scenery. The story is how people stuck in a specific timeline react to it. Very subtle, and not for everyone, but I'm glad I got through it. Posted by: Ace-Endorsed Author A.H. Lloyd at December 25, 2022 09:16 AM (llXky)

Comment:
I, too, sometimes like to read unconventional books where you are not quite sure about the story, but otherwise enjoy it anyway. After reading up on it a bit, it sounds like Conrad created a fictional place that is a melting pot of real-world nations and cultures, commenting on them as he saw fit. Thus, you probably have to be vaguely aware of the geopolitical world of the very early 20th century (pre-WWI) in order to fully appreciate the story.
+++++

While reading a recent edition of The Epoch Times, I came across a resource which may be helpful to parents and grandparents who want to buy wholesome books for their children or grand kids. The Good and the Beautiful is a homeschool curriculum provider which offers a free book list for reading levels 1 through 12 at www.goodandbeautifulbooklist.com Zoltan

Comment:
If you are looking for wholesome, family-oriented reading that instills a positive message in your children/grandchildren, why not start here? More Moron-recommended reading material can be found
HERE
!
(558 Moron-recommended books so far!)
+-----+-----+-----+-----+
WHAT I'VE BEEN READING THIS PAST WEEK:


Star Wars: Legacy of the Force 1 - Betrayal by Aaron Allston -- The series where Han and Leia's son turns to the Dark Side of the Force and conquers the galaxy...


Star Wars: Legacy of the Force 2 - Bloodlines by Karen Traviss -- Continuing the saga of Jacen Solo's turn to the Dark Side...


That's about all I have for this week. Thank you for all of your kind words regarding the Sunday Morning Book Thread. This is a very special place. You are very special people (in all the best ways!). The kindness, generosity, and wisdom of the Moron Horde knows no bounds. Let's keep reading! If you have any suggestions for improvement, reading recommendations, or writing projects that you'd like to see on the Sunday Morning Book Thread, you can send them to
perfessor dot squirrel at-sign gmail dot com
. Your feedback is always appreciated! You can also take a virtual tour of OUR library at
libib.com/u/perfessorsquirrel
. Since I added sections for AoSHQ, I now consider it OUR library, rather than my own personal fiefdom...
PREVIOUS SUNDAY MORNING BOOK THREAD - 12-25-22
(NOTE: Do NOT comment on old threads!)