Tom "Salami Nipples" Nichols Admits: When We Said We Were NeverTrump, What We All Really Meant Was That We Were NeverRepublican, and Were Crazed Democrat Hyperpartisans
Yeah, we know, Tom. But you've denied that until now.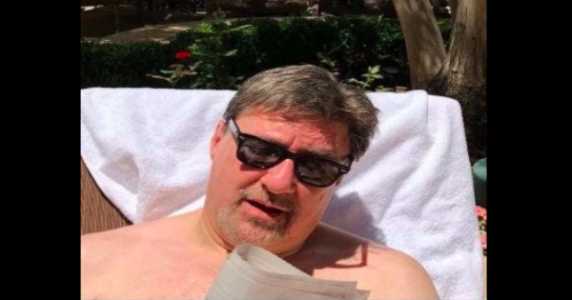 I tried to include Salami Nipple McGee's sad puffies in the pic
but I got an I/O overflow error
And he's only admitting this now because he's attempting to score points on another weak c*ck, Dan McLaughlin, for not being NeverTrump enough. He's attacking McLaughlin for supporting Republican challengers to Trump. This is insufficient, Scrapple Rack wheezes, his jiggling neck-fat shimmering in the light of
Clarissa Explains It All!
marathon playing on his blinged-out 65-inch TV. You cannot just throw Trump overboard and say "all done," the bulbously obese Twitter Obsessive clucks, the words choking apnea-ically in the back of his Pizza-Hut-lubricated throat. To be a true NeverTrumper, you must vow to oppose all Republicans and conservatives in all races, from dog catcher to DA, and frantically support every hard leftwing Soros-funded Democrat out there. That is the only way to be a True Republican and True Conservative, as all NeverTrumpers have been telling you they are for six fucking years now. No, this is really what Bologna Areolae is saying now. And he was only prompted to write his "column" (LOL) in the Atlantic (LOL) because he,
get very much this
, got into a Twitter fight with someone. This "intellectual" and "scholar" is only moved to write something not on Twitter when he's been so humiliated
on
Twitter that he wants to recapitulate the Twitter fight to leftwing audience so they can say, "You really showed them what's what, Capicola Udders!"
A little on this sad, fat affair from John Sexton.
Tom Nichols has a piece at the Atlantic today explaining why Never Trump didn't really mean he'd never vote for Trump, it actually meant he'd never vote for Trumpism and that now includes all of the Republican Party.


In one of the most appalling appropriations of a political banner in years--or at least since Trump decided in 2012, after years of changing party registrations, finally to settle on calling himself a Republican--some of the conservatives hoping to salvage the GOP's fortune after the 2022 midterms are trying to seize and redefine the term Never Trump to mean a rejection of "only Trump, and no other Republicans who are like him." This is important not as some internecine fight among the right but because it is a preview of how many Republicans (and especially those coalescing around Florida Governor Ron DeSantis) intend to rehabilitate the GOP brand in 2024. The strategy will be to make Trump the sin-eater for the entire party, designating him as the GOP's sole problem, and then rejecting him--and only him. The goal will be to scrub away the stain of having accommodated Trump while pretending that the Republican Party is no longer an extension of his warped and antidemocratic views. This will require an extraordinary suspension of disbelief and an expenditure of gigawatts of political energy on the pretense that the past seven years or so didn't happen--or didn't happen the way we remember them, or happened but don't matter because Trump, having escaped Elba to contest the primaries, will finally be sent to St. Helena after his inevitable defeat. This will be the new Republican line, and it is nonsense. As one of the original Never Trumpers--an appellation adopted by disaffected Republicans and conservatives who swore never to support Trump--I think I have a pretty firm handle on what the term means.

I don't know though. Does he have a firm grasp on what it means? Does he really remember what it used to mean? Let's jump back to the July 2016 article he wrote for the NY Times (linked above) and see what it actually says.


My brother heard I'd been saying bad things about Donald Trump. ...
I am a Never-Trump Republican, as we've come to be known, part of the alliance of conservatives implacably opposed to the idea of Donald J. Trump becoming president of the United States.... I formally came out as a Never Trump Republican in February, when I wrote a column for the conservative online publication The Federalist titled "I'll Take Hillary Clinton Over Donald Trump." I made the case that Republicans could tough out four years of Clinton, but that neither the party nor the American conservative movement could survive even a single year of Trump.
Prosciutto Jugs, you've formally come out as a NeverTrump Republican, and then as an ex-Republican, approximately sixty-three thousand times in six years. You literally have only one Area of Expertise, and that area of expertise is What Party Is Kielbasa Udders Supporting Now? Spoiler: It's the same party he's supported for the last seventeen years. Pastrami Tits finishes:

The Republicans know they have a problem. Many of them seem to believe their only recourse now is to say that they were all Never Trumpers in the hope that voters will somehow draw an unwarranted distinction between Trump and the party he has captured from top to bottom. But those of us who said "Never Trump" years ago--and meant it--know the difference.
Based on his past usage of the term -- combined with his previous insistence that was a True Republican and Better Republican Than You (TM) -- it sure does seem that ol' fat Knockwurst Knockers is lying for Internet Clout, as usual. "Scrapple Rack" courtesy of Warai-otoko.
Nichols looks like he's trying to smuggle two garbage bags full of ham in the seat of his pants.
Posted by: Marcus T, Byron Donalds