Elon Musk: I Agreed to Let a Group of Leftwing Censors Advise Twitter on Content Moderation If They Agreed Not to Conspire to Pressure Advertisers to Boycott Twitter to Kill the Site.
I Did That, But Then They Pressured Advertisers To Drop Me Anyway.
A few weeks ago, conservatives were disappointed when Elon Musk announced Twitter would be consulting with leftwing censorship groups such as the noxious Southern Poverty Grifting Center, I mean Law Center, and the Democrat front group the ADL.
A couple of days ago, the head of the ADL complained that Twitter had restored Donald Trump's twitter account. Donald Trump -- who has Jewish grandchildren. And then he asked, "Is it time for Twitter to go?"

Jonathan Greenblatt
@JGreenblattADL For @elonmusk to allow Donald Trump back on Twitter, ostensibly after a brief poll, shows he is not remotely serious about safeguarding the platform from hate, harassment and misinformation.
As we've said before, Trump used Twitter to foment intolerance, issue threats and incite a violent attack against the US government. Moreover, he has shown no indication that he would do anything different if given the opportunity.
I'm sorry, what is the
Anti-Defamation League's
interest in censoring a former president? That has nothing to do with defaming the Jewish people. Is the ADL about defamations against the Jewish people, or is it just a Kosher-branded Democrat front group that just agitates for every agenda item on the Basic Bitch Democrat Party Checklist? Don't bother answering, we all know the answer.
When @ADL and other #StopHateforProfit leaders met with Elon Musk on 11/1, he committed to not replatform anyone, regardless of stature, until he installed a transparent, clear process that took into consideration the views of civil society. @elonmusk's decisions over the last month have been erratic and alarming, but this decision is dangerous and a threat to American democracy. We need to ask -- is it time for Twitter to go?
Spoken like the nasty little
capo
you are. Conservatives were also baffled that he had appointed Yoel Roth, the former head of Twitter's "site integrity" and "fact checking" censorship board --
and the very man who decided to ban mention of the Hunter Biden Laptop story before the 2020 election
-- as his chief advisor on speech issues as the new head of the hated "Trust and Safety Council," Twitter's Secret Speech Police. Why would he do that? Why would Musk spend $45 billion to acquire Twitter in order to get rid of the old members of the Trust and Safety Council -- and then install the guy who swung the 2020 election to Biden through censorship to be head of the New and Improved Trust and Safety Council? Well, this seems to be the answer: He was attempting to appease the left by meeting their demands for
some
censorship half-way. But then they f***ed him over.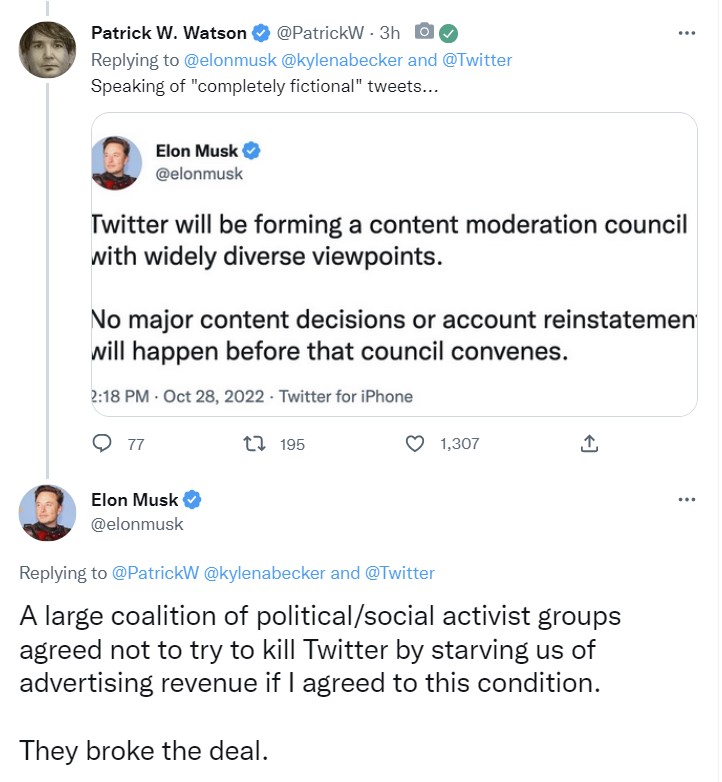 It seems like Musk is alleging that he did what they asked -- but then, behind his back, they pressured advertisers to boycott Twitter anyway. It sure seems like Yoel Roth was always playing for Team Boycott Twitter, because right now,
he's lobbying Google and Apple to collude (as monopolists, remember) remove the Twitter app from their gatekept app-stores so as to violate anti-trust law by using their power as monopolists to leverage out a competitor.
Unless he plays ball and re-installs all the old censorship codes beloved by leftwing idealogues, of course.
Yoel Roth, the rabidly anti-Trump former Twitter employee who briefly served as the site's top censor, has penned an article for the New York Times explaining how a coalition of regulators and corporate interests can prevent Elon Musk from fully restoring free speech on the platform. In the article, Roth, who briefly led Twitter's notorious "Trust & Safety" department -- responsible for the platform's sitewide censorship policies -- outlined the establishment's playbook for restraining any platform that attempts to move towards free speech on its own.
Roth outlined a path for restraining censorship that will be familiar to other social networks, like Parler and Gab, that attempted to provide users with an environment of free speech -- in particular, blacklisting by Google and Apple's app marketplaces. Via the New York Times:


Failure to adhere to Apple's and Google's guidelines would be catastrophic, risking Twitter's expulsion from their app stores and making it more difficult for billions of potential users to get Twitter's services. This gives Apple and Google enormous power to shape the decisions Twitter makes.
That's right -- monopolies have enormous power to illegally squeeze their competitors, Yoel. Until they sue under anti-trust laws. Breitbart's Allum Bokhari concludes:

Roth's article is a neat overview of the machinery of censorship that the establishment has constructed over the past half-decade to ensure that free speech no longer flourishes online. If advertisers fail to constrain Musk, Roth argues that regulators and app stores will fill in the gaps.
And what's this next breadcrumb I see along the trail?
Clinton-linked dark money group targeted Twitter advertisers amid Elon Musk's takeover
Accountable Tech and dozens of left-wing groups have targeted Twitter's top advertisers
A Hillary Clinton-linked dark money group set its sights on Twitter advertisers amid Elon Musk's acquisition of the social media platform, Fox Business has learned. Accountable Tech spearheaded a letter to top Twitter advertisers as part of a larger pressure campaign demanding "non-negotiable" requirements for their business, saying that Musk's takeover will further "toxify" the social media giant and directly threaten public safety. "Twitter has outsized influence in shaping both public discourse and industry-wide platform governance standards," the letter states. "While the company is hardly a poster-child for healthy social media, it has taken welcome steps in recent years to mitigate systemic risks, ratcheting up pressure on the likes of Facebook and YouTube to follow suit." "Musk intends to steamroll those safeguards and provide a megaphone to extremists who traffic in disinformation, hate, and harassment," it continues. "Under the guise of 'free speech,' his vision will silence and endanger marginalized communities, and tear at the fraying fabric of democracy." The group demands that advertisers commit to keeping accounts of politicians and public figures removed for "egregious violations" off the platform, ensuring "algorithmic accountability" and continuing their "commitment to research transparency and researcher access" - or drop their business. It's unclear what companies received Accountable Tech's letter, which is also signed by 25 other liberal groups, including Media Matters and the Black Lives Matter Global Network Foundation. This is at least the second letter sent from a large coalition of activists to Twitter's top advertisers after Musk's acquisition. On November 1, dozens of left-wing groups co-signed a letter calling on advertisers to embrace content moderation or boycott the platform, Business Insider reported, which included Accountable Tech. Accountable Tech is not a standalone organization. Instead, it's a fiscally sponsored project of the North Fund, a nonprofit incubator closely tied to a billion-dollar dark money network managed by the Arabella Advisors consulting firm, Washington D.C. business records show. The left-wing group is also closely linked to Hillary Clinton's Onward Together nonprofit, which the failed presidential contender created following her 2016 loss to Donald Trump to allow her to be a part of the resistance.
Arabella Advisors, you say?
The North Fund, you say? Those are two closely-linked central cogs in the dark money machine by which Democrats and Progressives raise hundreds of millions from leftwing
billionaires
in untraceable donations. I'll let you speculate who those leftwing billionaires might be.
The Massive Progressive Dark-Money Group You've Never Heard Of

Over the past half decade, Democrats have quietly pulled ahead of Republicans in untraceable political spending. One group helped make it happen. By Emma Green In a trendy co-working space in Washington, D.C.'s Dupont Circle--where people wear Chucks and fuss about fancy coffee--lies the progressive movement's empire of political cash. Over the past half decade, Democrats have quietly pulled ahead of Republicans in so-called dark-money spending, funneling hundreds of millions from anonymous donors into campaigns around the country. The groups that spend money this way tend to have innocuous-sounding names and promiscuously spawn mini-organizations that take up particular state and local causes. The North Fund, for example, spent nearly $5 million trying to legalize marijuana in Montana last year. The Sixteen Thirty Fund--the indisputable heavyweight of Democratic dark money--was the second-largest super-PAC donor in 2020, according to the investigative organization OpenSecrets, giving roughly $61 million of effectively untraceable money to progressive causes. The organization that connects many of these groups--what a critic might call the mothership--is called Arabella Advisors. Arabella hates this narrative. The organization's CEO, Sampriti Ganguli, insisted to me that she runs a relatively small business-services organization that does HR, legal compliance, accounting, etc., for clients such as the Sixteen Thirty Fund. Ganguli comes from a consultant background, and she talks like it: Arabella's mission is to make philanthropy more efficient, effective, and equitable, she told me.
But Arabella, like the Sixteen Thirty Fund, undeniably benefited from the rush of panicked political giving on the left during the Trump years. As the Sixteen Thirty Fund's revenue exploded, it spent more money on Arabella's services--a tenfold increase from 2014 to 2019. And Arabella, as a mission-driven, progressive organization, is caught in a major tension on the left: How can progressive groups justify using billionaires' money to influence American politics and civic life while earnestly advocating for a wealth tax or political-spending reforms? "I think a lot about the role billionaires have to play--maybe they're part of the problem and part of the solution," Ganguli told me.
How convenient for her to say that, as she collects a huge salary and cut of the fundraising take.
More at Tablet on Arabella Advisors, by Hayden Ludwig.
Behind the closed doors of an unassuming philanthropic consultancy in Washington, D.C., is one of the most powerful lobbying forces in the United States. The Atlantic has called it "the massive progressive dark-money group you've never heard of" and "the indisputable heavyweight of Democratic dark money." The Washington Post believes its potent lobbying arm is reason enough for Congress to enact forced donor disclosure laws, while Politico labelled it a "dark-money behemoth." "The system of political financing, which often obscures the identities of donors, is known as dark money," wrote The New York Times, "and Arabella's network is a leading vehicle for it on the left." Meet Arabella Advisors, the brainchild of ex-Clinton administration staffer Eric Kessler and the favorite tool of anonymous, billionaire donors on the progressive left. Since 2006, the Arabella hub has overseen a growing network of nonprofits--call them the "spokes"--that collected $2.4 billion in the 2019-20 election cycle, nearly twice as much as the Republican and Democratic national committees combined. These nonprofits in turn manage and supervise a vast array of "pop-up" groups--mainly political attack-dog websites, ad campaigns, and "spontaneous" demonstrations staffed by Arabella's network of activist professionals who pose as members of independent activist organizations. These groups--such as Fix Our Senate, the Hub Project, and Floridians for a Fair Shake--typically emerge very suddenly in order to savage the political opposition on the policy or outrage of that particular day or week, then vanish just as quickly. The pop-ups do not file IRS disclosures or report their budgets, boards, or staff. In most cases, their connection to Arabella goes unreported. Many of them have offered sympathetic ordinary voters the opportunity to donate to whatever the "grassroots" cause happens to be, when in fact the money feeds back into Arabella's enormous dark-money network. The relatively novel and innovative model of political activism perfected by Arabella, which was founded 2005, went more or less unnoticed until 2018, when I was reporting on the activist groups that attempted to prevent the Senate confirmation of Supreme Court Justice Brett Kavanaugh. Among the sea of picket signs outside the court in July 2018 was the name of an unfamiliar group: Demand Justice. A search of the IRS nonprofit archives showed the name itself wasn't listed. What did turn up in an online search was a downtown address on Connecticut Avenue shared by dozens of other organizations, including the Arabella "spoke" that appeared to be running Demand Justice, Sixteen Thirty Fund. It isn't uncommon for political groups to share expensive D.C. office space, especially when they're affiliated, like the Center for American Progress (CAP) and its lobbying arm, CAP Action. But Arabella's arrangement is unique: A for-profit consultancy (Arabella Advisors) is the central hub; four (perhaps five) tax-exempt nonprofits (New Venture Fund, Sixteen Thirty Fund, Hopewell Fund, Windward Fund, and possibly North Fund, all founded and led by Arabella leadership) are the spokes; and countless ephemeral pop-ups branching out from the nonprofits. In early 2019, the Capital Research Center (where I work) released a report on the network. Since then, my colleagues and I have collected large amounts of data on Arabella's origins, lobbying, pop-up campaigns, board connections, and donors, which helped lay the groundwork for later reporting on Arabella in mainstream outlets like The Atlantic and New York Times--which have since acknowledged that the political "left" has outraised and outspent the political "right" using dark money in recent years by a margin of nearly 2 to 1. And yet today, the vast majority of American voters remain unaware of Arabella's existence, even as it promises to play an increasingly central role in American politics, and as the culture wars and fight for control of federal institutions reaches a fever pitch in the fall of 2022. Before Arabella Advisors, there was Eric Kessler. Today he is the company founder, principal, and senior managing partner, and at one point served as a board member for four of the Arabella network's five nonprofits. Kessler is considered by many in Washington to be a leading expert on philanthropy and foundation-giving. Kessler's career began over 30 years ago not in philanthropy but in grubby political activism. ...
Why so many nonprofits? There are advantages in shuffling money around and having multiple different pots to collect cash from different donors. Windward Fund appears more focused on environmental causes, while Hopewell supports many of the network's pro-abortion rights campaigns. The Sixteen Thirty Fund was created with seed funding from the Sierra Club and the radical defunct group ACORN, among others. In turn, the Sixteen Thirty Fund appears to have provided seed capital for the North Fund in 2019, which almost exclusively provides money to state ballot initiatives. If nothing else, this arrangement makes the money harder to follow. Arabella Advisors itself makes its money from client consulting fees--typically from wealthy donors and left-leaning foundations--and management fees charged to its nonprofit network. The company likes to convey the impression that, as outgoing Arabella CEO Sampriti Ganguli said, according to an Atlantic report, it's a "relatively small business-services organization that does HR, legal compliance, etc." for the nonprofits that just happen to share its address and hire Arabella for contract work--$182 million of it for pop-up campaign staffing, office space, and similar services between 2008 and 2020. Strictly speaking, Ganguli's description is accurate. But it also helps obscure the reality of how large and active the network really is.

More at Tablet. And now, poof!, new organizations have "popped up" to demand that Elon Musk re-install the Stalinesque censorship protocols that resulted in the 2020 election being thrown to Biden by a coordinated Deep State/Corporate Media information op, or have his $45 billion investment made worthless.
MuNuvians
MeeNuvians
Polls! Polls! Polls!
Real Clear Politics
Gallup
Frequently Asked Questions
The (Almost) Complete Paul Anka Integrity Kick
Top Top Tens
Greatest Hitjobs
News/Chat