Food Thread: Turkey? Yuck! Give Me Pork Chops Or Give Me...Uh...Pecan Pie!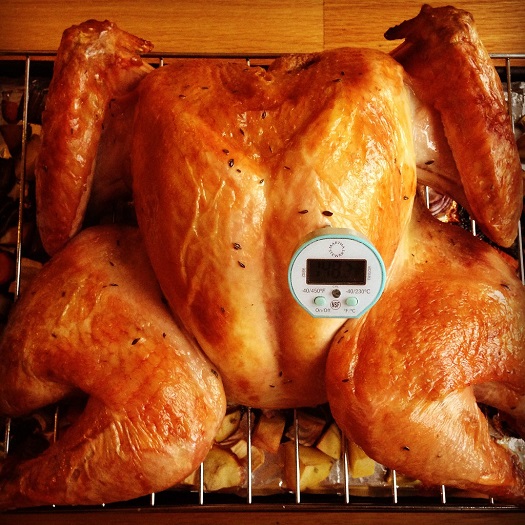 I am no fan of turkey, especially as the centerpiece of a festive meal. Why go to all of that trouble and work to cook something that tastes...okay? Sure, here at Chez Dildo there will be a roast turkey (cooked by someone else) on the Thanksgiving table, but it will be side by side with a glorious bone-in Sous Vide pork loin, finished on the grill. But if you do insist upon serving (and even eating) turkey on Thanksgiving, why not
spatchcock
it so it cooks much more quickly and evenly? I have been doing that with chicken for years, and it works perfectly. All of the skin is exposed to the heat of the oven, so you get more crispy stuff, and the thighs and legs are on outside of the pan and exposed to more heat. Plus, you can protect the breast from overcooking more easily than on an un-spatchcocked bird. Hell, it's also easier to get compound butter or herbs and such underneath the skin, so honestly there is no excuse!
******
Next week will be a combination of frenetic planning and cooking and eating and napping, in various percentages depending on the situation in your home. But no matter if you are serving a monstrous three day feast for 20 people, or having a quiet evening alone with a simple meal and a glass or three of bourbon, have a wonderful and peaceful time! It is a pleasure writing the Food Thread, which is a bit of a respite from the insanity that surrounds us. Thank you all for reading and commenting and sending me wonderful photos of the deliciousness that seems common in Moron kitchens. Hopefully Ace will give the OK for the second volume of
"The Deplorable Gourmet"
which, if you haven't read, is a romp through the twisted and clever minds of a bunch of Morons who also know a think or two about cooking. So nag him when you see him in the comments, and maybe we will get Volume Two (II) 2 before we are too old to chew our food!
******
Commenter and chef extraordinaire "Pete Bog" is experimenting with large quantities of duck fat and turkey legs. Yes, my antipathy for turkey made me suspicious, but damn, it's a good idea, they look great! But why is he cooking turkey so early? Apparently at Chez Bog they have a tune-up Thanksgiving feast before the main event, and I must admit that sounds quite civilized!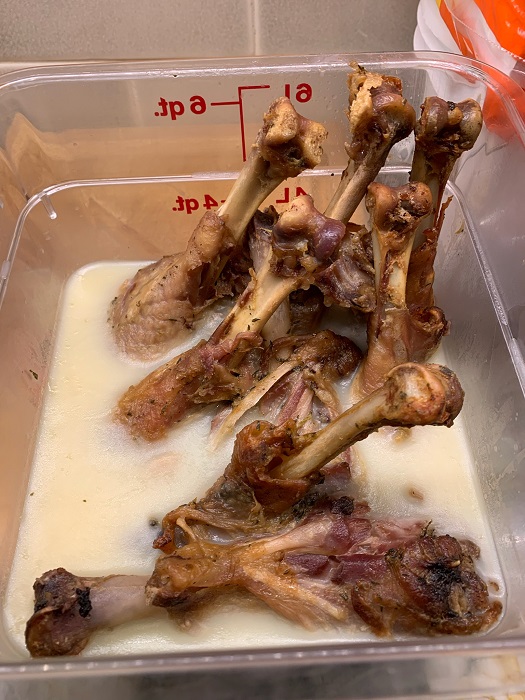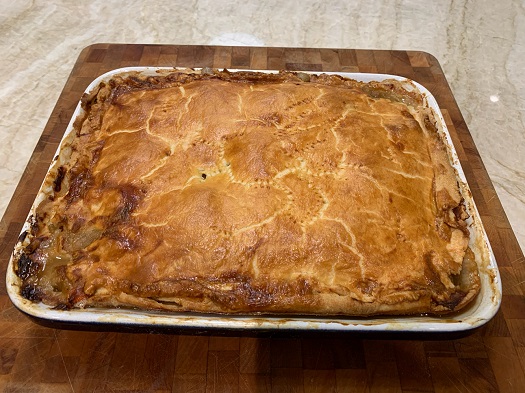 Yup...turkey pot pie, writ large! It looks good too! Looks like they will be eating well at the Bog house...
******
This is why I rarely go to the store with a firm plan, because wandering around and seeing something unexpected is always a pleasure. Those are leeks....which in my neck of the woods are usually stupidly expensive, but for whatever reason they were priced normally. So why not? Of course when I got home I realized that I had no idea what I was going to do with them, other than toss them into the stock pot. But a few minutes on the internet and roasted leeks with Parmesan piqued my curiosity.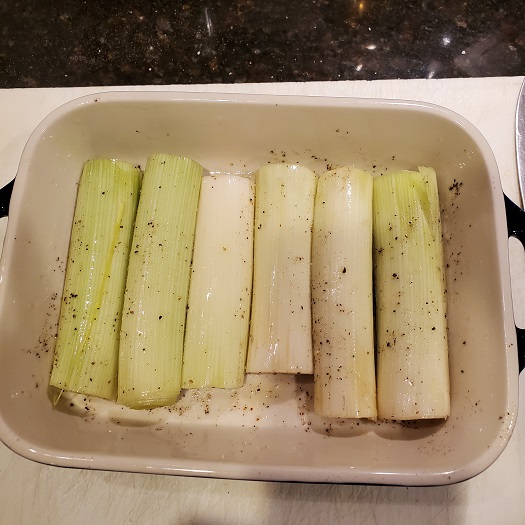 And I am very glad they did, because it was easy and delicious. For those of you who haven't eaten leeks they are a sort of onion, with a sharp aroma and flavor when raw. But that roasted turned them delicate and sweet and delicious, and I will be doing it again!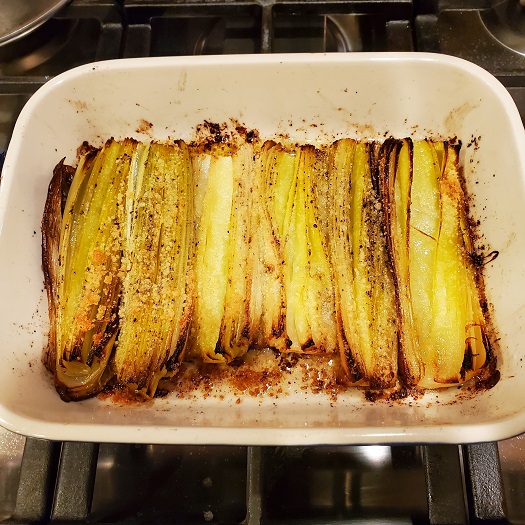 ******
As the more enlightened of you know, pecan pie is the platonic ideal of pie, and all others are weak and diminished when compared to the glories of a well-made pecan pie, warm from the oven and served with a small scoop of vanilla ice cream. Or reheated in the microwave for breakfast the next day and served with a big cup of strong coffee. There are minor additions that can be made to take into account stylistic differences...Bourbon and dark chocolate are the only two contenders that matter, but a weak argument can be made for Rye. My new favorite recipe includes lots of toasted and chopped pecans in the filling, which really adds to the pecan-iness of the whole production. The recipe is from "Cooks Illustrated," so it's behind a pay wall. But if you are curious
I have my version of it in PDF form...
******
Last week's Food Thread
TM
featured a spirited discussion in the comments about coffee...specifically home roasting. Somebody mentioned the gasses that are trapped in freshly roasted beans, and how they can make sort of a mess by frothing the brewing coffee and expanding the slurry of ground coffee and water past the boundaries of the vessel. Geeky but interesting, so I grabbed some fresh beans and did a before and after photo. That is 33 grams of freshly ground beans in a mellita-style filter with a valve so I can steep the coffee for as long as I want. The first photo is the loft created by the released gasses, and the second is the slurry after I mixed it gently for about 10 seconds. That is a lot of lost volume!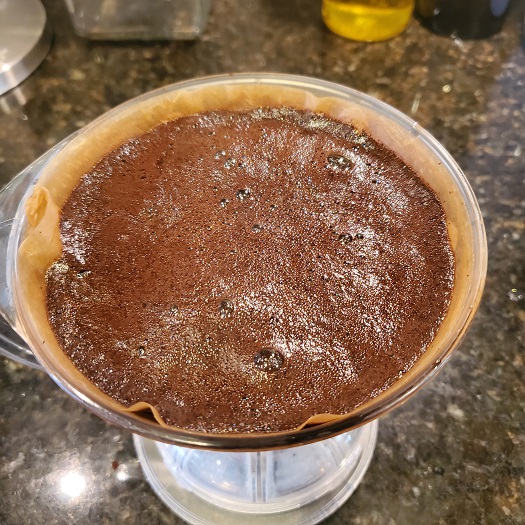 ***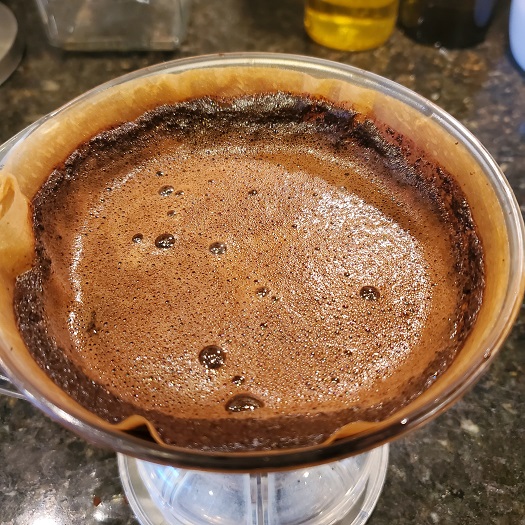 Yes...I am a geek.
******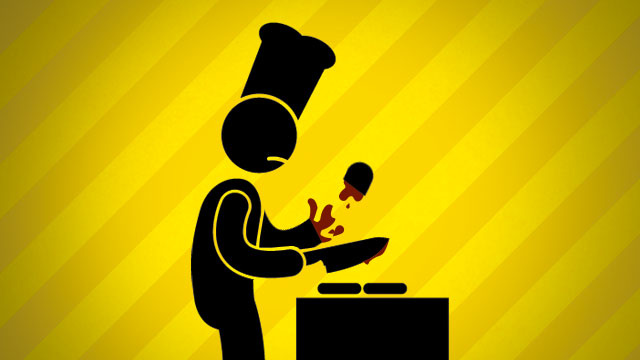 ******
Just send me oysters. Lots of oysters, and I will provide special dispensation for those without taste who insist upon maple syrup with their French Toast. And pork rib roasts from the front end of the pig where all the good and fatty meat lives, carrots that don't taste like stalky chalk, spare bottles of Van Winkle Special Reserve 12 Year Old Bourbon, an herb garden that actually produces herbs (but no basil!), well-marbled NY strip steaks and elk backstrap to:
cbd dot aoshq at gmail dot com.
And don't think that the rest of you are off the hook with maple syrup and French Toast: I'm still watching you! And I am watching you perverts who shake Manhattans and keeping a list for the Burning Times.