Quick Hits
Nina Jankowitz, better known as Stanky Janky, briefly the head of the Disinformation Governance Board, is now officially a registered foreign agent.
Jankowicz also became infamous for her enthusiasm for musical theater as a means of expressing her left-wing political ideas. She also referred to herself as the "Mary Poppins of disinformation" in a singsong TikTok post. However, Jankowicz was herself a font of disinformation, spreading the notorious "Alfa Bank hoax" before the 2016 election, which falsely claimed that then-candidate Donald Trump had financial ties to a Russian bank. She has now registered as a foreign representative under the Foreign Agents Registration Act (FARA), on behalf of the Centre for Information Resilience, a British organization devoted to countering disinformation online.
One critic of the group, which was only incorporated in 2020, noted its focus on censorship and wondered openly if it is "a British government cutout, conducting info-war operations at arm's length from the state."
The only "policy" objective that leftists are viscerally excited about is fascist oppression of other people's right to object to their fascism: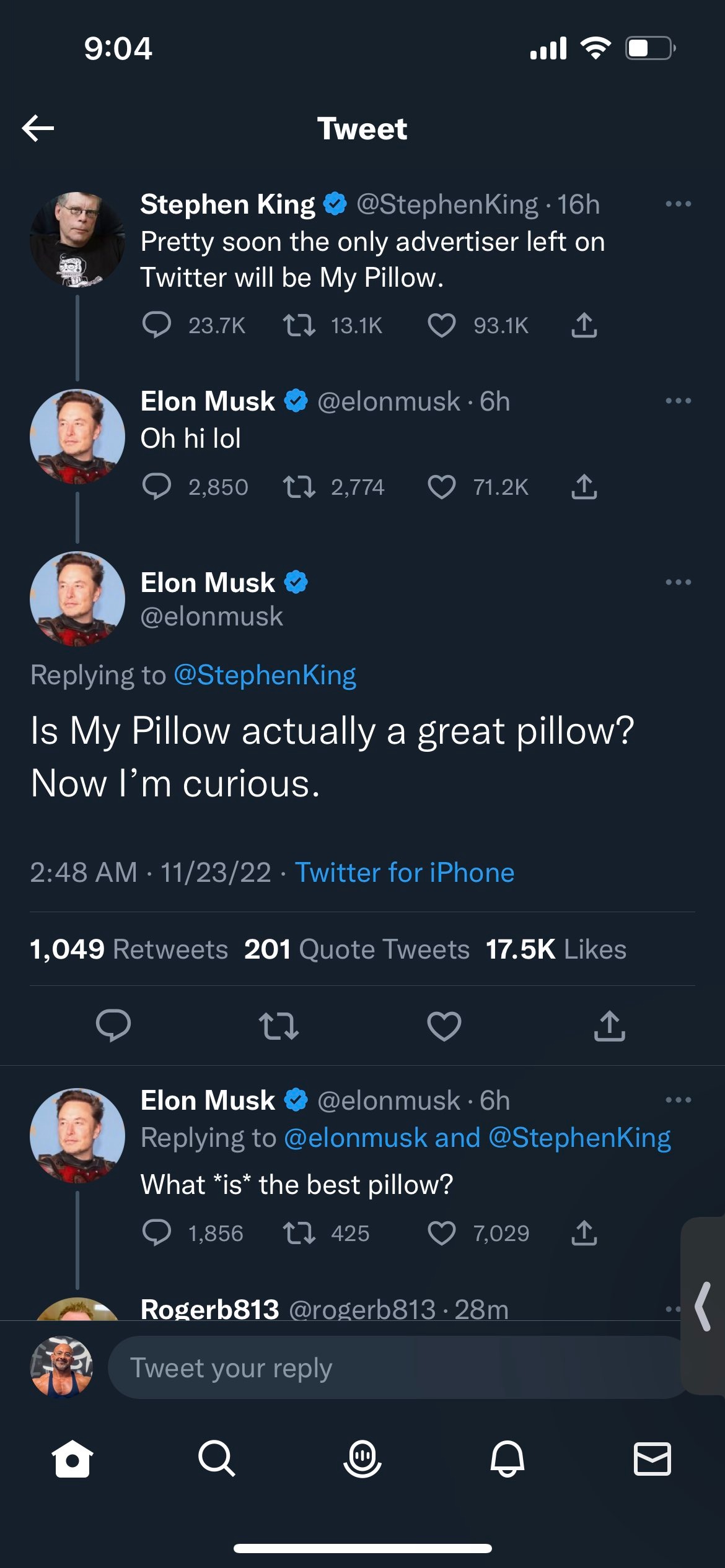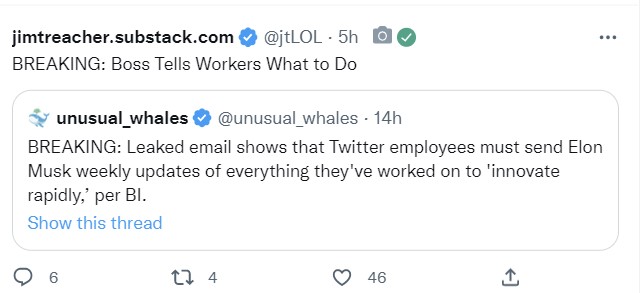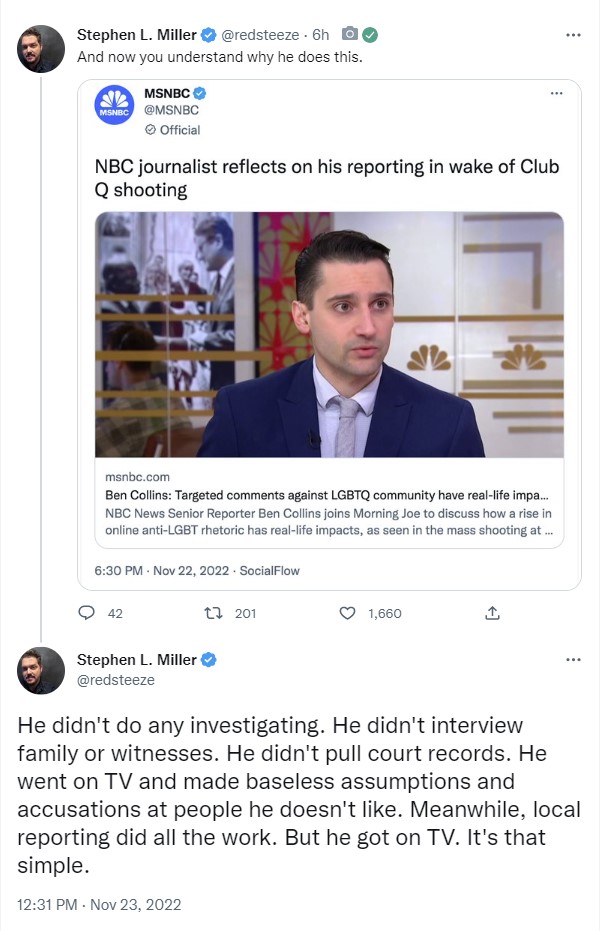 This is true of 100% of fake reporters in the new really fake news fields of "fact checking," "social media coverage," and "disinformation." Even in a
general
field of fake news, these guys stand out as
really really fake news.
They do no reporting. They do no interviews -- cancel that, they will send you a nasty DM demanding comment five minutes before the hit piece they've written on you goes to print. (Or a couple hours
after
, in the case of Taylor Lorenz.) That's the extend of their "news gathering." They're just Twitter partisans offering up the most repugnantly ignorant and tribalistic twitter hot takes, except instead of just pumping them out on Twitter, the "news" organizations put their Hot Twitter Takes right on television and call them "disinformation reporting." Jonah Goldberg, who eagerly agreed with the "51 Intelligence officials" that the Hunter laptop was Russian disinformation, claiming that the story that it was turned over by a laptop repair shop owner was not credible, insists that this was just a bit of "skepticism" for which he owes no one any accountability: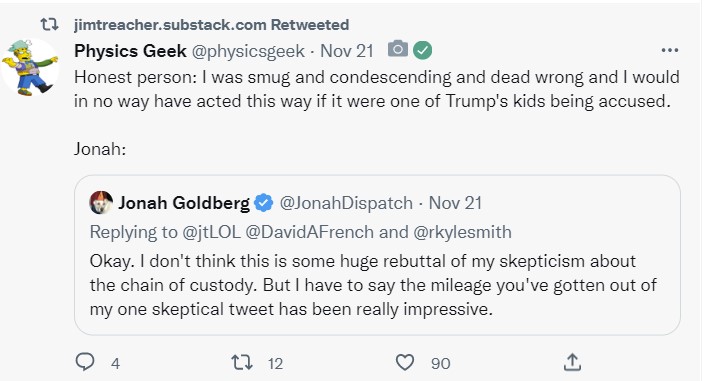 But note this wasn't just "sketicism;" in accordance with the wishes of their leftwing Democratic backers, The Dispatch embargoed mentions of the laptop and still have not, to my knowledge, offered a single substantive piece admitting the authenticity of it and the implications of that authenticity. As with Russia Collusion itself -- they're still pretending the lie is still the truth. They're not repeating the lie; they're just acting in perfect agreement with the lie, taking the lie to be the governing truth of the situation. But yeah Fatboy you and your undulating waves of neckfat just showed a bit of healthy "skepticism."
Some guy named Simu Liu, who starred in one of those crappy Marvel movies everyone's already forgotten, took to the Twitterz Tuesday to attack legendary directors Quentin Tarantino and Martin Scorsese as racist. Liu is "clapping back" because Scorsese and Tarantino are not Marvel movie fans. Their lack of affection for superhero movies, in general, appears to be based on three solid reasons: 1) Scorsese and Tarantino are not 11 years old; 2) they believe superhero movies are not cinema but rather $250 million amusement park rides that say nothing about the human condition, and 3) superhero movies suck all the oxygen out of the theaters leaving no room for anything else. Posted by: SMOD
Tarantino is such an anti-Asian racist he personally championed the films of John Woo and got John Woo the entire Western Period of his career, and then directed a long homage to Japanese karate/samurai flicks, as well as producing
a kung-fu flick.
I mean, he was such a fan of Chinese police action movies that he shamelessly stole most of
Reservoir Dogs
from
City on Fire,
just like Elvis tributed black blues rock... Wait, that's not the greatest argument. Well anyway, he does love Asian movies. And feet. He's not anti-Asian: He just hates boring, artless, soulless corporate pablum like
Shiang-Chi.
Whether you like Tarantino or not, there's a personality and "voice" to his movies. You know a Tarantino movie when you see it. Pop quiz: Who directed Shiang Chi? Anybody? Anybody? It's a trick question; Marvel movies nominally have a director but they're primarily directed by the Soulless Blob of the studio itself. If they feel like they've been constructed from answers to questions in a focus group where the participants were promised Oliver Garden coupons, that's because that's
precisely
how they were assembled. The one bit of Marvel content -- we're beyond pretending these are movies or even TV shows; they're just filler to occupy the memory card of your DVR for a few weeks, and to occupy our brain for a few hours (or less) -- which had a definite authorial voice was
She-Hulk
, and that didn't work out too well, because that authorial voice was a dumb defensive incompetent c*nt.
From a couple of weeks ago: CNN says your pets must eat zee bugz.

Americans should consider purchasing smaller breeds of household pets and feeding them an "insect-based" diet to help curb their alleged influence on the climate, according to a CNN article that circulated on social media last week. The recommendation comes as activists have ramped up calls to normalize bugs and synthetic meat not only in pet diets but in human diets as well. "Our four-legged friends don't drive gas-guzzling SUVs or use energy-sucking appliances, but that doesn't mean they don't have a climate impact," CNN suggested in its September article entitled "Our pets are part of the climate problem."
According to "researchers," CNN said, dogs and cats "play a significant role in the climate crisis." The article, which generated backlash on social media last week after CNN posted a link to it on Twitter, suggested that it's not so much the pets themselves but their "meat-heavy diet" that "is the biggest contributor to their carbon pawprints." Though told not to "​​panic," and that "[b]idding farewell to your best friends is not the answer," readers were advised to consider buying "smaller breeds or species" of pets "if you're aiming to minimize your impact on the planet," since a "Chihuahua's carbon pawprint will be much smaller than a Saint Bernard." Moreover, while the piece notes that cats are carnivores whose diet shouldn't be stripped of meat, American dog owners are urged to consider swapping out their canines' chicken, turkey, or beef-based kibble for "new food developments," including "lab-grown meat" and "insect-based pet foods." "Insect-based pet foods can be nutritionally complete and are starting to come onto the market around the world," Angela Frimberger, a veterinarian with Vets for Climate Action, told the outlet.

When we arrest Bill Gates, Mark Zuckerberg, Klaus Schwab and the rest of this crew, we'll make sure that they only serve Zee Bugz in their prisons.
I just want to vote for him sixteen times now. (I was already planning to vote for him for the customary "Democratic 8.")
The allegation is that DeSantis gave the go-ahead to force-feed the terrorist Ensure. He was attempting to kill himself through a hunger strike. Feeding a terrorist so that he doesn't die is " " " torture. " " "