The "President" Attempted a Seance With a Ghost on Live Televison.
The Propaganda Press Refused To Air Any Coverage of It Whatsoever, Or To Even Mention It.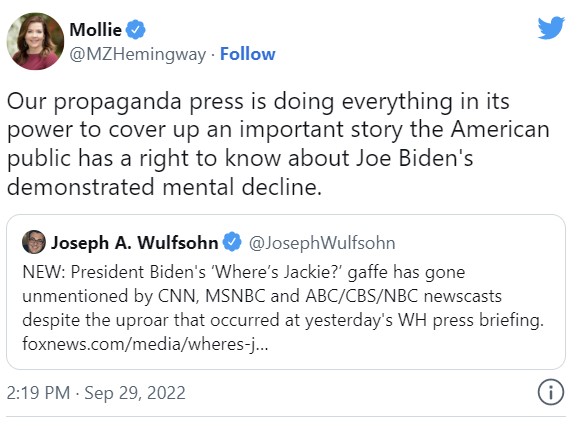 Despite the furore (I'm also learning British) over Biden's "Where's Jackie?" minutes of cringey dementia, and the persistent questioning by their own "reporters," none of the
leftwing propaganda networks covered it at all.
Joseph Wulfson, Fox:
NewsBusters analyst Kevin Tober noticed that none of the three evening broadcasts, ABC's "World News Tonight," "CBS Evening News" nor "NBC Nightly News," made any mention of Biden's remarks. "All three evening newscasts ignored the latest gaffe from our apparently senile President," Tober wrote. "The terrible combination of Joe Biden's almost daily gaffes and Karine Jean-Pierre's stunning inability to put together a coherent sentence makes it obvious why the leftist news networks have no interest in covering the administration's never-ending list of incompetence and failures." ABC News and NBC News did manage to cover the story on their websites after failing to mention it on their evening newscasts. The controversy, however, was later mentioned on ABC's "The View" Thursday after the three networks went all-in on Hurricane Ian during the morning news programs. The liberal "View" hosts were largely defensive of Biden throughout the discussion. CNN and MSNBC went completely wall-to-wall with Hurricane Ian coverage, leaving no room to address the president's gaffe on the air. The word "Jackie" was not uttered once on CNN or MSNBC from the time of Biden's gaffe through 12 p.m. ET on Thursday, according to a search of transcripts via Grabien Media. MSNBC's "Morning Joe" managed to make time to cover the latest legal drama with former President Trump on Thursday but not for Biden's comments. CNN covered the story online with an analysis piece headlined, "Joe Biden's latest gaffe plays right into Republicans' hands."
Oh,
online.
Bet it got
top placement,
too. Nope! It's not even on the home page. You have to actively search for the headline to find it. On The View, Whoopie Goldberg raged at the media for daring to question Biden's mental state. Another stupid yenta (I don't know who these people are, I'm not AllahPundit) claimed Biden was just having a "brain fart" or "mommy brain" or just having some other kind of "moment." What kind of moment? You mean...
a senior moment
, don't you?
Joy Behar claimed the right has "weaponized" these "gaffes," and is outraged that the right is calling him "senile."
Senile! Can you imagine that?! Just because an old man who has to be told "Salute the Marine" through his earpiece, and then repeats out loud "Salute the Marine," and then asks where a dead woman is and mumbles "I thought she would show up," people are saying he might be senile. Why I never!
Sonny Hostin, who belongs to a party which has literally been praying, out loud, to a God they openly don't believe in and simultaneously despise, for "old people" to just "die off" so that they can execute their CRT/Trans Socialism scheme without older voters blocking them, says she's offended that the Obviously Senile and Demented aren't afforded enough respect in America, like they are in Scandinavia or other countries she's vaguely heard of.
Thanks to redridinghood. This is better spin:
Biden doesn't have dementia. He's always just been stupid and now he's getting better at it. Posted by: gnats local 678
Intrepid Democrat Underground AOS Liaison quotes the DUmmies offering up this spin on Biden's behalf:
He called the family when she died Biden personally called the Congresswoman's family right after she died to offer his condolences. He had heard about it. In fact, her family is going to the White House tomorrow to witness the signing of the bill she co-sponsored.
This makes it much worse, not better. I've been saying he issued a statement about her death, but I never in a million years imagined that President Snoozy Van Winkle had a thing to do with that. But if he was on the phone with her family, then he definitely was involved with that, and definitely knew she was dead. And discussed her death. And yet... he still forgot about it, completely. Because she was... "top of mind." LOL.
It's just a stutter. Stop pouncing.
Posted by: Count de Monet
Ah right. The mythical "stutter." I remember that 2019-2020 spin. Good times, good times.