First Trans Army Officer Indicted For Attempting to Give Confidential Medical Records of Fellow Soldiers to Russians
Another historic "first," but one the media does not seem very interested in trumpeting.
Also, his wife was indicted. Who is a university professor.
At Johns Hopkins. The university that pioneered transgender surgery. And sex-changes for children.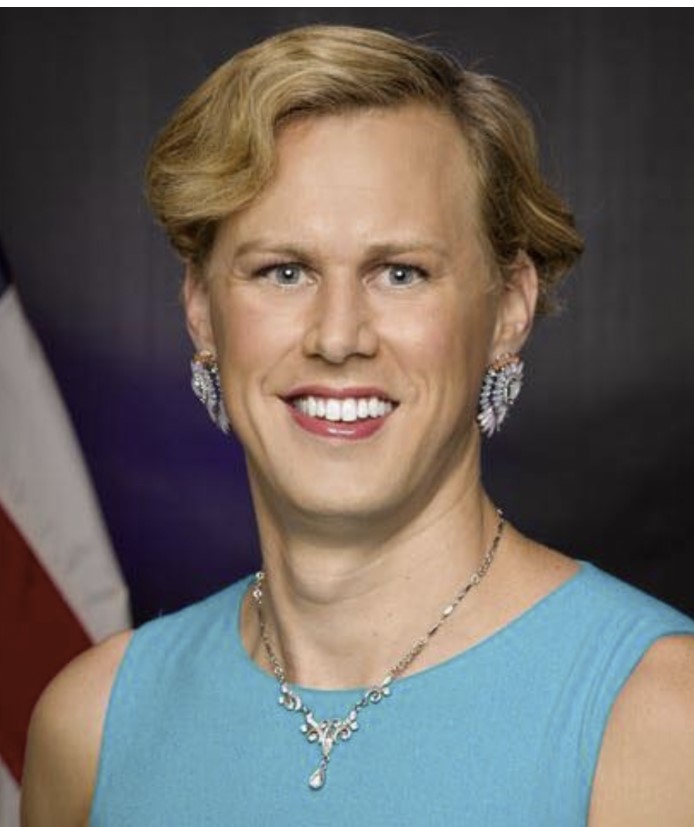 The perfect progressive couple. I bet they have like fifteen of those "In This House" yard signs, Signaling their every Virtue.
The Army's first openly transgender officer was indicted Thursday on charges of trying to provide American soldiers' medical information to the Russian government. A federal grand jury in Baltimore indicted Jamie Lee Henry and his wife, Anna Gabrielian, on charges of conspiracy and wrongful disclosure of individually identifiable health information. According to prosecutors, the couple met last month with an undercover FBI agent posing as a Russian diplomat and offered medical information from Fort Bragg, the home of the military's elite Delta Force.
Gabrielian, an anesthesiologist at Johns Hopkins University, told the undercover agent during an Aug. 17 meeting that "she was motivated by patriotism toward Russia to provide any assistance she could to Russia, even if it meant being fired or going to jail," according to the indictment. Gabrielian gave the undercover agent medical information on a spouse of someone who works in the Office of Naval Intelligence, and "highlighted" a medical issue that "Russia could exploit." Henry, a doctor at Fort Bragg, gave the undercover agent information on five patients at the military facility, according to the indictment, first reported by the Baltimore Banner. Henry has been praised as a pioneer of the transgender movement after coming out as transgender in an interview with BuzzFeed News in 2015. Henry claimed to be the first known active-duty Army officer to come out as transgender, and the first to legally change their name while in service.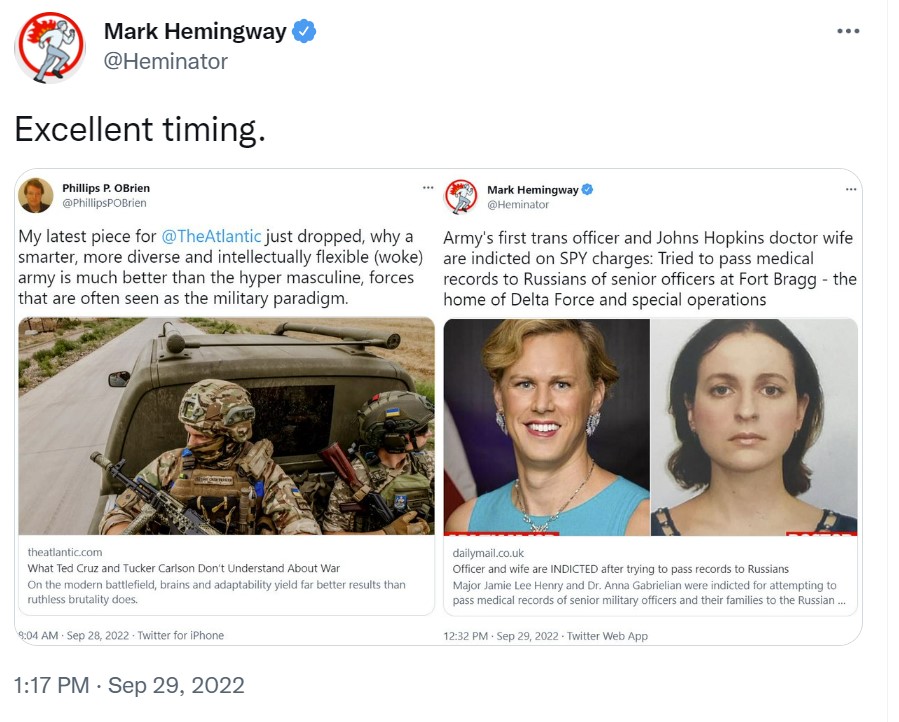 Betcha he won't be celebrated as the historic "First" traitor he is now. Although maybe the media will start referring to him as "another white male Russian traitor." I wrote that as snark, but it turns out the snark was in fact... 100% accurate. Both the DOJ and the media are refusing to report that this man's trans identity, or his "historic" status as the first trans army officer. In fact,
both the politically-correct DOJ and some of the trans-ally media are referring to him exclusively by he/him pronouns and calling him a man and the "husband" to the wife.
And they're calling him only by his last name, Henry. Which is, coincidentally enough, a male first name.
His assumed female name is "Jamie Lee."
Apparently they're refusing to honor this Trans Hero's chosen female name.
Chad Felix Greene
@chadfelixg
The 1st openly transgender officer commits treason and the DOJ and media misgender her and none of the major news orgs seem interested in reporting any of it.

Chad Felix Greene
@chadfelixg I notice there are very few articles about the 1st Trans Officer giving info to Russia and its been over an hour...
Will Reuters be deplatformed by Twitter for misgendering Jamie Lee? Is it only the legacy media which is permitted to misgender trans people, at their own whim? Why is that? Do Twitter's "misgendering"/"hate speech" policies apply to everyone or just to its conservative enemies?
Will Twitter and YouTube deplatform the Department of Justice? If not, why not? Do leftists have immunity to the Tech Monopolists' so-called rules? If they do, then they are in violation of the "good faith" requirement of s.230 immunity.
Again, why isn't Newsweek now being deplatformed? LibsofTikTok was just given a one week suspension for "misgendering" someone, which Twitter claimed was "hate speech;" why is Newsweek not given this exact same penalty?

Chad Felix Greene
@chadfelixg It matters if the government and media are attempting to protect the LGBT community from scrutiny by disguising the gender identity of a government person charged with wrongdoing.
Now this is what you call "trans-erasure." Why are Twitter's leftwing allies allowed to engage in trans-erasure for their own political purposes? Is this the new rule? You're the sex you claim you are until you commit a heinous crime, and then the government and media pretend you're not trans in order to protect the trans community? If that's the case, why do they insist on pretending the obvious male pedophiles of antifa are "women"?
Update:
The reporter at Reuters has now sexplained that "Henry" decided to
"misgender" himself in court, suddenly becoming a "he/him" again when he was accused of being a Russian spy.
Does this mean Henry will be deplatformed? Do you get to turn your Deeply-Felt Gender Identity on and off like a desk-lamp? If I decide to call this pyrsyn "her" as he was calling himself five days ago, will I get deplaformed? Or banned by PayPal? Are we all required to keep careful track of what pronouns transsexuals are using
today
in order to keep from being deplatformed? Looking to the future, I can see this man attempting an insanity defense, which would leave the left in a difficult position -- would they support the insanity defense to let this "hero" off without criminal liability? But in doing so, wouldn't that be... raising the question of whether mental illness makes other such heroes not necessarily great security risks?