Massachusetts National Guardsman Aggressively Pursues, Stops, and Boards Bus, Demanding to Inspect It To Make Sure Ron DeSantis Isn't Smuggling Any More Illegal Aliens Into His Progressive, Welcoming, Sanctuary State
Despite Massachusetts literally being a sanctuary state (and look how hard this "fact" check from the local PBS station strains to not admit that, but pesky facts force it to partly concede it*), an off-duty Massachusetts National Guard member followed a bus around, in an "aggressive" pursuit, and then pulled it over, on the suspicion it was carrying "migrants" to his state.
Which would have been allowed. And he would have had no legal authority to stop it. But he did anyway. Because the liberals of Massachusetts hate fucking brown people and will break the law to keep them out. They just want to be credited as "loving minorities."
At a comfortable distance.
But it turns out the bus wasn't carrying Dirty Migrants.
It was carrying American senior citizen travelers.

An off-duty MA National Guard member tailed a Florida tour bus thinking it was carrying migrants. He later confronted the driver and 37 senior citizens onboard, the Cape Cod Times reported. The incident comes after Gov. Ron DeSantis sent 50 migrants to Martha's Vineyard. An off-duty Massachusetts Army National Guard member tailed a Florida tour bus and confronted its senior citizen passengers, mistaking them for more migrants being sent to the state from Florida, the Cape Cod Times reported Tuesday. The incident comes on the heels of a political stunt by Florida Gov. Ron DeSantis chartering two planes to send 50 migrants to Martha's Vineyard, Massachusetts. The state's governor Charlie Baker said the migrants have since been moved to a military base shelter in Cape Cod, Massachusetts. The off-duty service member pursued the tour bus for at least 10 miles to their hotel in East Falmouth, later confronting the bus driver, Michael Vaughn, and 37 senior citizens aboard. "He thought there were immigrants on the bus," Vaughn, the owner of Tallahassee-based transportation company Mikes Limousine, told the Cape Cod Times. "He was totally wrong." Vaughn told the local news outlet that the service member "was literally five feet off my bumper" as he tailed the vehicle, even when he tried slowing down and changing lanes.

That is obviously extremely dangerous. Seems like he was threatening the bus to either turn back, or he'd execute a
PIT maneuver
and crash them out. This Liberal Hero took video of himself trailing the bus.

"Look at this," he is heard saying in the video, per the Cape Cod Times. "Tallahassee, Florida. A busload. Look at this. I'm following it all the way to the end. DeSantis bringing the border to your place." "I saw it coming over the bridge, I'm going to follow it," he continued. "I was supposed to turn it off and go home, but here we go." ... Video viewed by the Cape Cod Times showed Hoffman attempting to board the bus to see the passengers on board. "I have every right as a U.S citizen to see what's going on," the service member is heard saying. "You know what I'm talking about." Vaughn told the outlet he told the service member that the bus was carrying "old senior citizens. You're going to give them a heart attack." The service member replied: "If it's 80-year-old people, I will walk away. Do you not see what's gone on on Martha's Vineyard?"
Ah yes -- the 44 Hour Siege of Martha's Vineyard.
La Conquista,
they call it there. The man is being disciplined.
Supposedly.
Because, as we see with the FBI, DOJ, CIA, and NSA, you're
always
harshly punished when you break the law in a way that pleases The Regime. Here's how Yahoo frames this story. Note that it's a Massachusetts fruitcake attempting to keep the Brown People Out, despite the state being, supposedly, a sanctuary state and Loving Brown People. (From a comfortable distance, you understand.) But who's the
Real Racist
here? You know who.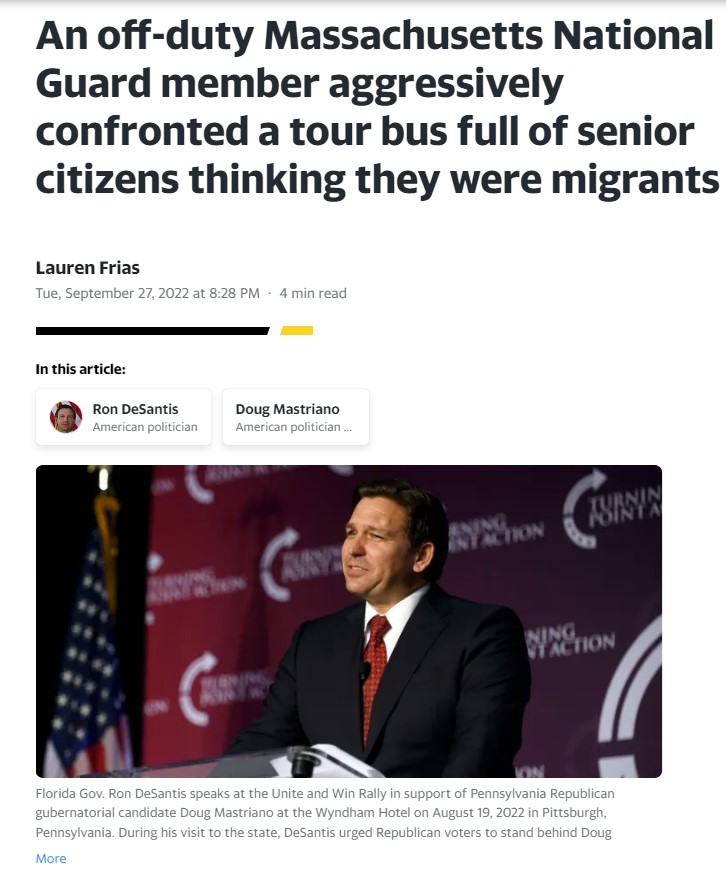 * Actually the fully concede it, but they contrive a way to give it a "partly false" rating. The definition of a "sanctuary jurisdiction" is one that does not cooperate with ICE as far as removals of criminals they have arrested who are illegals. A non-sanctuary jurisdiction will, when ICE asks them "Do you have these illegal aliens in your custody, and can you hold them if you do, so we can pick them up?" That's an ICE detainer or a federal detainer. And then ICE will come pick them up from a jail or prison to deport them. (Or arrange to prosecute them, if it wants them for prosecutable crimes in addition to illegal presence in the country.) Sanctuary jurisdiction refuse to honor ICE detainers. Massachusetts does not cooperate with ICE and does not honor its detainer requests. Therefore, it's a sanctuary jurisdiction. This "fact" check notes that but then says there is no
specific law
stating that Massachusetts is a sanctuary state. Well, you lying c***suckers, there usually isn't a law -- it's a
policy choice made by an executive.
It's usually
not
a law of any kind. They note that
some
states have made it explicitly a law, like Oregon. Well, fine -- others haven't, like Massachusetts. The Massachusetts Supreme Judicial Court ruled that police and prisons don't have to cooperate with ICE.
That
is a law of the courts. Massachusetts
is
a sanctuary state, period.