THE MORNING RANT: Raphael Warnock Attempting to Undermine Democracy By Having Treasury Secretary Unilaterally Change EV Credits in the Inflation Protection Act
US Senator Raphael Warnock (D – Georgia) has contacted Treasury Secretary Janet Yellen and asked her to defy the specific language of the Inflation Reduction Act as enacted into law, and instead he has requested that she unilaterally amend the law to allow federal money to flow to a constituent in a manner that is explicitly prohibited by the law.
Our democracy is under attack. Appointed officials do not have the constitutional power to unilaterally amend laws duly enacted by Congress and the President. By the way, Senator Warnock voted for the bill, but was apparently unaware that it had provisions that would punish Hyundai's proposed electric vehicle operations in Georgia, so he now wants Janet Yellen to defy the law that he just voted for. Maybe – just maybe – if Congress took time to read legislation before voting for legislation, they might not find out after the fact the damage they are doing to their constituents.
US Sen. Warnock: Electric car tax credit needs 'flexibility' [AP – 9/24/2022]
U.S. Sen. Raphael Warnock urged the U.S. Treasury secretary Friday to use "maximum flexibility" in implementing a revised tax credit for Americans buying electric vehicles, a perk that Hyundai stands to lose as the automaker invests billions of dollars to open its first American EV plant in the Democratic senator's home state of Georgia. Warnock sent a letter to Treasury Secretary Janet Yellen raising concerns that the revised tax credit President Joe Biden signed last month as part of a sweeping climate and health law could place some automakers at a competitive disadvantage. That's because the new law says the credit of up to $7,500 only applies if the EVs and their batteries are manufactured in North America.
Hyundai is currently selling EVs in the United States, but they're manufactured in South Korea, therefore they will lose EV tax credits now in place. The company has announced plans to build an electric vehicle plant near Savannah, GA, but those cars won't start rolling off the line until 2025. Well, they were
scheduled
to start rolling off the assembly line in 2025, but not if Hyundai kills the project because of Warnock's vote.
Hyundai spokesman Michael Stewart said in an emailed statement the company was "disappointed" with the tax credit revision. Stewart did not say whether the issue might affect Hyundai's plans to produce up to 300,000 EVs per year in Georgia. The state and local governments agreed to give the automaker tax breaks and other financial incentives worth $1.8 billion. But the tax credit issue is causing some anxiety among officials in Georgia working closely on the project.
Senator Warnock sent Treasury Secretary Yellen a letter requesting that she violate the law and allow tax credits to go to Hyundai that are explicitly prohibited by that law. His letter stated:
"I urge you to offer maximum flexibility for vehicle manufacturers and consumers to take full advantage of the electric vehicle tax credits available under the law."
Donald Trump is under investigation for the crime of calling the Georgia Secretary of State after the 2020 election and inquiring if every vote in his favor had been counted. Shouldn't the FBI involve itself in investigating Warnock's attempt to have Janet Yellen subvert a newly passed law for the purpose of saving Warnock's political career? Republican senate candidate Herschel walker is having some fun at Warnock's expense:
A spokesman for Walker's campaign said Warnock was "trying to clean up his own mess" after voting in favor of the law that included the tax credit that would exclude Hyundai vehicles. "Maybe next time a massive bill comes up, Raphael Warnock will take the time to read the bill and how it would impact Georgia instead of blindly coming out in support a day after it is announced," Walker spokesman Will Kiley said in a statement.
By the way, there is nothing gray about the language regarding EV tax credits in the Inflation Reduction Act. This is from the
FAQs at the Treasury Department's Website.
Q: How does the Inflation Reduction Act modify the existing tax credit for new electric vehicles? Effective immediately after enactment of the Inflation Reduction Act (after August 16, 2022), the tax credit is only available for qualifying electric vehicles for which final assembly occurred in North America. …the only change to the electric vehicle credit that takes effect immediately after the President signs the Inflation Reduction Act into law is the North America final assembly requirement.
If Janet Yellen does determine that she can unilaterally alter the eligibility of the $7,500 EV tax credit, then that means the Treasury Secretary appointed by the Republican President elected in 2024 will also be able to unilaterally make changes to this law too. In fact, I would like to apply right now for the Treasury Secretary position under the next Republican President. Here are some of the changes I'll impose under the "flexibility" accorded under the Warnock / Yellen precedent: • The EV credit will only be offered to individuals making
in excess
of $200,000 per year. This will help protect the middle class from being suckered into buying these rich-men's toys, thus sparing ordinary folks the nightmare of garage fires, highway strandings, and obsolescence when the battery dies.
• To receive the EV credit, it must be proved that all lithium, cobalt, manganese, nickel, and graphite used in manufacturing the battery was mined in the United States.
• Every new diesel-powered pickup truck will receive the $7,500 rebate too…just because I like diesel trucks, and because I'm free to amend the law any way I like.
• There will be a 400-page verification form that must be completed by the dealer, the customer, the manufacturer, and all suppliers before the rebate will be paid on electric vehicles. I'm actually being semi-serious here. Unequal application of laws is a form of tyranny. No government official should be able to unilaterally modify the law. But if a Democrat Treasury Secretary is going to violate a newly passed law for political expediency, then not only can a Republican Treasury Secretary do the same, but he has an
obligation
to do so. Otherwise, we have permanently surrendered to government by left-wing bureaucracy.
*****
Songs of the Season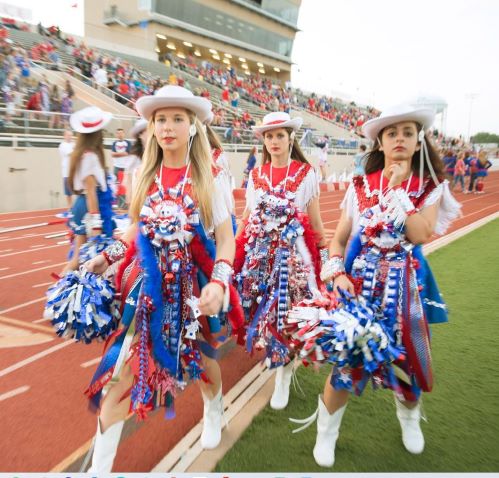 It's homecoming season! If you grew up in Texas, it also meant giant, decorated chrysanthemums worn by high school girls as a corsage.
Here's a gallery of photos from D Magazine.
And here is a song about being a homecoming queen.
"Homecoming Queen" - Kelsea Ballerini
Have a great week. (buck.throckmorton at protonmail dot com)
Posted by: Buck Throckmorton at
11:00 AM