41-Year-Old Man Deliberately Runs Down and Murders 18-Year-Old Teen Because He Didn't Like His Political Opinions, Called Him a "Republican Extremist" Like He Heard Biden Call His Political Enemies
Via SMOD, Biden's National Incitement to Murder bears fruit.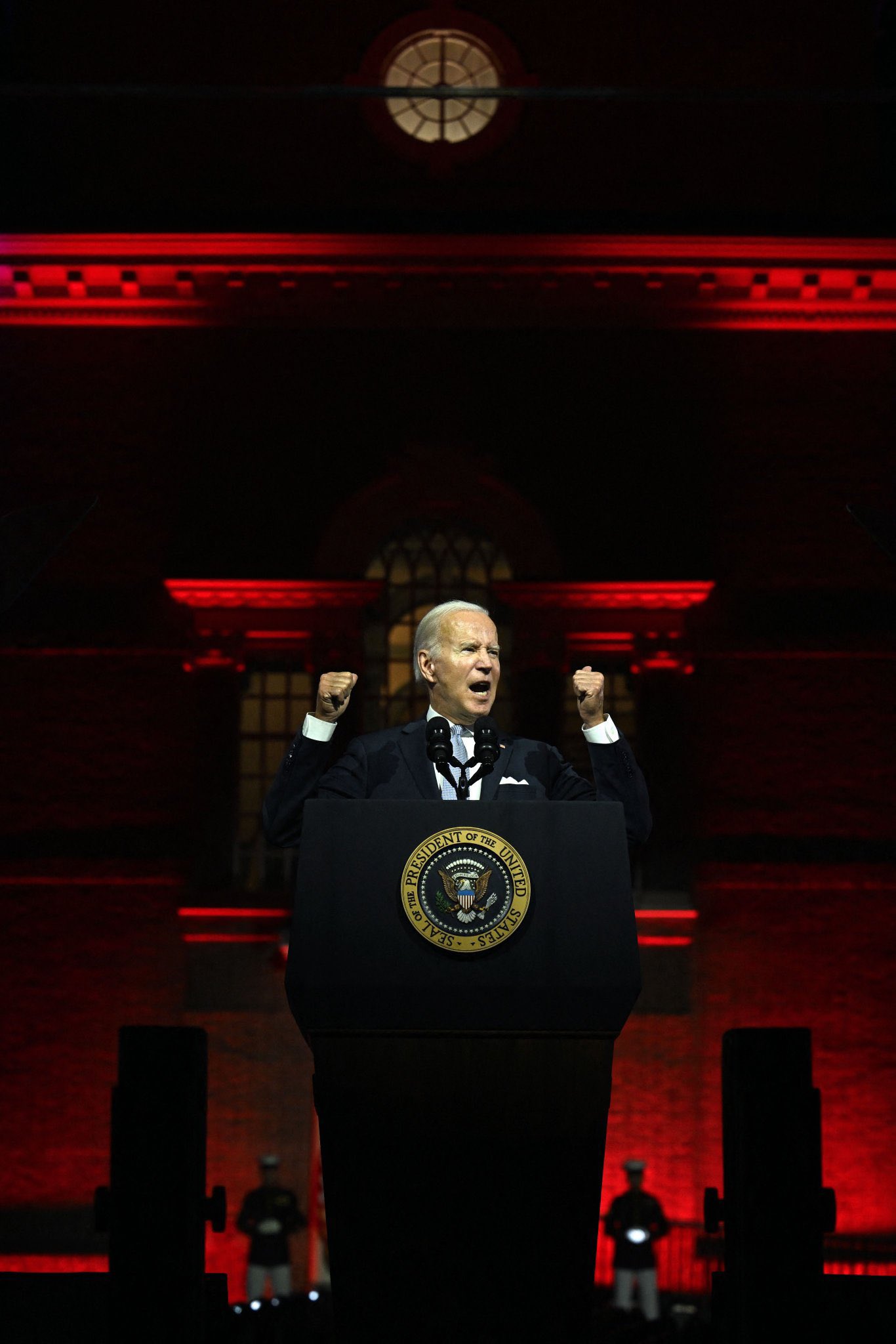 Illegitimate Regime Figurehead Biden calling for stochastic terrorism
against his political enemies, on September 1.

McHENRY, N.D. -- According to court papers, it was not an accident but apparently a politically motivated attack. ... Prosecutors allege moments before he was killed, 18-year-old Cayler Ellingson called his mom to come rescue him because 41-year-old Shannon Brandt was chasing him in the city of McHenry, where the street dance had just wrapped up. By the time she could get there, her son was dead. Brandt was officially charged Monday with vehicular homicide and leaving the scene of a deadly accident.
"He was the one who called 911 to report the crash," said North Dakota Highway Patrol Capt. Bryan Niewind. Court papers show Brandt called 911 around 2:30 a.m. Sunday and told the 911 dispatcher that he just hit Ellingson, claiming the teen was part of a Republican extremist group and was calling people to come get Brandt after a political argument. ... Police say Brandt was drunk when he hit and killed Ellingson with his SUV. ... A judge ordered Brandt held on $50,000, which he objected, saying he's not a flight risk. "I have a job, a life and a house and things I don't want to see go by the wayside -- family that are very important to me," Brandt told the judge.

You will not hear a thing about this from the national propaganda media, despite this being a real, documented politically-motivated "hate" murder of a
teenager.
You know why. Meanwhile, CNN's noxious leftist John Avlon admits that maybe, just maybe, there was a bit of a
"rush to judgment" by the media in the BYU "racist heckling" hoax.
The CNN anchor noted the story jumped to the front of the "outrage Olympics" and his new segment was to update the "initial official version of the story once more facts come in." He added at one point that CNN was one of many networks to jump on the initial allegations, even inviting Richardson's family on-air. "Healthy skepticism is always a virtue, but this doesn't read like a coverup. Instead, it feels like there was a rush to judgment because of a well-intentioned impulse to believe the Duke player's accusations," he said.
It's not "well-intentioned." It's driven by a mad rush to dunk on the media's political enemies, which is the same impulse driving every single thing they do now. Exit Question: Will the FBI investigate this, and categorize this, as Domestic Violent Extremism, committed by the left wing? Exit Answer: No.