Dow Jones Plunges 845 Points (and Counting) As Inflation "Unexpectedly" Roars Back to 8.3%, a Near Record

Charles V Payne
@cvpayne Breaking News: CPI number is out!
Inflation hotter than (experts) expected at 8.3% from year ago Once again Main Street knew the number would be hotter than Wall Street.
Wall Street's leftwing bias causes them to constantly get things wrong.
Stocks fell sharply on Tuesday after a key August inflation report came in hotter than expected, hurting investor optimism for cooling prices and a less aggressive Federal Reserve. The Dow Jones Industrial Average slid 845 points, or 2.6%. The S&P 500 dropped about 3%, and the Nasdaq Composite sank 3.9%. More than 490 stocks in the S&P 500 fell, with Facebook-parent Meta dropping 7.9% and Caesars Entertainment losing 7.3%. ... "The velocity of this move has been breathtaking, however the market has recovered substantially off of recent lows. That this 4,000 level is still holding for the S&P 500 does reveal the fact that markets are bothered, but markets are not panicking," said Jeff Kilburg, founder and CEO of KKM Financial. The August consumer price index report showed a higher-than-expected reading for inflation. Headline inflation rose 0.1% month over month, even with falling gas prices. Core inflation rose 0.6% month over month. On a year-over-year basis, inflation was 8.3%. Economists surveyed by Dow Jones had been expecting a decline of 0.1% for overall inflation, with a rise of 0.3% for core inflation.
What would we do without Experts? Are the Democrats celebrating like they did last month? John Ekdahl of the @EkdahlPressOffice offered the spin that if you adjusted the inflation rate for inflation, it actually comes in at zero. You better believe they're celebrating, Jack!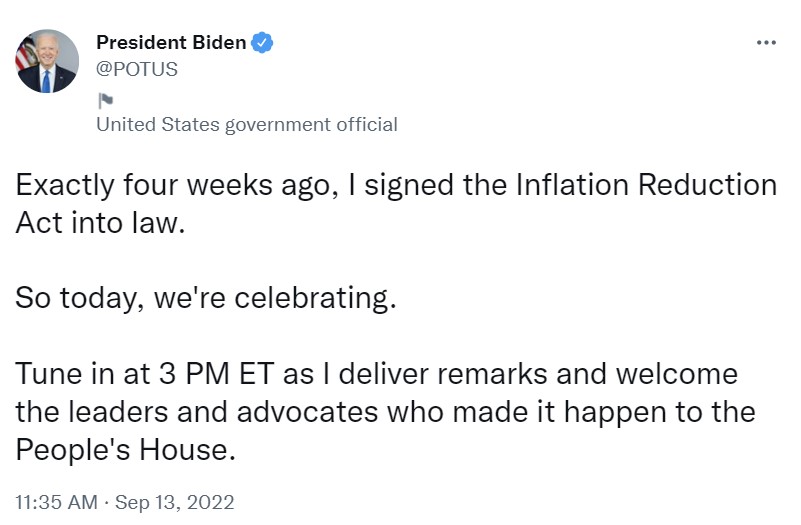 Update: Wages down 2.8%, too.