Slurred Speech Thread: Biden's Fascist Demagogic Declaration of War on His Political Enemies
Note: The Cafe will be delayed so that this pathetic husk, reeking of failure, flopsweat, and Old Man Sourballs, can speak.
Update:
As predicted, Joe Biden is laying the predicate justification for his violent antifa allies to attack, beat, and kill conservatives. He's calling for violence against his political opponents, giving the Go Code to his own "Boogaloo" troopers, while claiming that his opponents are the violent ones. He is engaging in what his leftist allies now call "stochastic terrorism:"

While the exact definition has morphed over time, it has commonly come to refer to a concept whereby consistently demonizing or dehumanizing a targeted group or individual results in violence that is statistically likely, but cannot be easily accurately predicted.
From Wikipedia, on "Lone Wolf Attacks." He refuses, as usual, to tell his own Street Paramilitaries to stop, for example, firebombing pro-life pregnancy crisis clinics. This is disgusting -- and dangerous. And he intends it to be dangerous. If the left can't win clean, they'll win bloody. ***
To get network clearance -- to get the networks to cover his speech as "news," rather than what it is, a campaign commercial -- Biden told them it wasn't political. Brace yourselves for a powerful shock: Biden, get this, lied.
In fact he'll be railing against "MAGA Forces."
And Affirmative Action Catastrophe Karine Jean-Pierre insists this is not political. I guess these are the Lies she is told to tell. Someone just failed to position her for success.
White House press secretary Karine Jean-Pierre claimed Thursday that President Biden's primetime address on "the battle for the soul of the nation" is "not a political speech" -- before releasing excerpts showing Biden will slam "MAGA forces" allied with former President Donald Trump. Biden will "call out what is happening in this moment" and take aim at "MAGA officeholders," Jean-Pierre said as she fended off reporter questions about whether the speech will be divisive rather than unifying. The 8 p.m. speech in Philadelphia, which will be carried live by many TV outlets, will feature Biden talking "about what we can do, can be done right now to beat back the forces that are threatening -- that are threatening us," Jean-Pierre said at her regular briefing. About two hours after Jean-Pierre walked off the podium, her office released excerpts of Biden's prepared remarks, showing he will say, "MAGA forces are determined to take this country backwards. Backwards to an America where there is no right to choose, no right to privacy, no right to contraception, no right to marry who you love." But the press secretary maintained that there was nothing political about the rare primetime address and that it doesn't clash with Biden's 2020 campaign vow to seek out political unity among Republicans and Democrats. "There is a growing number of people who refuse to accept the results of free and fair elections, people who actually openly talk about subverting elections in the future," Jean-Pierre said. "This is not a speech where he's going to tell people to vote for one party or the other.
LOL
... Biden will focus on "the extreme part of the Republican Party -- and we're talking about [how] they want a nationwide ban on abortions. They want to give tax cuts to billionaires and corporations while raising taxes on middle class Americans. They are threatening political violence and they are attacking our democracy," she said.
Not political!

"And so the president is going to take this time to talk to the American people who -- the majority agree with him on -- and talk about, you know, how can we continue to fight for our democracy and do it in an optimistic way." "I've said this before, the president's never going to shy away from talking about his predecessor," Jean-Pierre also said. "But it's not a speech about the former president or about a single politician or about a political party."
Not political!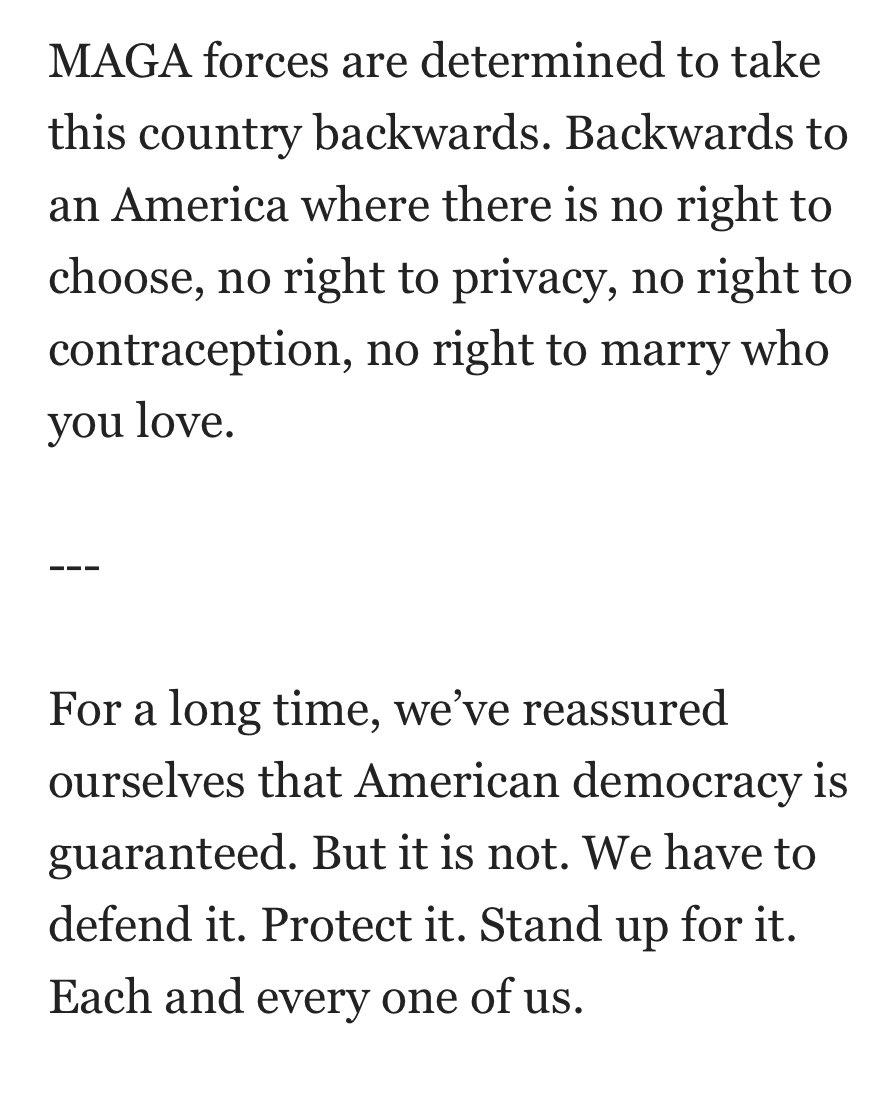 Kevin McCarthy gave a rousing pre-buttal speech, so don't even worry about it, mate. BTW, is it just me, or does Kevin McCarthy always sound like his mouth is full of crackers if crackers are cock-shaped and also made of cock?
Libby Emmons: Biden is the fascist he's looking for.

Democrats closed schools and churches during the pandemic. Democrats limited the rights of citizens to peacefully assemble and petition their government for a redress of grievances. Democrats conspired with social media and media companies to suppress and censor reporting that they believed would paint their presidential nominee in a poor light, and it was Democrats that attempted to pass pro-abortion legislation so evil--permitting abortion for all 9 months of pregnancy--that hobbled their ability to obtain any GOP votes at all. Democrats are the party that seeks to remake the economy, culture, and society from the top down, with input from academics and corporate executives who have little care for the struggles of real Americans. When Biden says he wants to build the nation from the bottom up and the middle out, he means from the top down and crushing the middle entirely. They want to reconstruct our food supplies to reduce the kind of fertilizer that farmers use to turn our inhospitable world into a bountiful one. They want to eliminate the fossil fuels that have decreased global poverty and increased wealth for middle class Americans across the country. They literally want to remove our cars from the road and have us replace them with excessively priced vehicles that rely on an electric grid that cannot sustain the weight of American use. Yet they call their opponents fascist. They call conservatives, who have taken up the mantle of free speech, liberty, equality in education, parental rights, and individual freedom, fascists. For Biden and his Democrats, there is no right of Americans to live by their own design. Not going along with the Democrats pro-abortion, pro-groomer, pro-corporate, pro-authoritarian, pro-censorship approach is called fascist. But we know who the real fascists are: they are the ones who shut down our businesses, our schools and our churches, the ones who belittled our concerns for our elderly parents and grandparents, the ones who even now seek strength in oppression.

Reuters: After a brief rocket up to the dizzying heights of 41% approval, Biden plummets back down to the swampass basement of 38%.
U.S. President Joe Biden's public approval rating fell modestly this week, a poor sign for his Democratic Party's hopes in the Nov. 8 midterm elections, according to a Reuters/Ipsos opinion poll completed on Tuesday. The two-day national poll found that 38% of Americans approve of Biden's job performance. While Biden's approval rating hit 41% last week, it has been mostly below 40% since mid-June despite a string of Democratic legislative victories that Biden's allies hope will help them defend their narrow congressional majorities in November.
A little more on the White House's Government-Corporate Partnership, which we used to call "fascism," to
stamp out the speech of political enemies:
Communications across 11 federal agencies reveal that the federal government, under the Biden administration, "has exerted tremendous pressure on social-media companies--pressure to which companies have repeatedly bowed," the New Civil Liberties Alliance details in a new release. The social media companies that were part of this Partner Support Portal include Twitter, Facebook, Instagram, YouTube, and LinkedIn.
"Partner Support." A corporation which is a "partner" with government
is
government, as far as the limitations imposed by the Bill of Rights. If I, a citizen, partner with a cop and break into someone's house to collect evidence, that's an illegal search, and my evidence is suppressed just as if I were an agent of the state. Because, in fact, by partnering with a cop, I constructively became one.
The CDC invited "all tech platforms" in to their meeting to discuss how to suppress free speech about Covid online. Those agencies involved include the White House, HHS, DHS, CISA, the CDC, NIAID, the Office of the Surgeon General, the Census Bureau, the FDA, the FBI, the State Department, the Treasury Department, and the U.S. Election Assistance Commission.
Commenters wondered how we'd gotten any documents. Well, the Fascist Biden Tyranny attempted to withhold them.
The NCLA notes further that, during the discovery process of this lawsuit, "the government has been uncooperative and has resisted complying with the discovery order every step of the way--especially with regard to Anthony Fauci's communications." The reasons for noncompliance include the defendants claims that "White House communications are privileged, even though such privilege does not apply to external communications," the NCLA states.

But they're not "external communications" -- they're communications to "partners" --- "deputies," if you will. "Arms of the government."
Communications did not only go from the government to the platforms. One notable occurrence happened after President Joe Biden claimed, in July 2021, that Facebook was "killing people." Meta reached out to the Surgeon General after that comment to "engage in damage control and appease the President's wrath," the NCLA states.
So Biden makes threatening noises to these monopolies, who know they can be clipped by government action at any time owing to the fact that they are, in fact, illegal but tolerated monopolies, and they respond by asking the government what they must do to retain their tolerated status. And this disgusting prick is going to call
us
-- the dissidents! -- "fascists" tonight. Below, a
working
Rumble link to that Tucker Carlson monologue that I screwed up in the 12 pm post.
And, of course, a link to Biden's Slurred Speech, shhhheduled for eight o'cloccchhh:
And here are some fart noises to play simultaneously with the Slurred Speech
and give it the texture and ambiance it deserves.