A Covid Karen Demonstrates Why We Must Never Again Cede Power to the Government
This woman is a hysteric who demands the government impose her will on her unwilling fellow citizens.
In other words: She is the archetypical liberal Democrat. Her notion of "freedom" is a government which squashes other people's freedom so that they are made to live by her rules. And Karens like her are empowered when the government gains power. And the government gains power when Karens like her are politically powerful. It's a vicious cycle. Here's her bio:
Laura Miers
@LauraMiers Pro-Kindness/Compassion/Love. Wealth inequality will destroy us. Ex-Texan, Global citizen. Law, Medicine, Sustainability, Languages. LongCovid
"
Ex
-Texan." I imagine so. And look at all the Twitter Expertises she's developed! Here's the photo she posts on Twitter. This is how she presents herself to the world: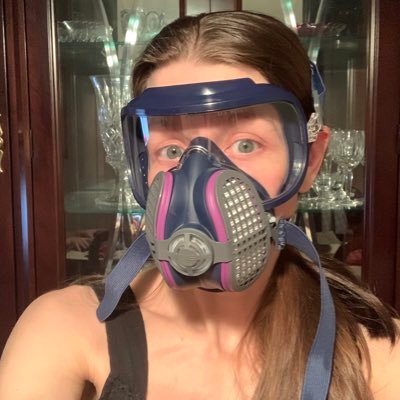 Here demands are simple: Society must
never
be allowed to return to normalcy, but we must instead all be compelled by a fascist government to live inside the plastic bubble she loves living in.
Laura Miers
@LauraMiers One of my kids is begging to return to in-person school, and I am nearing surrender. I am so tired of living like this. I guess I am willing to die so he can get an education, I don't know. I don't have any other options. Nothing is ever going to change. I hate this country.

She's a depressive who engages in catastrophic thinking. And she is at war with her child's desire to
be a normal kid and see other children
because, she insists, if he does, she will "die."

People are vastly underestimating how much trauma First Wavers are carrying around. Our (top-rated) school district is like "LOL - Covid is over & Monkeypox is for the gays," & I'm supposed to be like "Yes, this is a safe environment for my child. Everyone else is doing it!"
I guess by "First Wavers" she means she got covid during the first wave -- and now insists that rather than having immunized her, it in fact makes her more susceptible to covid, and thus she will "die" if exposed to it again. Does she realize that vaccines constitute a covid exposure as well?

Unfortunately, I can't stop thinking about how I was treated by the district in 2020, while appropriately responding to a very real threat. We've been doing online school ever since. I was the first in the school to take my kids out.

I'll be you were.

The "campaign to return to normal" relied heavily on gaslighting conscientious people to such an extent, they cave. Everywhere I go (in my "blue state") I'm reminded I'm not welcome unless I conform. People are hostile & aggressive unless you unmask & worship Covid & Capitalism.
You're not welcome unless you conform...? I seem to remember your ilk attempting to force everyone else to conform through social pressure, and to wear masks, even
outdoors while jogging.
And now you have the Sadz because you feel like a freak wearing your Mouth Burka when no one else is wearing one? You need a psychiatrist. Almost every hardcore AWFL Democrat woman does. And these people must
never again
be permitted to dictate the nation's health policy, or any other policy. Speaking of, Leana Wen -- who was a genuine Karen Villain throughout the pandemic, demanding lockdowns, masking, and forcible vaccinations -- is now
discovering that her children don't like wearing masks all day long.
After noting she began the pandemic as a Mask Nazi -- "I was never without my N95" -- she confesses that now that covid is "here to stay," she's reducing her commitment to Pandemic Fascism.

With this new, indefinite time frame, the benefit-risk calculus of mitigation measures shifted dramatically. I was willing to limit my children's activities for a year or two but not for their entire childhood. ... Now that [our children] are fully vaccinated, we do not plan to limit their activities, and -- like most parents in their school -- will not be masking them in the classroom.
I accept the risk that my kids will probably contract covid-19 this school year, just as they could contract the flu, respiratory syncytial virus and other contagious diseases. As for most Americans, covid in our family will almost certainly be mild; and, like most Americans, we've made the decision that following precautions strict enough to prevent the highly contagious BA.5 will be very challenging. Masking has harmed our son's language development, and limiting both kids' extracurriculars and social interactions would negatively affect their childhood and hinder my and my husband's ability to work.

Because she started off as a champion of Mask Nazis, she makes certain to praise those who are still masking, and defend their choice. She wants you to know that she is by no means "anti-masking," despite, you know, masks being harmful to children. The important thing is maintaining Karens' unearned sense of moral superiority. I mention this because a wonderful thing is now happening:
Leana Wen is now being canceled by the hysterical hens she once agitated into a clucking frenzy.

Public-health commentator Leana Wen may relate to the biblical saying that a prophet is never honored in her own home. A few years ago she was pushed out as president of Planned Parenthood because she wasn't radical enough on abortion.
Now the erstwhile supporter of government Covid mandates is enduring the wrath of public-health activists for saying we need to learn to live with Covid. Dr. Wen, a CNN commentator, was once a defender of government vaccine and mask mandates. Last fall she opined that the Biden Administration's vaccine mandates didn't go far enough. "Why didn't Biden announce that he will mandate vaccinations for plane and train travel?" she said. But her columns in recent months have sung a new Covid tune, encouraging governments to drop mask mandates and embrace "individual responsibility." This is what some of us have argued all along. But no political epiphany goes unpunished.
And now more than 600 activists are demanding that the American Public Health Association cancel her as a panelist at a conference this autumn. ... Her opponents accuse her of promoting "unscientific, unsafe, ableist, fatphobic, and unethical practices." ... Dr. Wen's positions "assumed a capacity for personal responsibility that was not available to vast swaths of the population," Pacific Institute for Research and Evaluation epidemiologist David Swedler told Inside Higher Ed. He captures the mindset of the public-health ruling class: People are too stupid or selfish to be allowed to make their own choices.
You love to see it.