Sunday Morning Book Thread - 08-28-2022 ["Perfessor" Squirrel]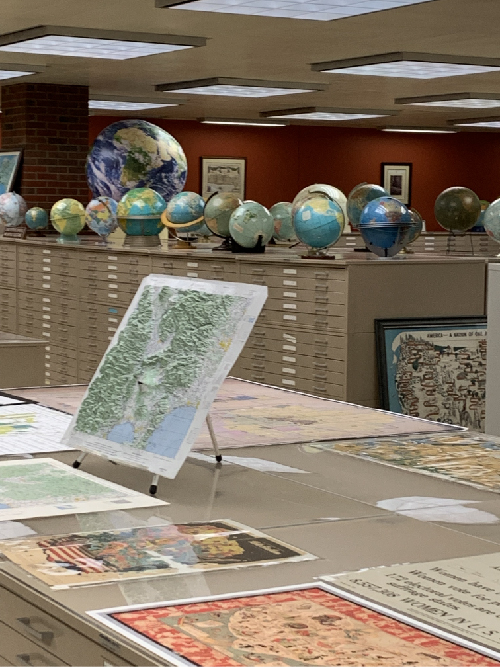 Welcome to the prestigious, internationally acclaimed, stately, and illustrious Sunday Morning Book Thread! The place where all readers are welcome, regardless of whatever
guilty pleasure
we feel like reading. Here is where we can discuss, argue, bicker, quibble, consider, debate, confabulate, converse, and jaw about our latest fancy in reading material, even if it's nothing more than
CBD's latest excuse for a first world problem
. As always, pants are required, especially if you are wearing
these pants
...(Hey, Robert! How fruity are *these* pants?) So relax, find yourself a warm kitty (or warm puppy--I won't judge) to curl up in your lap, fold over that breakfast taco, and crack open a new book. What are YOU reading this fine morning?
PIC NOTE
A history professor friend of mine recently retired and moved to Milwaukee, Wisconsin. She still engages in research at the University of Wisconsin-Milwaukee and took some pictures of the map room where the
American Geographical Society
houses an impressive collection of maps. They have a large assortment of globes to go with their maps. Pretty impressive space. Thanks to the power of the internet, many of the maps have been digitized, and are readily available for viewing online.
MAPS IN LITERATURE
I love maps as part of a story. They can take you to places you can never visit and that never existed, like Middle Earth. Or you can join real people as they travel around the world in their adventures, like Marco Polo. You can find maps in historical fiction to show real cities, towns, countryside, and battlefields. You can also find them depicting entire galaxies, such as the one in Star Wars. And thanks to the impressive feat of engineering of the James Webb Space Telescope, we humans will have an incredibly detailed map of the known universe before too long (they've already been discovering some bizarre anomalies that call into question the Big Bang theory). Maps can also be used to obscure knowledge as well as reveal it. Accurate cartography was (and maybe still is) a very competitive, cutthroat business. Mapmakers would include details in their maps that didn't actually exist so that they could foil forgers. Or perhaps the mapmakers knew something that we don't...Maps are an excellent way to introduce an adventure because seeing a map just conjures up all the possible stories that may be occurring in that world right now. Take the map below, for instance. This is a picture of a replica of the earliest known map to feature "America" as a place. The original is located in the Library of Congress. This replica shows the Known World of AD 1507. As you can see, it's highly Eurocentric, with the nations of Europe, North Africa, and the Middle East being the most well-defined. The Far East is somewhat defined, but clearly distorted. The twin continents of North and South America might as well not even exist. All we get is some large slivers of wildly inaccurate land. I can easily imagine explorers of that time poring over this map, swapping tall tales of the monsters they encountered during their travels. I spent a little bit of time looking at a higher-quality image of the map trying to find the section marked, "Here there be Dragons" but couldn't find it.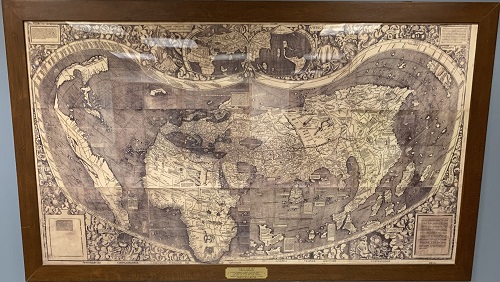 (click for larger image)
What's YOUR favorite map in literature? (I think you can easily guess what mine is...)
++++++++++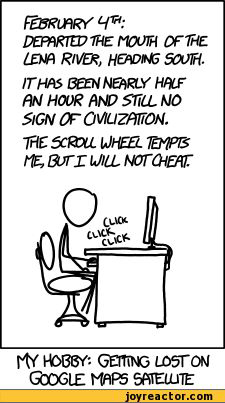 ++++++++++
IT PAYS TO INCREASE YOUR FICTIONAL GEOGRAPHY
In keeping with the map theme this week, here are a couple of more interesting places for stories.
KHEM
- an ancient name for Egypt in Brian Lumley's
Khai of Khem
. According to
Wiktionary
, "Khem" has a few different etymologies derived from Egyptian words. So basically a fictional name of sorts for a real place. SOURCE:
Khai of Khem
by Brian Lumley
ICI
- This is a name for a more recent section of Egypt that was colonized by Grand Duchess Olga, eldest daughter of Czar Nicholas II. She fled Russia and eventually made her way to Alexandria, Egypt, where she set up a gambling den. This eventually caused some friction between her and the local authorities, so she was permitted to set herself up her own little paradise at a location that became known as "Ici." Here, she and her friends/companions could indulge in every vice imaginable, turning the palace they built there into a grand brothel. They were eventually all massacred by Nasser, who discovered oil in the Red Sea, near Ici's location. It was a fictional Epstein's Island, basically. SOURCE:
La Fuite en Egypte
by Philippe Jullian.
++++++++++
MORON RECOMMENDATIONS

So I just finished Cheaper By The Dozen, a book made into a movie that I personally always confuse with With Six You Get Eggroll and Yours, Mine, and Ours. It was really a lot of fun, and quite a throwback to an earlier, much more innocent time in America, when the future held such immense promise. The father is clearly a precursor to the moron horde, opinionated, bombastic, bloody-minded, and very, very funny. I recommend it highly. Posted by: motionview, a National Divorcee at August 21, 2022 09:44 AM (fWbjv)

Comment:
This seemed to generate a lot of positive comments last week. I honestly don't remember much about it, other than the fact that my mother read it to us kids at the breakfast table. There is a sequel to this story called
Belles on their Toes
, which was also made into a movie (as was the original story more than once). The patriarch of the family, Frank B. Gilbreth, Jr., was a genuine WW II hero, earning a Bronze Star and Air Medal for valor.
+++++

Currently listening to Robert Greene's The Laws of Human Nature. He is a rather loved/despised writer of books such as Seduction and The 48 Laws of Power. Listening to the author's intro, his voice made me wonder if he might be a demon. I don't know. Definitely cold and creepy. But I'll give the man this- his observations and analysis are spot on. In my line of work, I have to be a very quick judge of character and motivations. So far in The Laws of Human Nature I have found his key observations on body language and motivation are right on. He uses historical figures to tie in the various lessons on behavior. Worth a read or listen to- you know the bad guys are studying this too. Posted by: Secret Squirrel, author of sci fi, kids books and one silly army play on Amazon at August 21, 2022 09:49 AM (NgoNq)

Comment:
Secret Squirrel is spot on in that the Left is very keen on studying the laws of human nature so that they can manipulate them to their own nefarious ends. There's a reason why they are neck deep in using propaganda and indoctrination to keep their minions in line. Because it works.
+++++

I'll delurk for a minute to report on my reading. I'm nearly finished with volume 2 of the Harvard classics. Specifically, The Meditations by Marcus Aurelius. At the rate I am going I'll be reading this collection for the rest of my life. It's on my Kindle and I keep it bedside for the middle of the night when I can't get back to sleep. I can report that it works pretty well at that. Posted by: Pod Hamp at August 21, 2022 10:12 AM (NhzYe)

Comment:
I just watched the movie
Gladiator
last weekend, with Richard Harris portraying the venerable Caesar Marcus Aurelius.
Meditations
was apparently never meant to be published, though it has acquired some fame after the death of Marcus Aurelius. Quote: "Never regard something as doing you good if it makes you betray a trust or lose your sense of shame or makes you show hatred, suspicion, ill-will or hypocrisy or a desire for things best done behind closed doors." (V. 9, trans. Gregory Hays) Some of our corrupt politicians should ponder that from behind bars...
+++++

Finishing up reading Sister Beckett's Story of Painting. It's really good until she gets to the abstract art period. You have to believe she's just calling it in when she attempts to explain why certain abstract art is art. Good try Sister. Posted by: polynikes at August 21, 2022 10:54 AM (KTOXl)

Comment:
Yeah, I never really saw the appeal of abstract art. Though patterns of art can be quite beautiful and there are some mathematical equations that can be used to create very interesting art indeed. But a crucifix in a jar of urine just doesn't scream "art" to me. Nor does a random assortment of twisted steel beams. The purpose of art, at its core, seems to be to elicit an emotional response. Revulsion at (some) abstract art is an emotional response, so in that sense, I suppose it serves its purpose. YMMV, of course. More Moron-recommended reading material can be found
HERE
!
(371 Moron-recommended books so far!)
+-----+-----+-----+-----+
WHAT I'VE BEEN READING THIS PAST WEEK:
All of the books in the list below are part of my continuing effort to whittle down my TBR pile from my epic library book hauls earlier this year. Still got a long way to go!


The Havoc Engine by Steven Harper -- Book 4 in The Clockwork Empire


The Wellstone by Wil McCarthy -- What does a revolution by children look like in a post-scarcity, post-mortality society?


That's about all I have for this week. Thank you for all of your kind words regarding my Sunday Morning Book Thread. This is a very special place. You are very special people (in all the best ways!). The kindness, generosity, and wisdom of the Moron Horde knows no bounds. Let's keep reading! If you have any suggestions for improvement, reading recommendations, or writing projects that you'd like to see on the Sunday Morning Book Thread, you can send them to
perfessor dot squirrel at-sign gmail dot com
. Your feedback is always appreciated! You can also take a virtual tour of OUR library at
libib.com/u/perfessorsquirrel
. Since I added sections for AoSHQ, I now consider it OUR library, rather than my own personal fiefdom...
PREVIOUS SUNDAY MORNING BOOK THREAD - 08-21-22
(hat tip: vmom stabby stabby stabamillion) (NOTE: Do NOT comment on old threads!)