Meet the Paid Foreign Agent Who Is Working to Get the Rosary Deplatformed as a "Hate" Symbol
The Atlantic magazine is backpedaling from claiming that the rosary is now an extremist symbol.

By the way, the asshole who wrote this is another "extremism researcher" being paid by the state to defame and deplatform conservatives. In this case, it's Canada who is the paymaster. He's paid to churn out "research" about "hateful
memes
" that looks a lot like clickbait for leftwing blogs and "real" sites like The Atlantic.
Great piece by Townhall's Mia Cathell:
The Atlantic contributor who authored a seething article ranting and raving about beads Catholics pray over, which the outlet's guest writer decries as increasingly symbolic of violent right-wing religious extremism, happens to be an "anti-hate researcher" whose field of interest is studying "hateful" meme culture. Toronto-based writer Daniel Panneton, who wrote the lengthy op-ed originally titled "How the Rosary Became an Extremist Symbol" for The Atlantic, has made quite a career out of researching so-called "hate." In fact, Panneton is the manager of the Online Hate Research & Education Project (OHREP), an 18-month venture funded by a generous $340,000 grant from the Canadian government's Anti-Racism Action Program. How is this Big Government money being spent? OHREP explores "how memes...are being used to spread hatred in Canadian contexts," using research to produce Hatepedia, which by November will contain Canada's "Hate Meme Database and Hate Symbol List," along with "lesson plans and educational resources designed to help educators mediate between hateful content and conduct, and their student's online experiences." OHREP's federal-funded work is "informed by a diverse Youth Advisory Council of high school students."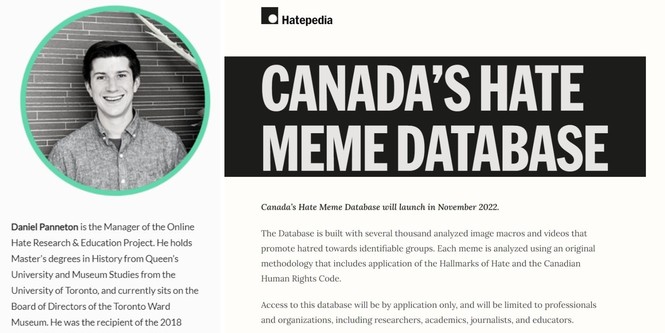 The left funds this crap with tens of millions of dollars, funding "research" to connect any political targets they don't like to bad actors and then take this "network analysis" to social media companies as proof the effective conservative communicators they don't like should be deplatformed. Did you hear? Listening to Tim Pool leads into an Extremism Spiral! You start listening to Joe Rogan and then Carl Benjamin and then before you know it, you're mainlining actual speeches from A.H. himself! My
" " " research " " "
proves it!!! By the way, their "research" is just an off-the-shelf software program with no scientific validity that just links things with lines if there is any connection between them, like if one person has every cited or mentioned the other, or appeared on the other's show, or attacked the other, or... anything, actually. They just keep running this same worthless, meaningless computer program and then saying, "Look, I made a pretty picture 'connecting' Dana Loesch with Idi Amin; now you have to ban her." It could "prove" the same connections of people on the left which is why...
they never run the software for people on the left.
Or they do stuff like this with memes -- they hate memes, because The Left Can't Meme -- claiming any meme the left doesn't like is "hate." This particular jagoff attacks the "NPC" meme and "Soyjack" meme (the black-and-white drawing of the crying angry bald SJW guy) as "hateful." Just because they make fun of his friends on the left!
The "Soyjack" meme and its variations are funny
and do a great job of lampooning the lockstep NPC-ery
of the left, and their gross, unkempt, softbodied disgustingness.
So of course the left brands the effective meme "hate speech"
and lobbies to have it banned.
See, those are "racist" even though they're clearly
white
neckbeards. But they're "racist" because... something something associated with the alt-right and also they hurt my friend's feelings. He has a glandular disorder, it's not his fault!
The melancholic Wojak meme character and its Soyjak counterpart, an emasculating caricature that mocks beta males and "simps" with a white-knight complex, were also named. The latter is found in forums and blogs of the "manosphere" promoting "toxic masculinity and misogyny," the Hatepedia site claims.
But Panneton is offended by many, many things the right does.

Not only is Panneton offended by memes, he seems to clutch his pearls at every current event in civil society. A quick Google search shows that Panneton has written extensively for multiple Canadian and American publications, arguing "Why 'Canadian' shouldn't be an option on the census," how memes "normalize hate," and "The white-supremacist past--and present--of Canada's anti-abortion movement." In the aftermath of the leaked Dobbs decision, Panneton took aim at pro-life evangelical Christians, believing that "it's possible that anti-abortion politics could end up serving as an inroad to increasingly extreme worldviews, as far-right concerns about abortion are intimately connected to hateful positions on race, gender, and ideology." It's no surprise that Panneton, too, went on a tirade against the month-long Freedom Convoy at the beginning of the year, which stood up to Canadian Prime Minister Justin Trudeau's pandemic-era authoritarianism. The assembly of anti-mandate truckers included a "radicalized" array of "conspiracy theorists, antisemites, Islamophobes and other extremists," according to Panneton's characterization of the peaceful protestors.
I hear that many of them showed up to the protests armed with Illegal Memes. Of course, having established they are "hate memes," they then get them deplatformed. And worse yet,
the government
often funds this "research," which means our own government is, unconstitutionally and illegally, working to suppress people's free speech rights. One example is the FBI's listing of the Gadsden flag and Molly Ross flag as symbols of Domestic Violent Extremists -- which of course has been brought to the social media monopolies as something to patrol and suppress. But the US government is also funding the "research" into any "hate meme" that
ridicules the left,
so that the US government can then use that research to get it banned. And Conservative, Inc. says: "Nothing to see here! Any conservative who objects to the government minting 'research' to use to pressure social media monopolies to ban speech is an anti-speech fascist! Please give us more money now, Google and Facebook!"